Schedule an email in Apple Mail on Desktop
The desktop version of Apple Mail covers a wide screen. Despite this, the way to schedule an email is somewhat hidden.
To find it, you'll want to follow the standard instructions for writing your email:
Go to your Mail App found on the macOS desktop.
Click on the New Message button (you can find this in the mail toolbar or on your touch bar).
Fill out the message as you normally would (recipients, subject line, and body).
Once done with these steps, you'd tap the send button to get it out. Instead, you'll want to click on an Arrow Icon just to the right of the send icon.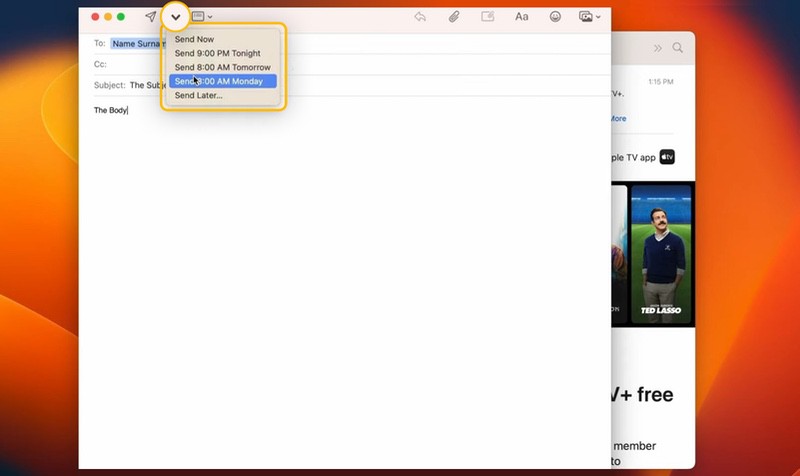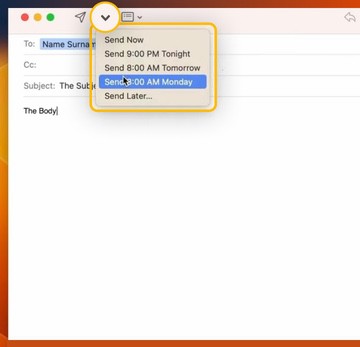 The Send Later option will bring up a new menu that lets you set exact time and date requirements. You can select any time and date that works best for your needs, scheduling months in advance as you need to.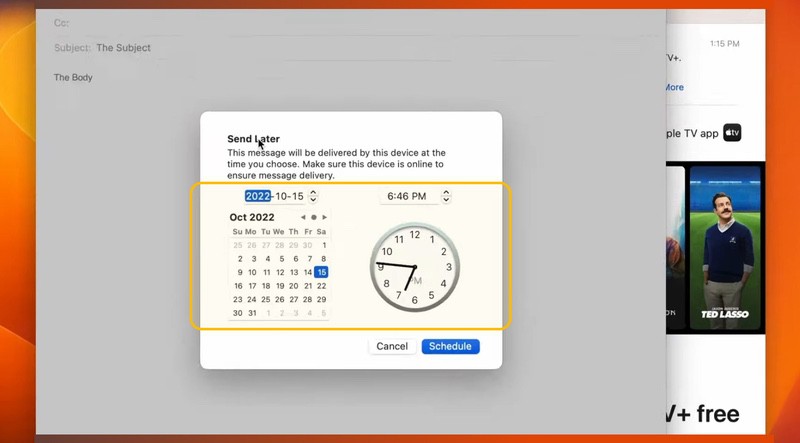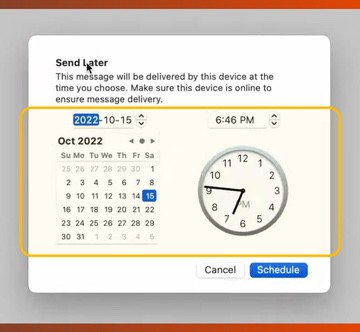 You'll know you've done it right when you open your app and see the in-progress message in your Send Later folder.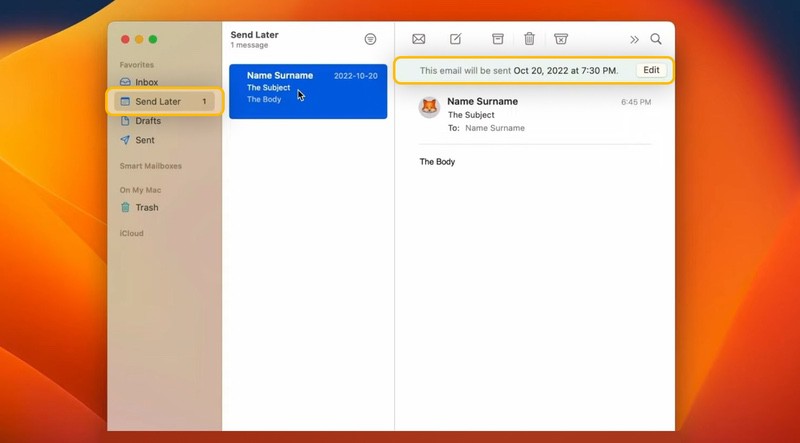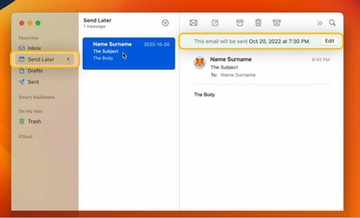 From this screen, you can edit the message by clicking the icon in the top menu. If you prefer to cancel the email, simply delete it. To reschedule it, you'll need to either edit or delete it.
💡 Note: The scheduling feature for Mac devices is limited to macOS Ventura 13. If you have Monterey 12 or earlier, you won't be able to schedule using standard Apple software.
You can use applications like Spark, Outlook, or Google if you want to schedule emails on older macOS versions. If the send later apple mail button is missing, that's a sign you have an older version.
Tips for scheduling messages on your Mac
Take the time to consider desktop readability and formatting before sending the mail.
If you use an Apple app like Automator, you'll need to keep your computer on during the send time. Otherwise, the latest version of Apple products will send without you needing your device on.
Schedule an email on iPhone's Apple Mail App
Because the mobile version of Apple's mail application uses a smaller screen, they need somewhere to put the email scheduler. Once again, it's somewhat hidden but not hard to get to.
You'll follow the usual steps to compose and create your messages. Be sure to take care of the content before you schedule it.
To schedule it, follow these steps:
Hold down the send button and wait for a menu to pop up.
Select from the menu options (based on what works for your needs).
Choose "send later" if none of the default options work.
Pick a specific date and time that fits your needs.
Much like the Mac version, you'll know you've done it right when you see a dedicated "send later" folder. You can also edit and delete your mail from that same folder.
If you have Apple's Handoff set up, you can edit or delete the scheduled email from either device (regardless of where you started). So, if you want to look at the message from your desktop, you can do that.
Now that you know how to schedule an email using Apple Mail, we can get into other inbox organization tips.
Tips for scheduling an email on iPhone
It's a good idea to start a message on a mobile device and move it to your desktop to see how it looks. It's often easier to edit and format using Apple Mail's desktop application.
Older versions of the iPhone might not support the version of Apple Mail that supports scheduling. In these cases, you should try out a third-party app like MailSuite.
Be sure to schedule your emails when you know they are most likely to be read. Many people check their email in the morning, which is why Apple often defaults to 8:00 AM during the weekdays.
How Clean Email Helps You Take Control of Your Time and Inbox
Knowing how to schedule your messages is a great way to take control of your time. However, being able to plan your email only helps some of the time. To save yourself more time, you need a more organized Inbox.
This is where Clean Email comes in handy.
Clean Email offers two primary features to make your inbox bearable: The Unsubscriber tool and the Auto Clean tool.
Unsubscriber lets you sort through your emails and unsubscribe from unwanted and spammy senders that email programs can't always identify. This ensures the emails that reach your inbox are only from trusted senders who don't waste your time. You also don't have to rely on their subscription systems, which are often unreliable.
The Auto Clean tool lets you establish further rules for keeping a clean inbox. This enables you to clean out your inbox on a weekly or daily basis. You can base the cleanings on age, content type, or other rules that offer great flexibility.
Because your time is valuable, don't waste it trying to find that one important email. Instead, use Clean Email to ensure those essential emails are never lost again.
---
Schedule an email in Apple Mail - FAQs
Can you set a timer for an email to send in Apple Mail?
Yes. Apple Mail lets you set a specific date and time for your future-dated emails. This sets up a countdown timer for the app to follow, sending your message when the timer is up.

To see a version of this timer, check the remaining time under your "send later" folder. It won't break down into minutes or seconds but will give you a good idea of how much time you have.
Will a delayed email still send if Apple Mail is closed?
Yes. Apple Mail works on the cloud, meaning you don't need to open it. Once you schedule a message, that scheduling notification is sent to the cloud-based application. So, most of the application's functions are handled through Apple's servers.
Will a scheduled email in Apple Mail send without the internet?
No. Your message won't be scheduled if you don't have an active internet connection. However, you can send commands from your application that will be sent to Apple's servers upon reconnection. To make this work, you'll need to connect to the internet before the email's scheduled time.