Schedule an Email in Outlook on the Web
When you don't have the desktop space, Outlook has a web-based application. This differs from the standard Microsoft email, as the company built it with more professional features.
To schedule a message, you first need to access Outlook's website. For the web version, you don't need to pay for a subscription.
Once you are logged in, you can start by clicking the "New message" button in the upper-right corner. From there, you'll be taken to the standard email sending page.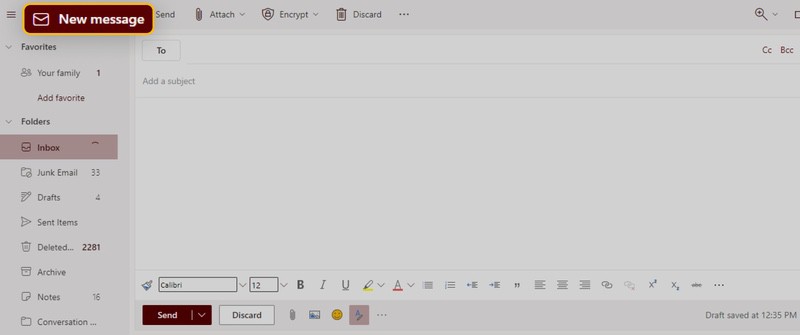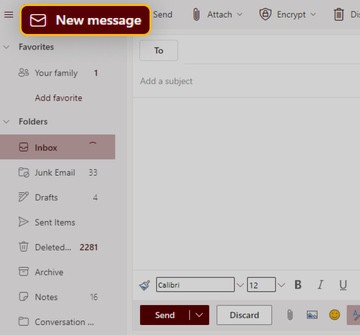 From the message window, fill out your text boxes as you usually would. Don't forget to input the recipient, the subject line, and the body.
After you get all this information in, click the arrow next to "Send" to pull up a drop-down menu. Instead of clicking "Send," you will want to select "Schedule send".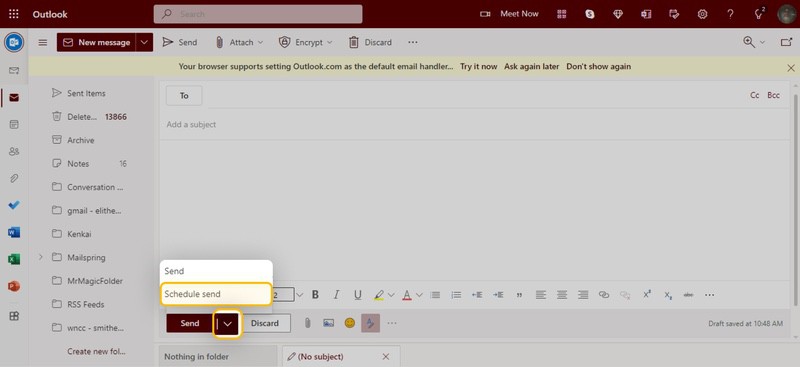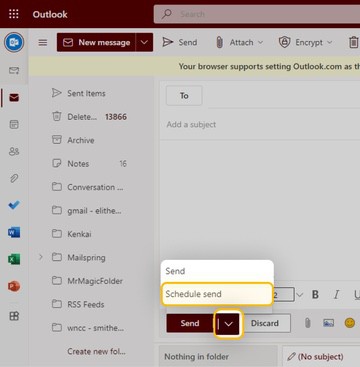 After clicking "Schedule send", a new menu will appear. This menu will give you two options to send at 8 a.m. on following mornings. Alternatively, you can select "Custom time" to schedule a specific time.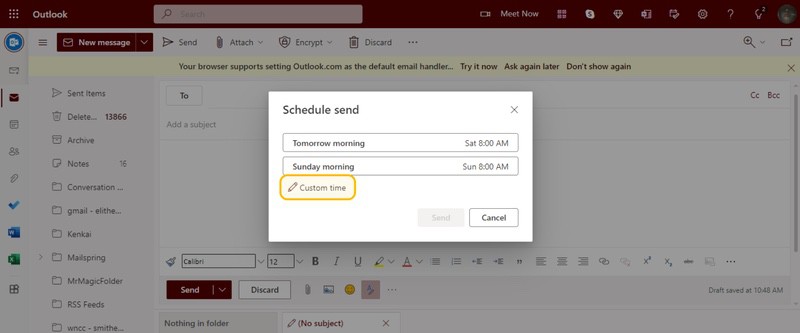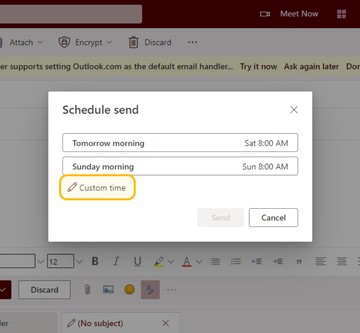 Selecting "Custom time" will cause a calendar menu to appear. From there, you can choose a specific date and time to send it.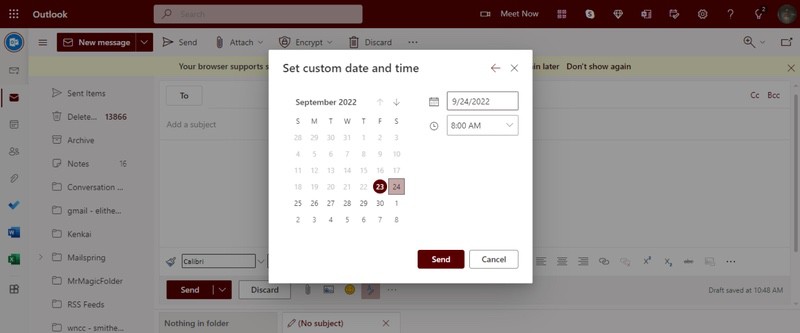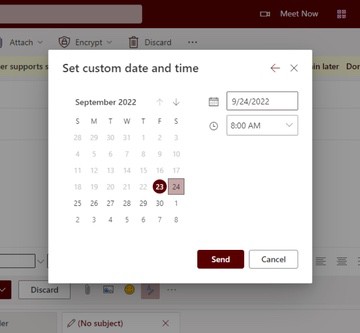 After clicking "Send" on this menu (or the prior one), your message will be scheduled. You know it was done correctly if you see it on your drafts, with a "Schedule Send" marker when selecting it.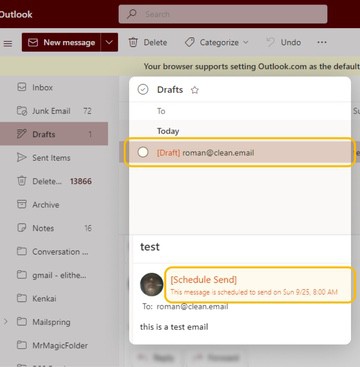 Canceling or Editing the Email on the Outlook Web Application
If you need to cancel the email, you need to delete it from your drafts by clicking the trash icon. For editing, select the message in your drafts, click the pencil icon on the right, and select "Modify email."
After selecting this, you'll be able to edit the subject, body, and recipient again. To reschedule your message, choose the "Send later" option by following the same steps from above. If you don't like the draft at all, you can choose "Discard" to throw it out.
Schedule an Email in Outlook on the Desktop
The desktop version requires a subscription to Office 365. The reason this differs is that you get more email storage and can save copies on your desktop. Regardless, the process for scheduling is fairly similar.
To start, we will provide you the instructions to schedule on the Windows version of Outlook. You can find the Mac instructions further down.
Schedule an Email on Outlook on Windows
To schedule on Microsoft Outlook for Windows, click "New Email" found in the upper-left corner. This will cause a message box to appear, like the image below: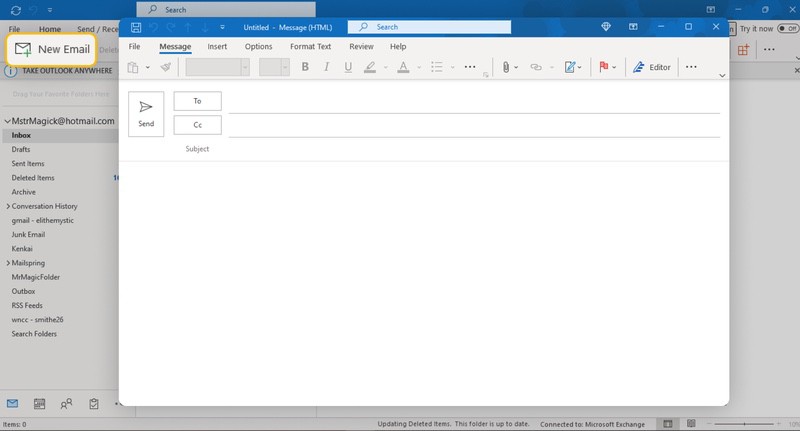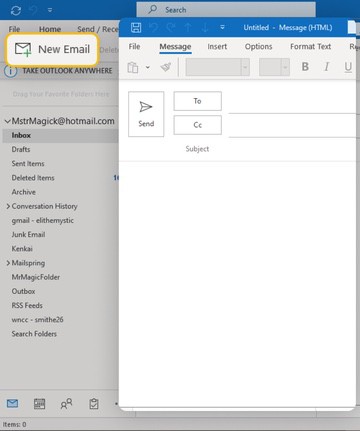 Fill out the text boxes as you normally would, and select the options menu found in the top middle. From there, you will either see a menu with three dots or an option that says "Delay Delivery." Either way, click on "Delay Delivery" when you spot it.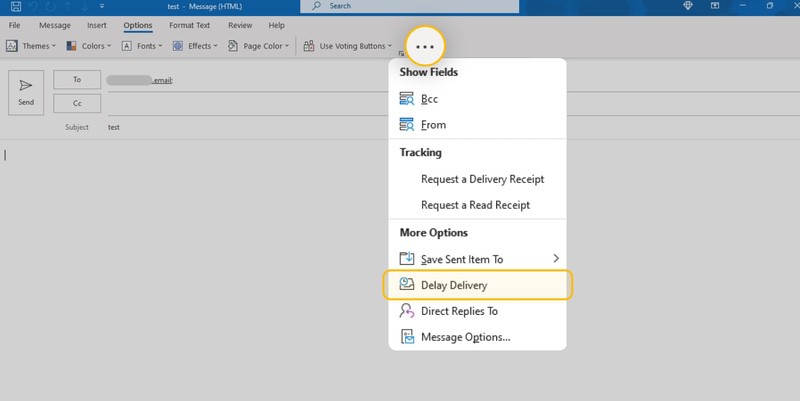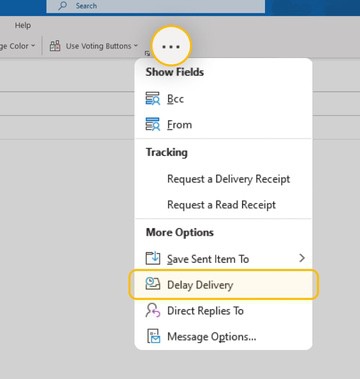 After clicking, you will see a properties menu that allows you to select different options. If you want to focus on when to schedule messages, focus on the area under "Delivery Options."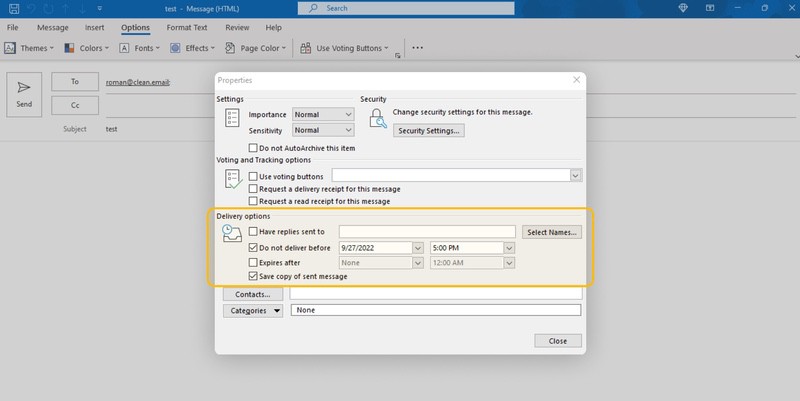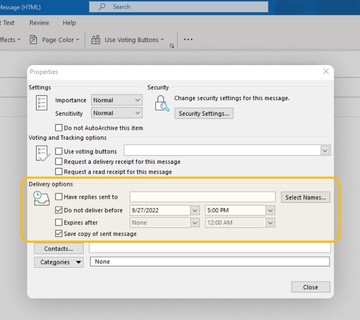 Be sure the "Do not deliver before" option is checked and select an appropriate date and time based on your needs. The remaining options are unnecessary for scheduling, but are useful.
After selecting your preferred delivery time, click "Close" and return to the message. From there, click "Send" to get it scheduled. To know you've done it right, you'll find it in your outbox.
If you want to edit it, double-click it. If you want to delete it, click the "Trash can" icon in the upper-left corner.
As you'll find out, the Mac instructions are somewhat different.
Schedule an Email on Outlook on Mac
The instructions for scheduling on Mac are closer to the instructions for scheduling on the web.
Regardless, you'll want to start by clicking "New Message" in the upper-left corner. From there, enter the details of your message as normal and then select the drop-down menu right next to "Send" and choose "Send Later".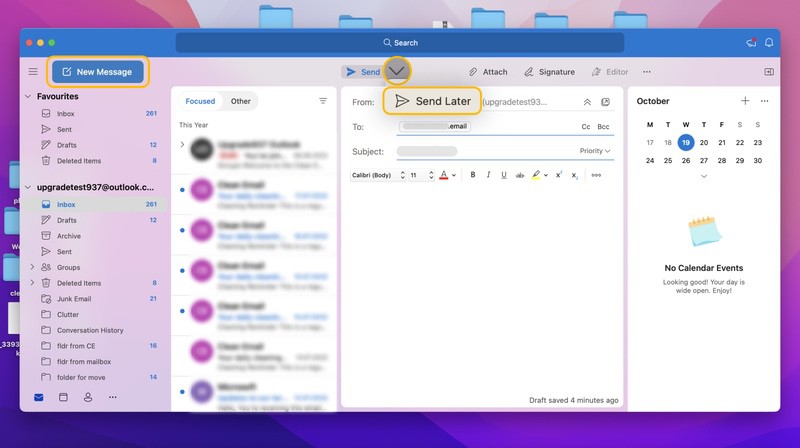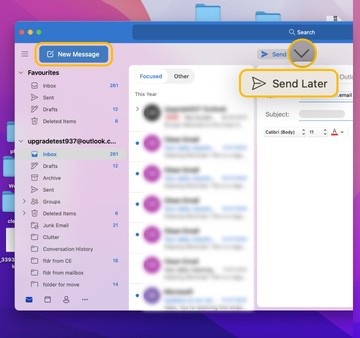 After clicking the "Send Later" button, a menu will appear allowing you to select a time and date for sending. Much like with the web version, you'll know it's scheduled when you see it in your drafts folder.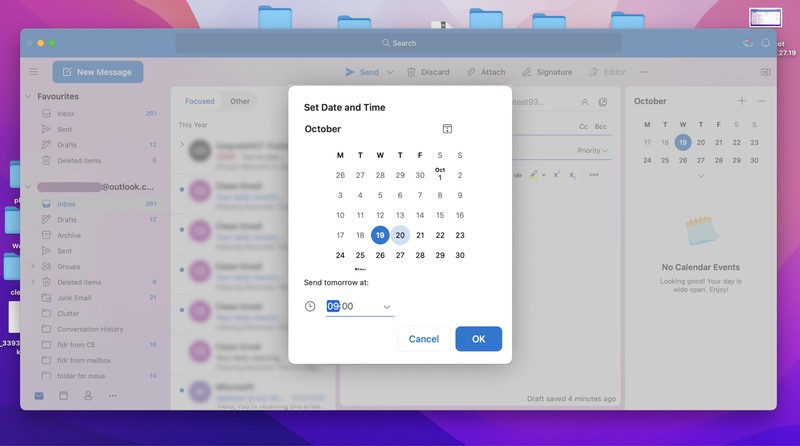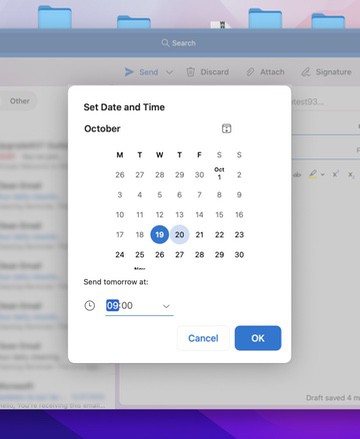 Schedule an Email in Outlook on Mobile (Android or iOS)
Outlook's mobile applications could use a bit of work, as there is no way to schedule through them. So instead, you have one of two options for scheduling from an outlook account:
Download a third-party email management application with more tools (e.g., FairEmail, Nine, or Boomerang).
Add your Microsoft account to your Gmail app (or Apple Mail).
If using option two, you can follow our instructions for how to schedule an email in Gmail.
To schedule in Apple Mail, long-press the send arrow and wait for the send options to pop up. Much like the web app, you can change details from the draft folder.
How Clean Email Can Help You Stay Organized
When you schedule an email, it ultimately helps to keep you more organized. However, if your inbox is cluttered, you'll still run into distractions. Thankfully, Clean Email can help you keep your inbox clean and organized.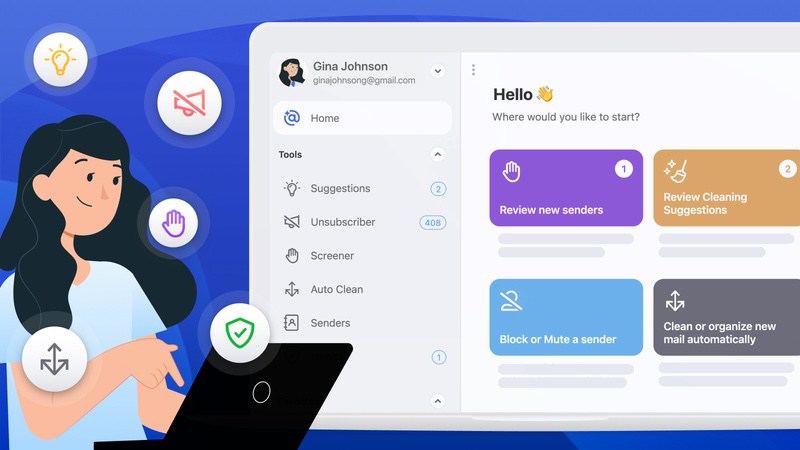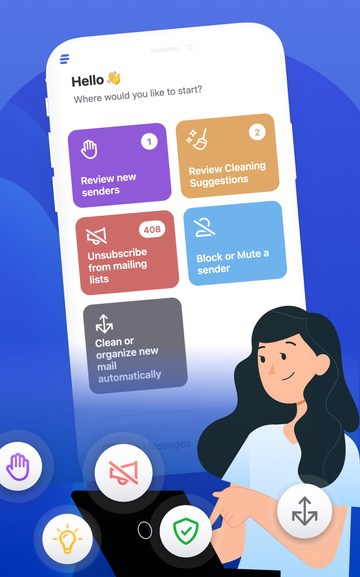 The Unsubscriber feature is the first tool for organization, removing unwanted messages so you can be ready for any responses. With time sensitive messages, as scheduled items often are, it helps not to have to dig through a bunch of unimportant stuff. However, you can still access these messages in a separate folder.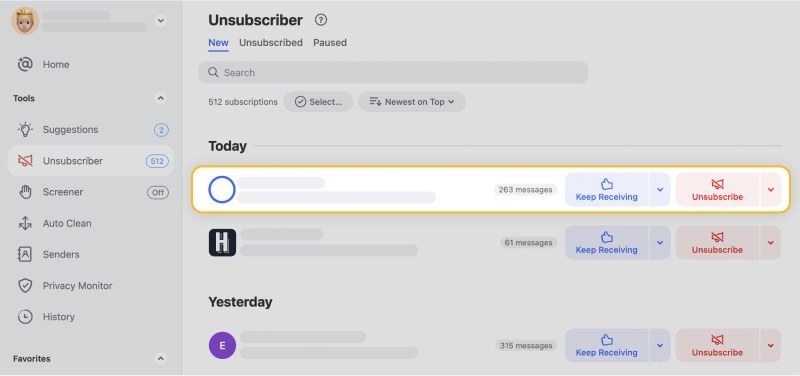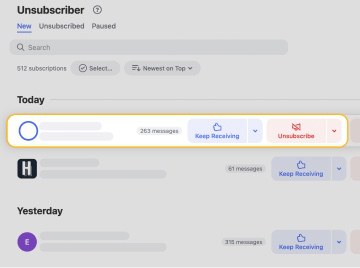 To save yourself time on regular cleaning, you can use the Auto Clean feature. At the end of the day, you might take the time to remove what you've already gone through. Auto Clean can do this for you, removing emails based on settings you decide on.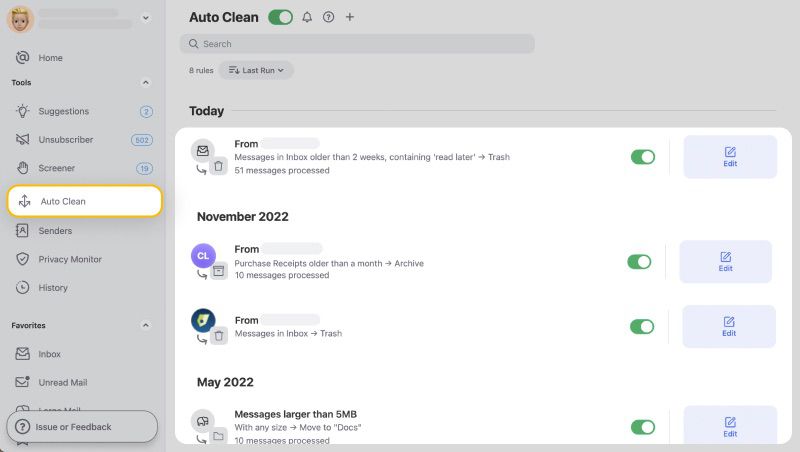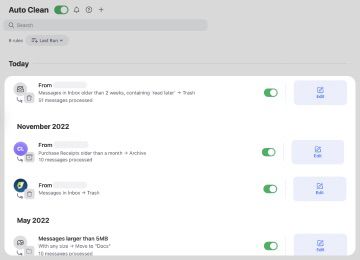 A clean and organized inbox will help you stay focused on important emails. Try Clean Email out for free today to see how it can help you.
---
Schedule an Email in Outlook - FAQs
Can you set a timer for an email to send in Outlook?
Yes. While you won't see an actual countdown timer, you can select a specific delivery time. This program allows you to schedule your messages down to a specific minute.
Will a delayed email still be sent if Outlook is closed?
Yes. Because it works with external servers, you don't need to keep it open to keep it scheduled. Whether using the web app or desktop application, Outlook will send your delayed mail.
Will a scheduled email be sent without the internet?
If you schedule on the desktop application, your message will be sent once you regain an internet connection. To send any emails, you need to have a persistent internet connection. Thankfully, Outlook's desktop application can save your scheduled work, but this does not work for the web app.