Does Checking Your Inbox Feel Like A Chore?
Email has become a necessary evil that we all must deal with daily. Although it makes communication easy, it also requires time and attention. Most of us receive hundreds of messages each day, and we rarely have time to sit down and read every word in each message.
Thankfully, you don't have to continue shuffling through hundreds of messages daily. In fact, if you start following some recommended email management tips, you just may find that you spend less and less time reading and organizing your messages.
Best Practices for Outlook Inbox Management
Like most other email providers, Outlook offers a robust set of features to help individuals manage their inboxes. However, many of these Outlook email management tools aren't obvious, which means people don't use them. Whether you know all there is about how to customize Outlook or you're just starting out, these Outlook email management tips can help you optimize your Outlook experience.
1. Sort Messages into Folders
Maintaining folders is one of the easiest ways to execute Outlook email management. Folders let you move messages out of your primary inbox and instead keep them sorted based on criteria that make sense to you.
For some people, it makes the most sense to have folders based on what needs to happen next (reply, task, read, etc.) For others, it makes more sense to keep messages in folders based on specifics on the content (online shopping, work, etc.). How you organize the folders is up to you, but using them will help reduce clutter in your inbox.
2. Create Templates
The faster you respond to emails, the easier it is to move them out of your inbox. If you send a lot of fairly repetitive emails, then it may be worth creating email templates as part of your Outlook email management strategy.
To create an Outlook template, you have to draft up a new message, then save it as a template. You can do this in both Outlook web and the Outlook desktop application.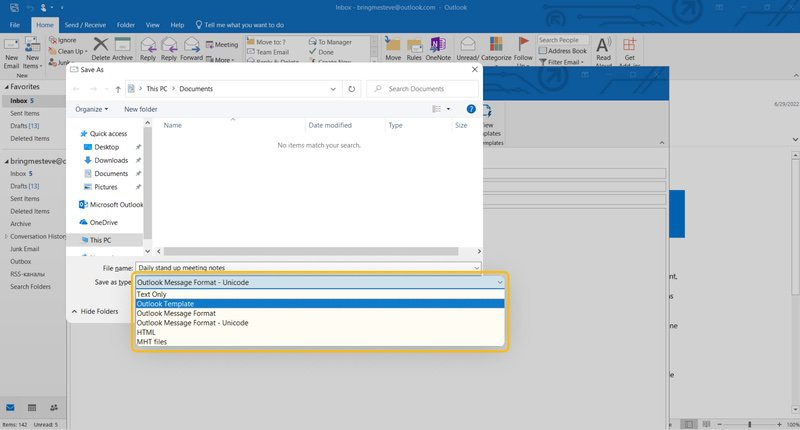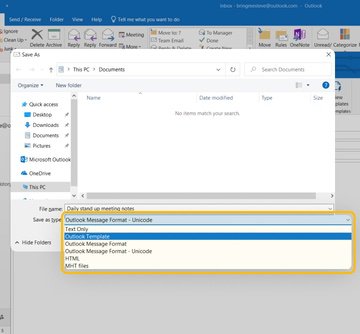 3. Ignore Unwanted Messages
We all receive dozens of junk emails each day. Although you can block emails on Outlook, sometimes it's just easier to use Outlook's ignore feature instead.
The Ignore function removes all messages within a specific conversation into your Deleted Items folder. Also, new messages will go to your Deleted Items folder anytime someone replies to the conversation thread after you've pressed ignore.
4. Establish Outlook Rules
Outlook rules can help you automate everyday Outlook inbox management tasks like marking items as spam, deleting messages, or moving messages from specific senders into folders. Once you set up Outlook rules, they will occur automatically without any intervention on your part.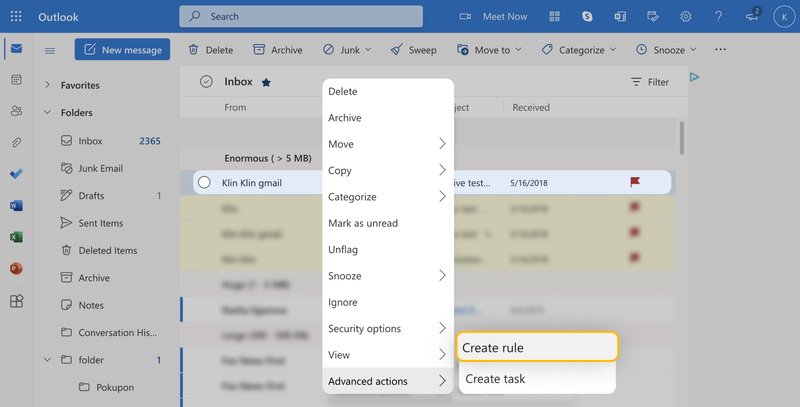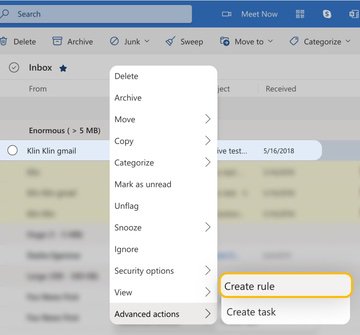 5. Flag for Follow Up
Sometimes you need to quickly sift through your new messages and don't have time to respond to everything immediately. Luckily, flags exist to help with this exact issue — they let you mark messages so you know what to do with them later.
You can set up a flagging system so you know which messages need replies, which need to be transformed into to-do items, and which can just be deleted. Outlook email management tips like this are especially beneficial for those who only set aside limited times each day to deal with email.
Use Clean Email's Rules to Manage Outlook Emails Automatically
Sometimes the best email management tools for Outlook aren't in Outlook at all. Instead, they may be part of a proprietary Outlook email management software like Clean Email. One of these tips includes using Clean Email to manage your inbox automatically.
Although the desktop version of Outlook offers some automation processes, it is somewhat limited and not consistently accurate. Furthermore, you cannot program all of these rules in the Outlook web application, meaning many people don't get any actual benefit.
Clean Email's Auto Clean feature allows creating customized email rules to automatically apply almost any action to emails that meet almost any specific criteria.
To set up a new Auto Clean rule in Clean Email:
Log into your mail account at https://app.clean.email/.
Select the Auto Clean tool from the left pane.
Choose the + icon to create a new rule.

Now, enter a name for the new rule.
Next, specify the conditions in which you want the rule to trigger.
Once you specify what will trigger the automation, it's time to enter the action you wish for Auto Clean to perform (e.g. you'd like to archive all emails from your Inbox folder that are older than 2 years).

When you have everything set up, press Create Rule.
Outlook email management tips for Microsoft Outlook desktop app
In addition to the Outlook email management best practices covered above, there are also some management tips that only apply to users who check their mail through the Outlook desktop app. These features are unavailable on the web version, just on the desktop app.
1. Search Folders
Search folders help you look for messages stored in various folders throughout your mailbox. This can be especially helpful if you need to access multiple messages from a single sender or need messages from multiple senders concerning a specific event like a silent auction.
To set up a search folder, simply go to Folders → New → New Search Folder, then choose to create a custom search folder. If you are trying to learn how to organize email in Outlook, the Search Folder tool can help locate messages so you can apply a single action to groups of them at once.
2. Notifications
Sometimes notifications can distract you from your work. Luckily, you can mute notifications on the Outlook desktop app if you want to. This will help you continue working even as emails fly into your mailbox.
To change these settings, go to File → Options → Mail. Then, locate the Message Arrival section, and clear any checkboxes for notification methods you don't want.
Outlook inbox management tips for web app
Just like the desktop app, some Outlook email management tools only work on the web version. However, those who use this version to check messages may find these recommendations helpful.
1. Sweep Feature
You can use Sweep rules in Outlook to quickly delete unwanted emails in your Inbox. Within the tool, you can select whether to delete incoming messages, keep the latest, or delete anything older than 10 days based on the sender's email address. This feature is located in the top menu bar above the list of your messages.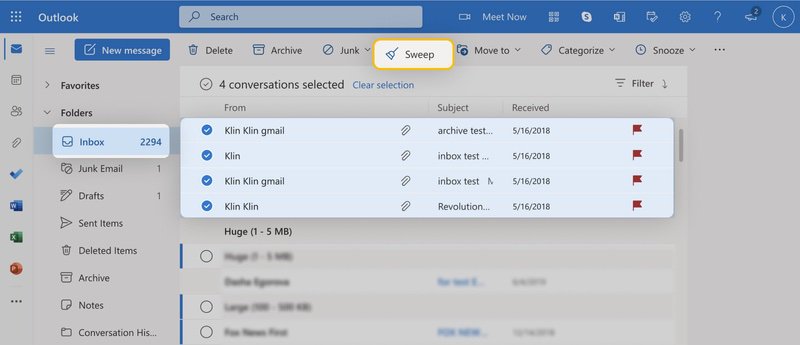 2. Like Button
Not all emails require a reply. However, you may need to acknowledge that you received the message even if you don't need to send a lengthy response. In these situations, you can use the Like button in Outlook web to acknowledge the message, then remove it from your inbox.
💡 Note: The Like button may not be supported for some users in the latest Outlook web version.
Best Outlook View Settings
Although there's nothing wrong with the Outlook classic view, it often leaves something to be desired. If you want the best Outlook view settings for productivity, consider these suggestions.
1. To-Do Bar
Within Outlook, you can choose whether or not you want to display the To-Do Bar. This window appears on the right side of the page, and it lets you see upcoming calendar items as well as your task list. If you frequently create tasks while checking your email, this can be a handy view to set up.
To do this, simply go to View → Layout, then click on To-Do Bar and press Normal. This will let you see the To-Do Bar each time you open your mailbox.
2. Show as Conversations
Sometimes it is hard to keep up with messages that are part of the same chain. Luckily, you can fix this by using a view setting called Show as Conversation. When enabled, this feature groups all messages with the same subject line into a group, regardless of who sent the message.
To turn on the conversation view, open your mailbox, then look for a button above your message list that says Arrange By. Click it, then choose Show as Conversation. Now, all your messages with the same subject will be together.
3. Disable Reading Pane
If you are more accustomed to Gmail, you may find the reading pane set up in Outlook to be a bit of a pain. However, you can easily disable that if you desire. To do this, just go to Settings → Reading Pane. Within this menu, you can choose from multiple locations for the pane, or disable it entirely, depending on your preference.
Manage Your Inbox With Clean Email
As we mentioned above, you can use Clean Email to set up routine inbox automations for Outlook, regardless of whether you use the desktop or webmail version.
However, that's not the only way Clean Email can help you to manage email in Outlook effectively. In fact, the app offers many valuable features that make email management a breeze. Some standout features include:
Cleaning Suggestions: This feature provides personalized recommendations to clean and organize your messages based on how you interacted with them previously. You can get ideas on which Auto Clean rules to create right from these suggestions.
Smart Folders: This feature automatically sorts your messages based on similarities the messages share. These similarities can be the sender, the subject, or other items. When messages are sorted this way, it's easier for you to make quick decisions about whether to delete, move, or archive them.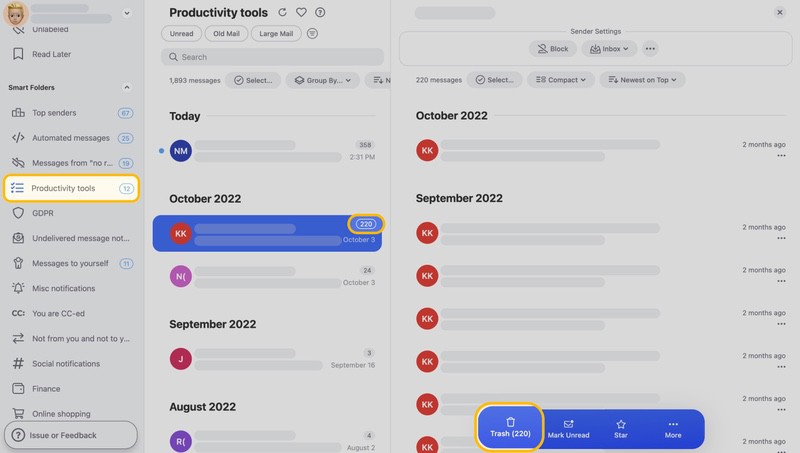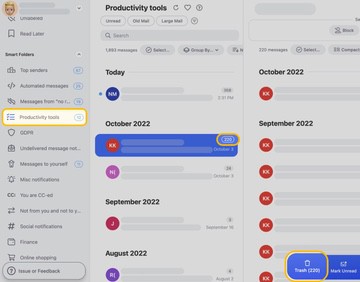 Unsubscriber: This feature removes promotional messages and newsletters from your mailbox by sending an unsubscribe request on your behalf.
Senders: This feature clears messages from flagged senders automatically as soon as they enter your inbox. Out of sight, out of mind!
Screener: This feature places messages from new senders you don't know into a folder that is separate from your primary inbox. You can check this folder at any time to decide if you'd like to block these senders or allow getting their emails.
Even though it is a third-party application, Clean Email was designed with your privacy as a top priority. The app will never analyze, sell, or share your personal information or any data from your inbox. The encryption measures we use also keep all of your messages safe and secure.
💡 Note: Outlook desktop application gives users the option to use their product with an email address that is tied to Microsoft Outlook as well as an address linked to Gmail, Yahoo, or other mail providers. Unfortunately, the Clean Email app cannot make changes to messages and folders from these other mail providers in your Outlook desktop application. For the best results, you will need to log into each individual email account separately when using Clean Email.
---
How To Manage Emails In Outlook - FAQs
What is the best way to manage emails in Outlook?
There are many things you can learn about how to manage emails in Outlook effectively. Some best tips include using the conversations view, setting up search folders, and creating Outlook rules or inbox automation.
How do I clean out thousands of emails in Outlook?
If you wish to select and delete a large number of emails from your inbox, the best option is to use the Clean Email app. Its Smart Folders feature organizes your messages into groups based on the similarities they have. From here, you can easily select a folder like 'Social notifications' and delete thousands of emails with a few clicks.
Can Outlook automatically organize emails?
Within Outlook, you can do a couple things to automatically organize messages. You can use the Outlook Rules feature to program automatic tasks that happen each time you receive a message that meets the criteria. If you are using the Outlook desktop app, you can also create a Search Folder to automatically sort messages you want into a single location.
What is the best Outlook email management software?
Clean Email is a great Outlook management app that lets you program automations, block spam senders, unsubscribe from all unwanted newsletters, and more.