Why Do I Need Yahoo Email Forwarding?
If you've been using Yahoo Mail for any amount of time, then you're probably aware of the variety of ways you can customize Yahoo Mail. You can also master email forwarding with Yahoo. But why do you need to do that?
Well, there are instances where forwarding messages just makes sense. For example, you may need to send a message with tickets for an upcoming event to your friends, which means you'd need to know how to forward individual items to others so they receive the attachments and other details. Other times, you may want to migrate all incoming messages (or messages from specific senders) to a separate mailbox so you can keep information organized.
For these reasons and others, you need to know how to forward Yahoo Mail to other places.
How To Forward Emails in Yahoo Mail
Many email providers offer options for forwarding messages. In fact, Yahoo offers options to forward single messages or set up Yahoo Mail forwarding rules that will automatically send all messages to a different mailbox. Unfortunately, figuring out how to set up forwarding in Yahoo Mail is less than painless, so we've gone through the step to forward individual messages, establish automatic email forwarding from Yahoo to a different mailbox, and given you options to forward items from a specific sender out of Yahoo Mail.
How To forward individual messages in Yahoo Mail
Most of the time, people use email forwarding to send specific messages to a colleague or friend so they have the information within the original message. Bu learning how to forward an email on Yahoo can take a bit if you're new to this mail provider. Luckily, you can forward messages both in the web app and the mobile app.
How to forward Yahoo emails on the web:
Open your inbox.
Now, select the message you want to forward. This will open it.
Once you open the email, click Forward (the arrow pointing to the right). You can find this both above the email subject line and below the body of the message.

Enter the addresses you'd like to forward the message to, add anything else you'd like, and press Send.
How to forward Yahoo email via the mobile app:
Open your Yahoo mobile app.
Tap the message you'd like to forward. This will open the message on your screen.
Then, click More button that is located at the bottom right of your screen. Then, choose Forward.

Enter the addresses you'd like to forward the message to, add anything else you'd like, and press Send in the top right corner.
How to auto forward Yahoo Mail
Yahoo Mail offers the option to auto-forward all incoming messages to an email address you designate within the settings. By enabling this forwarding feature, you can avoid checking multiple inboxes throughout the day and instead see everything in a single mailbox.
However, Yahoo automatic forwarding is only available to Yahoo Mail Plus subscribers or those who enroll in Access + Forwarding, both of which charge a small fee.
If you have the credentials, though, you can set up Yahoo Mail automatic forwarding by following these steps:
Login to mailbox on web.
Click on Settings (the gear) in the upper right.
Move down and select More Settings.

On the left side of the page, click Mailboxes.
Under Mailbox List, select the address you'd like to set up forwarding for.
On the right side, scroll down to the section titled Forwarding.
Enter the email address where you want your Yahoo forwarding to end up and press Verify.
From here, you will log in to the other address and follow the steps to verify that address. Once this is completed, all new messages that are directed to your Yahoo address will be rerouted to the mailbox you specified.
💡 Note: You can only set up Yahoo automatic forwarding from Yahoo Mail on the web, not the mobile app. However, we have another guide that can help you learn how to forward emails from iPhone if you're an iPhone user.
How to automatically forward emails from a specific sender in Yahoo
Unfortunately, Yahoo Mail forwarding rules are an all-or-nothing approach, meaning there isn't a way to automatically forward emails from a specific sender in Yahoo. However, what you can do is create Yahoo rules that filter messages from a specific sender into a dedicated folder, then forward the messages you filter out to the mailbox you'd like them in.
To set up a filter in Yahoo Mail on web:
Login to your mailbox.
Click on Settings (the gear) in the upper right.
Move down and select More Settings.

On the left side, select Filters.
Choose Add New Filters, then complete the information on the left side.

Once you're done, press Save.
After the filter is created, all messages from the sender you specified will now go into the dedicated folder you specified. You can then follow the steps to learn how to forward Yahoo Mail to Gmail or any other mail provider you'd like. It's a bit time-consuming since you have to forward them individually, but it works if you don't want to set up Yahoo forwarding for every single message that comes to your mailbox.
Keep Your Inbox Organized With Clean Email
Forwarding certain messages can help you clear out items from your inbox. However, doing that alone will not help you use Yahoo effectively. Therefore, you need an inbox management tool like Clean Email.
Clean Email isn't an email client, which means it cannot help you with Yahoo email forwarding. Instead, this app can perform a variety of tasks that help you filter, sort, delete, and unsubscribe so your inbox is optimized to match your needs.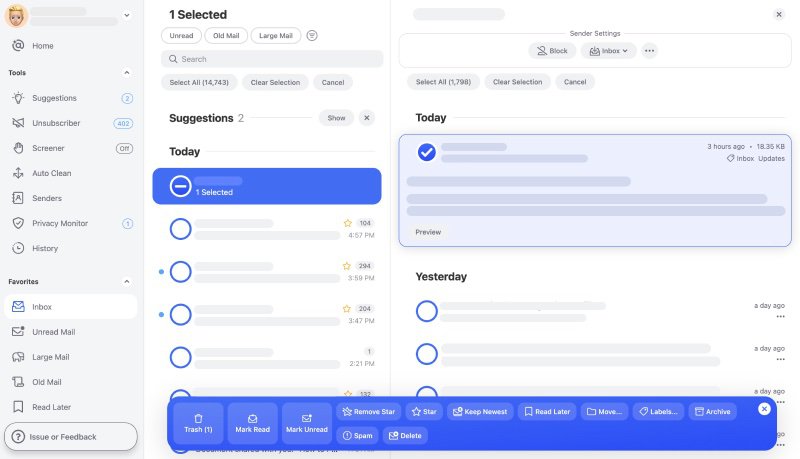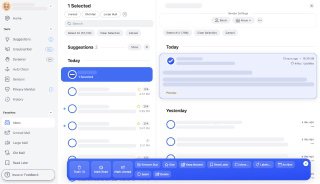 For example, Clean Email offers two tools that can help you automate tasks: Sender Settings and Auto Clean.
With Sender Settings, you can automatically clear messages from a specific sender the moment they come in so they don't clutter your inbox.
Similarly, Auto Clean lets you set up email rules that run based on the criteria you specify to help you keep messages organized and remove unnecessary items from your mailbox.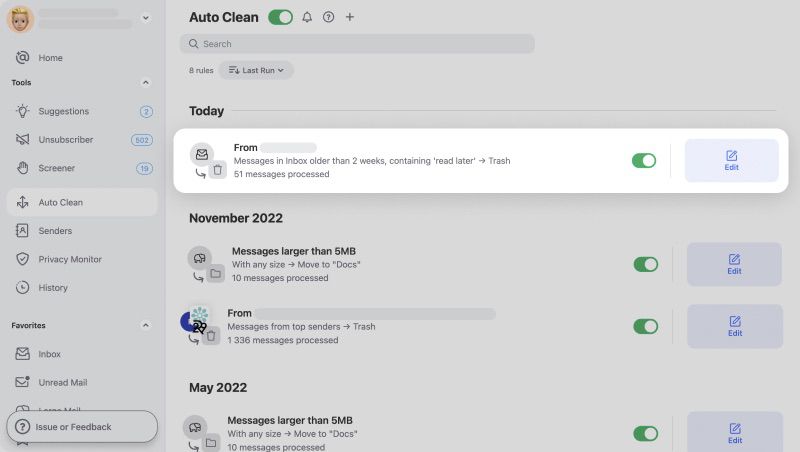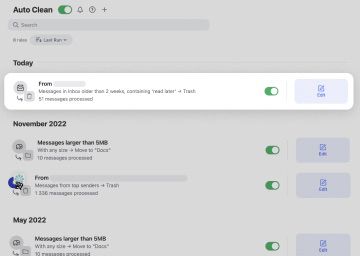 Additionally, Clean Email offers several tools that can help you avoid spam messages and phishing attempts. The new Screener tool keeps items from unknown senders out of your Inbox and places them in a specific quarantine folder. Then, you can go review these intercepted messages and tell Clean Email whether you want them in your mailbox or would rather block the sender.
Similarly, the Unsubscriber tool prevents marketing emails and messages from cluttering your inbox by helping you mass unsubscribe from messages based on the sender's domain.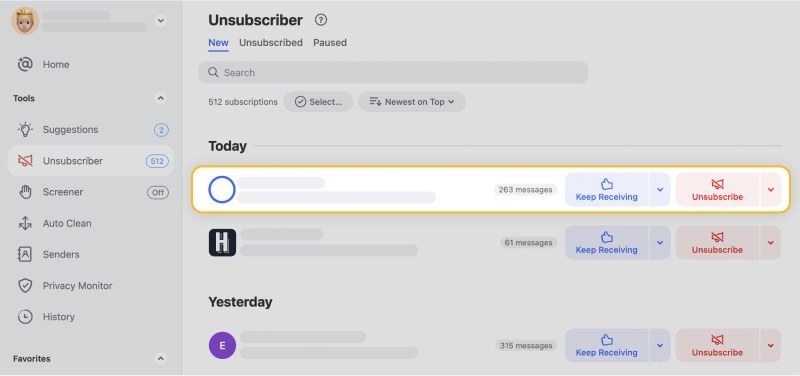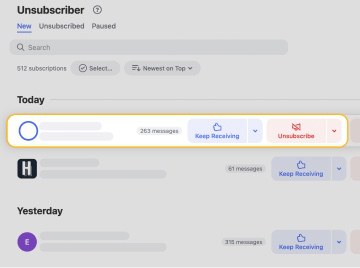 The app offers dozens of helpful tools and features for inbox management no matter where you live or what you use your mailbox for. What's more, the company focuses on privacy and security, which means your data is never sold nor shared with anyone.
The app is compatible with IMAP-based mail providers and can be used through the web, macOS, Android, and iOS.
Check out our other posts about how Bluehost email forwarding works and how to forward iCloud emails.
---
Yahoo Mail Forwarding - FAQs
Can you forward Yahoo emails to another email?
Yes, you can! Yahoo offers options to forward individual messages or set up automatic forwarding to another address.
How do I set up mail forwarding in Yahoo?
Forwarding email from Yahoo is fairly simple. You just need to go into the Settings menu and navigate to Mailboxes → Forwarding to active this feature.
Is Yahoo Mail Forwarding free?
Unfortunately, Yahoo email forwarding is not free. You must either sign up for Yahoo Mail Plus or subscribe to the Access + Forwarding service.
Why can't I forward an email in Yahoo?
If you've tried to forward a message and it's not going through, it could be that the address you're sending to is flagging the message as spam.
Where is the forward button on Yahoo email?
Yahoo Mail makes it easy to forward messages since the Forward button appears at both the top and bottom of a message once you open it on the web. For Yahoo Mail mobile app users, the Forward button appears in the bottom menu bar when you open messages.