Why Transfer Emails from Outlook to Gmail?
Microsoft Outlook is the go-to email service for business users, and it's also loved by many home users thanks to its rich features, reliability, and, in many cases, familiarity.
So, why would someone who has been using Outlook for some time suddenly want to learn how to import emails to Gmail? There are many good reasons why! Here are some of them:
Personal preference: There's a good reason why Gmail is the most popular email service in the world; lots of people love the user experience it offers. If you're among them, then that alone is a good enough reason to transfer emails from Outlook to Gmail.
Ecosystem integration: Gmail is part of Google's growing digital ecosystem. As such, it's well-integrated with services Google Drive, YouTube, or Google Docs, just to give three examples.
Deliverability issues: Outlook's anti-spam filter is infamous for quarantining messages sent by legitimate senders. Gmail doesn't suffer from similar deliverability issues, making it a great alternative for those who don't want to lose important messages.
Other common reasons to import Outlook emails to Gmail include the desire to use a more professional email address because Microsoft lets users buy and use only GoDaddy custom domain names, whereas Google doesn't limit its users to any specific domain registrar.
Before You Export Outlook Emails
There are a few things you should know before you export Outlook emails:
It can take some time to export all messages, especially if your inbox is large.
You should avoid using your mail account during export to avoid interfering with the process.
It's a good idea to get rid of spam and other unwanted messages before you export your messages using a tool like Clean Email (you can read more about it near the end of this article).
Everything clear? Great! Then it's time for us to finally explain how to transfer emails from Outlook to Gmail.
Method 1: Use the Built-In Import Feature in Gmail
Gmail makes it very easy for new users to import their messages and contacts directly from Outlook (no need to export them first). Here's how it works:
Log in to your Gmail account.
Click the Gear icon in the top-right corner.
Select the See all settings option.
Navigate to the Accounts and Import tab.
Click Import mail and contacts.
Enter your Outlook email address and click Continue.
Confirm your decision to sign in to your Outlook account by clicking Continue.
Follow the instructions in the popup window to give Gmail the necessary permissions.
Specify the desired import options. At the very least, you need to select the Import mail option.
Click Start import.
It may take Gmail a while to migrate all emails from Outlook to Gmail, but at least you can continue using it without any limitations.
Method 2: Export/Import Your Messages Using the Outlook Desktop App
The Outlook desktop app for Windows can export all messages into a file and then import them to a different inbox. You can use this feature to easily move emails from Outlook to Gmail:
Launch Outlook.
Open the File menu.
Click Open & Export then Select the Import/Export option.

Choose the Export to a file action and click Next.

Select Outlook Data File (.pst) as your file type of choice and click Next.

Select the folder you want to export and click Next. You can select your address to export the entire account.

Choose where you want to save the exported messages and click Finish.
You now have your entire inbox exported as a file. To import it, you need to enable Gmail IMAP access and add your Gmail account to Outlook. Once that's done, you can follow these instructions:
Launch Outlook.
Open the File menu.
Click Open & Export.
Select the Import/Export option.

Choose the Import from another program or file option and click Next.

Select Outlook Data File (.pst) as your file type of choice and click Next.

Click Browse and select the .pst file you've just exported. Click Next to continue.

Select Outlook data file and choose Import Items into the same folder in your Gmail account.
That's how to transfer emails from Outlook to Gmail using the desktop app for Windows.
Prepare Your Inbox for Migration
If you've been using your Outlook email account for a while, then it's basically guaranteed that a lot of junk has accumulated in your inbox. Unless you're a dedicated junk collector, it doesn't make any sense for you to export it along with legitimate emails.
That's why you should perform a quick inbox clean-up using Clean Email, an easy-to-use inbox organizer designed to get rid of hundreds and thousands of junk messages in a few simple steps.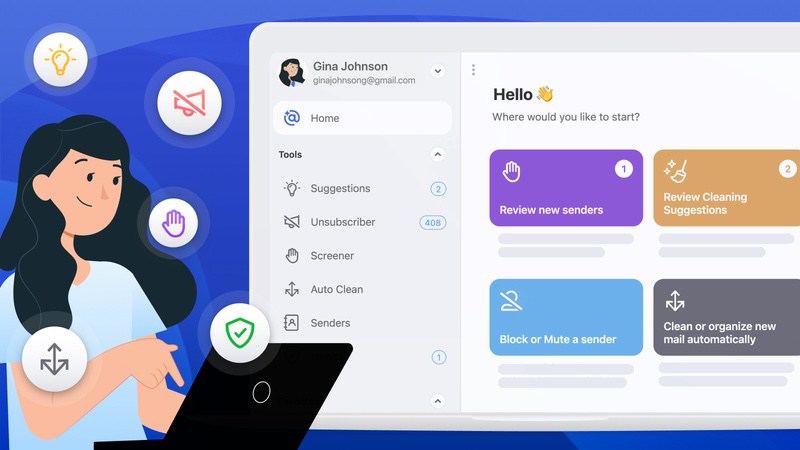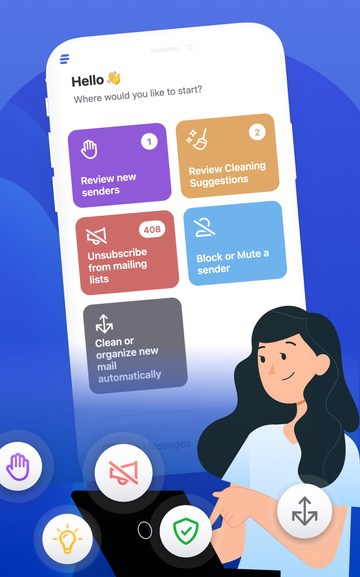 When preparing an inbox for export using Clean Email, we recommend you start by performing a Cleaning Suggestions first to organize specific types of messages, such as social notifications, emails older than 1 year, and so on, using recommended actions.
Whenever you apply any action, you can turn it into an Auto Clean rule, which will be performed automatically by Clean Email whenever a new message matching the rule arrives.
Do you receive way too many unwanted subscription messages? Then you should stop them using the Unsubscriber feature, which can send unsubscribe requests on your behalf and block mailing lists and senders who do not respect such requests.
These and other features can be used both before and after you export/import your messages.
---
FAQ
What is Outlook .PST file?
A Personal Folders file (. PST) is created by Outlook when exporting messages to a file. The file can then be used to import the messages it contains to a different email account or stored securely for backup purposes.
Are there any 3rd party migration tools to transfer Outlook emails into Gmail?