What is Confidential Mode in Gmail
Gmail confidential mode allows you to send emails with certain controls which stop recipients from downloading, forwarding, copying, or printing what you have sent.
You can set expiration dates for sensitive emails, and revoke access to the message at any time.
The reason for using this mode for most people is to protect sensitive information. However, with all confidential and secure modes within the web, there's always risk attached.
Although Gmail confidential mode attachments cannot be downloaded by the recipient there's no reason why recipients can't take screenshots or photos of sensitive information, or they may even have malicious software on their computer.
Gmail confidential mode doesn't rely on encryption. It simply stops recipients from being able to perform actions and gives you more control over the use of the email (check out our guide on how to encrypt email).
How Does Gmail Confidential Mode Work
It works by sending a link or a code for the recipient to open the message. You can choose to send an SMS code or no SMS.
Gmail users will be able to access sensitive emails, those who don't use Gmail will be sent a separate message with a passcode.
Administrators of schools, workplaces, or other groups will have to set up a confidential mode for you. Or you can turn it on yourself for your personal email account.
Once it is turned on you can enable it when composing a message, you will see the confidential mode icon at the bottom. It looks like a suitcase with a timer on it.
Click this to make the email confidential, you will then be asked to fill out an expiration date and passcode.
How to Turn on Confidential Mode in Gmail
How to turn on confidential mode in Gmail on the web
For administrators:
Admins can turn the mode on and off for the entire domain.
Here's how to turn it on:
Sign into Google admin console.
Go to apps → Google workspace → Gmail → User settings.
Scroll until you find Confidential Mode.
Check or uncheck the box.
Click Save.
For an organisational unit, follow the same steps but select 'organisational unit' within user settings first.
For personal email account:
Open your mail account.
Click compose a message.
At the bottom right, click on the Confidential mode icon to turn it on.
Set the expiration date and passcode.
Compose email and send!
SMS passcode will send the recipient a text containing the passcode. Type in their number, not yours!
'No SMS' means that an email containing the passcode will be sent to non-Gmail users. They will open a sensitive email with their web browser.
How to turn on this mode on mobile
The process is the same on Android and iPhone.
Open your mail account on mobile.
Tap to compose a message.
Tap More in the top right corner.
Tap Confidential mode.
Turn it on.
You will now see an icon at the bottom of the compose box.
Click it and set expiration date and passcode here.
How to Turn off Confidential Mode in Gmail
To turn it off, follow the same instructions as before, but uncheck the box instead.
Here's a recap.
Sign into Google admin console.
Go to apps → Google workspace → Gmail → User settings.
Scroll until you find Confidential mode.
Uncheck the box.
Click Save.
For personal accounts, make sure you don't click the confidential mode icon at the bottom when composing a message.
Simplify Email Management With Clean Email
Clean Email cannot help with securing your mail account or with using Gmail confidential mode. However, the app is recommended to be used as an email management cleaner for your inbox. Assisting with keeping your mailbox organised and productive!
You can block unwelcome senders easily, with a click of a button.
Unsubscribe from mailing lists to declutter your inbox.
Automate email tasks to improve your emailing experiences.
And so much more!
Auto Clean feature
Auto Clean enables you to automate any routine tasks that would usually take up some time. For example, you can create a rule to automatically move emails to Trash or Archive.
To create an Auto Clean rule, all you need to do is:
Select the emails you want to act upon.
Click an action icon at the top.

A pop up will appear.
Click to apply the rule to Selected and future similar emails.

Fill out any criteria.
Create a rule!
You can find the rules you have created within the Auto Clean dashboard.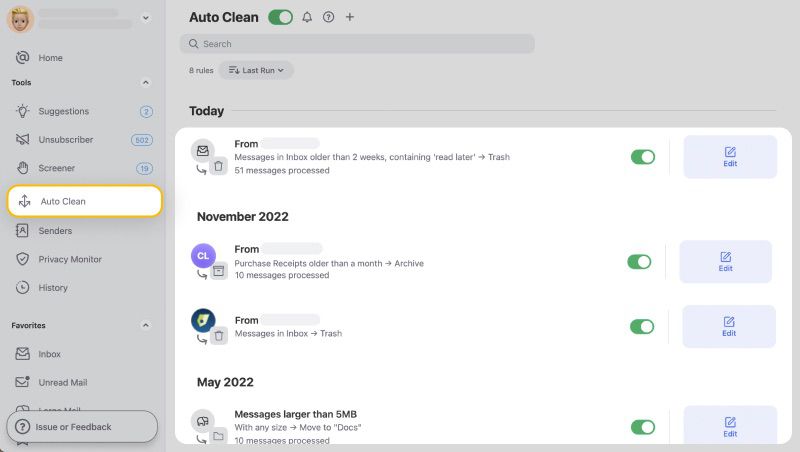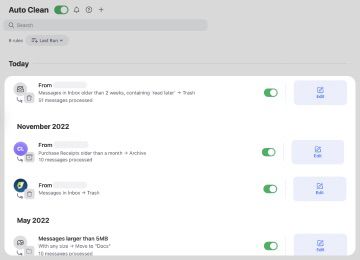 Smart Views feature
Smart Views bundle your emails into easy-to-use groups. When viewing a single group, you can perform actions easier, or locate the emails you need quicker.
Examples of views are Top senders, Mailing lists, Emails older than 6 months, etc.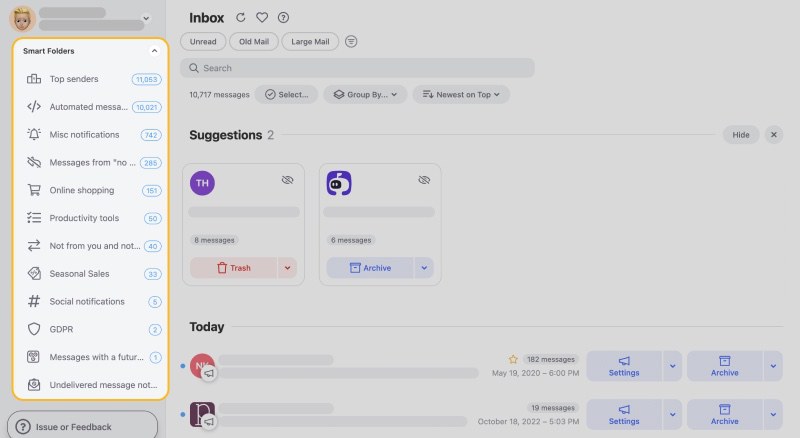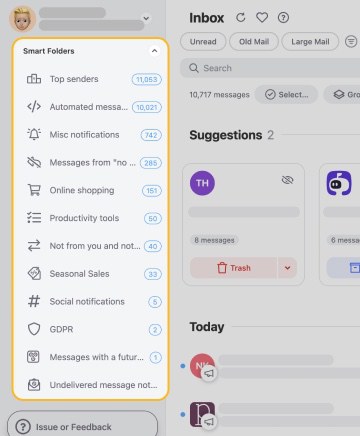 You no longer need to endlessly search or scroll through your mailbox!
Unsubscriber feature
Unsubscriber is a handy tool that enables you to quickly stop receiving email newsletters into your inbox. Within the Unsubscriber tool, you can choose to,
Unsubscribe: The app will follow all the steps required to get your email address removed from a mailing list.
Read Later: Emails will be moved to a Read Later folder for you to enjoy when you're ready.
Keep Newest: Older emails from a subscription will be moved to trash – except the most recent message.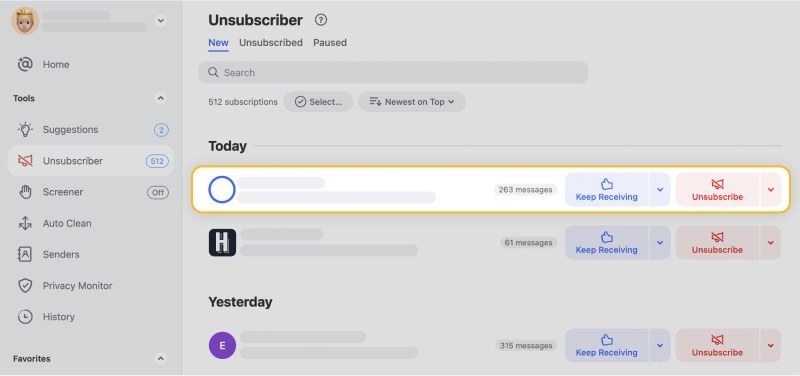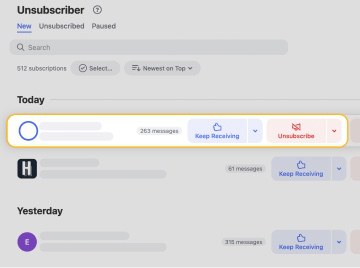 Privacy Guard feature
Privacy Guard will run checks to see if your credentials have been compromised by a data breach or another email security incident. If your account has been breached, the app will urge you to take appropriate action immediately.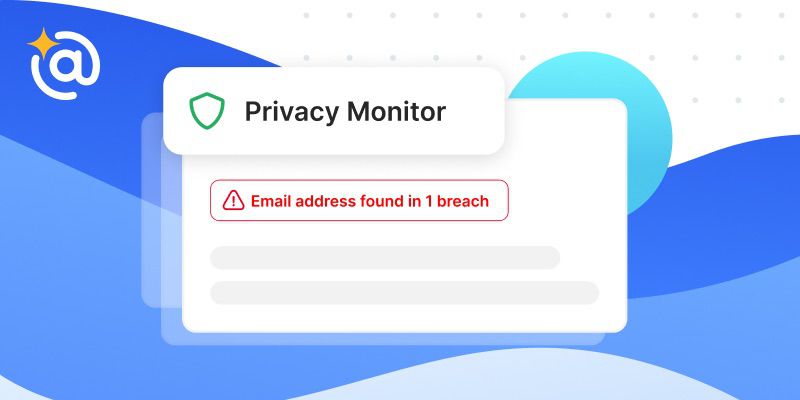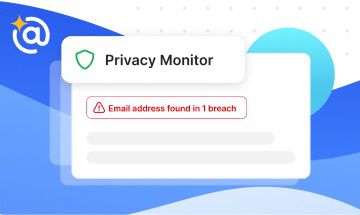 It is crucial to keep your email account secure to avoid spammers gaining access to sensitive and important information (learn more about Gmail security).
Clean Email is available to use on iOS, Android, Mac, and web. It works with all IMAP-based email service providers.
Wondering how to increase your email productivity and security? Check out our guides on how to customize Gmail, how to create Gmail alias email, and how to download Gmail emails to PC.
---
Gmail Confidential Mode - FAQs
What is the confidential mode in Gmail?
Confidential mode allows you to send emails with sensitive attachments or information without the recipient being able to download, forward, or copy the email. You can also revoke access at a certain time too.
Is Gmail confidential mode encrypted?
This mode doesn't mean it uses any sort of high-level encryption.
Is Gmail confidential mode HIPAA compliant?
It uses some HIPAA compliant features, like being able to revoke access and track email information.
How secure is Gmail confidential mode?
Although it provides some level of security, spammers could still download emails using malicious software, or even take pictures of sensitive information.
Can you mark an email as confidential?
Yes, when composing a message, click on the confidential mode icon to mark the email as confidential.