What Is Gmail Inbox Zero?
Are you wondering what is Zero Inbox in the context of Gmail? Well, in general, it is an approach to email management whose aim is to keep the inbox as close to empty as possible at all times. The origin of this approach can be traced to Merlin Mann, the founder and writer of 43 Folders, You Look Nice Today, and MacBreak Weekly.
Gmail Inbox Zero is the practical application of Mann's ideas to inbox management.
Fortunately, Gmail offers a large number of useful features that can be easily used to keep incoming emails under control and prevent them from piling up. There are also third-party Gmail cleanup tools that you can connect to your mailbox to make its organization even easier.
How to Get to Inbox Zero in Gmail
Getting to Inbox Zero in Gmail isn't difficult, and it also doesn't have to be time-consuming, but you need a solid Gmail Inbox Zero strategy, and that's exactly what this section is all about.
If you're like most email users, then you can't simply delete the entire content of your mailbox as a shortcut to Gmail Zero Inbox because that would mean losing important messages.
Instead, you should create a strategy to reach your goal with minimal disruption. Here's what such a strategy can look like:
Start sorting all new messages.
Streamline your mailbox to make it easier to navigate and use.
Prevent your inbox from becoming a mess again.
Let's take a closer look at each of these Gmail Inbox Zero strategy steps so that you can clean your Gmail inbox effectively.
Step 1: Sort New Messages
Whenever you receive a new message, you should process it as soon as you see it. Here are a few examples of how different messages can be processed so they don't clutter your mailbox:
Important messages: Label them based on their content and Star them so that you can easily find them later.

Unimportant messages: Messages that you want to read and respond to later can be snoozed, while unimportant messages that you want to keep but not necessarily read can be Archived straight away.
Spam and unwanted messages: Messages that are obviously spam should be marked accordingly. We also recommend you unsubscribe from any unwanted subscription emails as soon as you receive them to keep them from bothering you over and over again.
Of course, it's completely up to you how you sort new messages. As long as the number indicating how many unread messages there are in your inbox folder will stop increasing, you're good to go.
Step 2: Customize Your Inbox
To make it easier for yourself to sort new messages, you should customize your Gmail. To do that:
Open your mail account.
Click the Settings gear icon and tap the See all settings button.

Go to the Inbox tab.
Customize the available settings to your liking.
In particular, we recommend you customize Gmail categories and change Inbox type from Default to Multiple Inboxes. This simple option lets you see different types of email messages on the same screen.
By default, the Multiple Inboxes setting displays emails that are starred, drafts, and the content of your inbox. However, you can customize it to display any search query.
For example, you can always display emails from a specific email address, such as the one belonging to your boss, to minimize the chance of missing any message sent from it.
Since displaying emails from multiple inboxes takes up a lot of screen space, you can decrease display density by clicking the Settings gear icon and choosing the Compact option instead of Default.
If you're still not satisfied with how your mail provider looks and works, then you should consider using a third-party email client. While Inbox by Gmail was shut down by Google on April 2, 2019, there are several alternatives to Inbox by Gmail that you can use to comfortably access your mailbox on any device.
Step 3: Use Email Filters
Explaining how to get to Inbox Zero Gmail is just one part of the Inbox Zero equation. We also need to explain how to maintain a clean mailbox using email filters.
Email filters are basically rules consisting of two parts:
Condition: Specifies when a matching rule is triggered.
Action: Specifies what happens when a matching rule is triggered.
To create an email filter:
Go to your mail account.
Click the Show settings option on the right side of the Search bar.
Specify the conditions for your new filter.
Click the Create filter button.

Specify what happens when the conditions are met.
Click the Create filter button again.
You can manage your email filters from the Filters and Blocked Addresses tab of Gmail Settings.
Unfortunately, creating and managing email filters from Gmail isn't exactly convenient. In fact, it can be downright confusing. The good news is that learning how to get Gmail inbox to zero by creating email filters with the help of third-party apps is straightforward and well worth the effort.
Achieve and Maintain Zero Inbox Gmail with Clean Email
One of the most helpful tips for your mailbox we can give you is to use a third-party Inbox Zero Gmail app like Clean Email.
This service essentially provides a nice user interface to the most useful email management features.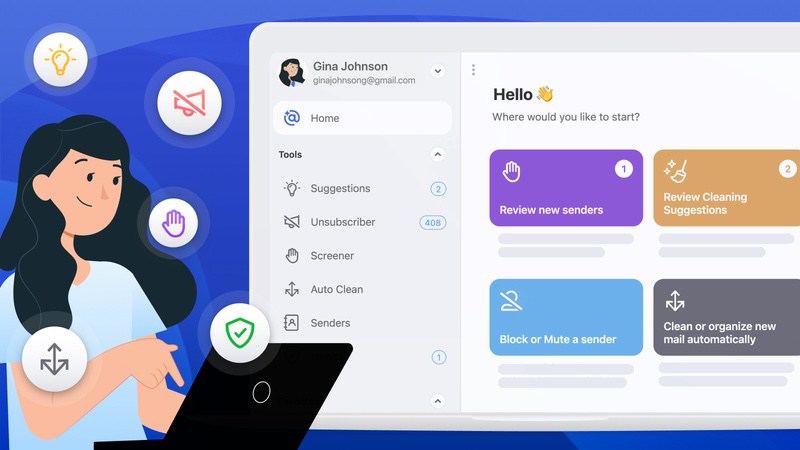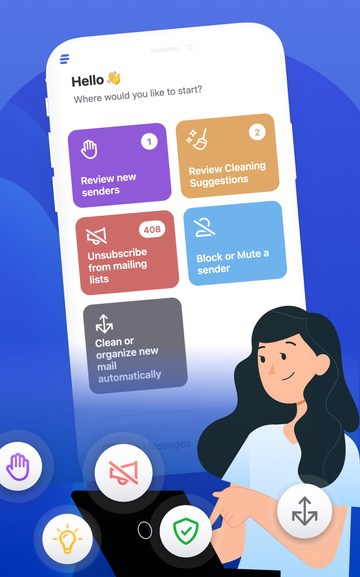 It also comes with a whole bunch of extra features that the original Gmail app doesn't support. For example, you can unsubscribe from emails on Gmail using Unsubscriber, organize your emails into smart email bundles using Smart Folders, or automate any routine email task with the Auto Clean feature.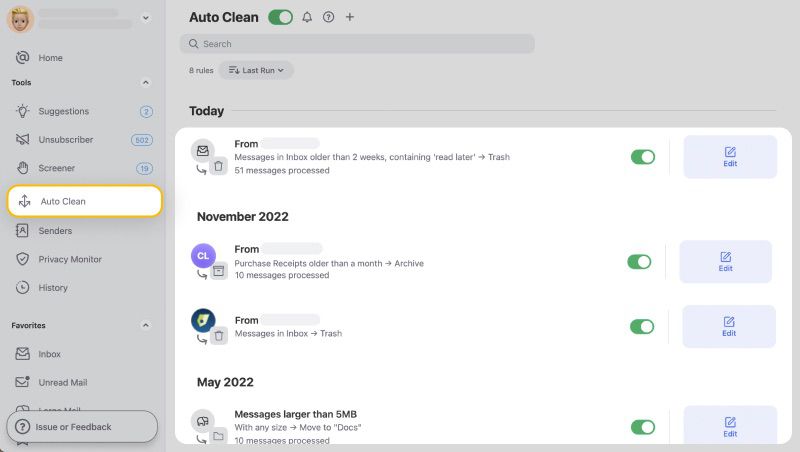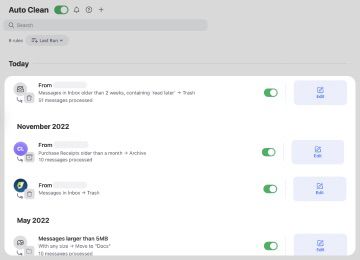 These and other features make it easy to delete all unread emails in Gmail, automatically label emails that include certain keywords, archive emails that are older than a certain number of days, weeks, or months, and so on.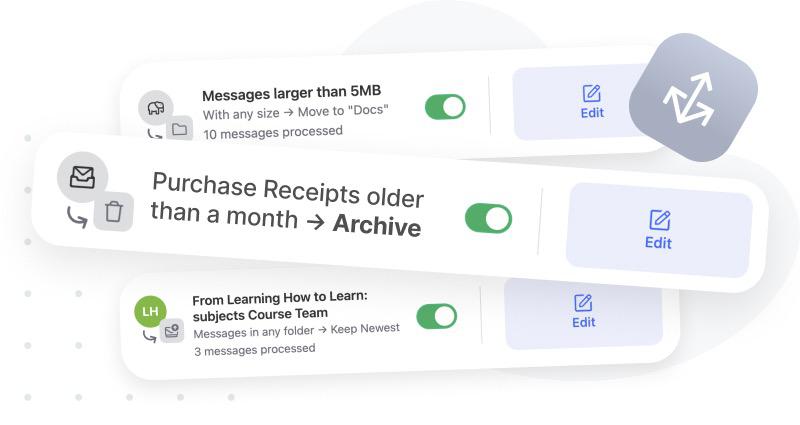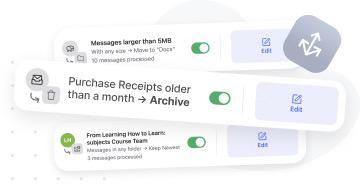 Best of all, the app doesn't work only with Gmail but also all other major email service providers, and you can try it for free to see how it works in practice.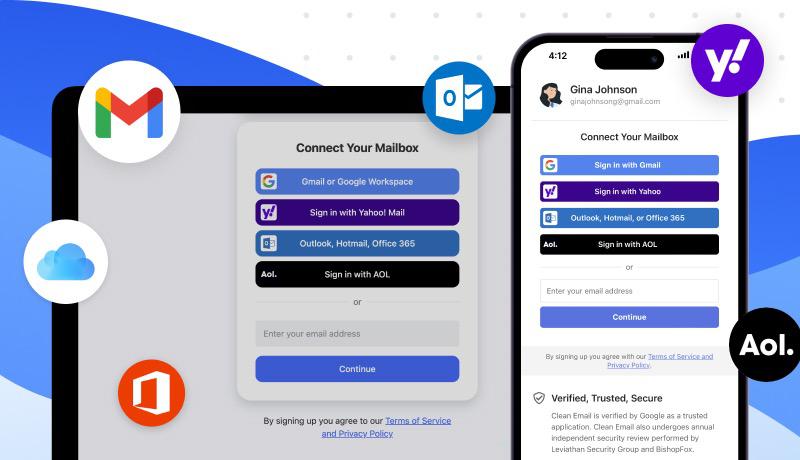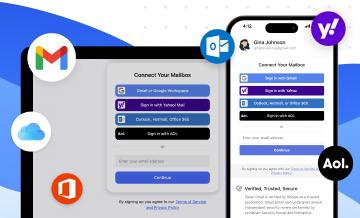 ---
Gmail Inbox Zero - FAQs
What is Inbox Zero in Gmail?
Inbox Zero in Gmail is the practical application of the email management ideas described by Merlin Mann. The goal is to prevent emails from piling up and making the mailbox difficult to manage. To achieve this goal, you can use Gmail's native email management features in combination with third-party apps.
Why is my Gmail inbox suddenly empty?
If it is suddenly empty, then you've accidentally archived emails, deleted them, or moved them to the spam folder. Even if your emails have ended up in the Trash folder, you should still be able to recover them within 30 days of their deletion.
How do I get Inbox Zero in Gmail?
To get it, you need to create an effective strategy that reflects the way you use your mail service provider. You then need to use its inbox management features in combination with third-party apps like Clean Email.
Should you empty your email inbox?
We don't recommend you empty your inbox without organizing it first and taking the steps necessary to ensure that it won't become a mess again. The tips described in this article can help you accomplish both.