What Are Labels In Gmail?
Gmail labels are used to store and organise your emails. You can create as many labels as you want and even assign colours to make locating specific labels easier.
Gmail labels are similar to folders. However, the difference with using labels is that you can add multiple labels to the same message to categorise your mailbox.
For example, you can label all work emails as "work" and add another label to help specify, "sales". So, when you click on work, then sales, all related emails will show.
You can see all created labels within the sidebar when using Gmail, making locating emails super easy.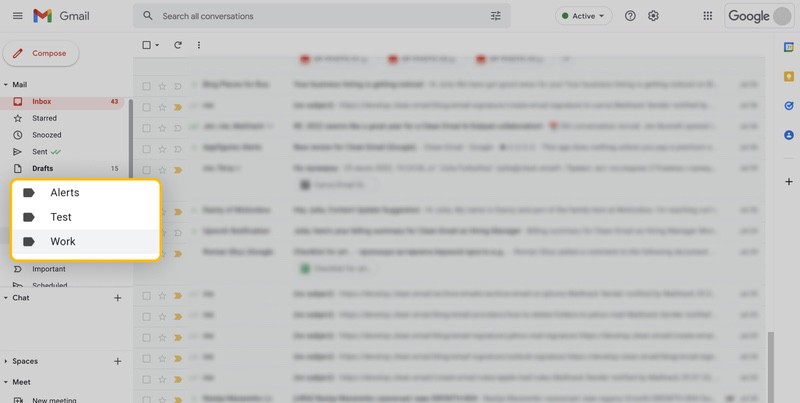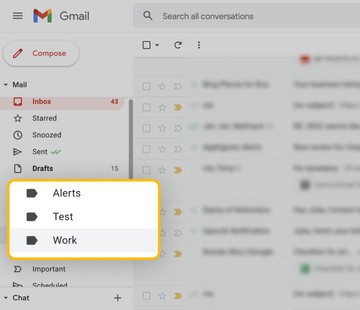 How To Use Labels In Gmail
Using labels in Gmail is incredibly useful for keeping your mailbox organised and enabling you to locate emails easier.
The benefits of using labels are:
Easily organise your mailbox.
Colour-coordinate types of emails.
No need to move messages to different folders.
You can apply more than one label to a message (the main difference with folders).
Apply labels when composing a message so the reply is automatically labelled.
You can choose which labels send you notifications.
Search for labels in the search bar.
Let's go through some scenarios:
You run a small business and need to organise sales, reports, and customer service emails. You can create a primary label for all business-related emails, then add another label for sales or marketing. You can then find specific emails within their label.
Use labels to split your personal emails and your work emails. Colour-coordinate labels to identify which ones are work-related, and which ones are personal messages.
You want a response to your message to automatically have a label. You can add a label when composing the message to save time!
How To Add Labels In Gmail
Adding Gmail labels is easy, and there are a couple of ways you can do this. Here's how to add labels in Gmail using the web or your mobile phone.
Adding Labels on the Web
You can create as many Gmail labels as you want. To create a new label, follow these easy steps:
Log into Gmail on your desktop.
In the left sidebar, scroll and click More.

Here you can click Create new label.

Choose a name for your label.
Click Create.
To edit a label, follow these steps:
Hover over the label name.
Click the three dots on the right of it.
Click Edit option.
To delete a label, follow these steps:
Hover over the label.
Click the three-dot button on the right of it.
Click Remove label option.
To add Gmail labels, follow these steps:
Open the message you want to add a label to.
Click the Label icon at the top.

Create a new label or choose an existing one.
You can easily add a label to a message whilst composing by clicking the three-dots option along the bottom. Choose Label. Create a new label or choose an existing one.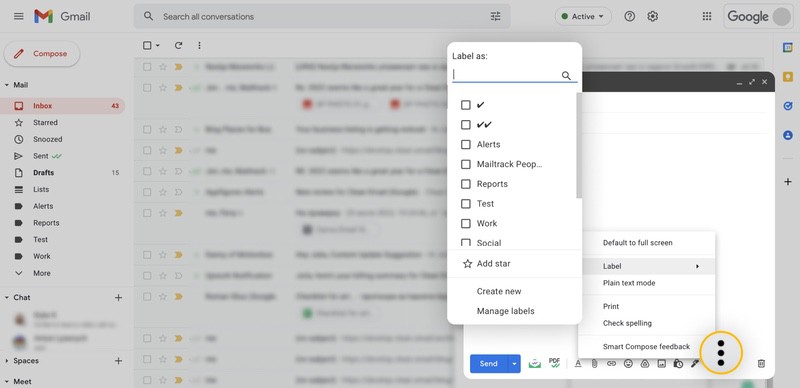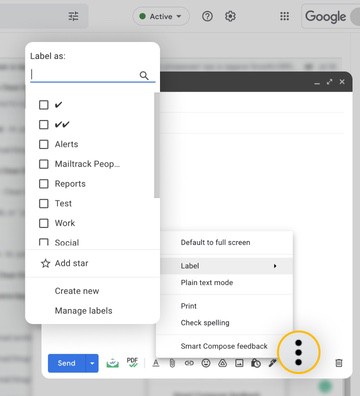 Adding Labels on Android
If you have an Android device, you won't be able to create, edit, or delete Gmail labels. You will only be able to do this using a desktop.
However, you can add existing labels to messages and move messages to another label, here's how to do it.
Add a label:
Open the Gmail app on your mobile device.
Open a message you want to add a label to.
Tap the three-dot More button in the top right.
Tap Change labels.
Here you can add or remove labels to the message.
Finalise by clicking OK.
To move a message to another label:
Open the message.
Tap the More button.
Choose to Move to.
Select a label to move the message to.
Adding Labels on iPhone
You can create labels in Gmail mobile app by following these steps:
Open the Gmail app.
Open the hamburger menu in the top left.
Scroll to locate your labels.
Underneath you will see Create new.

Choose a name and click Done.
Add a label:
Open Gmail app.
Open the message or click on the sender's profile image to stay within the inbox.
Tap the three-dots button in the top right and choose Label.

Check the boxes you want.
The labels will be applied automatically.
To move a message to another label:
Follow the steps above.
Uncheck, and then check the boxes of the labels you want.
How to Manage Labels in Gmail
Next, let's go through how to organise labels in Gmail.
Labels are automatically listed in alphabetical order within the sidebar. However, if you have tons of labels, you can make the organisation even easier.
Click the more button next to your labels to assign them with a colour. For example, important labels can be colour-coded red.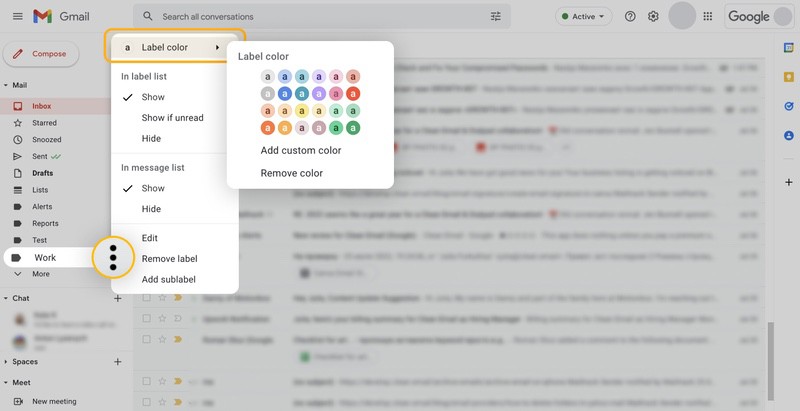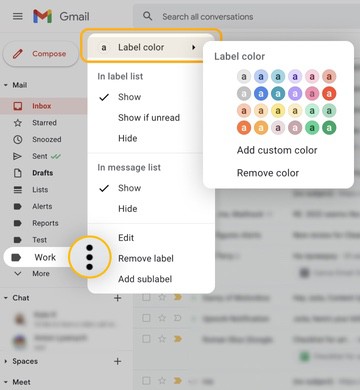 In the same way, you can choose 'In label list' to select which labels you want to have visible before the More button on the left-side panel. You can put the most used or most important labels first.
Create sublabels for primary labels. All you need to do is click the three-dots button next to the label and choose Add sublabel.
You can only see sublabelled messages within their label. You won't be able to see them in the primary label. If you want the message to appear within both labels, add both labels to the message.
Search for labels by typing label: and the name of the label you are searching for. For example, label:social. This will show all messages with that label. Gmail automatic labels can also be searched for.
Unread
Promotions
Starred
Muted
Social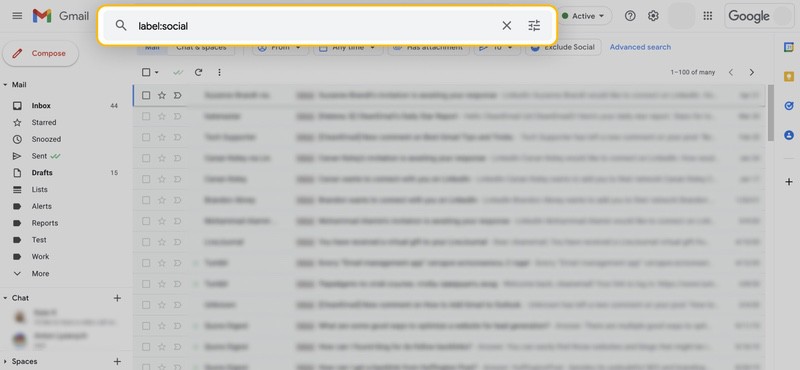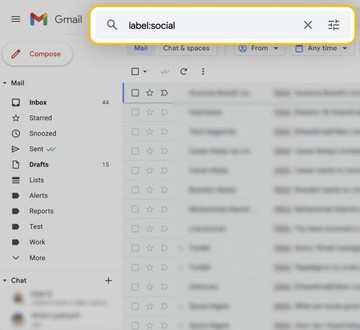 Finally, you can also filter emails in Gmail to automatically apply labels to messages and send them into the right folder (learn more about how to create folders in Gmail).
Manage Gmail Labels With Clean Email
Clean Email is a bulk email management tool to help you organise Gmail emails and achieve Gmail Inbox Zero. Besides Gmail, it also works with all IMAP-based mail providers like Yahoo, Outlook, and more.
With Clean Email, you can add and remove labels to your Gmail emails. Check out the instructions below.
Here's how to use Clean Email to label messages:
Choose Inbox or All Messages folder in the left dashboard.
Click the checkbox near the messages you want to label, or an email group.
Choose the Labels… icon along the actions bar at the bottom of the screen.

Now you can choose to add a label or remove a label from existing ones.

Alternatively, you can create a new label by typing its name into the Typing field.
Clean Email makes it easy for you to organise emails without having to manually manage them.
Smart Folders works a little bit like adding labels. Emails are automatically bundled into groups. For example, all Social notifications will be found in one place. This makes it easier to locate and manage emails.
💡 Note: Smart Folders are not actual folders like Gmail has. Your messages will not be moved from your Inbox folder. Smart Folders serve like 'labels' to organise emails into relevant groups.
You can also create automated rules using Auto Clean to apply actions to incoming messages once they hit your Inbox. For example, you can set to mark all messages from Travel sites as read or move all messages related to Online shopping to the separate folder to check them later.
Unsubscriber is a great tool to get rid of unwanted mailing lists and subscriptions that block up your inbox. You can choose to Unsubscribe, Read Later, or Keep emails.
All emails will automatically be moved into a separate folder by choosing to Read Later, keeping your mailbox tidy.
💡 Note: Clean Email cares about your security and privacy. We never sell or share user data with third parties.
Wondering to learn more tips and tricks? Check out our guides on how the Gmail categories work, how to mass delete emails in Gmail, and how the Gmail snooze feature works.
---
Gmail Labels - FAQs
What are Gmail labels?
Gmail labels work like folders; however, you add labels onto messages instead of moving them to different folders.
How do labels work in Gmail?
Multiple labels can be added to messages to help organise your mailbox. You can view your labels within the left sidebar.
How do I add labels in Gmail?
To add a label in Gmail, select a message, then click the Label icon along the top action bar. You can create a new label here or choose an existing one.
How do I manage labels in Gmail?
You can manage labels in Gmail by assigning colours to important emails, and choosing which ones appear before the More button.
Why my Gmail labels disappeared?
You may have removed labels from being visible within the sidebar, or you may need to click More when scrolling through your labels.