Add Contacts to Gmail: All You Need to Know
Finding someone isn't the challenge it used to be. We can connect with friends, family, and colleagues from all over the world with just a click. Yet, while social media profiles are readily accessible, their email addresses remain a bit more elusive.
That can be a problem because email remains a primary communication channel, especially for professional and formal interactions. Hence, knowing how to add contacts to Gmail becomes invaluable.
Adding Contacts to Gmail from Received Emails
Every email you receive contains important contact information, and you can use it to create contacts in Gmail. Here's how:
Head to your inbox and open the message from the sender you want to add.
Click the sender's avatar at the beginning of the email.
Click the Add to contacts icon to create a new contact in Gmail with that sender's details.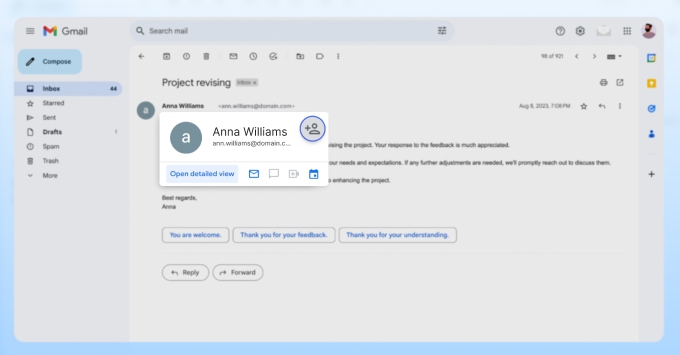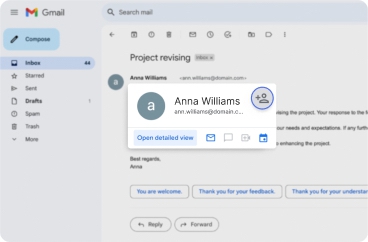 💡 Note: If you're adding contacts to Gmail primarily to ensure their messages aren't marked as spam, then you should learn how to whitelist an email address. On the other hand, if you're looking to prevent certain senders from reaching your inbox, you might be interested in how to block individual contacts in Gmail.
Manually Creating Contacts in Gmail
What if you want to add a contact to Gmail, but you haven't received an email from them? No worries – you don't have to wait for them to drop you a line. Just follow these steps:
Head to your inbox but don't open any message.
Click the Contacts icon in the sidebar on the right side of your inbox (if the sidebar isn't visible then you need to click the arrow in the bottom-right corner first).

Click the Create contact button.

Enter the contact's name, email, phone number, or any other details you have. For example, you can take advantage of the Notes field to remember specific details or contexts regarding the contact.
Click on Save to add the new contact.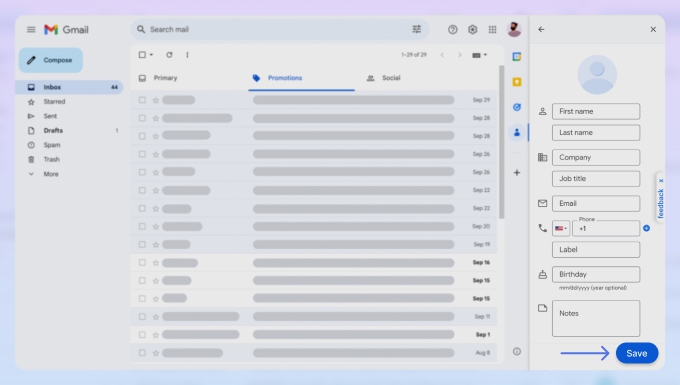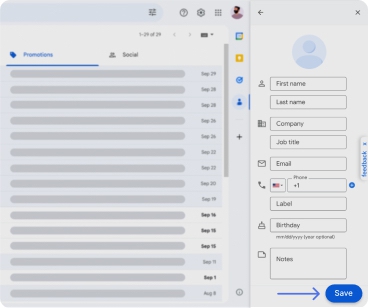 Once you've built up a list of contacts, you should create a contact group for easier management and more efficient communication. You can then use this contact group to create a group email in Gmail.
Related posts:
Those who are using multiple email platforms should learn how to create a group in Outlook to efficiently manage your contacts there.
If you're a Yahoo Mail user, explore our guide on how to manage Yahoo contact lists for better email organization.
Importing Contacts to Gmail on Mobile
Has someone shared their contact information with you in the form of a VCF file while on the go? You don't have to wait until you're at a desktop to start importing the contact to Gmail. You can do it right on your mobile device by following these steps:
Android
Launch the Contacts app.
Navigate to the Fix & manage tab.
Tap the Import from file option.
Select your Gmail account.
Locate the received VCF file on your device and select it.
Review the contact information to be imported and confirm.
iOS
Open the VCF file you've received.
Review the contact information to be imported.
Click the Done button to finish the import.
Ensure your iPhone contacts are synchronized with Gmail.

The imported contact will be automatically added to your Gmail contact list.
Unfortunately, the Android method doesn't work on iOS because Google's Contacts app isn't available there.
📌 Tip: If you're aiming to add Gmail contacts to iCloud, start by exporting your contacts as a vCard file. Once downloaded, head to iCloud.com, open the Contacts app, click on the gear icon in the bottom-left, and select Import vCard. Choose the vCard file you exported from Gmail.
Keeping Your Inbox Organized with Clean Email
Adding contacts and in hand with receiving more and more messaging, and it doesn't take long for your inbox to start overflowing. That's where Clean Email steps in to declutter your digital life.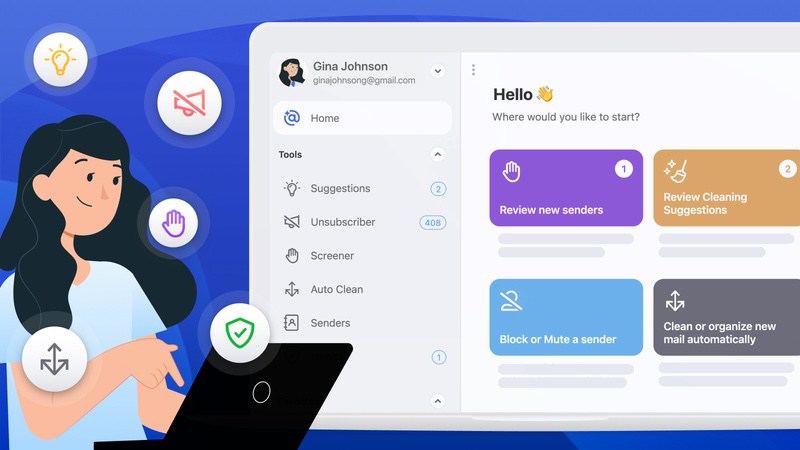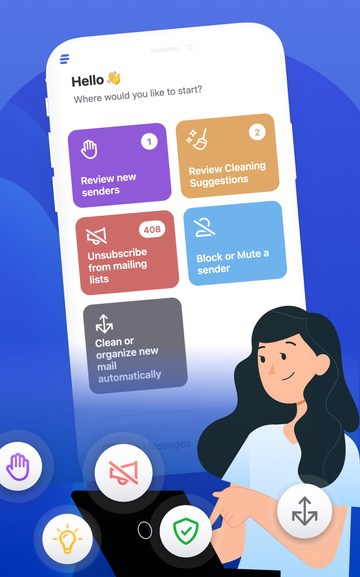 Clean Email is a smart inbox organizer with many features that can transform your Gmail inbox from a messy heap into a streamlined communication hub, and they include:
Clean Email's Screener feature effectively intercepts messages from new senders, giving you control over who reaches your inbox and becomes part of your contact list. By doing so, it helps you maintain a well-curated list of contacts and reduces unwanted clutter.
With the Senders tool, Clean Email allows you to easily locate all individuals who have sent emails to your Gmail address, whether they are contacts or occasional correspondents. This centralized space aids in organizing your communication and makes managing your emails a breeze.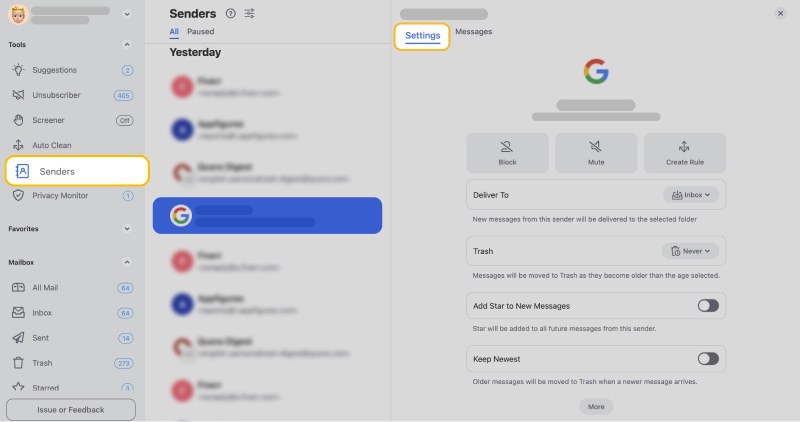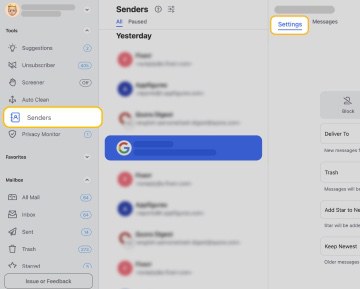 Auto Clean is a powerful feature in Clean Email that enables you to create automated rules for emails, designating specific actions for various senders or subjects. This level of automation not only saves time but also ensures that your Gmail inbox remains orderly and aligned with your preferences.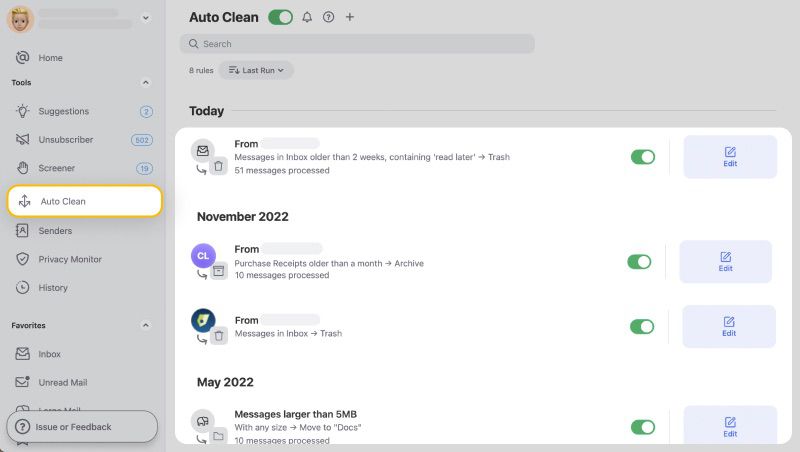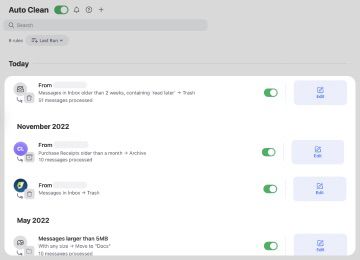 Clean Email's Smart Folders are predefined filters that automatically categorize your emails into intuitive groups. By organizing emails in this way, you can quickly find the content you're seeking without having to sift through your entire inbox, resulting in a more efficient email experience.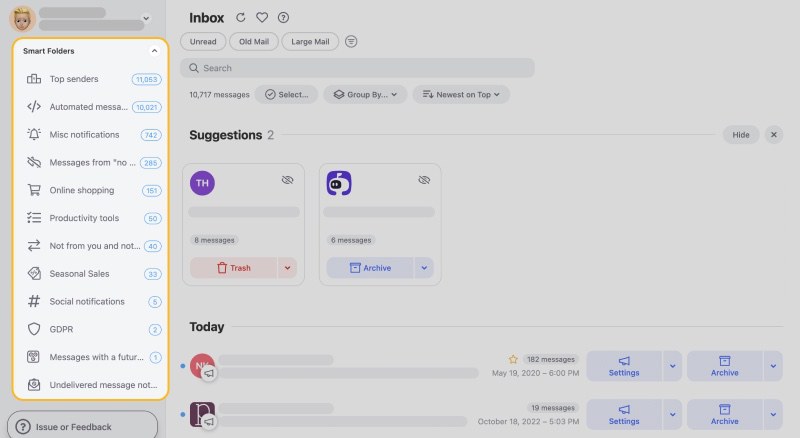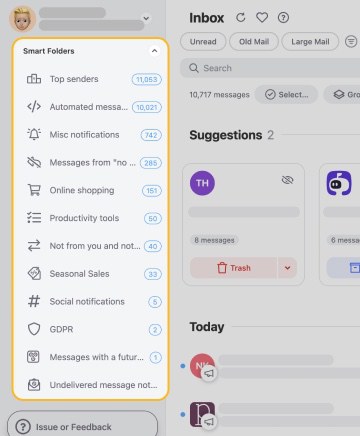 Newsletters and promotional offers can accumulate quickly, leading to a cluttered inbox. The app's Unsubscriber feature allows you to quickly eliminate these unnecessary messages. This tool gives you the power to remove subscriptions that no longer serve your needs with just a few clicks.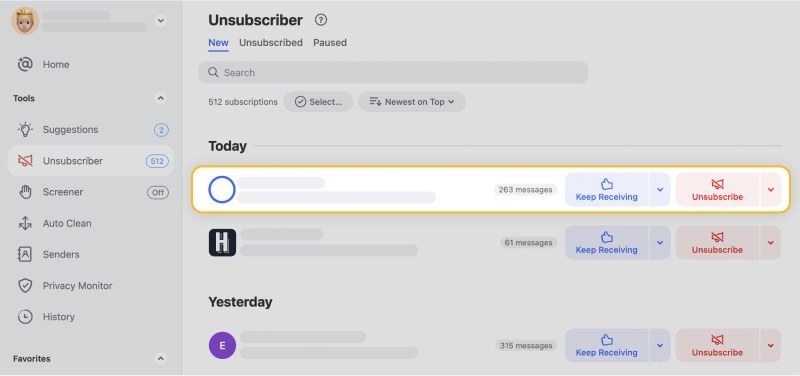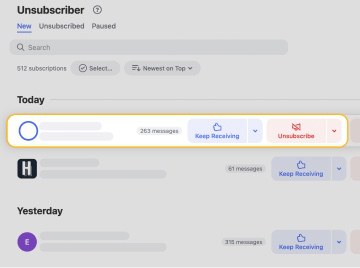 Best of all, these and other features are available on mobile, so you can manage and declutter your Gmail inbox whether you're commuting, waiting in line, or simply enjoying a break.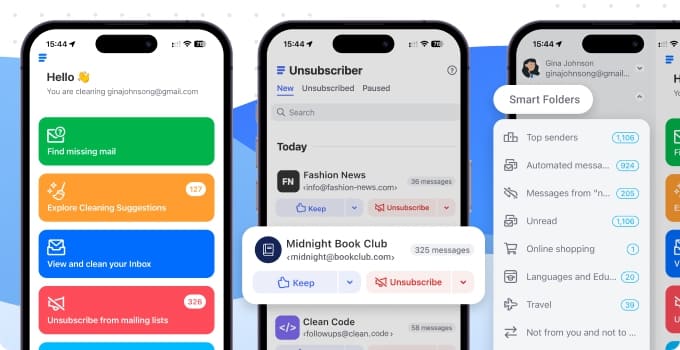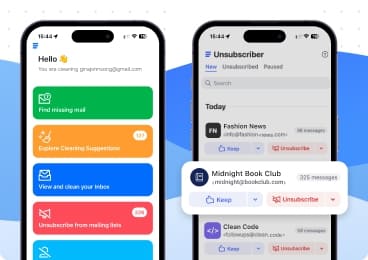 Additionally, Clean Email places a strong emphasis on users' privacy and security. The inbox organizer only uses its access permissions to read or control Gmail message metadata, without employing this information for advertising and other marketing purposes.
Wrap-Up
Now that you know how to add a new contact in Gmail, it's time to make the most of your email experience. Efficiently managing and organizing your contacts ensures that you can always find the people you want to communicate with, without the hassle of sifting through cluttered inboxes or forgotten emails. Combine contact management with Clean Email's email organization capabilities for a more decluttered and organized inbox.
---
Add Contacts in Gmail - FAQs
How to add contacts to Gmail?
You can create contacts either by clicking on the sender's name in a received message and choosing the Add to contacts option, or by manually creating a contact by clicking the Contacts icon in the sidebar of Gmail and filling in the details.
How to add contacts to a group in Gmail?
To add contacts to a group in Gmail, go to Google Contacts, select the contacts, click the Label icon, and choose or create a group. The contacts will be added to the selected group.
How to add contacts to Gmail on iPhone?
You can import contacts to Gmail on iPhone by opening a received VCF file, reviewing the contact information to be imported, and clicking the Done button to finish the import. The contact will be automatically added to your Gmail contact list.
How to add contacts to Gmail from Android phone?
On an Android device, you can import contacts to Gmail by launching the Contacts app, navigating to the Fix & manage tab, tapping Import from file, selecting your Gmail account, locating the received VCF file, and confirming the import.