Why Connect Gmail to Outlook?
If you're currently managing your Gmail and Outlook accounts separately, you're likely spending twice as much time as necessary looking at your emails and events in two different applications. Being able to check all your emails in one place is much more convenient and allows you to get more work done quickly (learn more about how to manage multiple accounts from one place).
This is especially true for your appointment and meeting schedules, as having them stored on two different accounts can make things confusing. Integrating Google Calendar into Outlook gives you all of your events in one calendar and makes it easy to see when you're really available.
Is Adding Gmail to Outlook Safe?
That depends on your authentication settings. Gmail considers all third-party email applications that don't use OAuth 2.0 to be less secure, and it warns users about the possible consequences of using such applications to access Gmail.
OAuth 2.0 is an open standard for authentication, and it's commonly used as a way for users to grant websites or applications access to their information stored on other websites but without disclosing the passwords.
According to Gmail, passwords are inherently risky, but not everyone thinks that. Besides, there's nothing stopping you from using two-factor verification or using an application specific password to strengthen the security of your account.
That said, it's possible that you won't be able to add Gmail to Outlook unless you enable access for less secure apps in your Google security settings. "If an app or site doesn't meet our security standards, Google might block anyone who's trying to sign in to your account from it," explains Google.
To enable access for less secure apps:
Go to Google Account and log in with your email address and password.
Click Security on the left.
Scroll down until you see the "Less secure app access" section.
Click the "Turn on access (not recommended)" option.
Keep in mind that Google will automatically turn this setting off if it's not being used, so make sure to check if it's still on if you start experiencing issues with Gmail access from Outlook. You also need to keep your password safe and protect it from hackers and all other people who have no business knowing it. If your password is so long that you can't remember it properly, we recommend you use a password manager instead of writing it on a piece of paper.
How to Setup Gmail in Outlook 2016
From Gmail, open Settings and navigate to Forwarding and POP/IMAP. Enable IMAP and save your changes.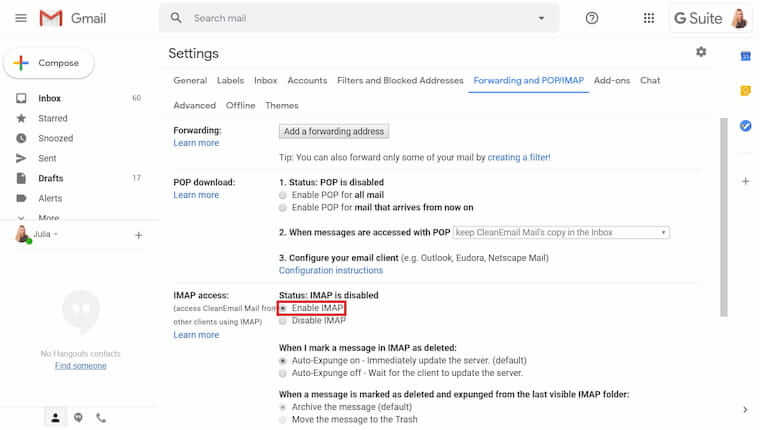 Open Outlook 2016 and select File.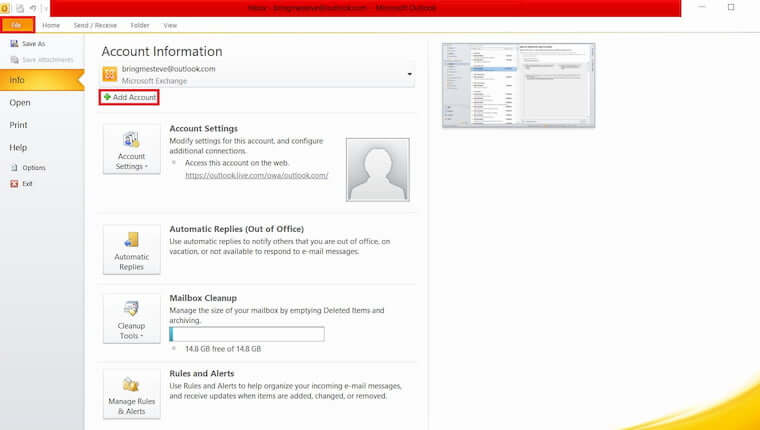 Add your Gmail account via Add Account, then click on Manual setup or additional server types. Choose "POP or IMAP"
Enter your account details along with the following information:
IMAP for account type
imap.gmail.com for incoming mail server
smtp.gmail.com for outgoing mail server
In the Outgoing Server menu, select "my outgoing server requires authentication," then use the same settings as your incoming mail server.
In Advanced, double check that the following fields are correct:
993 or 143 for incoming server
SSL for incoming server encrypted connection
465 or 587 for outgoing server
TLS or Auto for outgoing server encrypted connection
After finishing these steps, simply check the connection and make sure that you can view your messages in Outlook. Congratulations—you've setup Gmail in Outlook 2016!
How to Add Gmail to Outlook Mail
If you're trying to figure out how to set up your Gmail account in Outlook Mail, the process is slightly different from how to set up Gmail in Outlook 2016. That said, the first step is the same, simply requiring you to enable IMAP in Gmail. After that, just complete the following:
Go to Settings and then View all Outlook settings → Sync email in Outlook.com.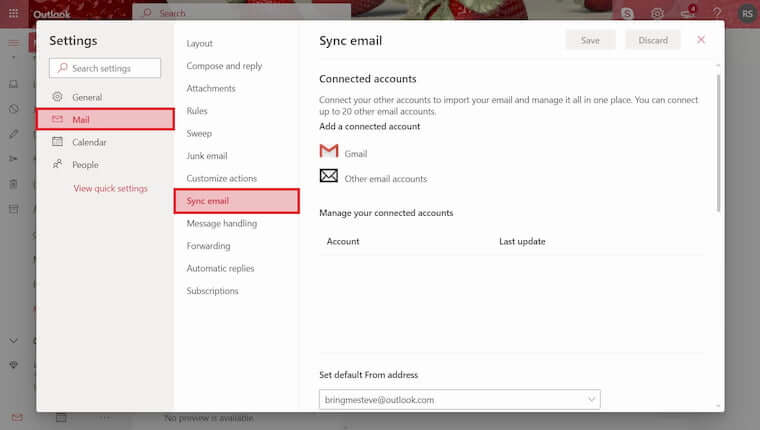 Under Connected accounts, select Gmail.
On the Connect your Google account page, enter a name for your Gmail account that recipients will see when they receive an email from you.
Select the Gmail account you want to use and enter your username and password for that account. If you've turned on two-step verification for your connected Gmail account, you will need to create an app password. Go to security page in your Gmail and then return to Outlook.com to enter that password on the Connect your Google account page.
Select Allow.
How to Add Gmail Calendar in Outlook
Viewing your Google Calendar in Outlook makes it easy to manage your entire schedule in one place, and it's just as easy to set up as your Gmail account. Outlook allows you to subscribe to your own Google Calendar in order to stay current with the latest updates. Follow these steps to add your Google Calendar to Outlook:
In Google Calendar, click My Calendars and select the one you want to import to Outlook.
Go to Settings, then Integrate Calendar. Right click the "Secret address in iCal format," then copy.
From Outlook, navigate to Account Settings.
Create a new internet calendar and paste the data you copied from Google Calendar.
Enter the name you want this calendar to appear as in Outlook.
Once you've finished these steps, your Outlook account will automatically receive the latest changes to your Google Calendar. Keep in mind that this doesn't work the other way around—nothing you modify within Outlook will be reflected in Google Calendar.
Use Clean Email to Declutter Your Inbox
If you have both Gmail and Outlook accounts, you're probably receiving more emails than you can easily manage. Clean Email is the perfect application to help streamline your inbox and remove spam and other unwanted content. You'll be able to mass unsubscribe from newsletters, set up filters for incoming emails, and more.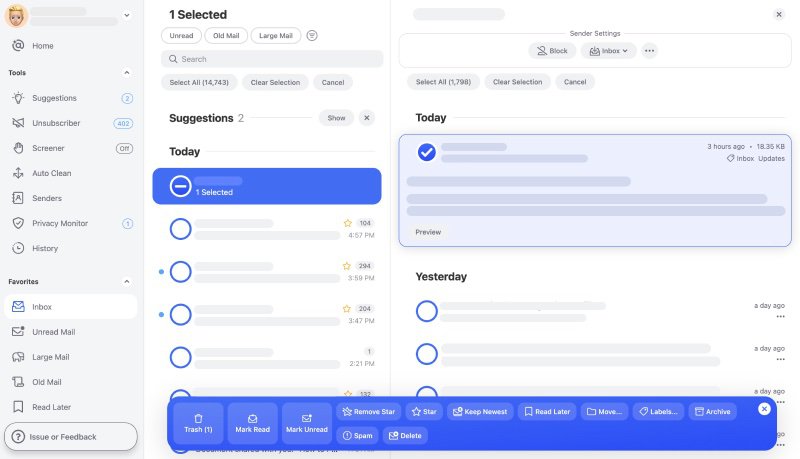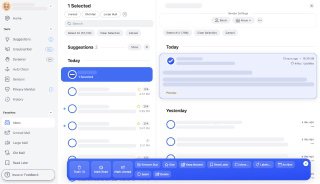 Clean Email's Quick Clean feature checks your entire mailbox and moves each message into clear categories like subscriptions and notifications. From there, you can set up an action (move to trash, archive, remove, apply labels, etc.) for each category which will automatically be applied to future emails.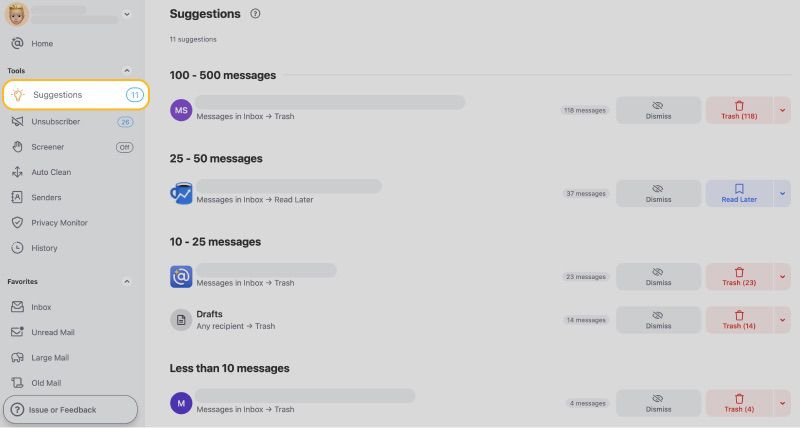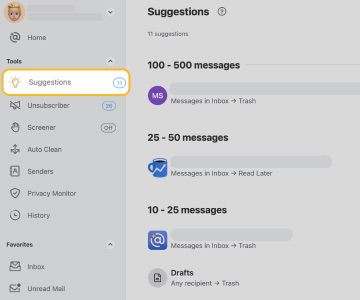 After you set up automatic filters for future emails, you can change them anytime if anything is sorted incorrectly. Clean Email doesn't delete any of your emails, so you can always recover them and won't have to worry about losing anything important.
With Unsubscriber and automatic filters, you'll be able to manage all of your emails in a single place while spending less time looking through irrelevant content. You'll be much more productive while reading and responding to emails—you're only shown the messages you want to see.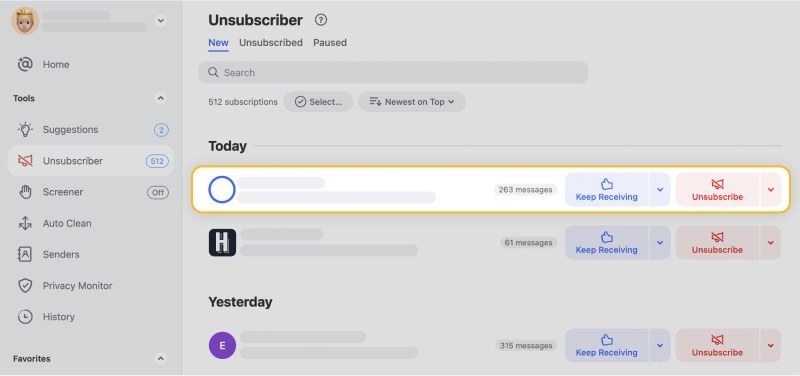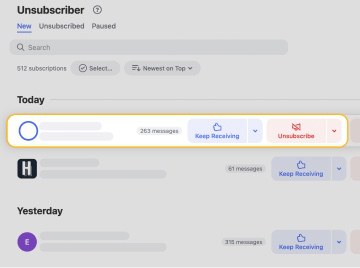 Clean Email never downloads the content of your emails, using only the subject line, sender and recipient information, date, email size, and other metadata to filter emails. We value customer feedback and continually update the application based on our users' needs. We all have trouble managing our cluttered inboxes, and Clean Email is the perfect email productivity solution.
Wondering to learn more inbox management tips and tricks? Check out our guides on how to stop junk email in Outlook, how to snooze Outlook emails, and how to recall emails in Outlook.
---
How to Add Gmail to Outlook - FAQs
Can you use Gmail with Outlook?
Yes, using Gmail with Outlook is not only possible but also quite straightforward. All you need to do is add a new email account from the File menu and enter your Gmail address. Outlook will automatically configure all the necessary settings and let you enter your Gmail password.
Why connect Gmail to Outlook?
It can be convenient to access all inboxes from a single place, especially when that place is a powerful email client like Outlook. If you've been using it for years, you probably remember all keyboard shortcuts and are familiar with its features, so why learn another email client?
How to connect Gmail to Outlook 2016?
Provided you've enabled IMAP in Gmail settings, you can simply open the File menu and click Add Account. Then, enter your account details and configure the incoming and outgoing mail server.
Where to find Gmail settings for Outlook?
To access Gmail from Outlook, you need to set up IMAP and change your SMTP settings. If you don't know what any of those things mean, we recommend you read this Help page, which explains everything you need to know for setting up Gmail in Outlook.