What Is Bcc in Outlook?
Before we dive into the nuts and bolts of how to add Bcc in Outlook, let's briefly discuss what Bcc actually is and why being able to use it is so important.
Bcc stands for Blind Carbon Copy. When you use Bcc in Outlook, you're essentially sending an email to multiple recipients without revealing the full list to everyone.
This feature is useful when you want to send an email to multiple people at the same time without showing the recipient list, maintaining the privacy of those who are included in your email thread.
Bcc vs Cc: The main difference between Bcc (Blind Carbon Copy) and Cc (Carbon Copy) is that recipients in the Bcc field are hidden from other recipients in the email thread, whereas those in the Cc field are visible to all.
How to Bcc in Outlook on Windows
If you're a Windows user, adding a Bcc field is a piece of cake. Let's break it down step-by-step, so you can start sending those confidential copies like a pro.
Here's how adding Bcc to Outlook works on Windows:
Launch the Windows version of Outlook.
Click the New Email button in the top left corner.
Go to the Options tab and click on the Bcc button in the Show Fields section.
Type in your email address of choice in the Bcc field.
Send the email as you would normally.
How to insert a contact from the address book into the Bcc field on Windows:
Follow the steps above to display the Bcc field.
Click the Bcc button next to the corresponding email address entry field.
Find the address you want to enter in your address book.
Double-click the desired email address.
Click the OK button.
💡 Note: Be mindful of how you use the Reply All button, especially when taking advantage of the Bcc field. Check out this guide on reply all email etiquette, which explains when to use "Reply All" and when to avoid it, in order to prevent cluttering other people's inboxes.
How to Bcc in Outlook on the Web
If you're someone who prefers browser-based emailing, don't worry; Bcc in Outlook Web is just as straightforward.
Here's how to blind copy in Outlook on the web:
Log in to the web version of Outlook using your web browser of choice.
Click the New mail button in the top-left corner.

Click on the Bcc option on the right side of the To field.
Enter the email addresses you wish to blind copy.
Compose your email and hit Send.
You can also pull an email address from your contact list by simply:
Reveal the Bcc field by following the steps above.
Click the Bcc button.

Find the email address you want to enter and click the "✚" button next to it.

Click Save.
Finish composing your message.
How to Bcc in Outlook on Mac
The Mac version of the Outlook desktop client is slightly different than the Windows version, but there's nothing to worry about—the steps for using Bcc are just as easy to follow.
Do the following to insert Bcc in Outlook on Mac:
Launch the Outlook desktop client for Mac.
Click the New Message button in the top-left corner.
Click on the Bcc option on the right side of the To field.

Add your email address or addresses as needed.
Send the message.
You can also add addresses to the Outlook Bcc field from your address book:
Add Bcc to Outlook by following the instructions above.
Click the Bcc field and select the contacts you want.

Alternatively, type the names or email addresses of the contacts in the BCC field and Outlook will suggest matches from your address book.

Write the email and click the Send button.
How to Bcc in Outlook on Android and iOS
Those who are constantly on-the-go, using Android or iOS devices to read and compose email messages, can still make use of the Bcc function with without any problem.
Follow these steps to use Bcc on Outlook for Android and iOS:
Launch the Outlook app on your mobile device.
Tap the New Email or '✚' button.
Tap the small arrow on the right side of the To field to reveal the Outlook Bcc option.

Select the Bcc field and enter your intended recipient's address.
Send the email.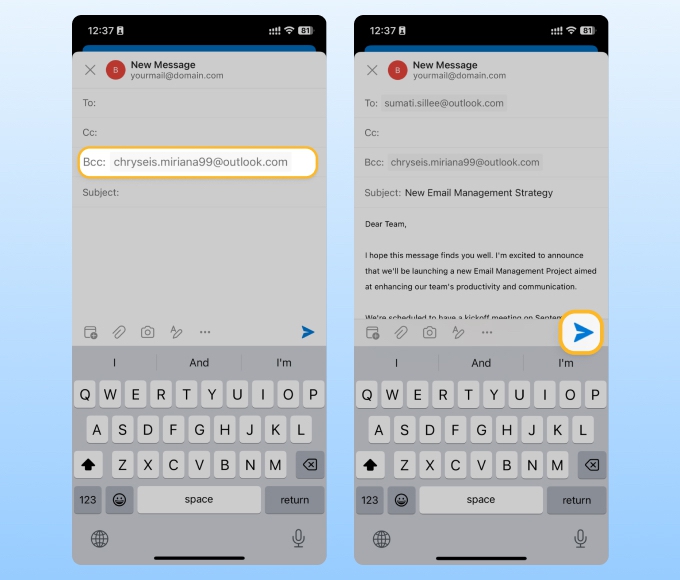 Inserting an email address from your contacts on Android or iOS works like this:
Reveal the Microsoft Outlook Bcc field as explained above.
Select the field and start typing the name of your contact.
Tap the intended contact or select the Search this account option.
Enhancing Email Management with Clean Email
Now that we've covered the ins and outs of how to send an email without showing recipients by adding Bcc in Outlook, it's time for us to shift gears and talk about an issue that all Outlook power users face—keeping that inbox organized and manageable.
Here's where Clean Email comes into play, a powerful Outlook email management tool designed to simplify email management without compromising on privacy or security.
The main goal of Clean Email is to help you tackle that unruly inbox with ease by offering a suite of features that turn email management into a breeze, such as:
Screener: This is your frontline defense against email clutter. When activated, the Screener puts incoming messages from unfamiliar senders in quarantine, giving you a chance to review them (and approve or block) before they hit your main inbox.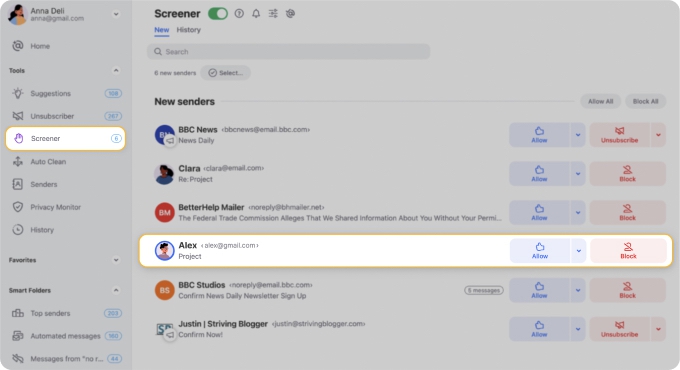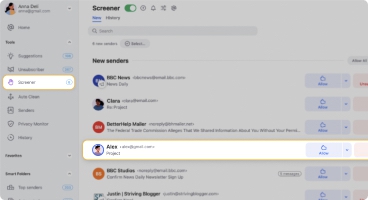 Smart Folders: Think of these as your inbox's personal assistants. Smart Folders use predefined filters to automatically categorize incoming mail (like online shopping emails or social notifications), making it easier for you to find what you're looking for later on.
Auto Clean: Imagine setting up your own rules for email sorting and then sitting back to watch the magic happen. Auto Clean enables you to specify criteria for how different types of emails should be treated, offering a hands-free way to keep your inbox in shape.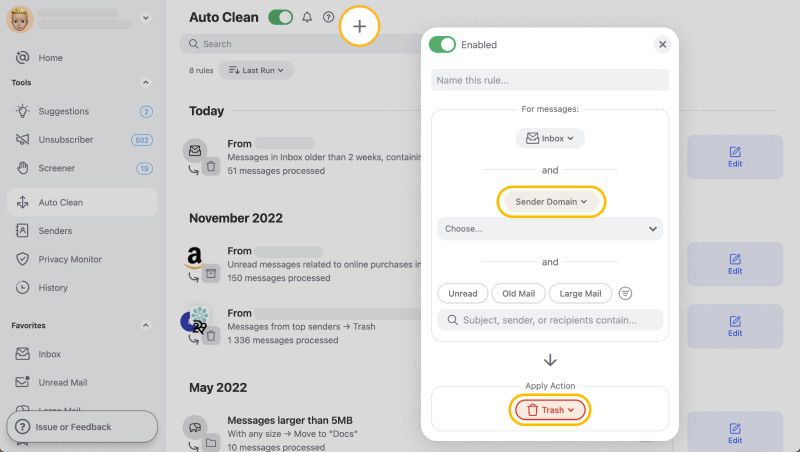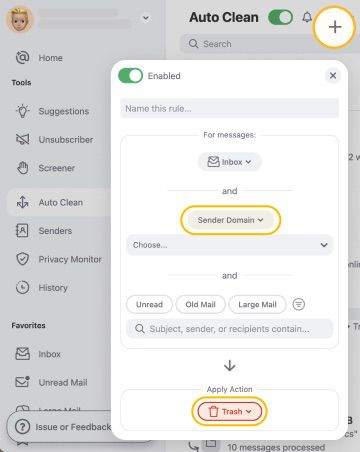 Cleaning Suggestions: This feature is like having a savvy friend look over your shoulder, offering advice on what to do with similar messages. It gives you a nudge based on your past cleaning actions or even based on what's commonly done by others, simplifying bulk email management.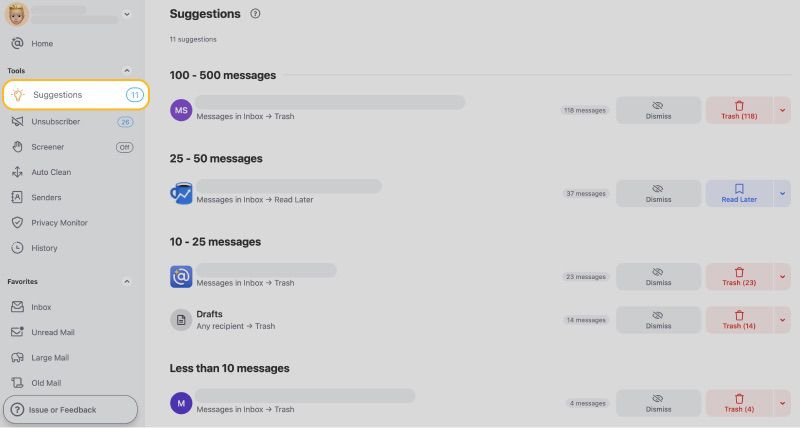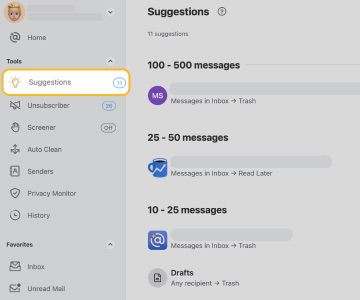 Privacy Monitor: Your email address can be your Achilles' heel when it comes to personal data breaches. Privacy Monitor scans the dark web and other dubious places to notify you when your email is found in a data breach.
Sender Settings: Ever wish you could tweak the way emails from a specific sender behave? With Sender Settings, you can do just that. Block them, automatically mark their new messages as read, or have them moved to a specific folder.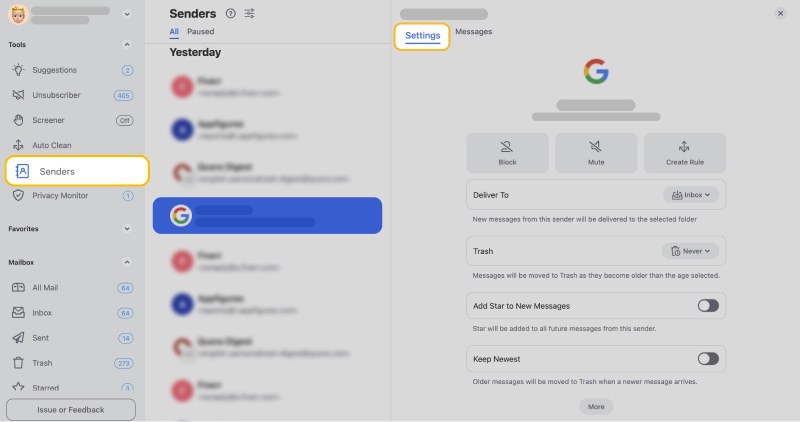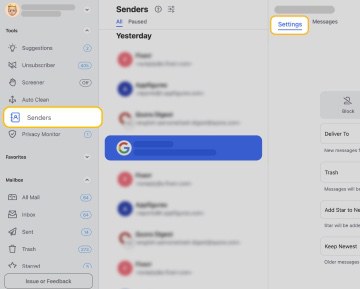 All these and other features can be used to manage Outlook messages, as well as those from other IMAP-based email providers, on any device because Clean Email is designed to be fully cross-platform. Whether you're on a desktop, laptop, tablet, or smartphone, you can effortlessly keep your inbox tidy.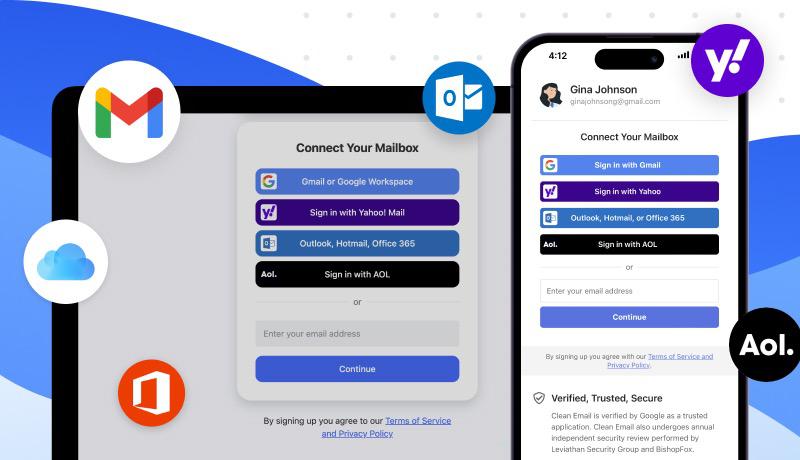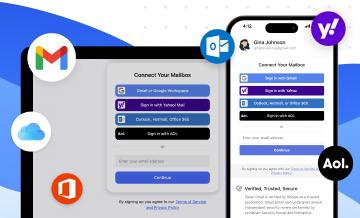 Wrap-Up
Learning how to Bcc someone in Outlook is an important skill that enables you to maintain confidentiality and professionalism in your email communications. We hope that our step-by-step instructions on how to blind Cc in Outlook have made the process straightforward for you, regardless of whether you're on Windows, Mac, Android, or iOS. With the combination of Outlook blind copy and Clean Email's robust features, you're well-equipped to tackle any email challenge that comes your way.