How to Create a Group in Outlook 2013 and 2016
For users of older Outlook, here is how to create a group on Outlook.
Outlook 2013
Launch the software.
Navigate to "People" in Home. You will find "People" with a people icon, sometimes on more indicated with … and other times on the bottom left corner alongside the calendar icon.
Next, select "Create new group."
On the next window, enter the group name.
Next, select "Add members".
You can add contacts from the Outlook contacts, address book, and by manually entering a new email contact.
Search for contacts through the search tab, and highlight to add.
Repeat the procedure to add as many contacts as you want to a group, and click Save and Close.
Outlook 2016 and 2019
Launch the software.
Click the Contacts icon in the bottom left corner of the navigation pane.
On the Home tab, select New Contact Group.
Next, click "Add members" and use any of the available methods to add contacts.
To add bulk contacts at once, hold down the CTRL key as you select each mail contact from the address book.
Click the add members button to add selected contacts as list members.
Next, click, OK.
Enter a name for the group after verifying that you have added all of the contacts you want to your contact list.
Under the Contact tab, click Save & Close.
How do I create a contact group in Office 365?
To create a distribution list in Office 365, follow these steps.
Login to the admin center at https://admin.microsoft.com with your work email (only if you have a work account created with Office 365.)
Select the app launcher icon and choose Admin.
Select Groups in the left navigation pane -> select Add a group.
On the Choose a group type field, select Distribution and then click Next.
Enter a name, description, and an email alias for your new group. Specify whether you want people outside your organization to send emails to the group.
Click "Add" to create a list -> on the member's tab, select View all and manage members.
On the next page, select add members -> select members from contact or add manually.
Save and close.
How to Create a Group in Outlook Web App
Follow this instruction to create a group contact in Outlook:
Log in to your mailbox account.
Select contact from the left bottom corner panel.
Select the arrow beside "new."
Click group.
In the next window, add the list name.
Search contacts, add, save, and close.
How to Send a Bulk Outlook Email
Here is how to create a group email in Outlook. After successfully creating a distribution list, the next step is sending an Outlook group email to the created list. Follow the instructions below to send a bulk Outlook email:
Launch the software and click the new email icon to compose a message.
Select the "To" button to access the Global Address List.
Click on the Address Book drop-down menu and select your Contacts folder.
Select your preferred distribution list if you have more than one created.
Next, click on To. Once done, click OK. Your distribution list will then appear on the To field.
Type your message and send it.
How Clean Email Simplifies Email Management
Spam messages sent in a year totals over 100s of billions. From promotional emails to outright phishing messages looking to steal user data, and newsletters you do not want. These emails make it challenging to manage your mail storage, as well as make it easy to miss important messages. While manually deleting these sorts of emails can seem easy, it can also be a daunting task, and time-consuming. Clean Email inbox cleaner helps to keep your mailbox clean with their remarkable software features.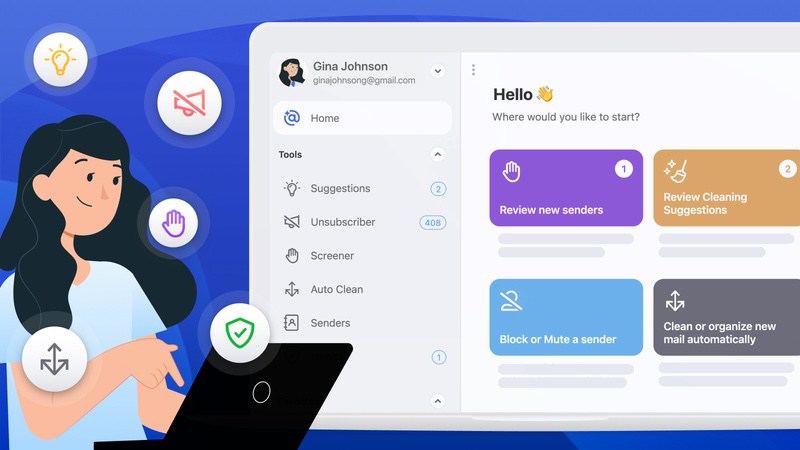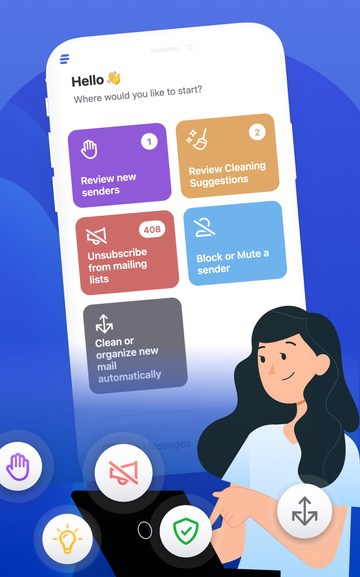 The software is respecting users' privacy and will help you to stop junk email in Outlook, archive Outlook emails, as well as manage incoming messages automatically. Check out all Clean Email can help you achieve here.
---
How to Create a Group in Outlook - FAQs
How to create a distribution list in Outlook?
Creating a distribution list is pretty easy either on the Windows desktop app or the web-based app. To create one, simply launch Outlook on Windows. Then toggle down to "Contact group" -> select "New contact group -> fill in a preferred name and description. Then click Add members -> add members from the list of contacts, Global Address Book, or by manually entering contact addresses. Click Save and Close once done.
How to share a contact group in Outlook?
You can share a contact group in Outlook through mail. Simply launch Outlook -> click Send email. In a new window open Contacts -> adjust the Contacts window and Send message window to appear side by side. Then drag the desired distribution list to the email body, and send the message.
How to create a group calendar in Outlook?
To create a group calendar in Outlook, follow these steps. Launch Outlook and open the calendar in the left pane. On the Home tab, in the Manage Calendars group, select Calendar Groups, then click Create New Calendar Group. After you enter a name for the list, choose OK. Then select the people you want to add to the list, choose Group Members, and then choose OK.
How do I create a group in Outlook Windows 10?
Windows 10 typically comes with the 2016 version of Outlook. To create groups in either Outlook 2016 or 2019 version, check out the detailed guide provided in the article.
If you would like to get more tips, read our guide on How to use Outlook like a Pro
.