Benefits of Gmail Customization
Our digital lives and the tools we use to manage them matter, which is why we enjoy customizing them to fit our needs better. The good news is that you don't need a custom email service to elevate your email experience—you just need to learn how to customize Gmail inbox, which is exactly what this article is all about.
By spending a short amount of time on Gmail customization, you can reap long-term productivity gains. Best of all, no special skills or technical knowledge are required to customize this mail service provider. If you know how to use Gmail, then you can definitely customize your Gmail account without any issues.
How to Customize Gmail Background
Your inbox doesn't have to look as bland as it does in its default configuration. By learning how to customize your mail's background, you can quickly and easily make it more visually appealing, which may even motivate you to manage your inbox better.
Open your mail account on computer.
Click the settings gear icon.
Select the View all option next to Themes.
Pick any theme you want.
Click Save.
Some themes even let you choose a text background, make corners darker, or blur the background image.
If you would like to use your own photo as the background image, then you need to upload it to Google Photos and click the My Photos option when selecting a new theme. If you decide to customize inbox with your own photo, then we recommend you pick a non-distracting picture that won't offend people around you.
How to Customize Gmail Inbox
There are many other things you can do to customize your Gmail inbox besides changing the background.
How to customize your account layout and density:
Open your mail account on computer.
Click the settings gear icon.
Choose the desired inbox density. The Comfortable option adds extra padding around individual messages, while the Compact option lets you see more message previews at the same time.
Pick your preferred inbox type. The available options include Default, Important first, Unread first, Starred first, Priority first, and Multiple Inboxes.
Finally, you can choose to display the reading pane below or right of your inbox.
These are just some commonly used ways how to organize Gmail to fit your needs better. To customize your inbox further, you need to click the settings gear icon and display all settings. Then you can go to the Labels tab to customize Gmail categories or the Inbox tab to customize tabs in Gmail and more (learn how to move emails from Promotions to Primary).
How to Customize Gmail Signature
Let's now take a look at how to customize signatures, which are placed at the bottom of email messages and can be used to make an impression on the recipient. To create your first signature:
Open your mail account on computer.
Click the settings gear icon.
Click See all settings.
Scroll all the way down in the General tab until you see the Signature label.
Click the Create new button next to the Signature label.
Name your signature and click Create.
Write your email signature in the newly visible textbox.
Your new Gmail signature will be appended at the end of all outgoing messages. To make it really stand out and capture the attention of your recipients, you can use an online signature generator, many of which are readily available for free.
Other Gmail Customization Tips
There's a lot to cover when explaining how to customize Gmail account, but we don't want this guide to become overwhelmingly long, so here's our quick selection of Gmail customization tips you need to know about:
Plugins: You can choose from a wide range of plugins that allow customization of your inbox. Examples include DocuSign, RightInbox, Boomerang, and Smartsheet. The best Gmail add-ons make this mail service provider better without slowing it down or costing an arm and a leg.
Alias: The Gmail alias feature lets you send emails from another email address that you own. We recommend you read the official guide, which explains how to customize Gmail inbox to send emails from a different address.
Confidential emails: When sending emails that contain sensitive information, you can use Gmail confidential mode to set an expiration date for messages or revoke access at any time. Confidential emails never actually leave the provider's servers, so the recipient has limited control over them.
Multiple inboxes: To better manage received and sent emails, you can customize tabs in Gmail as we've explained earlier, and you can also create multiple inboxes by switching the Inbox type in Quick settings to Multiple inboxes.
Undo sending: One tip on how to customize Gmail inbox that you definitely should know is the ability to activate the Undo Send feature. With it, you can retract sent messages for 5, 10, 20, or 30 seconds after sending them.
More useful tips on how to customize Gmail inbox can be found in the Help Center.
Connect Your Gmail Inbox with a Third-Party Cleaner
While Gmail has many customization features that can go a long way in helping you clean Gmail inbox, even they have their limits. For example, it takes a lot of work to create email filters, and you may end up accidentally creating a filter that does something other than what you intended it to do.
Fortunately, there are third-party inbox cleaners that you can effortlessly connect with your inbox, and Clean Email is an excellent example.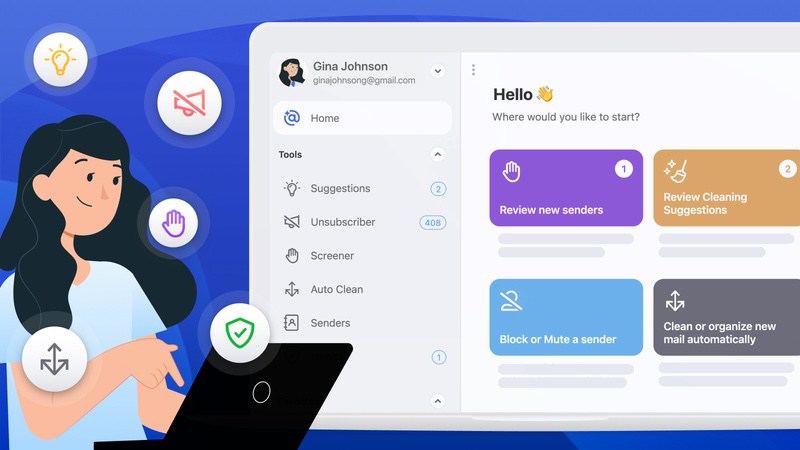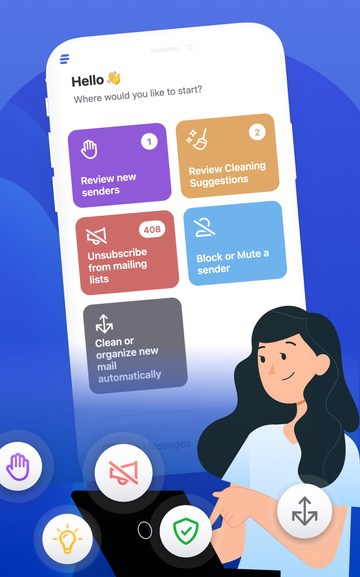 With Clean Email's Smart Views feature, you can organize your emails into smart email bundles such as "Social media notifications," "Finance," "Emails older than 1 year," and others to see all similar emails in one place.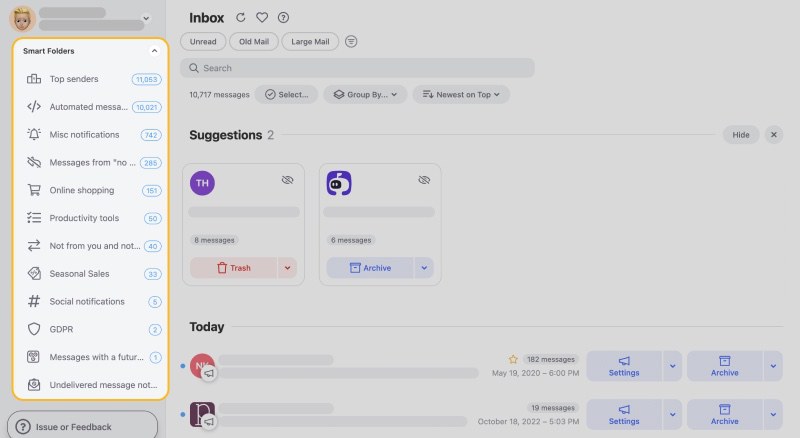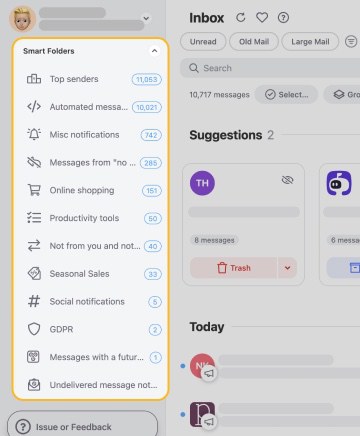 You can then apply common email management actions (Move, Label, Archive, Delete) to emails in bulk and use the Auto Clean feature to automate the same actions with a single click.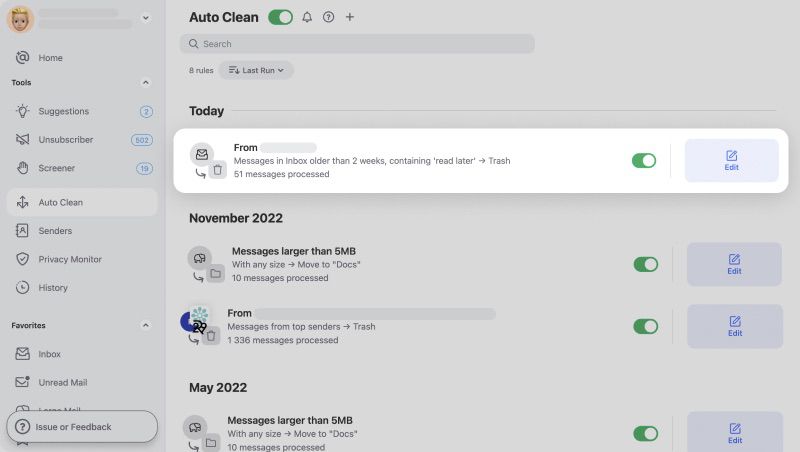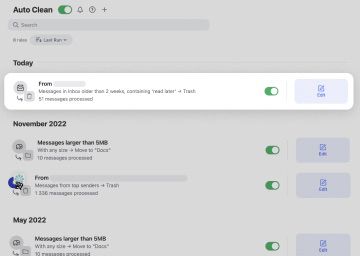 Other features that make Clean Email such an excellent inbox cleaner include Unsubscriber, which you can use to get rid of newsletters and promotional emails or send them to the Read Later folder.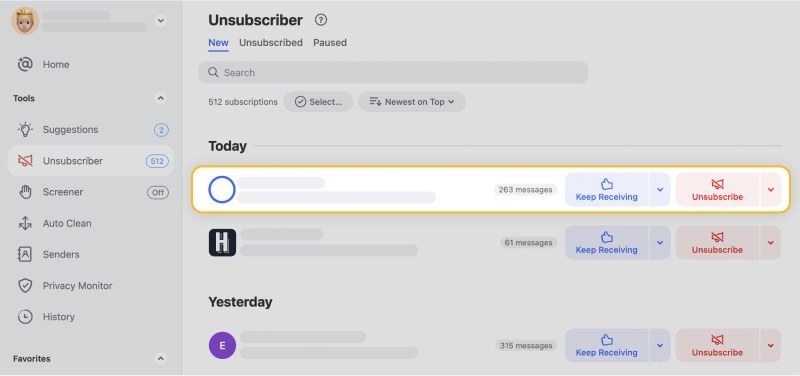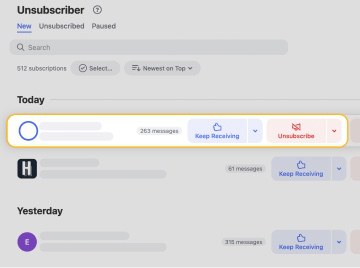 Clean Email is available on iOS, Android, Mac, and web, and the service has been designed with privacy and security in mind.
---
How To Customize Gmail Account - FAQs
Can you customize Gmail emails?
Yes, you can. For example, you can add a custom email signature that includes a greeting message and your contact information.
Can I customize tabs in Gmail?
Yes, this email service lets you activate and deactivate individual tabs. You can also activate multiple inboxes to see at a glance different types of email messages.
How do I customize my Gmail inbox?
There are many things you can do to customize it. For example, you can change the appearance of your inbox, install third-party plugins, or connect Gmail with an inbox cleaner.
How do I change my Gmail to look like Outlook?
To make it more similar to Outlook, we recommend you turn off the Conversation view option and enable the Reading pane.
How can I see more than 50 emails in Gmail?
In order to see more than 50 emails at the same time, you need to go Settings → General. There, change the Maximum page size option.