Anyone Can Learn How to Personalize Outlook Email
It's not easy to find Outlook tips that provide you with step-by-step instructions on how to customize Outlook to your liking. And, even when you do find directions, they're either outdated or only apply to Outlook 365, not the web version or mobile app.
Here's the thing, though: Learning how to customize Outlook isn't really that hard once you learn what you're doing.
This can help you spend less time sorting emails, make your messages stand out, and even make checking your messages fun. What's more, you can create email templates in Outlook, set different signatures for each account, and add plug-ins to boost your productivity.
Despite what you may believe, anyone can learn how to personalize Outlook email with a few step-by-step guides. So, let's reclaim that Outlook inbox, shall we?
How To Personalize Outlook Email
Outlook offers numerous customization options. For example, you can change the theme, change how the messages in your inbox are displayed, and more. However, if you aren't very familiar with the ins and outs of this email provider, you may not know how to use Outlook and personalize it more. So, let's walk through how to personalize your Outlook inbox a bit more!
To personalize Outlook through the web application:
Go to https://outlook.live.com/.
Click on Settings in the upper right.
From here, you can select a theme (color scheme), change the display density, or swap between Dark mode. Any of these settings will automatically change — no saving required.

If you want to do some more advanced customizations, press View all Outlook settings at the bottom.

Under General, you can change the language and time, notifications, customize categories, and more.

Under Mail, you can change the view of your inbox, create Outlook rules, and more.

Once you make any changes to the settings, be sure to push Save in the lower right corner.
Similarly, if you use the Outlook mobile app, you can personalize some aspects of your inbox as well (although the options are more limited).
To customize Outlook view on mobile (for iPhone users):
Open the mobile app.
Click the logo in the upper left corner.
Select Settings in the bottom left.

From here, you can do several things, like:

Set notifications
Select a focused inbox
Set appearance and other settings
How To Customize Outlook Email Client
Although you can't select themes or other fun personalizations in the email client (Outlook for Microsoft 365, Outlook 2021, 2019, 2016, and older versions), you can change the font sizes and font styles to make it a bit more exciting.
To change the font in your message lists (i.e. inbox) in Outlook desktop for Windows users:
Open the client application.
Go to View → View Settings.

Click on Other Settings from the Advanced View Settings box.

Change the row and column fonts.



💡 Note: If you want to change fonts for message previews, sender names, and subject lines, this will fall under Row Font.

Once you've selected the font styles and sizes you want, press OK three times to save your settings.
To change the font for messages when composing, forwarding, or replying (for Windows users):
Open the client application, then navigate to File
Then choose Options.

Choose Mail and select Stationery and Fonts.

When the box opens, select Font for all the items you want to customize the font for (new messages, replies, plain text messages).

Once you make all your selections, press OK twice to save your customizations.
To change the default font in Outlook desktop client (for Mac users):
Go to Outlook → Preferences → Fonts.

Change the font for New mail, Reply or forward, or Plain text.

Under Text display size, change the text size by using the slider.
How To Change Outlook Layout
Sometimes you don't need to change up everything in Outlook — you just want to make sure the layout meets your needs. So, let's look at how to change Outlook layout a bit more.
For the web app, you can:
Go to https://outlook.live.com/.
Click on Settings in the upper right.
Go to View all Outlook settings at the bottom.

On the left side, select Mail. Now press Layout.

Here you can customize the focused inbox, message height, message organization, reading pane, and more.
Change any settings you'd like.
Push Save at the bottom to make these changes stick.
How To Customize Signature In Outlook
In addition to customizing settings within individual email messages, you can also set a custom signature in the Outlook web app and mobile app.
To customize your signature in web app, follow these steps:
Open your inbox, then navigate to Settings at the top right of the page.
Within the menu, scroll down to View all Outlook settings.

When the Settings menu is visible, select Mail → Compose and reply.

From here, you will see a text box that you can create a custom signature in, with a smaller box above to name the signature.
Type your email signature into the box and use the editing tools at the bottom of the text box to change the font, size, color, and other aspects of your signature.

Once you've set up your signature how you like, scroll down to establish other settings, such as when you want the signature to be used.
When you're finished, press Save in the lower right.
If you use the Outlook mobile app, you will also need to set a signature for messages you send from there. To do this:
Open the mobile app.
Click on the circle at the top left to open the menu.
Tap Settings at the bottom left.

Scroll down to Signature. Tap on it to edit.

Type the signature you'd like to display.



💡 Note: You can also paste a formatted signature from any word processor if you'd like more customization options.

When you have the signature set how you'd like, click the checkmark in the upper right to Save.
Other Outlook Customization Tips
Although many people see Outlook as a basic email provider, there are many plugins you can get to optimize Outlook and make it even more personal for you. Here are some plugins we recommend to help you make this mail provider even better.
For example, you can install add-ons like Giphy or Emojis so you can personalize your email messages a bit more. Similarly, Custom Signatures lets you customize your Outlook signature even more than this mail provider normally allows. There are literally hundreds of add-ins you can install to use with your mailbox.
To check out the plugin options in the web app, simply:
Go to https://outlook.live.com/.
Open any email in your inbox.
At the bottom of the message, click on the three dots. Then, select Get Add-Ins at the bottom of the menu.

Browse and select any plugins you want.
How Clean Email Can Customize Your Outlook Experience Even More
Although Clean Email can't help you personalize your layout or signatures within Outlook, it is a smart email cleaner that can help simplify your inbox management, increase email productivity, and achieve Outlook Zero Inbox.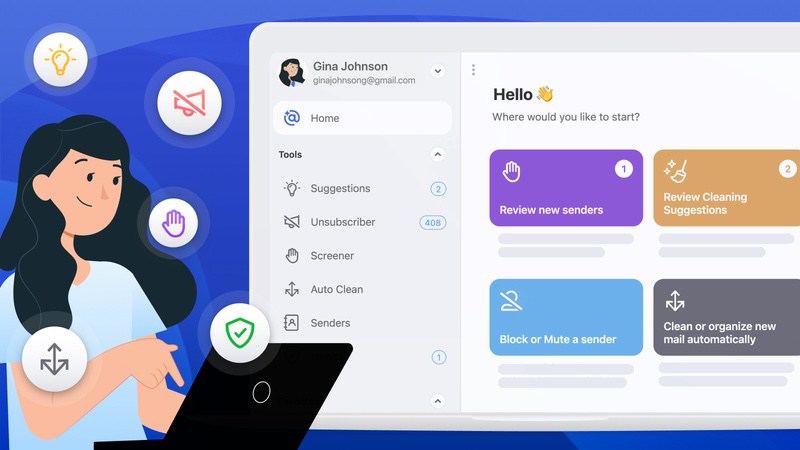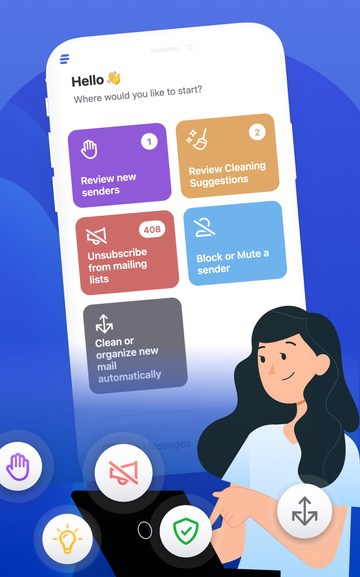 💡 Note: With Clean Email, you can manage and organize your emails if you use an Outlook email service provider on web (or any other mail service provider with IMAP). The app doesn't synchronize with the Outlook email client.
In fact, there are several ways that Clean Email can help you organize messages, remove clutter, and set rules to make your inbox all yours.
For example, the Auto Clean feature automates routine email tasks so you don't have to go in and perform them on your own. This can help you mark messages as read, archive old messages, or slide messages from your boss into a dedicated folder.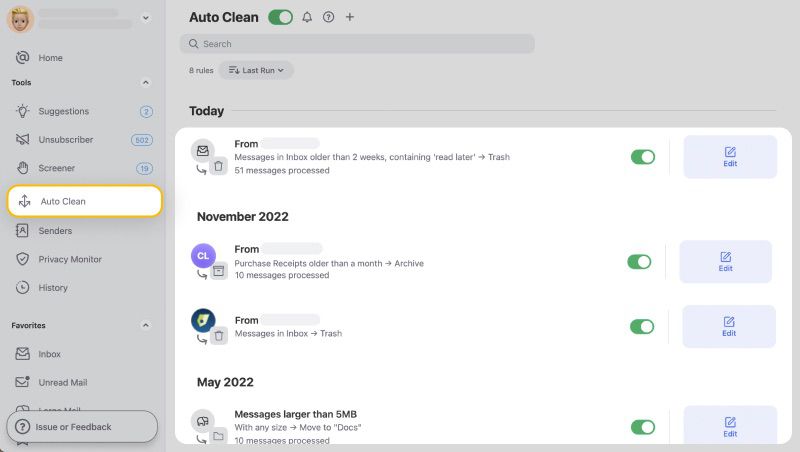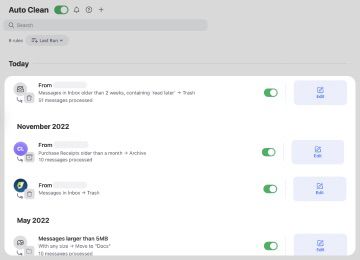 All you have to do is perform the task one time within Clean Email, then choose "Selected and future similar emails" to have the system create an Auto Clean rule.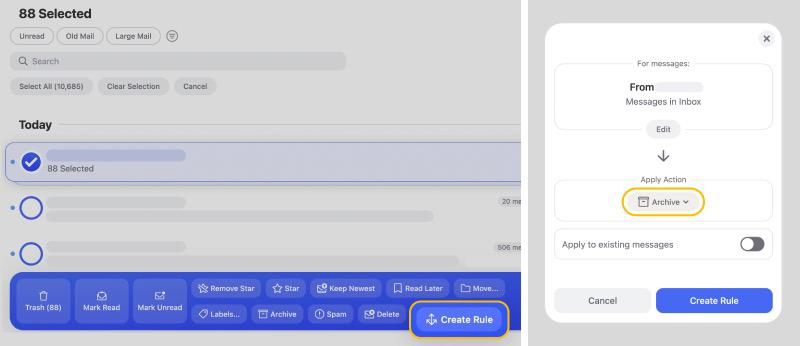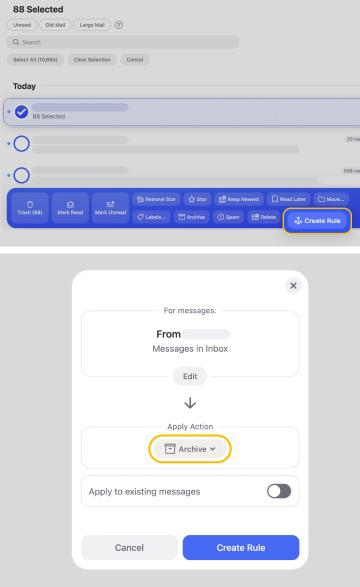 Furthermore, you don't have to spend hours trying to customize Outlook rules and filters. Instead, you can let the Clean Email's Smart Views organize your messages into smart email bundles such as "Social Media Notifications" or "Financial Information".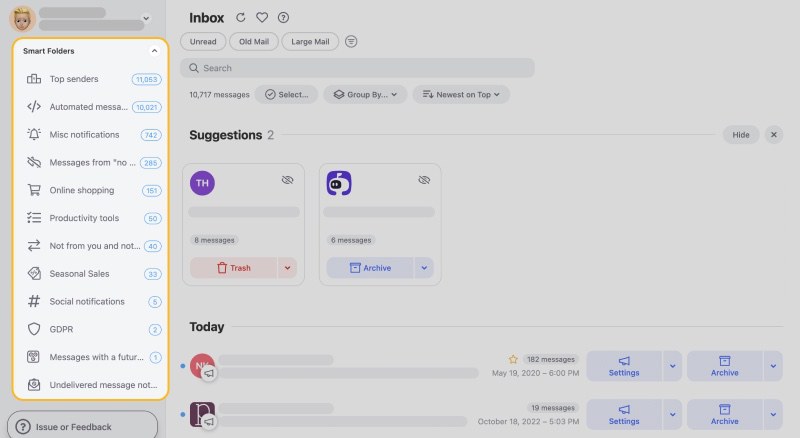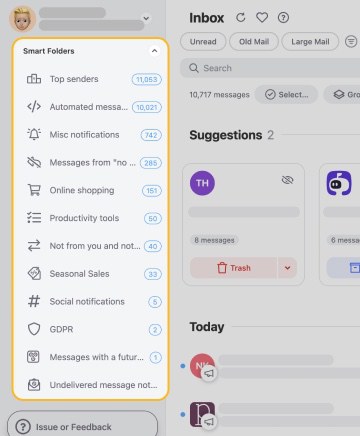 Then you can just go to the view you've chosen (e.g. Emails older than 6 months), see several messages at once, and deal with them on your own terms.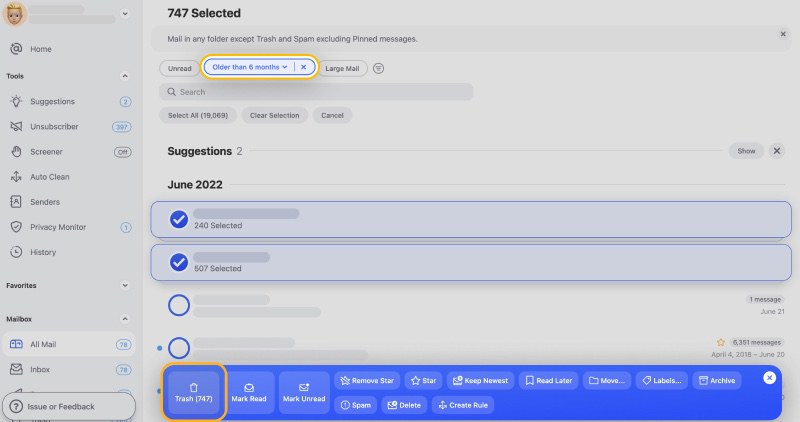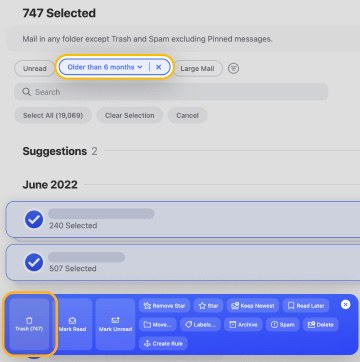 These are just some of the ways that Clean Email can organize Outlook emails and take your inbox management to the next level. Now that you know how to customize your Outlook email, nothing can stop you!
---
How To Customize Outlook - FAQs
Can I customize Microsoft Outlook?
You can do several things to customize Outlook. However, these methods vary depending on whether you are using the web application, Outlook 365, or the mobile app.
How do I personalize my Outlook email?
Within the Settings section of Outlook, you can do several things to personalize your inbox and make it match your style. You can create email templates and signatures that are personalized as well.
How can I make my Outlook more attractive?
The basic Outlook blue can be a bit boring. However, you can change the theme for web application in the Settings section or change the fonts that display in Outlook 365.
Can you customize Outlook colors?
You can customize colors through changing the color theme. However, this is only available in the Outlook web version and mobile app.
Why is my Outlook layout different?
There are several layout options for Outlook, but they don't carry across multiple platforms (web, mobile, Outlook 365). Therefore, you have to go and set up customizations for each version you use.