Deleting Gmail Contacts: A Simple Approach
If you've been wondering how to delete contacts in Gmail or how to edit them, you're in the right place. Whether it's a simple clean-up or a total overhaul, our guide is about to make deleting contacts from Gmail a breeze. Let's get started!
How to Edit Contacts on Gmail
Just because a contact contains inaccurate or outdated information doesn't mean you have to delete it right away. Gmail makes editing address book entries just as easy, so there's no reason not to simply edit it instead. Here's what you need to do:
Click the Google apps button at the top of your inbox and select Contacts. Alternatively, you can log in to Google Contacts directly with your Gmail email address and password.

Find and open the contact you want to edit.
Click the Edit button.

Modify the contact information.
Click the Save button.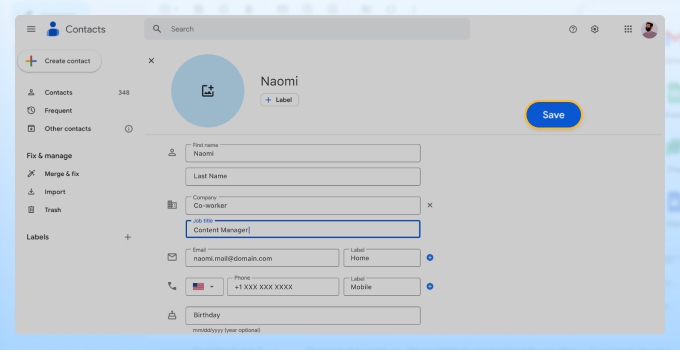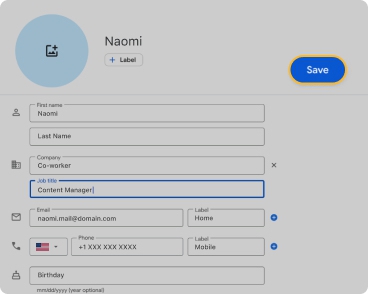 📌 Tip: As you manage contacts in Gmail, you might also be interested in setting up a group email in Gmail. This handy feature allows you to email multiple addresses at once, optimizing your communication and saving time.
Delete Contacts in Gmail: Individual Removal
Maybe you're looking to declutter your Gmail contact list or remove someone you no longer communicate with. Whatever the reason, deleting individual contact addresses is a straightforward process. Here's how to delete contacts from Gmail one by one:
You can either click the Google apps button situated at the top of your inbox and then choose Contacts, or simply access Google Contacts directly, logging in with your email address and password.
Use the search bar to find the contact you want to remove or browse through your list.
Hover over the contact and click the checkbox.
Click the three vertical dots in the top-right corner or on the right to the selected contact.

Select the Delete option.
📌 Tip: If you're also interested in managing your email communications more effectively, learn how to block someone on Gmail. This feature can help you take control over who can reach your inbox, further tidying up your email experience.
Deleting Gmail Contacts in Bulk
Perhaps your Gmail contact list has grown out of control, filled with old acquaintances or business connections you no longer need. Maybe it's simply time for a spring cleaning. Whatever your motivation may be, you can delete contacts from Gmail in bulk without breaking a sweat. Here's how:
Select Contacts by clicking the Google apps button found at your inbox's top, or bypass that by heading straight to Google Contacts and using your email address and password to log in.
Check the checkboxes next to the addresses you want to delete.
Click the three vertical dots in the top-right corner and select the Delete option.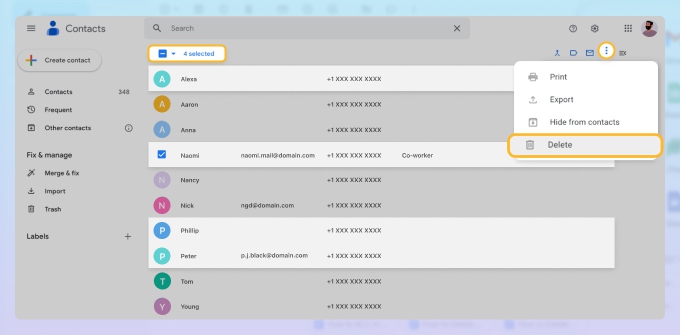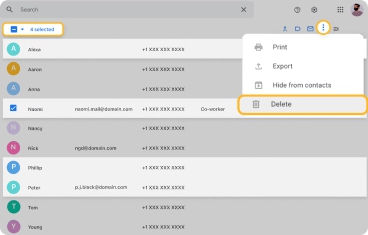 📌 Tip: If you're looking to further organize your email, consider creating distribution lists in Gmail. It's a great way to ensure that your email contacts are categorized and easy to reach. It not only helps in keeping your address book entries tidy but also makes your email communication more efficient.
Removing Contacts from Gmail on Mobile Devices
Now that you know how to delete email contacts in Gmail on desktop, it's time for us to explain how to do the same on mobile devices. Whether you're an iPhone or Android user, learning how to remove contacts from Gmail on the go is as easy as pie.
How to delete Gmail contacts on iPhone:
Open the Contacts app on your iPhone.
Tap on the Gmail account you wish to manage if you have multiple accounts.
Locate the contact you want to delete and tap on it.
Tap the Edit button in the top right corner.
Scroll down and confirm your decision by tapping Delete Contact at the bottom.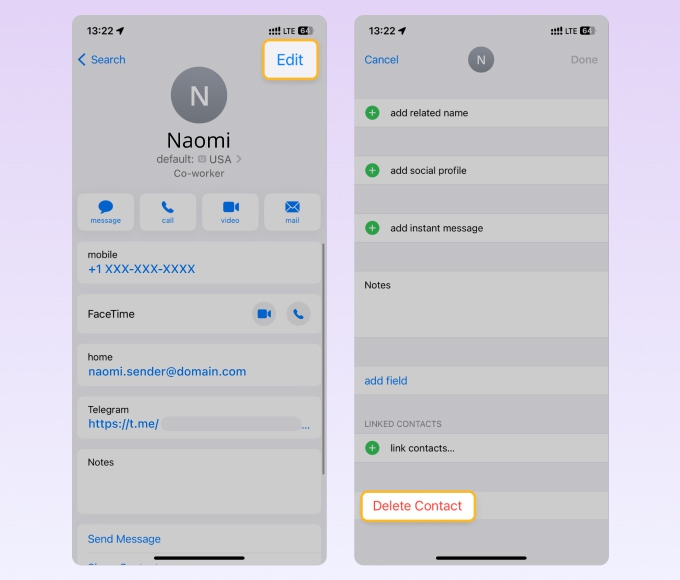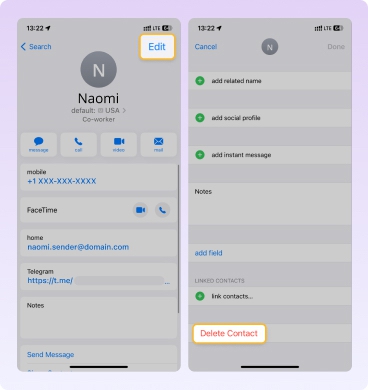 Of course, you can also use the Contacts app to update Gmail contacts instead of deleting them.
📌 Tip: Interested in more tips and tricks for Gmail? Then we recommend you check out this article on how to add contacts to Gmail.
How to delete Gmail contacts from Android phone:
Open the Contacts app on your Android phone.
Tap on the contact you want to delete.
Tap the three vertical dots in the top-right corner.
Select the Delete option.
Confirm the deletion by tapping the Move to Trash button.
💡 Note: With the rise in email scams, it's essential to know who you're dealing with. Be aware of the "email blacklist" and know how to check if your email is blacklisted.
Manage Your Gmail Inbox Efficiently with Clean Email
If you're struggling with unruly Gmail contacts, then it's likely that your inbox is overflowing with unorganized messages as well. Clean Email is the tool that can help you bring order to the chaos.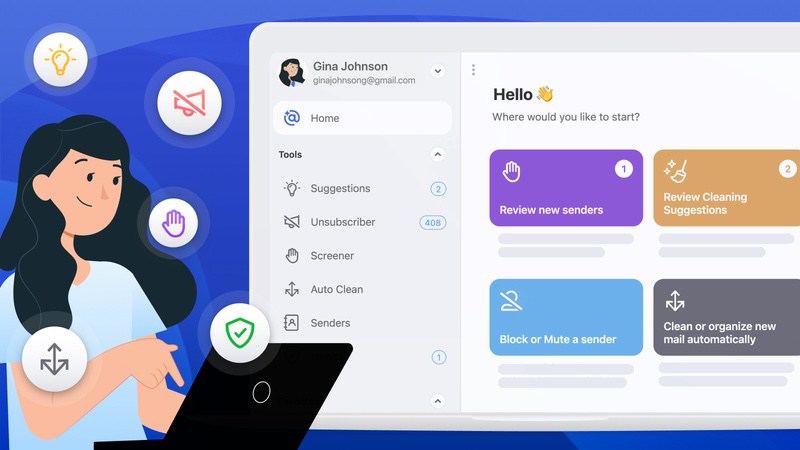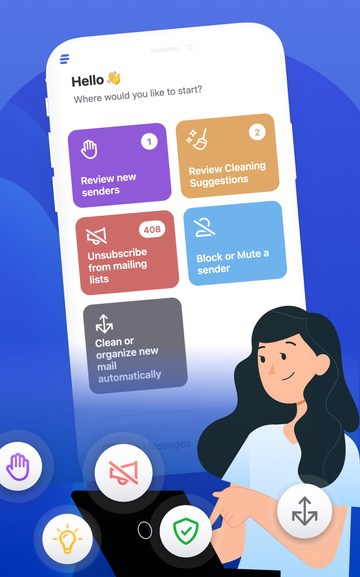 This popular inbox organizer is equipped with features tailored to your email management needs, providing an efficient solution to declutter your Gmail:
The Unsubscriber feature makes quick work of eliminating those pesky unwanted newsletters and promotional emails by allowing you to bulk unsubscribe with a few clicks.
Screener is designed to intercept messages from unknown senders, giving you all the time you need to organize your inbox without having to deal with an endless stream of unwanted messages in the process.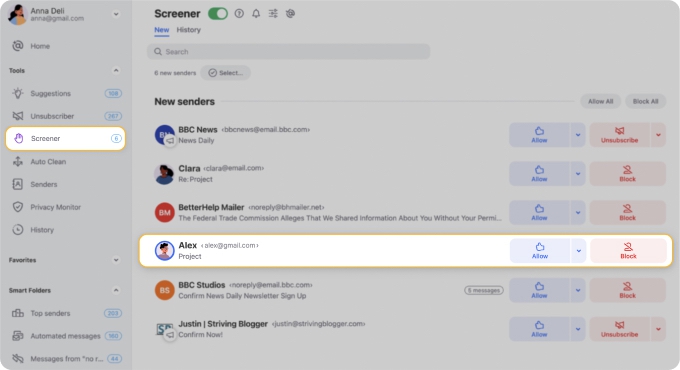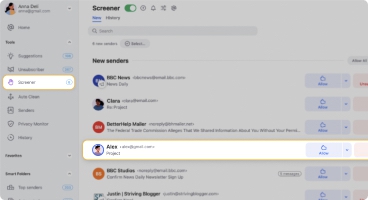 Cleaning Suggestions analyzes your email behavior, as well as that of other app users, to provide intelligent recommendations for organizing and deleting similar messages, saving you valuable time.
If you would like to set specific rules for emails to automate actions like moving, archiving, or deleting messages from various senders, then Clean Email's Auto Clean feature is the right tool for the job.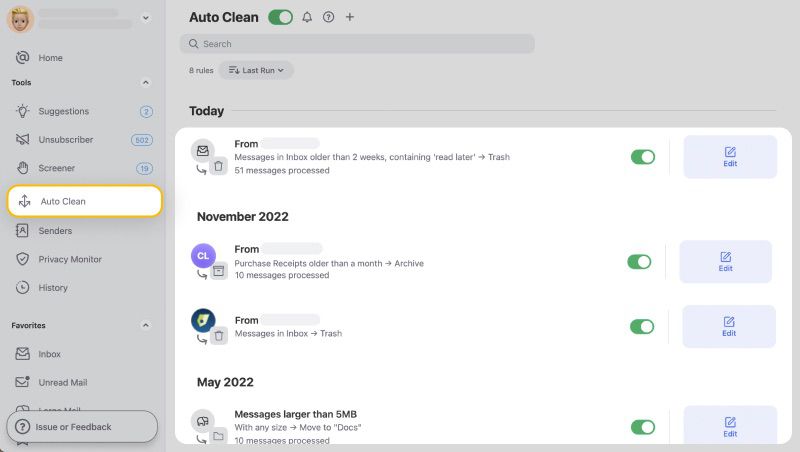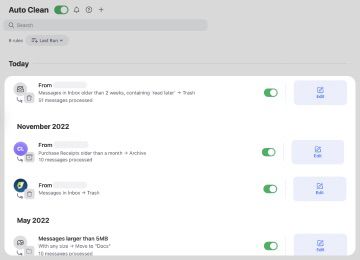 By intelligently categorizing your messages based on various criteria, the Smart Folders feature makes it effortless for you to see only specific kinds of messages, such as emails from top senders, social notifications, automated messages, and more.
These features are available on mobile platforms too, so you can take control of your inbox wherever you are, making Clean Email the perfect companion for those looking to transform their email experience.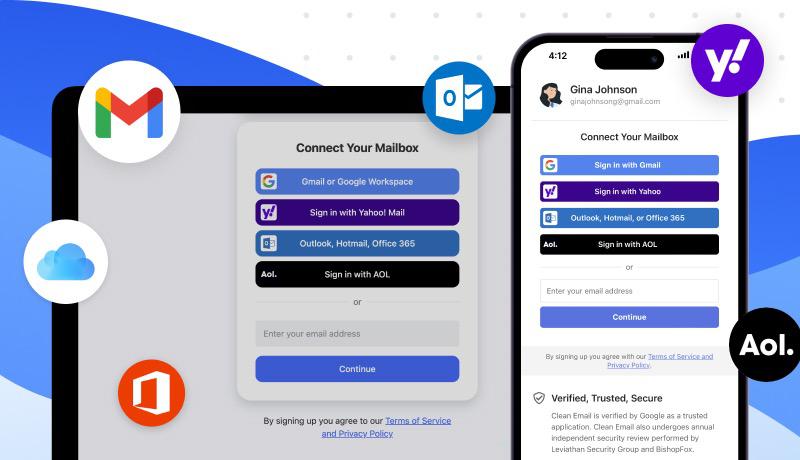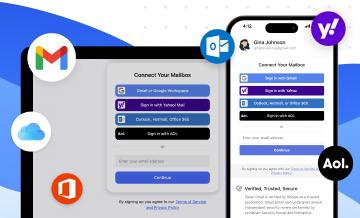 Good to know: Clean Email prioritizes your privacy and security, handling your email data with care by fully complying with Gmail's strict privacy policy.
Wrap-Up
Managing and deleting contacts in Gmail can be done with ease by following the step-by-step instructions provided in this article. From editing individual connections to deleting them in bulk or on mobile devices, you're now equipped to keep your Gmail contact list neat and up-to-date. And with the help of Clean Email, you can not only declutter your contacts but also keep your entire inbox organized.