Find Old Emails On Gmail Using the Search Bar
If you need to know how to find old emails on Gmail app or web browser, you can start by looking at the search bar at the top of the screen.
Unsure how to search for old emails in Gmail? Well, if you know the sender's name or the topic, you can type it in the search bar and quickly receive a list of matching messages. You can add Gmail search operators to help narrow your search further.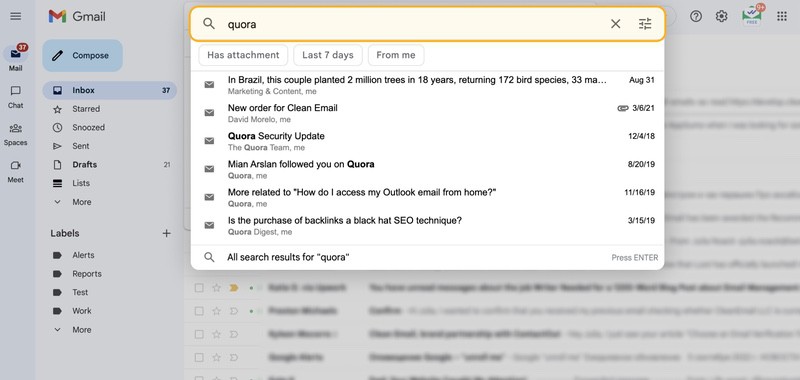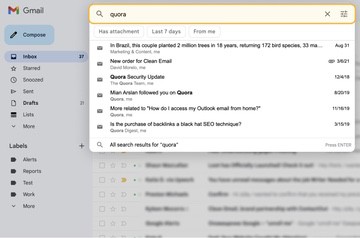 You can search by senders to help you easily mass delete old Gmail emails that have been plaguing you for a while, helping to recover some of your data allowances and tidying up your inbox.
Unsure how to select old emails in Gmail and delete them all at once? After filtering them via the search, simply click the small white box shown above your messages, and all of the emails will be selected. Options will appear, allowing you to mass delete, mark as spam, mark as read or unread, and more.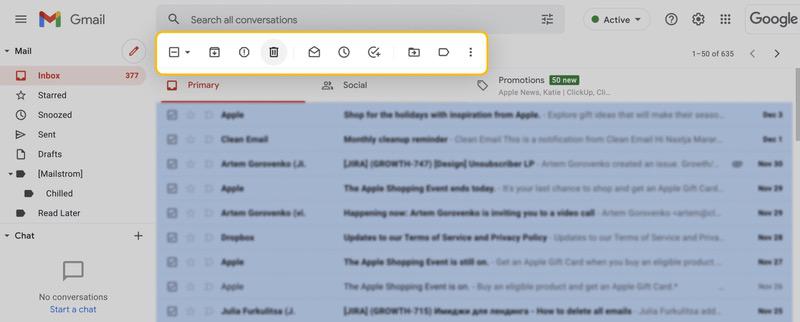 If you aren't sure who sent the email or what it was called, there are ways to narrow down the list. On the search bar, look for the filters icon, which shows as three lines.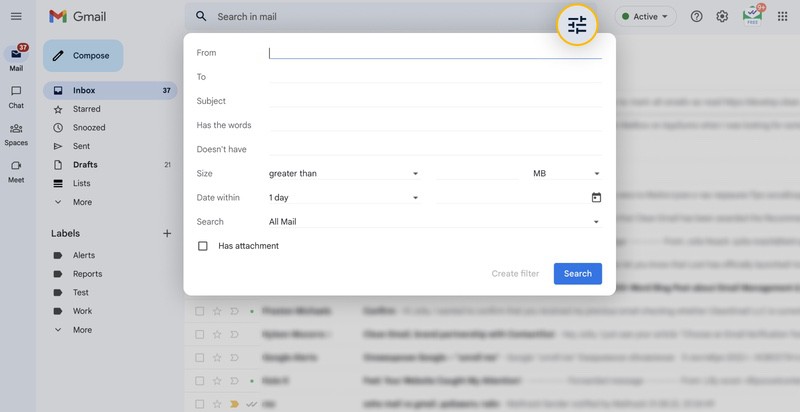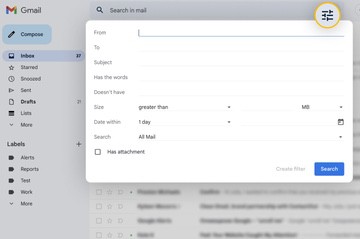 From the options panel that opens, you can now select by included or excluded words, file size, etc. This is also how to find old emails in Gmail by date, as you can add a date range, combined with any of these other parameters.
How To Find Old Emails in Gmail Using Labels
Gmail labels are a great way to organize your messages, and they can also help find old messages. When you use labels in Gmail, you can search by label or type the name of a label into the search bar. This will bring up all emails that have been given that particular label. To make this work, you would need to apply a label to each email as it is received. Labels effectively act as folders for messages in Gmail, so you can find your old emails by clicking on (or searching for) the label that was applied to them.
For example, if you regularly receive emails from PayPal, Lloyds Bank and MBNA, you might create a label called 'Bank' and apply it to all messages from those companies. When you want to find an old email, type 'Bank' into the search bar, and all labelled messages will be displayed.
You can see a list of your labels on the left-hand side of your screen (browser) or when you tap the three-line menu icon (app).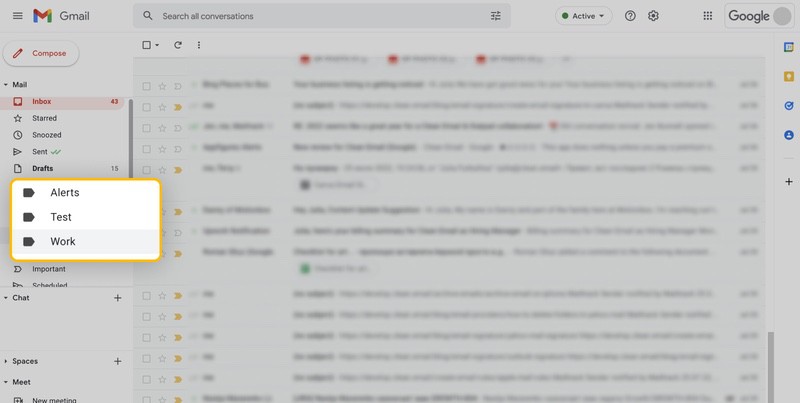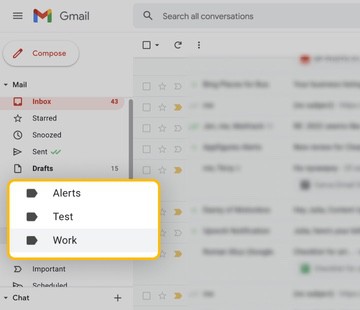 You can also nest labels inside each other to allow a logical collection of labels to be grouped.
Use Filters (Rules) To Streamline Your Emails
One of the easiest ways to find emails in Gmail is not to lose them in the first place. Gmail has a rules-based system that can easily access on a web browser. The rules allow you to filter emails directly into their labels, which act like folders. You can have them skip the inbox, which is great for messages you want to get around to reading, like newsletters, but you don't want to clog up your inbox or risk losing in the clutter.
This system is easy to set up and maintain, allowing you to quickly check the contents of your labels at any time by just clicking on them.
How to create a filter in Gmail
To create a filter in Gmail, follow these simple steps:
Go to 'Settings' - the cog in the top right corner of the page.
Click on 'See all settings.'
Next, select 'Filters and Blocked Addresses.'
Scroll down. If you have already created filters or blocked users, you'll find the option to 'Create a new filter' sitting at the bottom of the filters list but above the blocked list.

Click on 'Create a new filter.'
You'll now see options for creating your filter. You can do this by the sender, recipient (handy if you're receiving email messages for various accounts into one Gmail), subject, included or excluded words, file size, or whether it has attachments.
Pick your options, and click the 'Create filter' button.
Now, pick the actions that you want the filter to perform. We often use the 'Skip the Inbox (Archive it)' option, combined with 'Apply a label' to create folders where our regular incoming emails go, keeping the inbox clear for customer emails.
Finally, click 'Create Filter.'
If you'd like to see our deeper dive into how to do this, check out our article How to Filter Emails in Gmail. Labels and filters are a very effective way of helping you discover how to find old Gmail emails and control the clutter of the inbox.
Reduce the Clutter With Clean Email
One of the best ways to stay on top of your inbox is to reduce the number of incoming messages that aren't important. You can filter off the to-be-read-later emails using labels and filters, but what of all the often unsolicited spam messages, newsletters and communications relating to previous purchases? Everyone wants a piece of your time, and none of us wants to be constantly bombarded by email notifications.
To help manage this issue, you can use Clean Email's powerful inbox filters to quickly request unsubscription from newsletters and general spam, which Clean Email then enforces if further communication is received by automatically blocking the sender and sending their emails to Trash.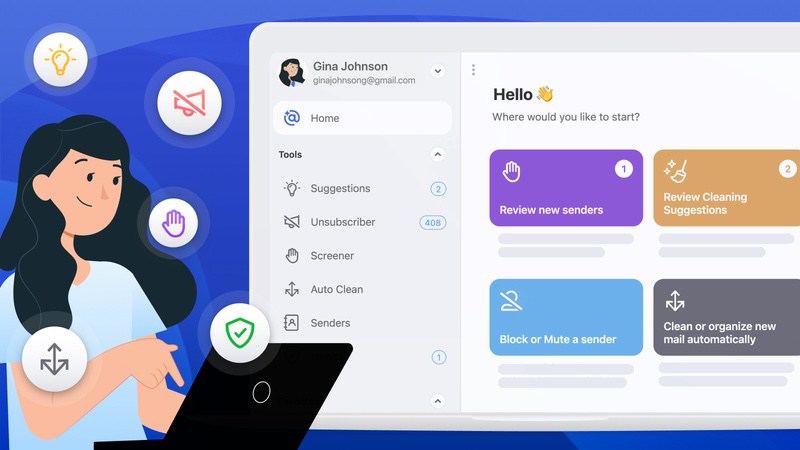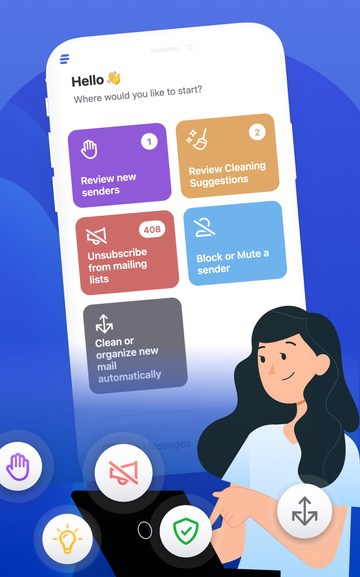 How can Clean Email help you find old emails?
Choose All Mail from the left-side panel (you may have to scroll down) and click Old Mail, shown above the search field.

Select a filter such as 'Older than 6 months' to sort your messages.
Select the messages you need and choose an action such as Delete, mark read, archive, etc. These are great for clearing old, unnecessary messages or tidying up inboxes and folders by removing the unread flag (learn more about how to find unread emails in Gmail.)

You can also create an automated email rule (Auto Clean feature) to filter certain old messages automatically. For example, if you want old messages (older than…) to be moved to Trash or to the other folder (like Archive) automatically, click the Auto Clean tab from the left-side panel. Then click Create Rule.

Fill in the rule's criteria and confirm to create the rule. This is especially handy if, for example, your company has a policy of only holding on to data for a specific period and then automatically archiving any email messages over that data range.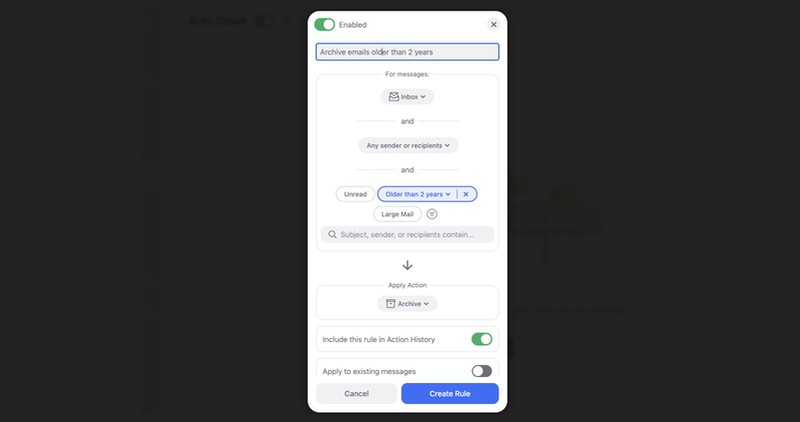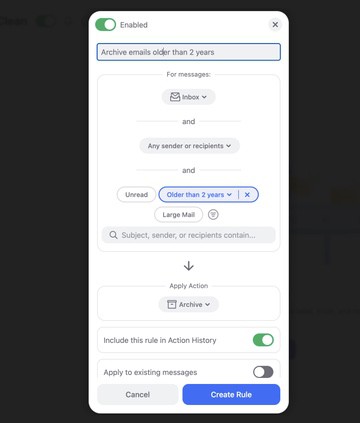 Clean Email also has a Smart Folders function, which automatically groups emails based on their context, such as 'You are CC-ed,' 'Finance', or 'Messages to yourself' (we all do it!)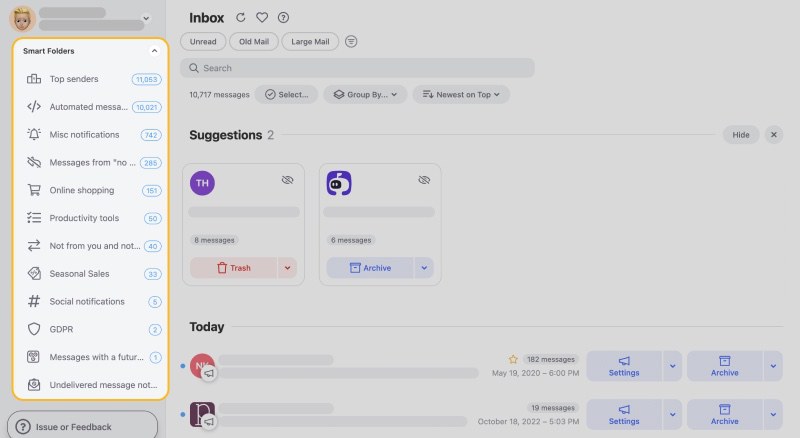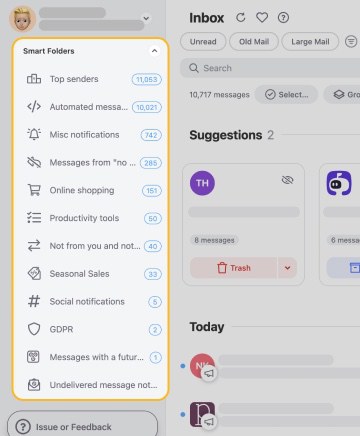 You can also search for old messages in Clean Email within a specific folder. Just choose the folder from the left-side panel, such as 'Social notifications' or 'Online shopping' and repeat the above instructions.
---
How To Find Old Emails On Gmail - FAQs
How far back does Gmail keep emails?
Gmail can keep emails indefinitely. However, your individual email messages may be deleted after 2 years of inactivity. If your account (across all Google products) exceeds 15GB, you'll be unable to receive new emails.
How do I search for emails 10 years ago in Gmail?
Open Gmail and type in 'older_than:10y' on the top search bar to look for messages older than 10 years. You can also use the Clean Email app for advanced search options.
Why is my Gmail not showing old emails?
If you use the new Gmail layout, your old emails may be in a different folder. Check for filters that may have been applied, especially for messages archived with labels. Check the Trash and Spam folders for missing messages.
Did Gmail delete my old emails?
Gmail will not automatically delete your emails unless your account has not been accessed in over 2 years, in which case it becomes a possibility.
Is Clean Email secure?
Yes, Clean Email is an email management tool, but cannot send or forward any of your communications. We have a clear focus on the privacy and security of our users.