Everyone Needs To Unsend An Email Sometimes
Imagine this: You've carefully crafted a message to your team, but realize after you push send that you didn't include the attachment you mentioned in the body of the message. Or, you wrote an email to your brother, only to realize that you accidentally added your boss' email address instead of your bother's. Those "oops" moments are frustrating, but we've all done it.
However, life would be much simpler if we could simply unsend Yahoo email before anyone saw our blunder, wouldn't it?
Well, many mail clients now offer the option to recall a message because missends happen so often. Since every mail client works a little differently, this post will simply cover how to recall email on Yahoo.
How To Recall Email On Yahoo
Yahoo Mail offers several great features in terms of spam control and filtering messages. However, if you're trying to find out how to recall an email in Yahoo, you'll quickly be disappointed.
Although you can unsend an email in Gmail and learn how to recall an email in Outlook, the ability to recall or unsend an email in Yahoo Mail is not currently available through the webmail client. You can delete a message from your Sent folder and recover deleted emails from Yahoo. However, these functions don't "take back" the action of sending it to begin with.
This doesn't mean all hope is lost for Yahoo users, though. In fact, the mobile app actually offers this feature for messages sent within the app. Plus, there are several alternatives you can use, which we'll share more about in the next section.
Unsend Yahoo Email via Mobile App
If you use the Yahoo Mail mobile app for Android or iOS, you may not know about the handy unsend feature that Yahoo recently added.
Essentially, any time you send a message from within the Yahoo mobile app, a message box appears at the bottom of the screen to let you know the message sent. However, the box also includes an Undo button which you can push to recall Yahoo email you didn't want to send.
However, you only have 3 seconds to do this, so you have to move quickly!
Alternative Options To Unsend Yahoo Email
As previously mentioned, you won't be able to recall Yahoo email by using Yahoo through your web browser. However, there are some alternative solutions you can try that simply involve signing up for a third-party mail client.
1. Unsend With Mailbird
Even if you have a Yahoo mail address, you don't have to use their software to check your messages. In fact, there are numerous mail clients out there who let you sync up multiple accounts from Yahoo, Gmail, and other providers so you can view all of your inboxes at once. Mailbird is one such mail client application.
If you use Mailbird to read and send your messages, then you can easily recall an email on Yahoo through Mailbird. It's one of the many features that make Mailbird a great inbox alternative. However, before you can unsend an email in Mailbird, you will need to make sure the unsend setting is enabled.
To do this:
Set up your Mailbird account with your Yahoo account.
Go to Settings → Composing.
Scroll to the bottom and find Sending.
Where it says Undo Send Period, slide the bar to the number of seconds you'd like to have to unsend a message. The default is 15 seconds, but you can slide it up to 30 seconds or down below 15 seconds.
Leave the Settings menu.
Once this is set up, you will have a button that says "Undo" in the bottom left corner each time you send a message from Mailbird. The Undo button will remain available for the number of seconds you've set.
2. Unsend With Spike
Spike is another alternative to Mailbird. It allows you to sync up your mailboxes from multiple mail clients and check everything in one place. To sign up, you can simply go to Spike's website. Then, once your account is set up, you can use Spike to send and receive emails.
To unsend a message with Spike, simply right-click the message or select the 3 dots next to the message and click 'Unsend Message.'
💡 Note: The 'Unsend Message' will turn grey or disappear within 10 seconds.
3. Recall Yahoo Email on iPhone In Mail App
If you have your Yahoo account linked to your Apple Mail inbox on your iPhone, then you can also take advantage of Apple Mail's recall capabilities to unsend an email in Yahoo.
With iOS 16, when you send a message in Apple Mail, the Undo Send button will appear at the bottom of the message screen for 10 seconds after you send a message. If you tap the Undo Send button, it removes this message from your outbox and changes it back to a draft. From there, you can either make changes and resend, cancel, or exit the app and come back to the message later.
How To Avoid Incorrectly Sending Emails
Obviously, the real solution to recall email in Yahoo is to not send the message incorrectly in the first place. These suggestions don't require any fancy features or additional downloads, they just require you to rethink how you send emails to others.
1. Add The Attachment First
One of the biggest mistakes people make is forgetting to add the attachment(s) they planned to send alongside the message. If you plan to do this, it may actually help if you add the attachment before doing anything else. This helps you ensure you actually add it, and it gives you a chance to make sure the attachment meets the size requirements to send.
2. Don't Add An Address Until The End
Sometimes mistakes happen, and you just accidentally hit the send button as you type your message. This can be incredibly frustrating, but it is also something you can avoid. How? By simply not adding the address(s) in the To, CC, or BCC line until the very end.
If there's no address in the To, CC, or BCC area, the message cannot be sent. In fact, Yahoo will show an error message and say, "Please add at least one email address before sending." So, you can add any attachments, type the content for your message, read it over, then add any addresses in the appropriate place before pressing send.
3. Try Using Instant Messenger Instead
Email still has a purpose. However, many people find that instant messaging applications like Microsoft Teams, Slack, Telegram, or Viber work better for everyday communications with coworkers, family members, and friends. The nice thing about instant messenger apps is that most of them do allow you to remove messages after you send them even hours later. Many of them also allow attachments.
Avoid Email Clutter With Clean Email
Although Clean Email can't help you solve the problem of how to unsend an email in Yahoo, it is a great tool that can help you clean up Yahoo inbox and reduce email anxiety.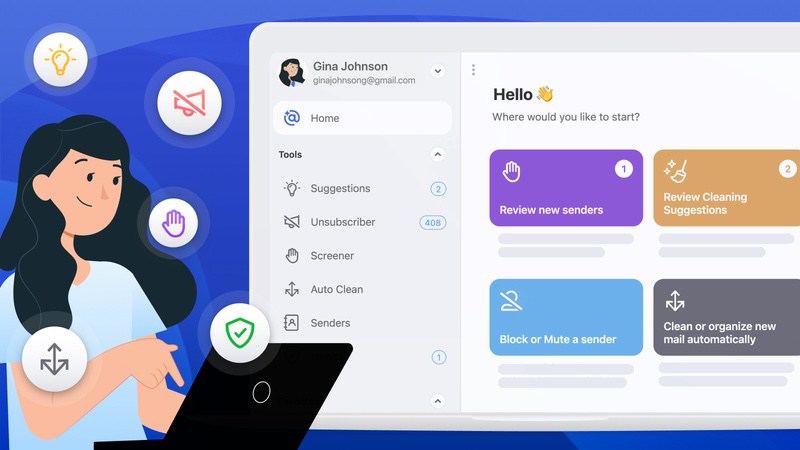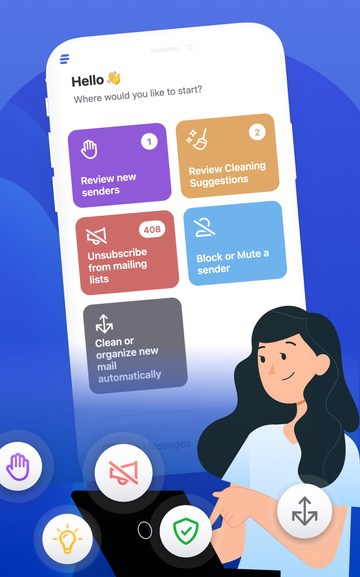 The Smart Views feature helps you organize and sort messages based on specific criteria. This makes it easier to locate and filter messages, which can cut down on you replying to the wrong thread or accidentally sending a message to the wrong person.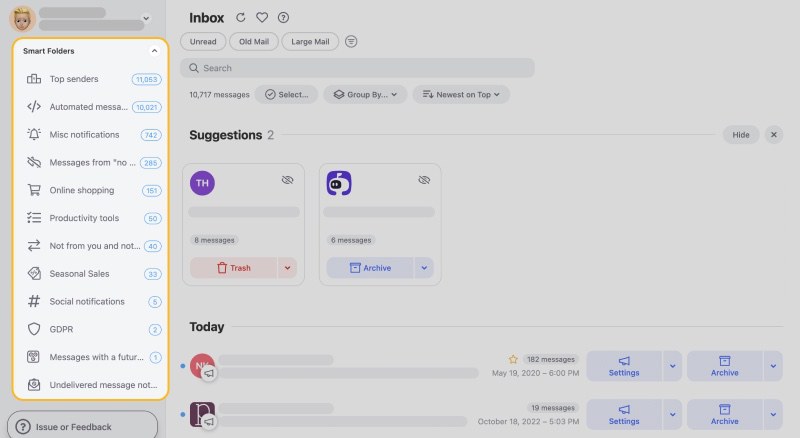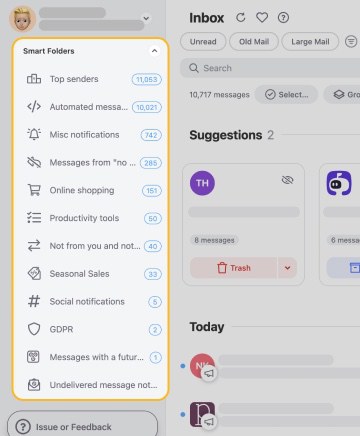 The Auto Clean feature helps you automate routine email tasks and remove messages you don't need from your inbox. This helps you keep an organized inbox that's free of spam messages and has all the threads you need saved in an easily-accessible place.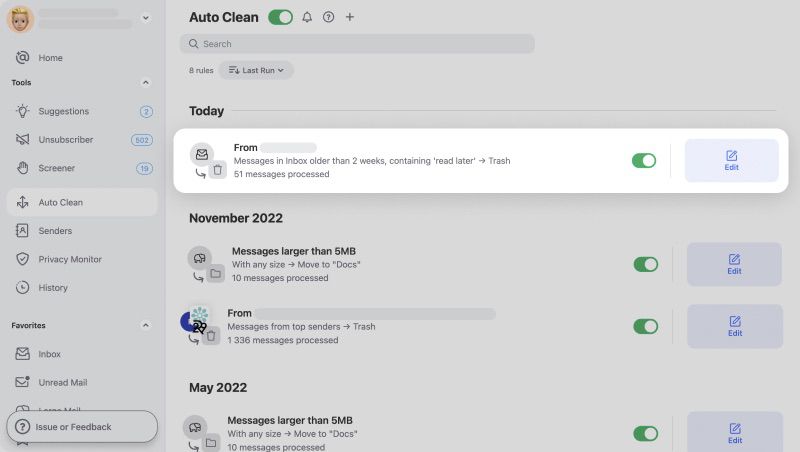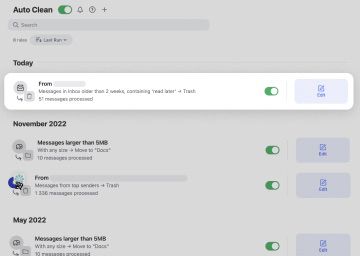 Clean Email works with all IMAP-based mail services (including Yahoo Mail). And, the best part is you can quickly set up your Clear Email account and sync your Yahoo inbox for free (if you want to manage up to 1000 emails). Unlimited access is available in our Premium plans.
The app never shares your data with third parties and always makes sure to follow email security best practices to make sure your personal data is safe.
---
How To Recall An Email In Yahoo - FAQs
Can you recall an email in Yahoo?
Unfortunately, Yahoo Mail doesn't give users the option to unsend a message from the webmail app. However, there are several alternative inboxes that can give you the tools to do this.
How to unsend an email in Yahoo after a day?
No mail client gives you the option to unsend a message after an entire day has lapsed. At best, some mail accounts give you up to 30 seconds to unsend a message. However, most only give you 10 seconds to make this change.
How do I delete an email I sent to the wrong person in Yahoo?
You cannot recall an email in Yahoo once it sends. All you can do is delete it from your Sent items, but this only removes the message for you.