Deleted Gmail Emails and Getting Them Back!
Maybe you have deleted a ton of messages to simply clear your inbox, or you have accidentally sent them to trash, instead of the archive.
Either way, we all sometimes need an email we have once gotten rid of.
So, is it possible?
Yes! You can recover deleted emails in Gmail for up to 30 days since they landed in your trash. After 30 days messages will be completely lost. There's no way you can get them back.
However, if you are an admin for a team, you can use the admin console to retrieve certain data for up to 25 days past deletion. But for everyday mailboxes, once they're gone, they're gone.
Be mindful of the messages you are deleting, and never get rid of anything that could be useful or hold important information. Instead, archive these emails to help clear your inbox.
Want to learn more about how to use Gmail effectively? Find out how to auto-delete emails in Gmail from our Blog.
How to Recover Deleted Gmail Emails
To recover any deleted email, you first need to log into your account and find your trash or bin folder.
You can locate the trash folder by scrolling through your list of labels, you may have to click More to view all Gmail labels.
How to Retrieve Deleted Gmail Emails on Web
Find the deleted messages within your trash folder.
Click the checkboxes next to the messages you want to recover.
Click move to, located at the top of the page.
Select a folder from the drop-down menu or return it to the inbox.
Messages will now be recovered and back within your folder of choice, or in the inbox.
How to Retrieve Deleted Emails from Gmail on Mobile
You can restore messages the same way on either Android or iPhone.
Open the mobile app, locate the Trash/Bin folder, and open it.
Open the email you want to recover.
Tap the three-dot or line menu in the top right corner.
Press move to and select a folder.
Your email will now be recovered from deletion, and back in your mailbox.
How to Recover Permanently Deleted Emails from Gmail
Unfortunately, you cannot restore messages sent to trash once the 30-day period is up.
Once an email lands in the trash folder, the 30-day timer starts. After this time, the mail service provider will delete the messages forever.
So, be sure to only move me to trash you do not need!
There is also a way to recover email if you're an admin and use the Admin Console. You have an additional 25 days past deletion to restore your messages.
Instead of deleting, you can download Gmail emails or forward multiple Gmail emails to another mailbox to check them later.
Manage your Emails with Clean Email
Clean Email is an email management tool to make your daily and working life easier by reducing email stress and creating an organised mailbox.
Though the app isn't dedicated to recovering emails, you can use it to access your trash folder to retrieve the deleted messages during the 30-day period before the permanent deletion. It is one of the many useful features that allow you to easily organise your Gmail mailbox with Clean Email.
The Auto Clean feature enables you to create automated rules to perform any manual tasks. This saves you time, and keeps your mailbox organised with minimal effort.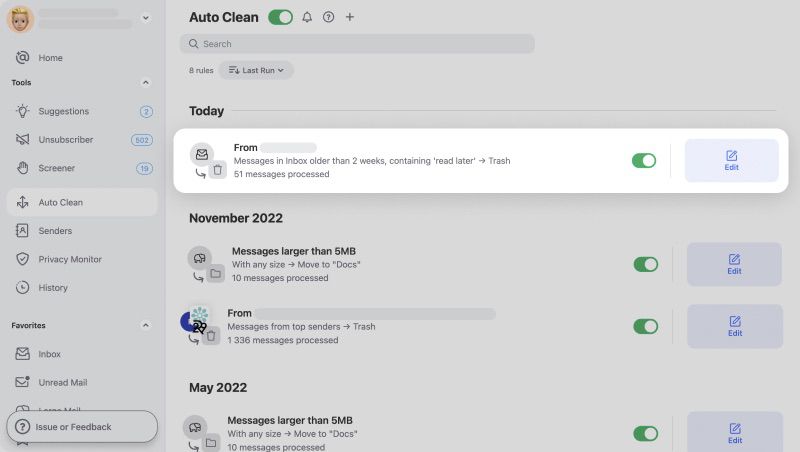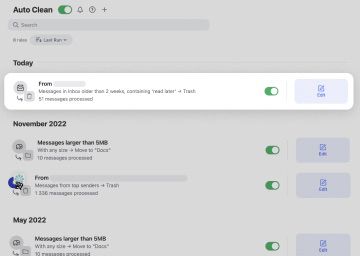 For example, you can set an automated rule to move messages from a specific sender straight into a folder.
To create a rule all you need is to choose Auto Clean located in the left sidebar. From here you will be prompted to fill out some criteria and you're done!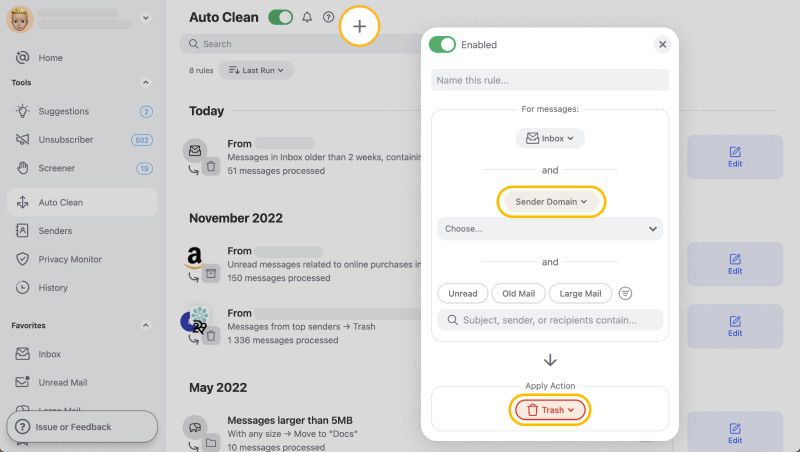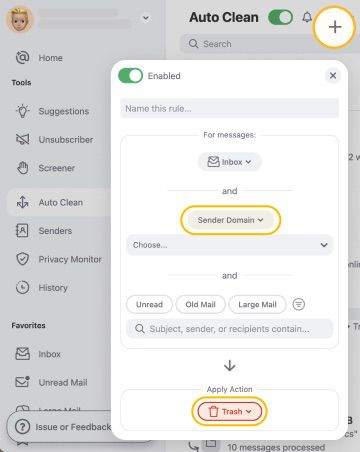 Smart Views group similar emails into easy to view and manage bundles. You can use Smart Views by selecting a view and choosing an option to sort emails. This allows you to manage a specific set of messages quickly.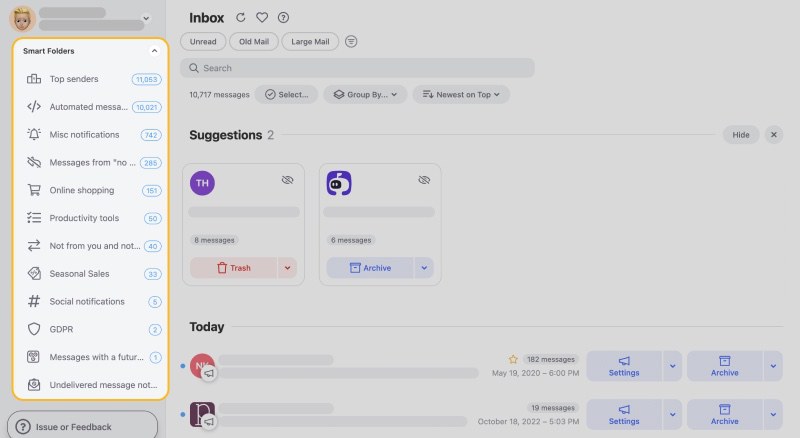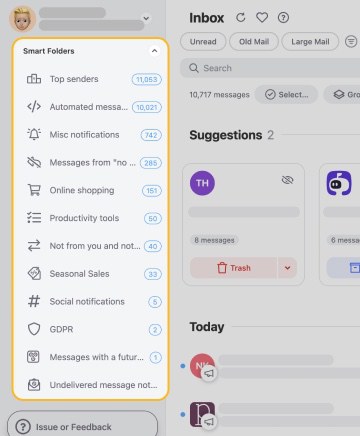 For example, you can view all social media notifications older than 6 months and choose to archive or delete them.
Unsubscriber enables you to get rid of marketing newsletters and stop unwanted emails in Gmail in a few clicks.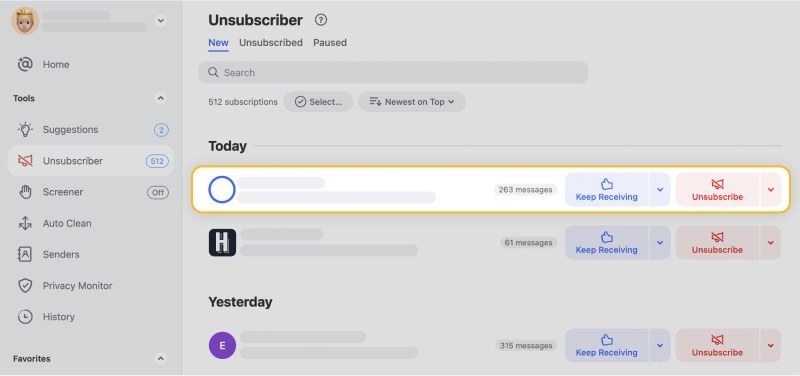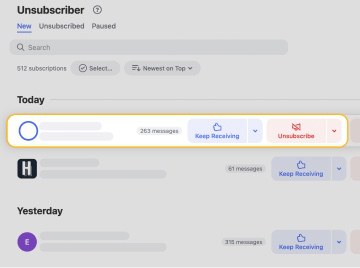 All you need to do is click the Unsubscriber view to see all your subscriptions. Then choose to 'Unsubscribe' from a subscription or 'Read Later' which moves newsletter to a separate folder, keeping the subscription and cleaning your inbox at the same time.
The app cares about your privacy and security, we never sell or share your personal data with any third parties.
Having a second email account on Yahoo or iCloud? Check out how to recover deleted emails from Yahoo and how to recover deleted emails from iCloud.
---
Recover Deleted Emails from Gmail - FAQs
Is it possible to recover permanently deleted emails from Gmail?
You cannot restore messages deleted after the 30 days unless you are an admin using the admin console, you can then restore some data from accounts.
Can you recover deleted emails from Gmail?
Yes, you can restore messages within 30 days of that email landing in your trash folder.
Are Gmail emails really deleted forever?
After 30 days, messages within the trash folder will be deleted forever.
How to recover deleted emails from Gmail after 30 days?
Unfortunately, you won't be able to recover an email after 30 days. Gmail will delete it permanently.
How can I recover my deleted Gmail emails after 2 years?
You cannot restore messages after 30 days of them being in the trash folder. The mail service provider will remove them forever.