Recovering Deleted Emails
We have all removed emails we didn't mean to. Depending on how soon you realise the message has been deleted determines what action you can take.
If you have just deleted the message, you can get it back instantly.
If you need to recover deleted emails in iCloud within 30 days, you can do this easily!
However, if you need to recover deleted iCloud emails that are permanently gone, there are a few more steps you need to take.
Don't panic yet! Try the methods within this article and fingers crossed one of them works for you.
How to Recover Deleted Emails From iCloud Mail
If you want to recover your removed emails, you can do so easily by using your backup. If you haven't backed up your phone in a while, you may need some extra support in retrieving lost data.
Removed messages from iCloud mean they are gone for good, deleted on the device means you may still be able to recover them by restoring your mailbox.
The following methods will teach you how to recover permanently deleted emails from iCloud. This includes how to recover iCloud emails deleted from the Trash.
Method 1. Recover Deleted Emails Instantly
Removed messages go into the Trash folder where they will stay for a period, usually 30 days. After this time limit, emails are deleted permanently.
Go to the Mail app on your iPhone.
Go to the Mailboxes section if you have more than one account added. Search for your iCloud account and click the Bin icon. In case you use only one account in the Mail app, just tap Bin using the sidebar menu on the left.
Click on the message you want to restore. Choose Move from the bottom panel and then click Inbox to move the message to inbox.
💡 Tip: If you have just accidentally sent an email to Trash, shake your mobile device to undo the action!
Method 2. Recover Emails with iCloud Backup (on iOS 16)
To do this, you will need to erase all data from your mobile device to replace it with the backup file.
To erase your device, go to Settings → General.
Then click Transfer or Reset iPhone → Erase All Content and Settings.

You will have a clean iPhone after the process is done. Now follow the steps on the setup screen, and make sure you are connected to Wi-Fi.
Once you reach the Apps and Data section, tap Restore from iCloud Backup.
Sign in to your iCloud, select the latest backup file and follow the steps to finish the process. Your lost emails should now be back in your mailbox.
Method 3. How to Recover Deleted iCloud Emails Without a Backup
If you haven't backed up your phone to iCloud, you can try using the iOS Data Recovery software like Disk Drill. This will restore all deleted data to your phone including pictures, texts, etc.
All you need to do is download this tool to your Mac and get started. Disk Drill is fully compatible with older Intel-based Macs and the latest Macs with M1 and M2 chips.
Manage Your Mailbox With Clean Email
Clean Email isn't a data recovery app. However, it can help you create an organised mailbox to avoid misplacing or accidentally deleting emails ever again!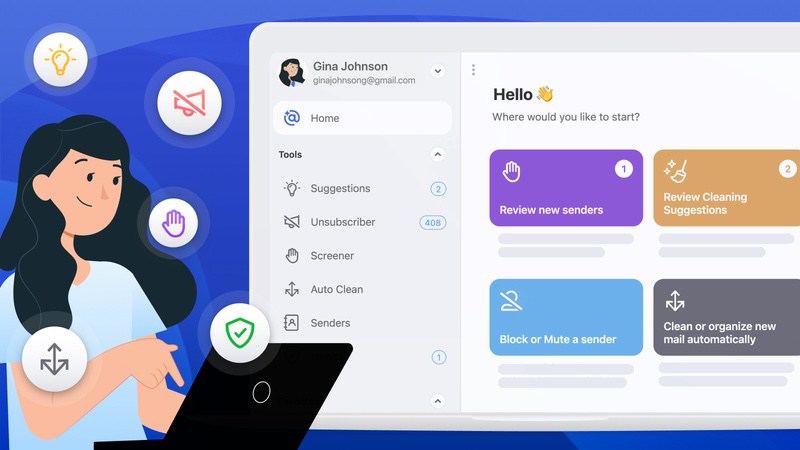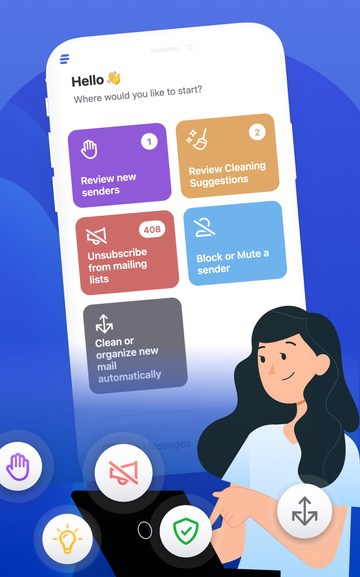 You can use the Trash folder within Clean Email to retrieve any recently deleted emails from your account. To do this, head into your Trash folder, locate the email, and mark the checkbox to select the message. Then choose Restore. Confirm the action and you are done!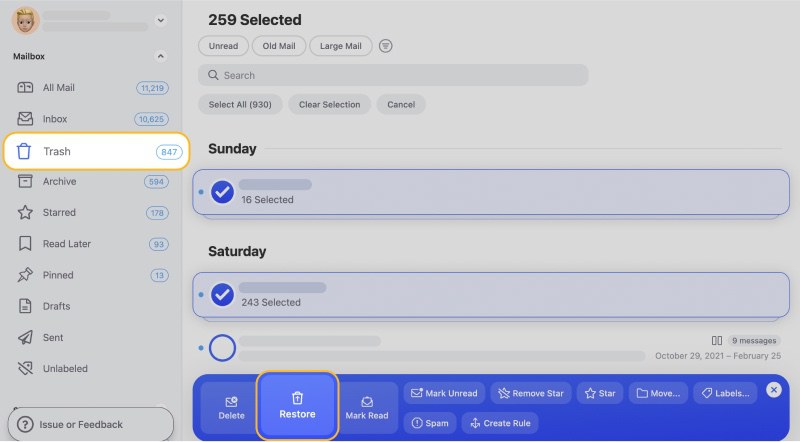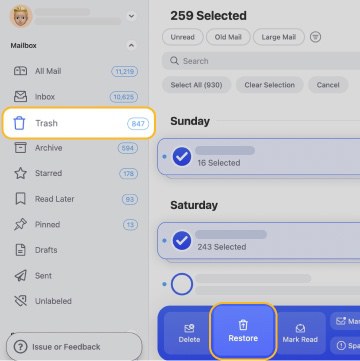 Clean Email also has many other benefits and handy features to optimise your inbox management.
The Auto Clean feature allows you to create automated rules to remove the need to perform manual tasks.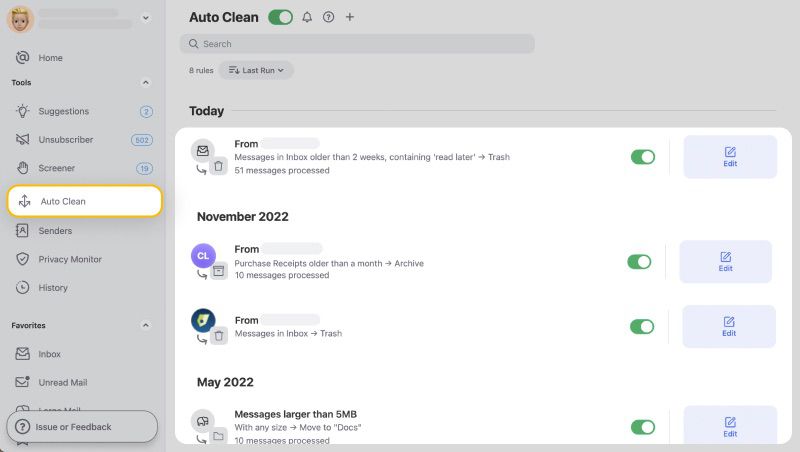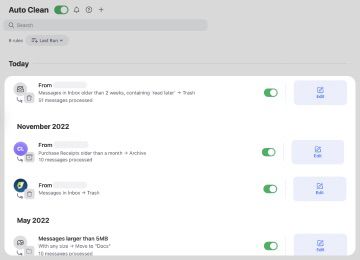 Create Auto Clean rules to move emails into selected folders or Trash as soon as they hit your inbox. To create a rule, simply select the email using the checkbox and click the Create Rule button in the actions toolbar.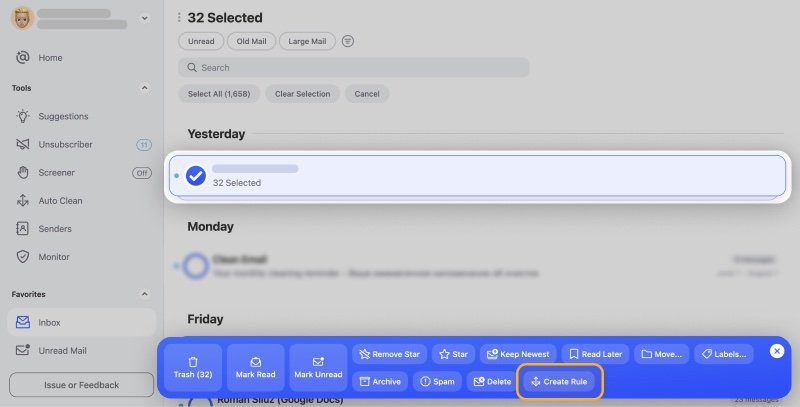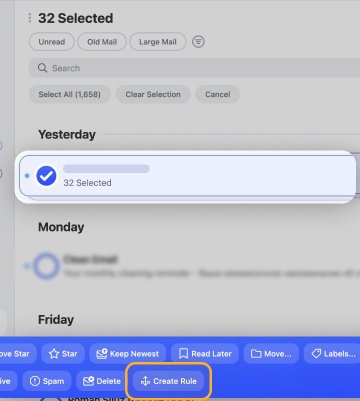 Then follow the steps and fill out the criteria. You can always edit and remove any rules you've created using the Auto Clean dashboard.
The Unsubscriber tool makes removing yourself from mailing lists easy.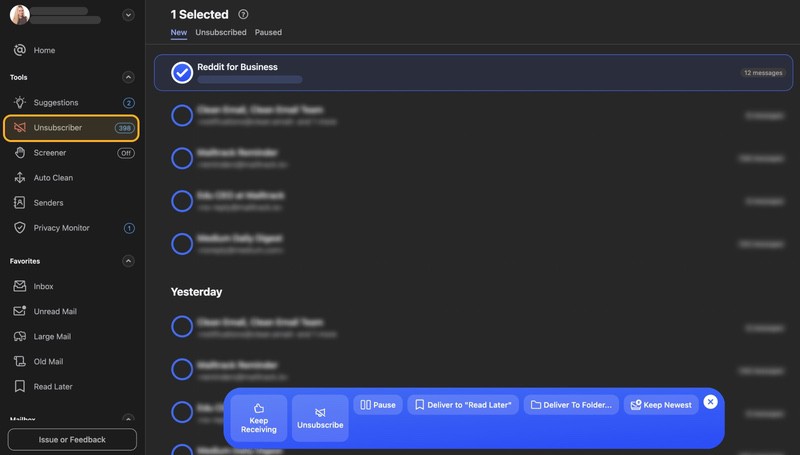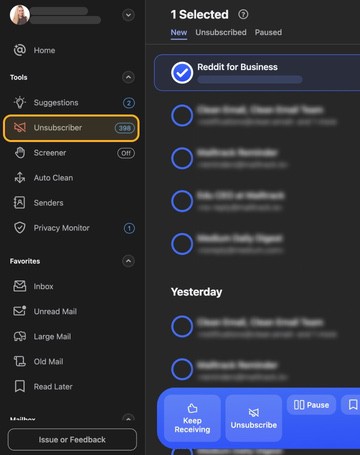 With just several clicks of a button, you can remove your email address from any unwanted mailing lists within the Unsubscriber view. Select multiple newsletters you no longer wish to receive and click Unsubscribe. The app will send unsubscribe requests and complete unsubscribe forms without your manual work.
Alternatively, you can choose to deliver the newsletter to the Read Later folder, keep only the newest email from the selected newsletter, and more.
The Smart Folders feature will bundle likewise emails into easy-to-manage folders (they serve like labels).
With Smart Folders, you can quickly locate and organise iCloud emails. For example, you can click the Online shopping folder to check all your shopping-related emails from one place. This is handy if you are looking for a specific email or want to manage a group of emails within the same genre.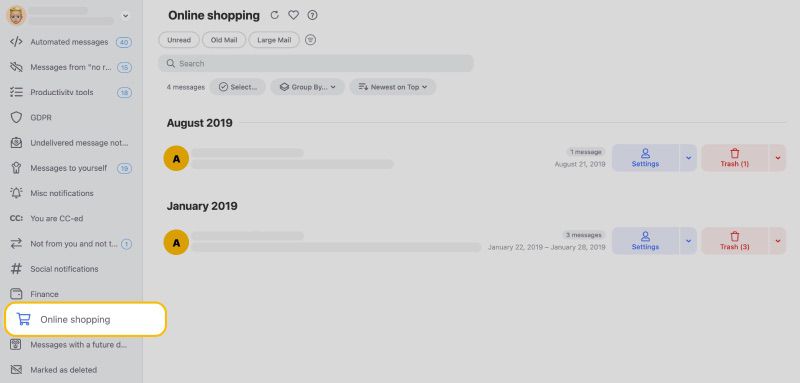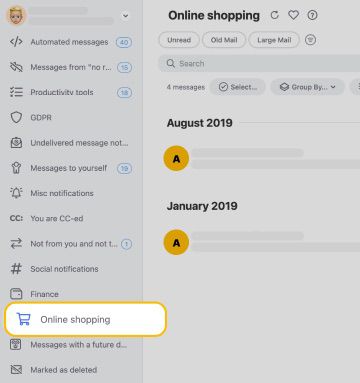 From here you can apply any action to these messages or create an Auto Clean rule.
Read more about our other features here. The app works with all IMAP-based mail service providers like iCloud, Gmail, Outlook, Yahoo, and more.
💡 Note: We care about your Privacy and Security. We never collect, share, or sell user data with any third parties.
Check out our other useful articles:
---
How to Recover Deleted iCloud Emails - FAQs
Does iCloud keep deleted emails?
iCloud will keep your removed messages within its backup file. If you do regularly back up your iPhone that is.
How do I retrieve a deleted email from iCloud?
To retrieve a deleted email from iCloud you may have to erase all your iPhone's current settings and restore it. By restoring it you can choose a previous backup file that hopefully contains your removed messages.
How do I recover permanently deleted emails from iCloud?
You can recover deleted emails by restoring the latest iCloud backup file, or by using Data Recovery Software like Disk Drill.
How to recover deleted emails from iCloud after 30 days?
To recover emails after 30 days you will have to restore your mobile with a previous backup file. This may get rid of any new data.