7 Tips on How to Stop Junk Email in Outlook
By the end of 2019, the number of worldwide email users increased to over 2.9 billion, and the number of junk messages will only grow with time. Unless you learn how to stop receiving junk email, you can expect your inbox to eventually be so full of useless messages that using it will be nearly impossible.
The good news is that learning how to get rid of junk email doesn't require much effort, and it certainly doesn't require any expert knowledge. All you have to do is familiarize yourself with seven simple email management tips and use Clean Email as an alternative to the Outlook spam filter.
1. Don't Respond to Spam
Never respond to spam messages. Ever. It may seem obvious, but you would be surprised how many people break this simple rule and open unsolicited emails. Sometimes, they even download attachments, which is how most malware infections begin.
The trick is to learn how to separate legitimate messages from illegitimate ones. If you don't recognize the sender address, you're most likely dealing with an unsolicited email from a clever spammer who has managed to circumvent the Outlook spam filter. Look at the subject line and think hard if it makes sense and doesn't contain grammar mistakes.
Spammers often make outrageous claims and write emails that are full of spelling errors and grammar mistakes. Legitimate senders, on the other hand, take time to proofread their emails to make a good first impression. It's also very rare for legitimate senders to send emails with attachments without first touching base.
2. Don't Share Your Email Address
Do you know how spammers get your email address in the first place? They usually find it posted online! We understand that it can be tricky, especially if you have a website or maintain an active online presence but try not to publish your email address online. If you absolutely must share it with others, at least disguise it by substituting the @ symbol with the word "at." This won't fool all email address scrapers used by spammers, but it will throw off a good percentage of them.
When you do give your email address to someone else, pay attention to your inbox and monitor the number of spam emails you receive. A major uptick in the frequency of spam emails could mean that the person with whom you've shared your address has published it somewhere. When registering on websites, consider using a disposable email address instead of your real one. There are many services that let you create as many disposable email addresses as you want, and most of them are free.
3. Report Junk Emails
The sad truth is that the Outlook junk email filter leaves a lot to be desired. You can, however, train it by reporting junk emails. When you mark a message as spam, it will not only disappear from your inbox but also appear on Outlook's junk email filter. Next time the same sender attempts to send you a similar junk message, there's a very high chance that the email will be detected and stopped from ever reaching your inbox (learn more about how to stop spam emails and how to block emails on Outlook).
4. Unsubscribe from Promotional Emails
Promotional emails are the curse of our modern era. It's hard to avoid them because there are still many websites and services that require you to explicitly opt out from receiving them, and some simply don't care. The frequency of promotional emails can be so high that it doesn't take a long time to reach storage limits in Outlook, despite the fact that Microsoft offers 15 GB of email storage space per free Outlook.com account and 50 GB of space for Office 365 Home and Office 365 Personal subscribers.
In the United States, the Controlling the Assault of Non-Solicited Pornography and Marketing Act of 2003 (CAN-SPAM Act of 2003), mandates that a visible and operable unsubscribe mechanism is present in all emails and specifies that consumer opt-out requests are honored within 10 business days. European GDPR takes things to the next level, requiring clear proof of opt-in from email recipients. As a result of these and other laws, most promotional emails today contain an unsubscribe link somewhere at the bottom of the message. All you have to do to unsubscribe is click on it.
5. Get a New Email Address
Getting a new address just to stop junk email may seem like a drastic option, but we recommend it to everyone who's losing the fight with spammers. Outlook lets you create as many new addresses as you need for free, and you might even be able to snatch a good username if you don't wait too long. At the very least we recommend you create another email address just for online registrations and various other activities that might lead to junk infiltrating your inbox.
6. Use Temporary Email Services
If you're not keen on managing another inbox just to stop junk emails from infiltrating your Outlook account, you have another option: a temporary email address.
A temporary account looks and works just like a regular email address except that it's not meant to be used long-term. Most temporary addresses expire after anywhere from 10 minutes to a couple of hours, so using them for regular communication is not advisable.
Instead, we recommend you use a temporary email address as a way how to stop receiving junk email from various websites that force you to create a user account. Here are a few reputable providers of temporary email services that you can choose from:
Guerrilla Mail: Launched in 2006, Guerrilla Mail is one of the oldest providers of temporary addresses in the world. So far, it has processed around 13 billion emails, which says a lot about its popularity. Guerrilla Mail automatically generates a unique address as soon as you open it in your web browser, and all you need to do to use it is copy it. Unlike most other similar services, Guerrilla Mail allows its users to send messages, limiting their size to 150 MB per email.
EmailOnDeck.com: This provider of temporary email addresses is used by professionals and regular users around the world to catch annoying subscription emails and spam. If you want it to generate a temporary address for you, confirm that you're a real human and click the Get Email button. In just a few seconds, you'll be taken to your private inbox that you can use to receive messages that you don't want in your Outlook inbox.
10 Minute Mail: The name of this temporary email service is pretty self-explanatory. That said, 10 Minute Mail doesn't strictly limit you to just 10 minutes. You can always reset the timer with a single click, which may come in handy when waiting for a delayed message.
Besides temporary email services, you should also learn how to stop receiving junk email in Outlook with burner emails extension like Burner Mail for Chrome. Browser extensions are convenient to use because they are always just one click away, and they offer various useful extra features, such as real-time email notifications.
7. Configure Your Outlook Junk Email Filter on PC or Mac
If you're using Microsoft Outlook on your PC or Mac, you should tweak Outlook junk mail settings to improve the performance of the Outlook spam filter.
To do this:
Open Microsoft Outlook and click the Home tab, click the Junk icon (a person with a prohibited sign), and select the Junk E-mail Options button.
If you're on a Mac, click the Tools menu and select Junk Email Preferences.
In the Options tab, look for junk email protection settings and pick one of the available options:
No Automatic Filtering: Mail from blocked senders is still moved to the Junk Email folder. Use this option if you're wondering how to stop emails going to junk Outlook folder.
Low: Move the most obvious junk email to the Junk Email folder.
High: Most junk email is caught, but some regular mail may be caught as well. Check your Junk Email folder often.
Safe Lists Only: Only mail from people or domains on your Safe Senders list or Safe Recipients List will be delivered to your Inbox.
Save your choice.
That's how to stop junk email in Outlook on PC or Mac. To create the best spam filter for Outlook possible, we highly recommend you manually add addresses and domain names that you always want to be treated as junk email on your Blocked Senders List. You can do this in the Blocked Senders tab of the Junk E-mail Options or Junk Email Preferences window.
Bonus: Clean Email
One of the most effective ways how to stop getting junk email involves Clean Email and its "Auto Clean" and "Unsubscriber" features. Clean Email is a bulk email organizer that can analyze your inbox without reading your emails and separate junk emails from legitimate emails. It allows you to unsubscribe from newsletters and unwanted subscriptions with the click of a button, and it's just as easy to delete or archive hundreds or even thousands of junk messages.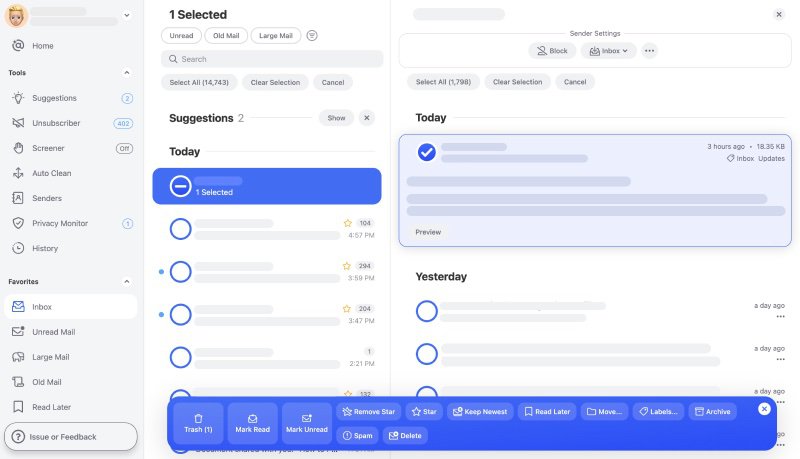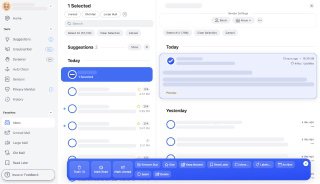 To stop junk email in Outlook using Clean Email's unsubscribe feature:
Go to: https://app.clean.email/
Sign in with your mail login and password.
Select Unsubscriber from the left pane.
Go through the list of active subscriptions and click the Unsubscribe option next to each subscription you no longer wish to receive.
Remember that you can easily resubscribe in the future should you ever change your mind.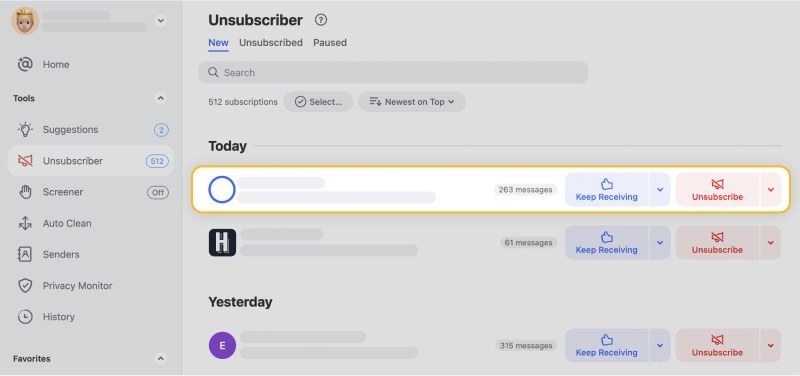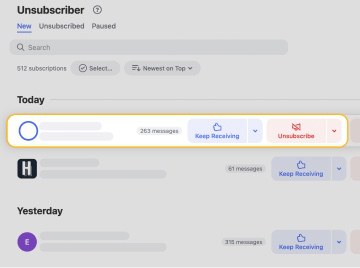 Thanks to its automation features, the app allows you to apply any action to new emails coming to your mailbox without any manual work. You can tell Clean Email to, for example, automatically mark all emails from certain addresses as spam. Creating automation rules is a matter of checking a single checkbox, and you can manage all automation rules using a convenient dashboard.
Using email to communicate has many benefits. However, whenever you use email, you must use it responsibly and securely. Privacy Guard from Clean Email is just the tool to help you.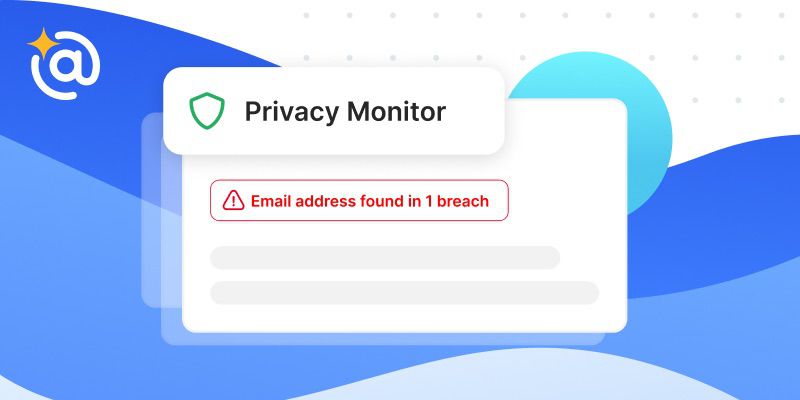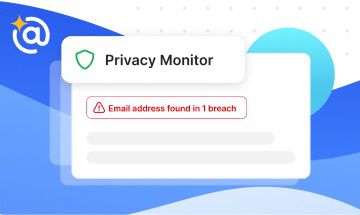 The way Privacy Guard works is it checks your email address against known data breaches. If the system recognizes your address within a known security incident, it suggests you change your password immediately. By changing your password as soon as it identifies a risk, you can minimize or even completely avoid any potential damage.
Conclusion
All Outlook users should learn how to stop junk emails to protect their inboxes from the flood of unsolicited messages that is guaranteed to sweep away everyone who doesn't know how to avoid it.
Wondering how to increase email productivity? Learn how to use Outlook effectively and how to add Gmail to Outlook.
---
How to Stop Junk Email in Outlook - FAQs
How do I stop getting so much junk mail in Outlook?
Junk mail seems to be a problem that everyone faces. However, with Outlook, you can do a few things to limit the amount of junk mail you receive:
- Don't respond to spam.
- Unsubscribe from promotional emails.
- Always report junk emails.
- Don't share your email address with people you don't know.
- Never share your password with anyone (even if you do know them).
Why can't I block junk emails in Outlook?
Unfortunately, Outlook doesn't have a universal option to block junk emails. The reason is that sometimes junk email is relative. You may want an email that many people would regard as junk email. (Don't get this confused with spam email.) So, instead, Outlook offers a block sender list. That way, if you receive a message from a sender you don't want to receive an email from, you can just add the address to the list, and you won't hear from that sender again.
How do you stop unwanted emails on Hotmail?
Here is the path to stop unwanted emails on Hotmail. Log in to your Hotmail account and click: Home → Delete group → Junk → Junk Email Options. When you get to this page, you can make the desired changes to your junk email options. Once you finish, make sure you save your preferences.
How do I change my junk mail settings in Outlook?
If you want to change your junk email settings on a Microsoft computer, you need to open Microsoft Outlook and click the Home tab. Once the Home tab has loaded, click the Junk icon. Select the Junk E-mail Options button. If you're on a Mac, click the Tools menu and select Junk Email Preferences. Afterward, the directions should remain the same.