What's the Point of the Promotions Tab in Gmail?
The Promotions tab in Gmail isn't there to annoy you. Instead, it's how Google separates mostly useless marketing messages from those that truly matter, such as emails sent to you by your work colleagues, friends, and family members.
But what if you're not interested in promotional messages at all? In that case, you should learn how to get rid of promotions in Gmail so they never stealing your attention again. Keep reading as we dive into how to make that happen.
How to Disable Promotions in Gmail
What's great about Gmail is that it lets you customize your inbox to a fairly large extent, allowing you to prioritize the emails that matter most to you. One such customization is the ability to stop promotions in Gmail from getting filtered into a dedicated tab.
When you disable the promotions tab in Gmail, promotional emails won't vanish—they'll be included in your main inbox alongside all other emails. Sounds undesirable? We guarantee that it won't when you consider the benefits:
You won't miss important emails: By stopping promotions in Gmail, you ensure that no essential message gets lost in the flurry of promotional emails after being misclassified by Gmail.
You'll remember to unsubscribe: With promotional emails arriving directly in your inbox, you'll become aware of the subscriptions you don't recall signing up for, reminding you to hit that "unsubscribe" button to get rid of them forever.
You'll become a more mindful Gmail user: Without the Promotions tab, you'll see the real state of your inbox, making you more cautious about who's messaging you.
Hopefully, you're now ready to stop promotions in Gmail. If so, then here's how to disable the Promotions tab in Gmail:
How to stop promotions in Gmail on the web
Log in to your inbox.
Click on the Settings gear icon in the top-right corner and select the See all settings option.

In the settings page, click on the Inbox tab.
Uncheck the checkbox next to Promotions.
Click on Save Changes.
How to stop promotions in Gmail on iPhone and Android
Launch the Gmail app on your mobile device.
Tap the hamburger menu icon.
Tap Settings near the bottom.
Navigate to the Inbox customisations section.

Go to Inbox categories.
Disable the Promotions category.
Tap Done when finished.
💡 Tip: Disabling the Promotions tab is just one way of managing your inbox. You can explore more about Gmail tabs and how they can help you organize your messages. If you ever need to move specific emails from the Promotions tab to your Primary inbox, this guide on how to move emails from Promotions to Primary can be a helpful resource.
How to Stop Gmail Promotions: Alternative Solutions
Disabling the Promotions tab in Gmail is a great first step toward better email management, but it doesn't directly address the issue of pesky marketing emails finding their way to your inbox. Here are some alternative solutions to consider when you want to stop Gmail promotions from overwhelming your inbox.
Gmail Labels and Filters
First up, consider using Gmail labels, which provide a convenient way to tag and categorize your emails to visually separate different types of messages for easier inbox management.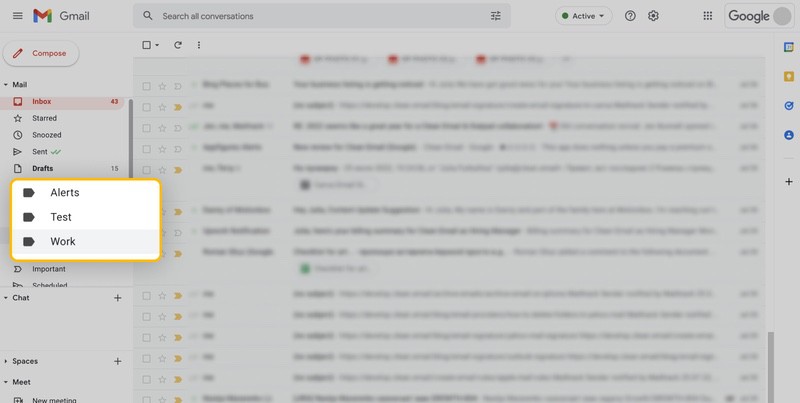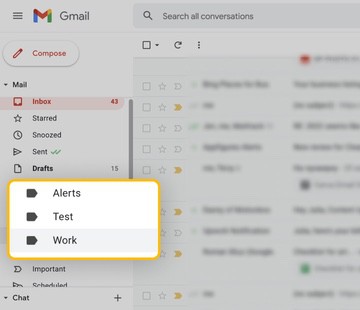 Instead of applying Gmail labels manually, we recommend you learn how to filter emails in Gmail automatically by setting up specific rules for how Gmail should handle incoming emails. For example, you can set up a filter to automatically label messages from a specific sender and archive them or mark them as read—all without you lifting a finger.
Clean Email's Smart Folders
If you're looking for a more robust and user-friendly solution that can help you stop unwanted emails in Gmail, then you should consider Clean Email and its Smart Folders.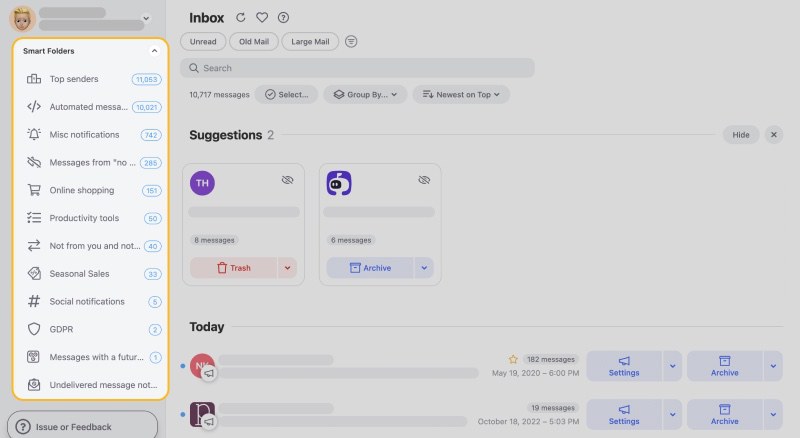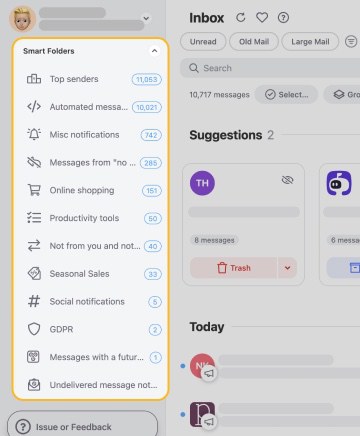 With Smart Folders, the app automatically groups similar emails together without physically moving your emails anywhere. You can easily click any Smart Folder to see your grouped emails, such as online shopping emails or seasonal sales, and apply various actions to them in bulk.
Here's how Smart Folders work in practice:
Log in to Clean Email with your Gmail account.
Scroll down the left pane until you see the Smart Folders section.
Click on any Smart Folder you want.

Use the app's grouping and sorting options to further organize the messages.
Select one or more message groups and apply any action you want to them, such as Trash, Mark Read, Archive, and more.
Clean Email: Your Ultimate Tool for a Well-Managed Gmail Inbox
As a comprehensive email management tool, Clean Email provides an arsenal of features that can help you take your Gmail inbox management game to the next level beyond sorting emails with Smart Folders.
To start with, you can use the Auto Clean feature to create highly customizable rules for dealing with incoming emails automatically. Unlike Gmail's filters, Auto Clean rules are so intuitive that they take virtually no effort to set up. What's more, individual rules can be paused with a click—no need to delete them when you temporarily don't need them.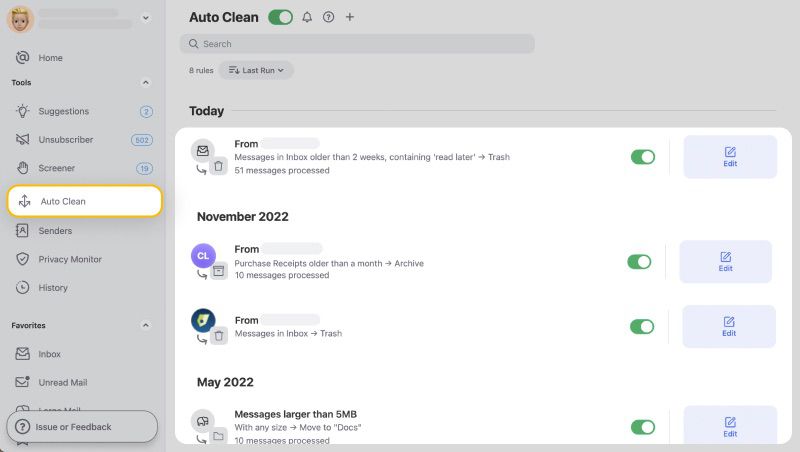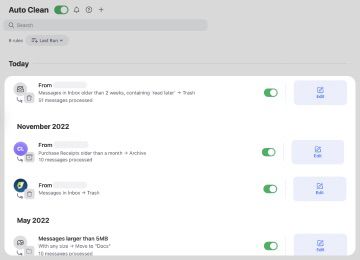 When overwhelmed with new messages, you can enable the Keep Newest feature to automatically delete all but the single newest message from a specific sender, instantly achieving a clutter-free inbox.
Alternatively, you can enable the Screener feature to intercept all messages coming from new senders and keeps them quarantined for manual review. When you stumble upon an unwanted subscription message, then the Unsubscriber tool is a hassle-free way to opt out regardless of whether the message contains a legitimate unsubscribe link.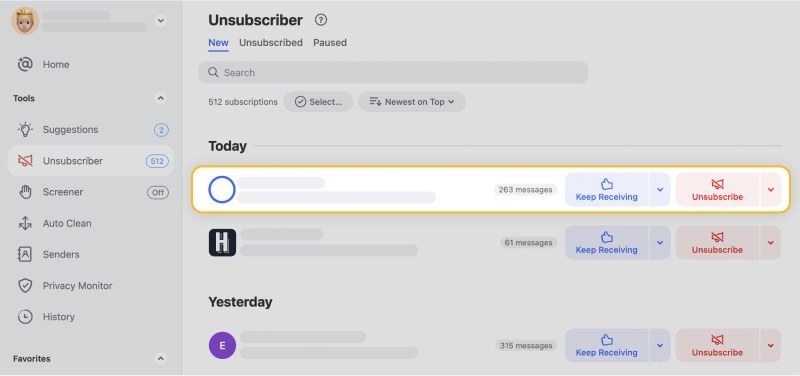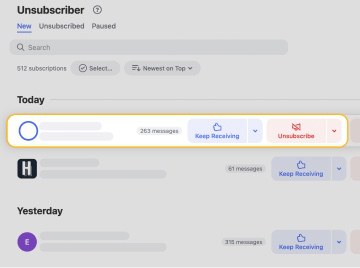 The app also offers Cleaning Suggestions, a smart feature that makes suggestions based on your previous cleaning actions and trends among other Clean Email users. This feature can save you time and help you to create effective rules for managing your inbox. And with the Action History Summary, Clean Email keeps you in the loop about all actions taken, sending you regular email updates summarizing the rules applied to your mailbox.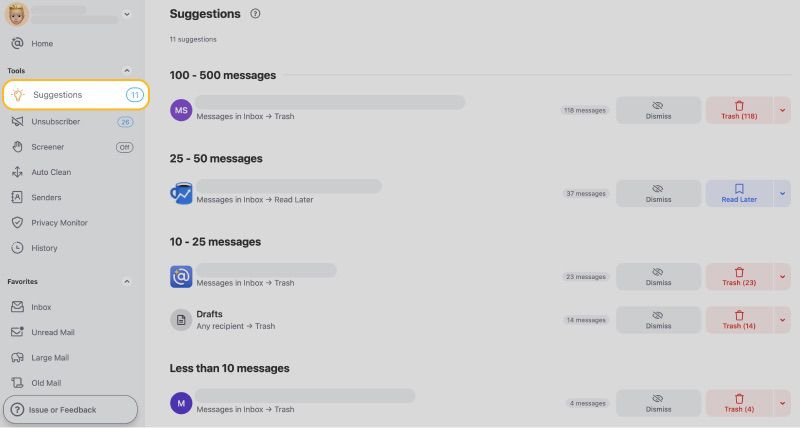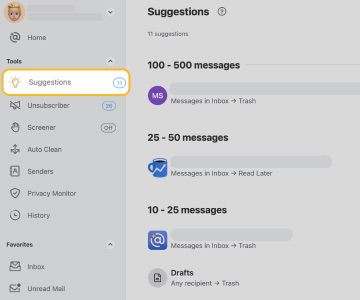 Best of all, Clean Email does all this and more while being deeply committed to user privacy and security.
Conclusion
Next time you're swamped with promotional emails, don't just sigh and delete them one by one. Instead, use these tips to take back control of your inbox and stop unwanted emails in Gmail once and for all. Finally, don't forget the nuclear option: learning how to delete all promotions in Gmail at once. Sometimes, a fresh start is all you need!
---
FAQs - Stop Promotions in Gmail
How do I stop emails from going to promotions in Gmail?
If you're wondering how to get Gmail to stop putting emails in Promotions, then you can disable the Promotions tab in your settings. However, this will mean all your emails, including promotions, will go to your primary inbox. A better approach is to use a tool like Clean Email to automatically handle promotions as soon as they arrive.
How can I stop receiving social and promotions in Gmail?
The first step is to unsubscribe from any unwanted mailing lists. You can do this manually by clicking the 'unsubscribe' link usually found at the bottom of these emails. Alternatively, you can use a tool like Clean Email's Unsubscriber feature to make the process simpler and faster.
How do I turn off Promotions in Gmail app?
To turn off Promotions in the Gmail app:
1. Tap the hamburger menu icon and then tap "Settings."
2. Navigate to the "Inbox customizations" section and then go to "Inbox categories."
3. Disable the Promotions category.
How to stop important emails going to promotions in Gmail using Clean Email?
If you're looking for how to stop email from going to Promotions in Gmail, then Clean Email's Smart Folders feature should be your go-to tool. This feature doesn't rely on Gmail's default categories, such as Promotions, Social, or Forums. Instead, it groups similar messages together using its advanced algorithms and allows you to manage them in bulk.