Receiving Unwanted Messages in Gmail
We have all subscribed to mailing lists in the past which have ended up being complete spam. These kinds of emails clog up your inbox and make your email organisation just that little bit harder.
Inboxes are filled with millions of spam emails daily and removing them can be quite a tedious task, so you're going to need some help!
You can end up receiving spam for several reasons. First, you subscribe to receive email notifications when really, you don't need to.
Your email may have been sold to a company to create a mailing list, which explains the very random spam you receive.
Or some companies are hacked, and their mail is now complete garbage.
Either way, we all want to stop unwanted emails in Gmail, and achieve a tidy, organised inbox.
Throughout this article, you will discover how to stop spam emails and quickly clean up your mailbox using Gmail's handy features and Clean Email easy-to-use email cleaner.
How to Stop Spam Emails in Gmail
You can stop spam in Gmail by using a few different methods. All are super easy to do and will clear up your mailbox in no time. Simply follow the instructions below to remove spam for good.
Report Spam
Reporting messages as spam is very easy in Gmail, here's how to do it within the web browser or on iPhone.
How to stop unwanted emails in Gmail on web
To stop spam emails quickly within the web version of Gmail, all you need to do is:
Open a message you think is spam.
Hover over the exclamation mark at the top.
Click report spam.
Done! Hopefully, Gmail will now work on this report and stop you from receiving these messages. If not, you can always block the sender too, just to make sure!
How to get rid of unwanted emails in Gmail on iPhone
To report messages as junk on your iPhone:
Open the spam email.
Click the three-dot menu at the top right of the screen.
Click report spam.
The same applies here, if reporting as junk doesn't work, you can resort to blocking these senders instead.
Unsubscribe
Before you report or block senders, you could have a go at unsubscribing from any messages you no longer wish to receive information from. Or maybe this sender is sending way too many emails.
All you need to do is locate the unsubscribe link…
This can sometimes be hard as senders hide links in the hopes fewer people will unsubscribe.
If you cannot find a link within the body of the message, you can usually find a Gmail unsubscribe button right at the bottom of the page, or within the drop-down menu in the header of the email.
Simply click unsubscribe and complete the next steps. You may be asked to input more information, or Gmail will redirect you to an unsubscribe page (learn more ways for unsubscribing from emails on Gmail).
Block
A quick way to stop spam in Gmail is to block senders!
Open a message from the unwelcome sender.
Tap the three-dot menu in the right corner.
Choose Block Name.
You can unblock and block senders whenever you like.
Blocking senders immediately stops them from being able to send you any messages. It is a great way to stop any suspicious spam from entering your mailbox.
Follow our guide on how to block someone on Gmail.
Filter Emails
Gmail has some super handy filters that allow you to automatically move any emails to wherever you want.
Here's how to do it.
Open the desired message.
Click the three-dot menu.
Choose 'Filter messages like this'.
You are then redirected to an advanced search pop up.
Fill out all the fields that show up. For example, you can choose to filter all mail, a certain subject, or size.
Finally, choose what to do with these emails. For example, move them to trash, mark as read, or skip the inbox. This stops unwanted messages from landing within your main list of emails.
Be sure to keep on top of clearing out your spam, blocking unwelcome senders, and creating filters. Before you know it, your inbox will be messy again otherwise!
To avoid an endless battle with your mailbox, look at Clean Email inbox cleaner!
Improve Email Management With Clean Email
Clean Email has features that allow you to create a clean and organised mailbox. You can remove spam emails by easily blocking, unsubscribing, and creating automatic filters.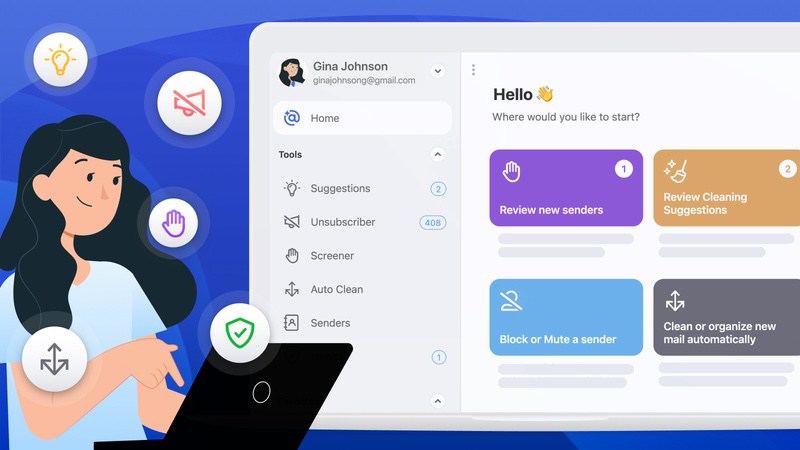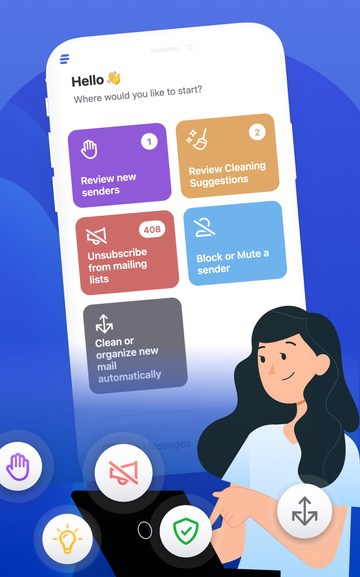 Auto Clean
Clean Email doesn't have its spam filter; however, you can automate emails to go directly into a different folder from certain senders.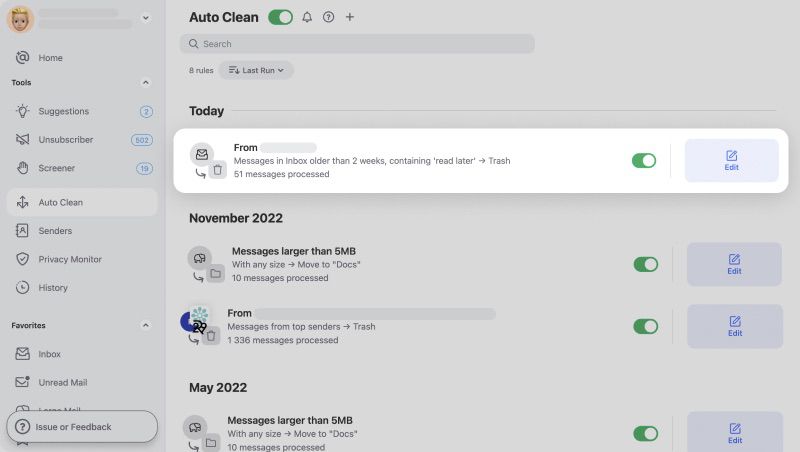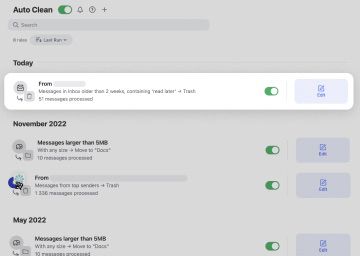 Within this folder, you can delete or archive whatever you want (check out how to select all emails in Gmail).
You can create a filter for certain subjects, senders, or even words.
You could even choose to send all emails from a sender straight to trash, so you never have to worry about it.
Smart Views
Smart Views are easy-to-use folders that allow you to sort and organise emails within similar subjects or senders.
For example, you can easily check your financial messages, travel emails, or notifications from project management tools and apply actions to the whole email group instead of organising them manually.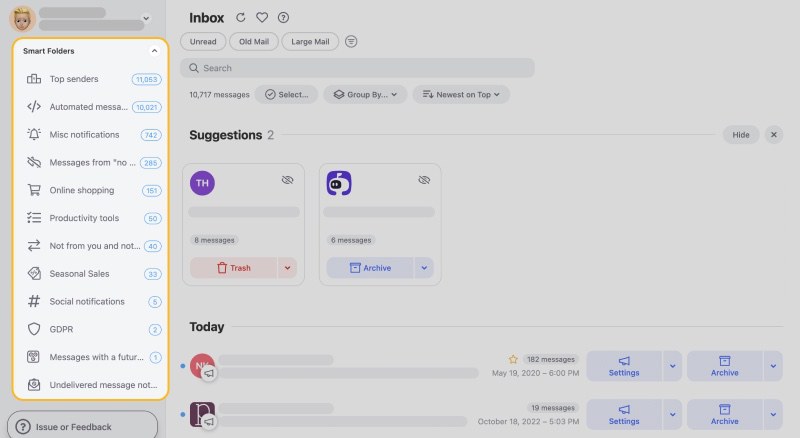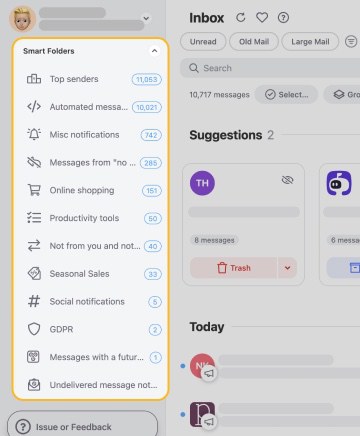 When looking to remove spam, you can sort through each bundle until you've cleared them all!
Unsubscriber
Unsubscriber can help you get rid of unwanted newsletters and promotional emails with just one click. You can choose to unsubscribe, move messages to the 'Read Later' folder, or keep the subscription.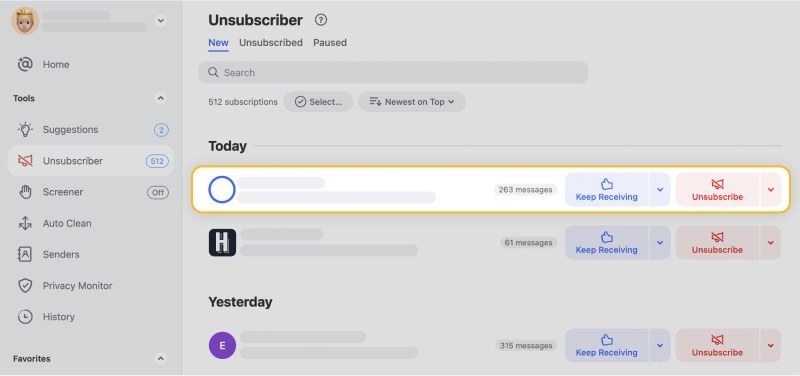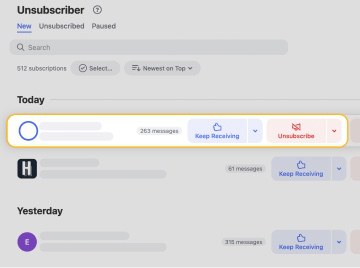 The app is privacy-oriented, it never downloads the full content of your messages. It is available on iOS, Android, Mac, and web for all IMAP-based email service providers.
Wondering to learn how to reach Inbox Zero? Check out our guides on how Gmail search and Gmail labels work and how to use Gmail shortcuts.
---
How to Stop Unwanted Emails in Gmail - FAQs
How do I block spam in Gmail without opening them?
To block emails in Gmail without opening them, just click on the avatar and choose to block the sender.
How can I stop unwanted emails in Gmail?
To stop unwanted emails in Gmail you can use filters to automatically move spam to trash. You can also block unwelcome senders and unsubscribe from mailing lists.
How do you block unwanted emails on Gmail?
You can block unwanted emails on Gmail by opening the mail and clicking on the three dots in the top corner. Then choose to block the name.
How do I change spam settings in Gmail?
To change spam settings in Gmail head into your mail account on the web browser. You can then go into advanced settings to configure spam filters.