Outlook File Size Limit
Outlook will not allow you to send an email with attachments that exceed the file size limit. You will have to send files another way or hack into your registry to change the settings.
The error message you will receive…
"The file you're attaching is bigger than the server allows. Try putting the file in a shared location and sending a link instead."
Outlook 2013 and later versions only allow you to add an attachment or multiple attachments that equal the size of 20 megabytes. Anything over that and you can't send it.
If you use a Microsoft Exchange Server Account you can only add attachments up to 10MB, this is not related to the maximum amount you can send in an Outlook account. However, you can see these settings within your Transport Settings Properties if you are using an Exchange Mailbox.
If you decide to make changes to your Registry Editor, be sure to back up the registry before you make any modifications. This is to ensure your information isn't lost if something goes wrong!
If using Outlook already confuses you, here's an article on how to use Outlook effectively.
How to Increase Outlook Attachment Size Limit
The Outlook email attachment size stops you from sending any attachments over 20MB.
Although you're not supposed to make changes to the file size limit yourself, you can hack into the registry editor to create a bigger Outlook attachment size limit.
Here are some ways you can either make permanent changes to the size limit or hacks on how to send larger files if you'd rather not risk editing the registry!
Change the Outlook maximum attachment size on Windows
Follow these steps:
Press the keys Windows + R
A pop up will appear. Type 'regedit'.
Click OK.
Locate the entry for your version of Outlook:
Outlook 2019 and 2016:
 HKEY_CURRENT_USER\Software\Microsoft\Office\16.0\Outlook\\Preferences
Outlook 2013:
 HKEY_CURRENT_USER\Software\Microsoft\Office\15.0\Outlook\\Preferences
Outlook 2010:
 HKEY_CURRENT_USER\Software\Microsoft\Office\14.0\Outlook\\Preferences
Double click MaximumAttachmentSize Value
If this isn't present, manually add it: Edit → New → DWORD Value → "MaximumAttachmentsize → Enter
Add chosen limit in the Value Data box and click OK.
Close the registry and reopen Outlook.
Change the attachment size on mobile (iOS/Android)
There is currently no possible way to change the Outlook attachment size limit by using your mobile. You will have to do this via the web or on your computer Outlook app.
How to Send Large Files Through Outlook
If you cannot make changes to your Registry Editor, then why not try these easy ways to send larger files in an email.
1. Compress Files
Right-click on your chosen file and choose 'compress'. You will be given some options.
Install an add-in or app like Weight Diet for Outlook.
This will automatically compress your file to ensure you have the most chance of it fitting within the email!
2. Split File
Split a large file into multiple smaller files by using a compression tool.
For example, 7-Zip splits attachments into 7MB pieces.
Although this technique works, it isn't always recommended as your attachments may be altered.
3. Send Files via Cloud Storage
Finally, the best option would be to send your files through a service like Dropbox or OneDrive. This ensures your files aren't altered, and you don't need to go through the hassle of changing file size!
Here's how to send large files on Outlook 365 and all Outlook versions by using one of the following:
Upload the file to the service you use. For example, Dropbox.
You can copy and paste a link once the file is uploaded.
Send the link within your email as normal.
The recipient can click the link and download the full file to their computer.
If you use SharePoint in your workplace, you can do the same here. Simply upload a file and share the link.
If you want to send large images, another way to ensure your files can be sent via email is to reduce the size of your images.
Attach image files to email.
Click File → Info
See Images Attachments and select Resize large images when I send this message.
Go back to the email and send it!
Unsure whether to use Outlook or Gmail? Check our comparison of Outlook vs Gmail to make the choice.
Keeping Your Mailbox Organised With Clean Email
Clean Email cannot help with sending messages since it's not an email client. However, you can practice better email management with Clean Email to keep your Outlook inbox clean and organised!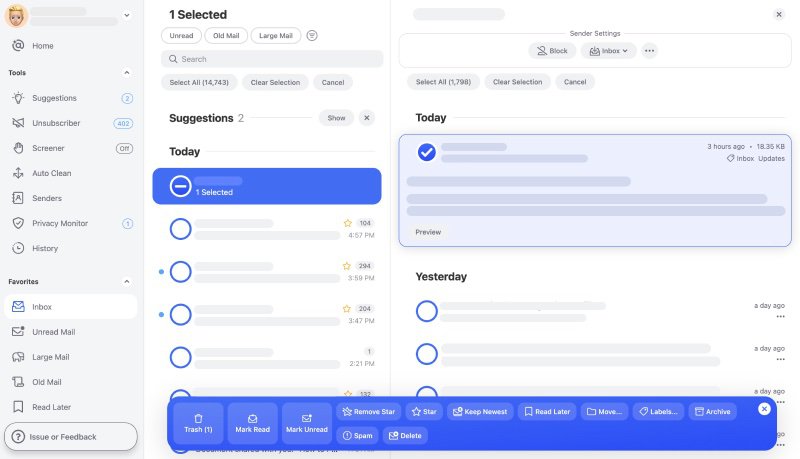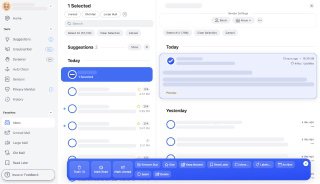 The benefit of keeping a clean inbox is to enable you to spend more time doing the important jobs on your to-do list, rather than wasting time sorting emails.
Clean Email offers many features to enhance your organisation, these include:
Smart Views bundle specific emails into their folders. You can then organise your inbox to view a certain bundle. This allows you to keep a cleaner, more organised inbox by being able to locate and manage emails quicker.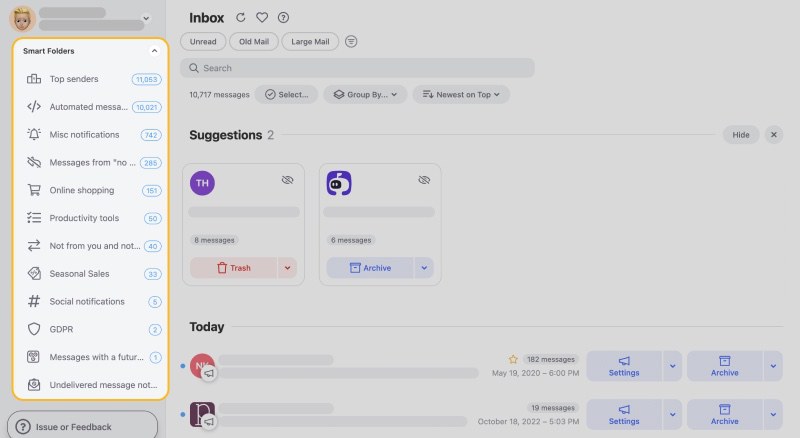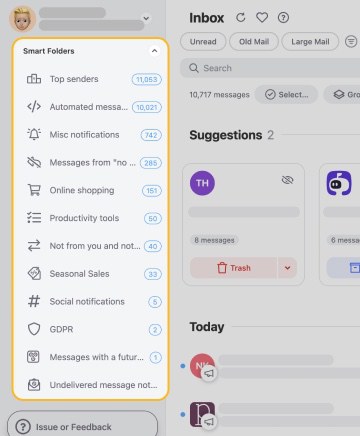 For example, all social media emails will be in one place, so will emails older than one year.
The Auto Clean feature enables you to create automated rules to replace any manual tasks you would usually carry out daily.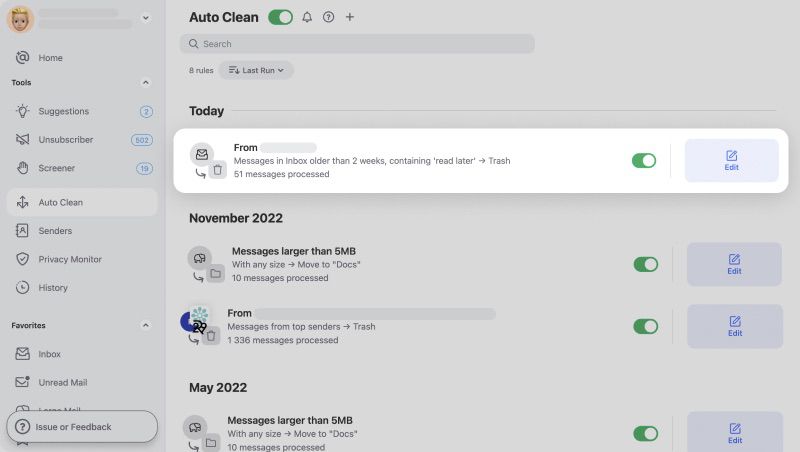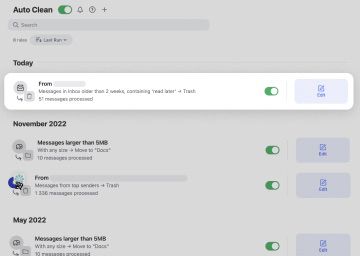 This feature is a major time-saver, and keeps your inbox organised. An organised inbox allows you to be more productive with your time and creates fewer distractions.
You can automate sending emails to certain folders depending on different factors. You can also auto-delete emails, archive emails, and more.
Quickly reduce the number of emails that enter your inbox daily by quickly unsubscribing from mailing lists you do not need or read anymore.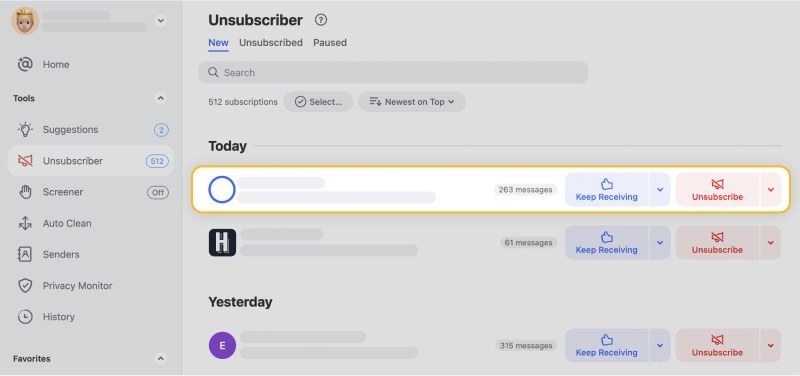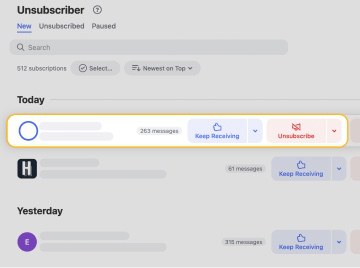 With a single click of a button, you can choose to unsubscribe, read later, or keep subscriptions. By choosing to read later, your emails will automatically be sent to another folder.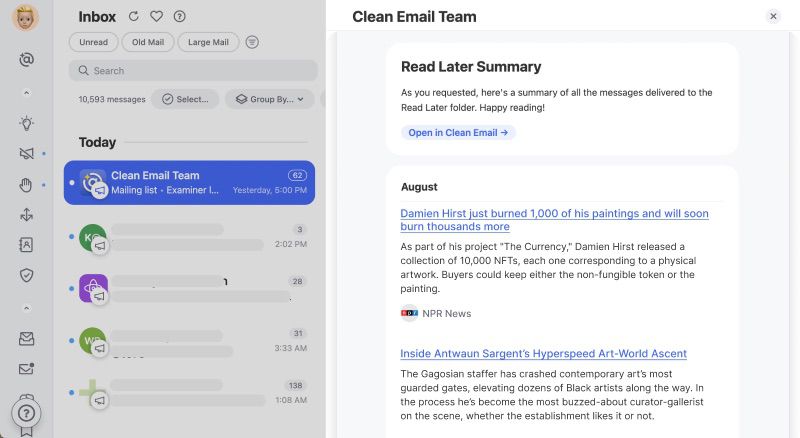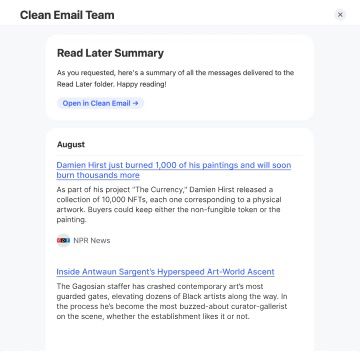 Your privacy and security are important to us here at Clean Email. Your personal information is never shared with any third parties, even in anonymous and aggregated form.
Wondering how to become an email guru? Check out our other articles on how to recall an email in Outlook, how to add a shared mailbox in Outlook, and how the Outlook snooze email feature works.
---
Outlook Email Attachment Size Limit - FAQs
What is the file size limit for Outlook?
The file size limit for Outlook is 20MB. If you want to send a large file, try sending it via a cloud storage link like Dropbox or OneDrive.
How can I send files larger than 25MB in Outlook?
You can either hack into your Registry Editor and make changes to the file size limit there or send attachments via clickable links.
How do I increase attachment size in Outlook?
To increase the attachment size in Outlook you will need to change the settings within your Registry Editor. Before you do this, backup your email account so you don't lose anything!