What Is Focused Inbox In Outlook?
The Outlook Focused Inbox feature is a powerful tool designed to sift through your incoming messages and intelligently classify them into two categories: Focused and Other.
This feature analyzes an assortment of factors to determine how important each message you receive is to automatically keep your inbox tidy and organized, and it gets better with use because it learns from your email habits and preferences over time.
Focused vs Other in Outlook: What's the Difference?
Focused and Other are the two categories that Outlook uses to sort your emails:
The Focused category contains emails that Outlook deems most important based on your frequent interactions and key contacts. These could be work-related emails, important notifications, or personal correspondences.
The Other category is for less critical emails, which often include automated messages, newsletters, promotions, and other bulk emails. This distinction helps to declutter your inbox, ensuring that your most crucial messages are always in your direct line of sight.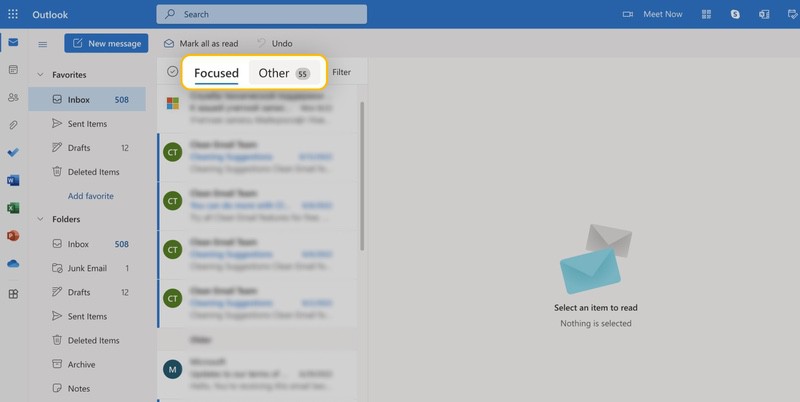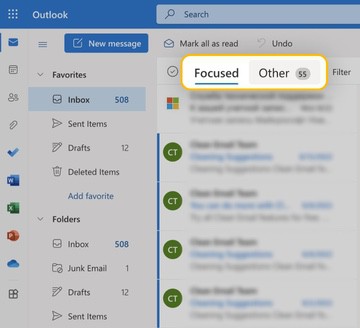 Advantages of Using Focused Inbox in Outlook
The biggest advantage of using this feature is that it helps reduce inbox clutter and achieve the highly desired Inbox Zero status.
The feature can also significantly increase your productivity by ensuring that you never miss any important message.
Unlike traditional email filters and rules, Outlook Focused Inbox rules are smart enough to automatically adapt to your unique email habits, providing a personalized email management experience.
Drawbacks and Limitations of Outlook Focused Inbox
One significant drawback of this feature is that it doesn't always accurately distinguish between important and less important emails, which can lead to misclassification and missed emails.
You may also not like the fact that Focus Inbox in Outlook requires you to check two tabs for new messages instead of just one.
💡 Tip: If you're looking for more ways to effectively manage your emails and mitigate these limitations, our guide on Outlook email management tips may provide some useful insights and strategies.
How to Turn on Focused Inbox in Outlook
Setting up this feature is a straightforward process that varies slightly depending on the platform you're using. Here's how to turn on Focus Inbox in Outlook:
Web
If you're using Outlook on the web, follow these steps to turn on the Focused Inbox:
Log into your mail account.
Click on the Settings icon in the top right corner of the page.
Click on the toggle switch next to Focused Inbox to enable the feature.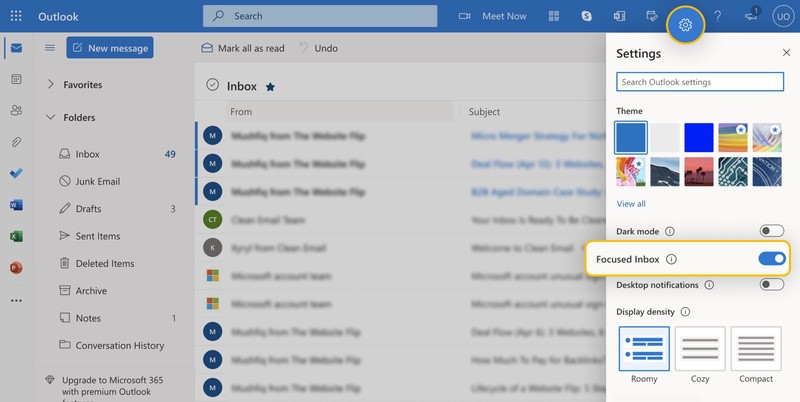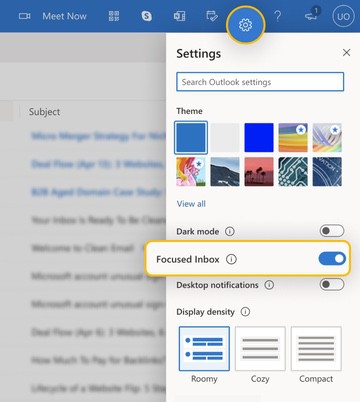 Windows
📌 For Legacy version
Those who are still using the Outlook classic view on Windows need to follow these steps:
Launch the legacy version of Outlook for Windows.
Navigate to the View tab.
Click the Show Focused Inbox button.
💡 Note: In the legacy version of Outlook for Windows, the feature is available only for Microsoft 365, Exchange, and Outlook.com accounts.
Mac
📌 For Legacy version
Here's how to turn on Focused Inbox in Outlook legacy on Mac:
Launch the legacy version of Outlook for Mac.
Navigate to the Organize tab.
Click the Focused Inbox button.
💡 Note: In the legacy version for Mac, this feature is only available for Microsoft 365 Emails.
New Outlook
📌 For Windows and Mac
If you're using the new Outlook on Windows or Mac, follow these steps to enable the Focused Inbox:
Launch Outlook.
Click on View and then View Settings.
Navigate to Mail → Layout.
Choose to Sort messages into Focused and Other.
Mobile
📌 For Android and iOS
For mobile users, enabling the Focused Inbox is simple:
Open the Outlook mobile app and tap on your profile icon.
Tap on the Settings gear icon.

Tap the Focused Inbox toggle in the Email section.
How to Turn Off Focused Inbox in Outlook
If you decide that this feature isn't for you, disabling it is just as straightforward as turning it on. Simply follow the steps above, but instead of selecting or toggling on the Focused Inbox feature, you need to deselect it or toggle it off.
Focused Inbox vs. Clean Email Organization Tool
When comparing the Focused Inbox in Outlook to Clean Email's numerous inbox organization features, there are some similarities but also notable differences. While both strive to simplify your inbox and ensure you see the most important emails first, they achieve this in unique ways.
As we've already explained, Outlook Focused Inbox separates your inbox into two sections based on your interaction history with specific senders and email types. Clean Email, on the other hand, uses a more advanced system of organization called Smart Folders, automatically organizing your messages into a wide variety of categories.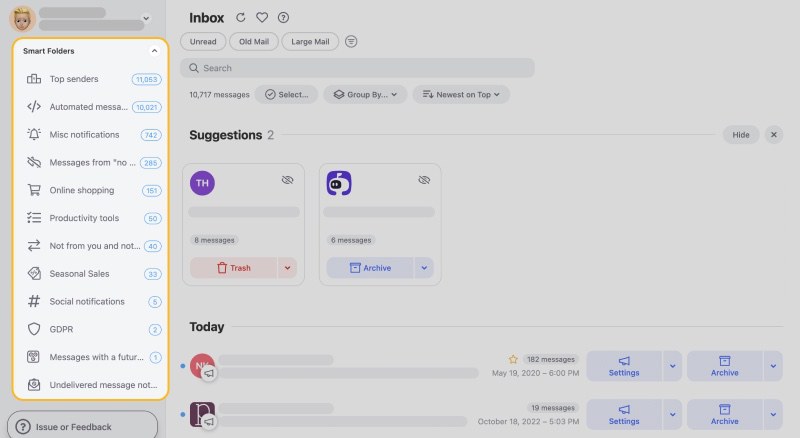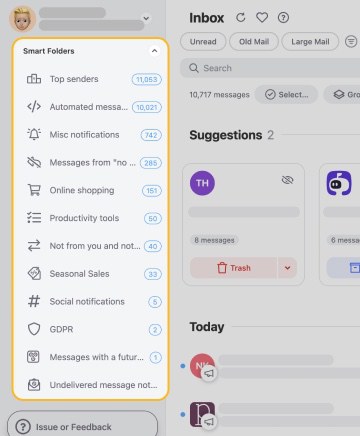 Here are five examples of Smart Folders created by Clean Email:
Automated Messages: Contains all automated messages sent via systems such as newsletters and other subscriptions.
Finance and Insurance: All your financial and insurance-related emails can be found in this Smart Folder.
Top Senders: This Smart Folder is unique as it automatically sorts and groups messages based on the senders who have sent you the most emails.
Online Shopping: From order confirmations to shipping notifications, all your e-commerce-related emails get sorted into this Smart Folder.
Social Notifications: This Smart Folder automatically consolidates all your social media notifications, such as updates from Facebook, LinkedIn, or YouTube, into one place.
Another distinguishing feature of Clean Email is its Cleaning Suggestions. This feature analyzes various attributes of frequently deleted or archived emails, such as sender addresses and subject lines, to suggest similar emails that you may want to clean.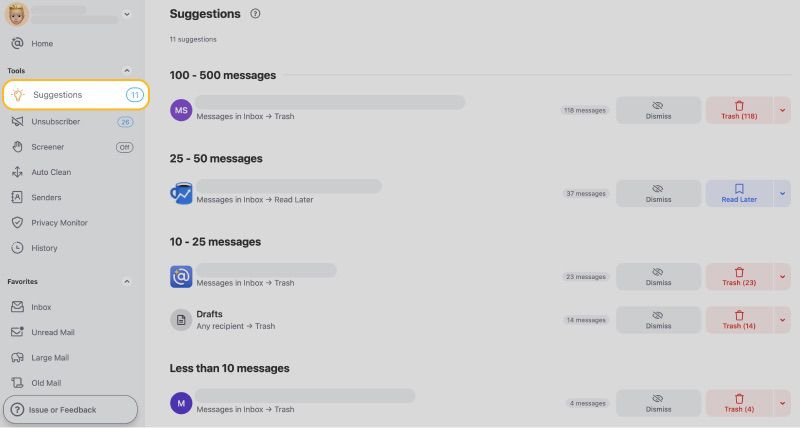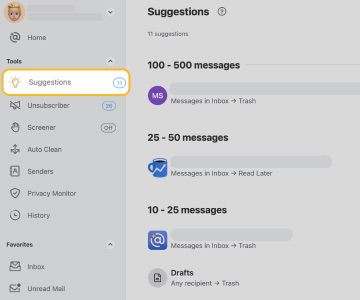 This is quite different from the Outlook Focused Inbox rules, which primarily sort emails into Focused and Other categories based on their perceived importance.
Maximize Your Outlook Experience
In addition to its Smart Folders and Cleaning Suggestions, Clean Email provides more features that can help you maximize your Outlook experience.
Auto Clean: Clean Email's Auto Clean feature allows you to automatically sort emails in Outlook based on your preferences with customizable email rules.

Unsubscriber: Tired of being overwhelmed by unwanted newsletters and promotional emails? Unsubscriber can eliminate them with just a few clicks.

Screener: Whenever you need a break from new senders, you can enable the Screener feature to intercept messages from new senders until you manually review them.
Sender Settings: This feature provides an easy way to control the delivery of messages per sender. For example, you can mute notifications for incoming messages or block certain senders from reaching your inbox.
With these and other features, you can say goodbye to inbox clutter and hello to a clean and protected mailbox.
⚠️ Important: Outlook refers to both the email provider (like abc@outlook.com) and the email client, which supports multiple accounts, each possibly provided by a different email service. Clean Email's features directly support the Outlook email provider (along with other similar providers), rather than the client itself. This means that you need to directly connect each email provider's address to Clean Email for it to work properly.
---
Focused Inbox in Outlook - FAQs
What happens if I turn off Focused Inbox?
When you turn it off, your emails will no longer be sorted into Focused and Other categories. All your emails will appear in a single unified inbox.
How do I change Outlook from Focused to normal?
You can change Outlook from Focused to normal by turning off the Focused Inbox feature. The exact steps you need to follow differ based on whether you're using the web, desktop, or mobile version of Outlook.
What's the difference between Focused and Other emails?
Focused emails are deemed most important based on your email habits. Other emails are considered to be less critical, and they often include automated messages, newsletters, and promotions.
How do I force an email to go to Focused Inbox?
This feature learns from your email habits over time. You can help it learn by manually moving emails between the Focused and Other categories.