Outlook vs. Gmail
According to Gartner, 13 percent of publicly listed companies use either Outlook or Gmail for business. What about the rest? The remaining 87 percent either use a combination of Outlook and Gmail, or they use an on-premise, hybrid, hosted, or private cloud email setup.
"Although it is still early days for cloud email adoption, both Microsoft and Google have achieved significant traction among enterprises of different sizes, industries, and geographies," said Nikos Drakos, research vice-president at Gartner.
This Outlook vs Gmail rivalry is great news for companies because both Microsoft and Google are working hard trying to make their products more attractive.
History
The history of Outlook (the free email services from Microsoft) goes back a long time. In 1996, Microsoft acquired one of the first webmail services on the internet, Hotmail, and relaunched it as MSN Hotmail. The service remained known as Hotmail until 2011, which is when Microsoft officially phased it out and, shortly after, replaced it with Outlook.com.
The first public beta version of Outlook.com became available on July 31, 2012. Not even a year later, Outlook.com already had 400 million active users, many of which migrated to it from Hotmail. In 2015, Outlook.com moved to an Office 365-based infrastructure. In 2017, the email service launched a redesigned user interface.
Gmail first became available to a limited number of users outside Google's own employees in 2004. When Gmail officially exited the beta status in 2009, it already had nearly 100 million users. Just three years after that, Gmail accounted that it had 425 million active users globally, and the number continued to climb up at a steep rate. Today, Gmail has around 1.5 billion users worldwide.
Cost
Regular users can use Outlook and Gmail for free, and the same is true for companies. The situation is, however, different when email alone isn't enough. To make this Outlook vs Gmail for business comparison accurate, we must compare the cost of Microsoft's and Google's subscription services, which are called Office 365 and Google Workspace respectively.
The most affordable Office 365 subscription plan, called Office 365 Business Essentials, costs $5 per user per month, and it includes business email and other business services on PC, Mac, or mobile. It doesn't include Office applications. A tier above it is Office 365 Business, which costs $8.25 per user per month and includes Office applications plus cloud file storage and sharing on PC, Mac, or mobile. It doesn't include business email.
Finally, there's Office 365 Business Premium, which is essentially a combination of the previous two subscription plans, offering business email, Office applications, and other business services on PC, Mac, or mobile for $12.50 per user per month.
Update March 07th, 2023
Outlook for Mac is now free to use.
Microsoft has announced that Outlook for Mac is now available for free on Apple's App Store, meaning that users no longer need a Microsoft 365 subscription or Office license to access the email client.
Outlook for Mac is a native macOS application that includes support for Outlook.com accounts, Gmail, iCloud, Yahoo, and any email provider that has IMAP support.
Just like Office 365, Google Workspace starts at $6 per user per month. The most affordable plan, called Basic, includes business email through Gmail, video and voice conferencing, secure team messaging, shared calendars, Google Docs, and limited cloud storage. Companies that would like unlimited storage and archiving are encouraged to upgrade to the Business plan, which costs $10 per user per month. There's also the Enterprise plan, which includes advanced controls and capabilities for $25 per user per month.
Storage
Microsoft is very generous when it comes to storage, offering email hosting with 50 GB mailbox and custom email domain address and file storage and sharing with 1 TB of OneDrive storage. That's a lot of cloud storage space for not much money, which is why Google has recently updated its two more expensive Google Workspace plans to include unlimited cloud storage (or 1 TB per user if fewer than 5 users). This chapter of our Gmail vs Outlook for business comparison is a tie.
Security
Let's take a closer look at Gmail vs Outlook security, a topic that's of great concern to all companies. The good news is that both Google and Microsoft have added support for two-factor authentication.
Google has its Google Authenticator app, which implements two-step verification services using the Time-based One-time Password Algorithm and HMAC-based One-time Password algorithm. Microsoft has Microsoft Authenticator, which provides an extra layer of security on top of your PIN or fingerprint. Both apps work great and make it much harder for hackers to compromise email accounts.
Google and Microsoft also use advanced spam filters, which do a good job of filtering out spam and phishing emails as well as detecting malicious attachments. Microsoft's spam filter is known to misfire from time to time, blocking legitimate emails alongside illegitimate ones. While slightly annoying, it's better to be safe than sorry.
When it comes to Outlook vs Gmail privacy, Outlook's terms of service seem clearer and more respectful than Gmail's. That's largely because Google makes money from advertising and analyzing emails allows it to better target ads.
Features
Both Outlook and Gmail come with cloud storage and a suite of office applications. Most computer users are already deeply familiar with the office applications included with Outlook. Word, Excel, and PowerPoint have been around for ages and it's hard to come close to them in terms of functionality.
However, that didn't stop Google from trying, which is how its web-based software office suite came to life. Included in it are Google Docs, a word processor, Google Sheets, a spreadsheet program, and Google Slides, a presentation program. Most users will be completely happy with Google's office suite, but power users most likely won't be able to live without Microsoft Office.
Manage Outlook and Gmail Emails with Clean Email
Even though Outlook and Gmail have powerful spam filters capable of filtering out fake and malicious emails, email overload is still a problem that plagues most users of these two email services. Clean Email is a bulk email organizer compatible with Outlook and Gmail, and its purpose is to help email users reclaim control over their inboxes.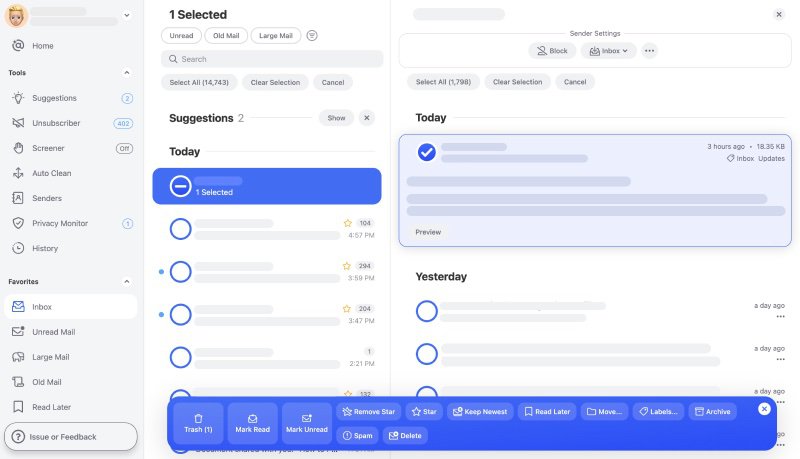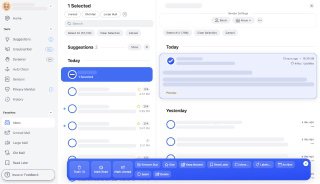 Thanks to intelligent algorithms that only analyze email headers that contain subject line, sender and recipient information, dates, email size, and similar metadata, Clean Email can organize email into convenient bundles, allowing you to manage email in bulk.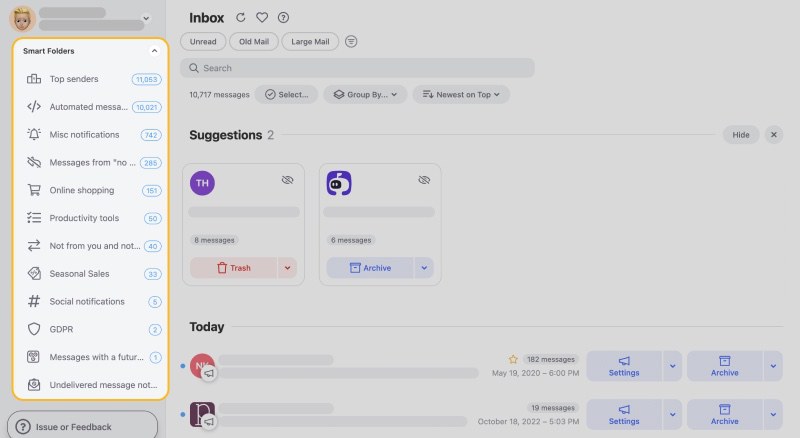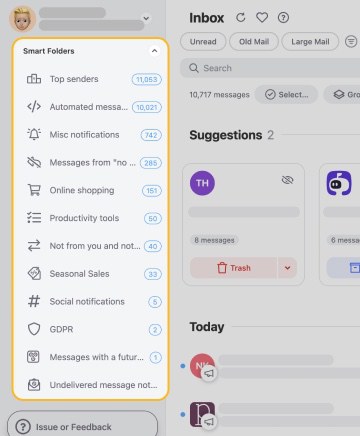 It takes just a few clicks to remote, archive, or label hundreds of emails, and you can tell Clean Email to apply the same actions automatically to all incoming emails in the future.
Conclusion
The result of this Gmail vs Outlook comparison is clear: both Gmail and Outlook are great web services that can help companies of all sizes gain a competitive edge and establish themselves as industry leaders. The choice really boils down to personal preferences, which is why most companies use a combination of Gmail and Outlook. Regardless of how you decide after reading this Gmail vs Outlook comparison, you should always use Clean Email to manage your inbox and improve your productivity.
Wondering how to clean up Outlook mailbox? Check out how to stop junk mail in Outlook and how to create folders in Outlook.
---
Outlook vs. Gmail - FAQs
What is the difference in cost between Outlook and Gmail?
Outlook and Gmail are both free for personal use. If you want to unlock additional features or get more storage space, you need to purchase a premium plan. The most affordable Outlook premium plan for home users is called Microsoft 365 Personal, and it costs $69.99 a year, or $6.99 per month. Google's least expensive Google Workspace plan is priced similarly, costing $6 per month per user. Both Outlook and Gmail also offer competitively priced family, business, and enterprise plans.
How much storage space do Outlook and Gmail offer?
With Outlook, all free users get to enjoy 15 GB of storage space. Microsoft 365 Family, Microsoft 365 Personal, and Microsoft 365 Business subscribers get 50 GB of space. Gmail also gives free users 15 GB of storage space, but the storage space is shared across all Google services, including Google Photos, and Google Drive. Additional Gmail storage space can be obtained through the Google One subscription service, which is divided into three tiers: 100 GB, 200 GB, and 2 TB. In addition to extra storage space, Google One also includes access to Google experts, option to add your family, and extra member benefits.
Gmail vs Outlook security: which one is better?
Gmail and Outlook are widely considered to be among the most secure email services in the world. They greatly benefit from the technological expertise of the companies behind them, both of which are responsible for the security of many of the world's most visited websites. That said, Gmail and Outlook are not in the same league as ProtonMail and other end-to-end encrypted email services because they can view emails stored on their servers. In fact, Gmail is known for analyzing the inboxes of its users for advertising purposes. While Microsoft doesn't use emails for advertising, the company still monetizes user data in other ways.
How Clean Email can simplify email management for Outlook and Gmail users?
Clean Email is an easy-to-use bulk email organizer intended to help Outlook, Gmail, and other email users organize their inboxes. It features multiple useful tools for dealing with unwanted emails, annoying subscriptions, and piles of old messages. Many of these features are powered by intelligent algorithms capable of distinguishing different types of email messages and sorting them accordingly. Any action performed on a group of emails can be automated with a single click so that it's automatically applied to all future emails that meet the specified criteria.
Is Gmail or Outlook better for business?
Since its launch in 2004, Gmail has managed to become the most popular email service among individual users, but businesses still gravitate toward Outlook because of its seamless integration with Microsoft's suite of office applications, which include Word, Excel, PowerPoint, and others. Whereas Gmail offers only a web client, Outlook provides native applications with calendaring functions and contacts capabilities for Mac (free to) and Windows.
What is the difference between Gmail and Outlook?
Gmail and Outlook are two completely different email services. Gmail is owned by Google, and it was launched in 2004. Outlook is owned by Microsoft, and it launched (at least as Outlook.com) in 2012. Both Gmail and Outlook offer 15 GB of free storage space, but Gmail users also use the same pool of storage space for other online services from Google, including Google Drive and Google Photos.