ProtonMail vs Gmail: Using Different Email Providers
This article talks about the difference between Gmail and ProtonMail. Both providers have a similar interface, but both are very different.
Gmail offers a wider variety of features for more personal use, whereas Proton Mail is strictly a secure email service, sending mail with end-end encryption.
If security is number one on your list of email service properties, maybe Proton Mail is the one for you.
However, if you find yourself looking back through older emails, or having tons of email thread conversations, Gmail will provide a better service.
Let's go through the different aspects of both email providers and conclude with the pros and cons of both!
ProtonMail vs Gmail
By the end of this article, you will see the clear differences between these two email providers and decide which one works best for you and your lifestyle.
Similarities
Although both Proton Mail and Gmail are very different, they do have some similar features.
Both allow you to use a custom domain.
They have similar easy-to-use interfaces.
Both have apps and web versions.
Can access support via helpful knowledge bases.
Both offer free versions and paid versions.
Security and Privacy
Let's run through the differences between ProtonMail vs Gmail privacy and security.
Gmail uses Transport Layer Security, also known as TLS. This means a message is encrypted as it's sent and decrypted once it hits the recipient's mailbox. Emails are delivered securely, but once they are opened, anyone can access the message if the account is left logged in or hacked.
When creating an account with Gmail you are asked to input a lot of personal details and information. Gmail also takes some data from your search history to personalise advertisements you see within Google.
Proton Mail uses End-to-End Encryption. This means all messages are delivered securely and can only be opened with a password every time. You can also set emails to self-destruct after a set time.
Proton Mail is based in Switzerland, well known for its strict data and privacy laws.
You do not need to input any personal information when creating an account with Proton Mail, you can even use an anonymous email address.
To conclude ProtonMail vs Gmail security, you are more likely to have emails leaked or hacked using Gmail. Although the email service is secure, once your messages are delivered, they're no longer private or secure.
If you are often sending delicate information via email, Proton Mail may be your choice. Read more about the most secure email providers in our blog.
Special Features
Gmail
The paid version of Gmail is part of Google Workspace. This means you also receive benefits from other Google apps.
With Gmail, you can start a video or text chat via your inbox.
Gmail creates automatic smart filters and categories for your messages.
You can input event details straight into your Google Calendar with Gmail.
Gmail has Smart Compose and Smart Reply features, saving you time when writing messages.
Gmail has fast and advanced software that is updated often.
Proton Mail
Proton Mail is specifically optimized for email productivity and it's very simple to use.
You don't need to download any software to use Proton Mail.
With Proton Mail, you are just paying for the emailing service.
However, you do gain access to ProtonDrive, which is basically like cloud storage for emails and attachments.
Proton VPN offers high-speed Swiss VPN that safeguards your privacy.
Business or Personal?
Gmail is a better email provider for personal use for a lot of reasons.
Proton Mail is a better email service to use for businesses that are solely focused on privacy and security.
If your business shares a lot of important data and information via email, using Proton Mail is a great idea.
However, if you're a business that has a lot of conversation threads and mailing lists, and uses email a lot, Gmail would be more beneficial. Also, if you want to search for older emails, keep messages, and organise them into folders and categories then Gmail will work best.
Proton Mail is mostly for sending secure emails, and that's it. You can still use Proton Mail to send emails and have Gmail as your main business account.
For example, if you need to send a secure email, set up an account with Proton Mail and send the message. Be sure to send the passcode to the recipient of your email so they can access it. You don't need to primarily use Proton Mail.
Storage
Gmail vs ProtonMail storage breakdown is below.
| Gmail/ Google Workspace | Proton Mail |
| --- | --- |
| Prices range from $6 - $25 a month | Prices range from $5 - $30 a month |
| Basic : 30BG | Free : 500MB |
| Business : UNLIMITED | Plus : 5GB |
| Enterprise : UNLIMITED | Professional : 5BG per user |
| | Visionary : 20BG |
Gmail offers a better storage plan for free and basic users, whereas ProtonMail only offers a better storage plan the more you pay.
Other Differences
Other desktop email clients like Apple Mail and Microsoft Outlook allow you to integrate Gmail accounts.
To use a desktop app for ProtonMail, you will have to download the 'wrapper' app.
With ProtonMail, your messages are not indexed, and you won't be able to locate conversations or old emails as Gmail does.
Gmail has a help widget where you can search for answers within the app.
Gmail doesn't provide contact options. However, you can ask questions in the Gmail Help Community Forum. If you are a Gmail admin, you do gain access to contact support. ProtonMail will send you to their support page via the web.
Depending on your plan, you can only send a certain number of emails with ProtonMail and have a restricted number of addresses with one account.
Here are some of the best paid email services and best free web-based email providers if you are looking for an alternative to your mail service.
Organise Your Mailbox with Clean Email
You can use the Clean Email solution to keep your email accounts under control, declutter the mess, and organise your emailing life. The app works with both ProtonMail, Gmail, and other email service providers with IMAP.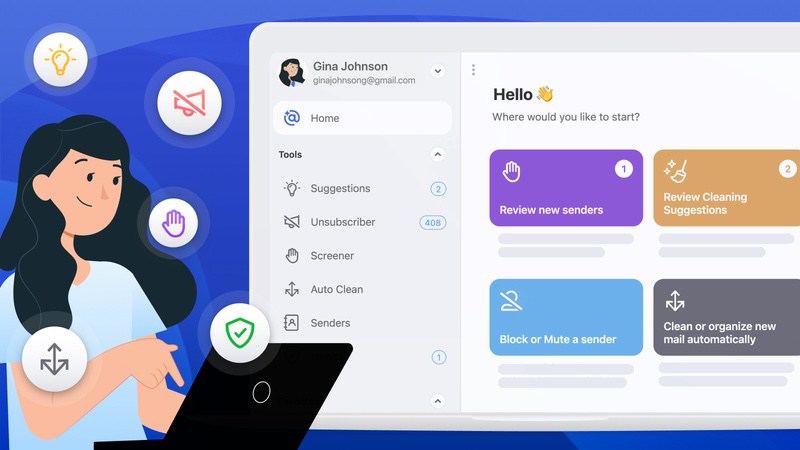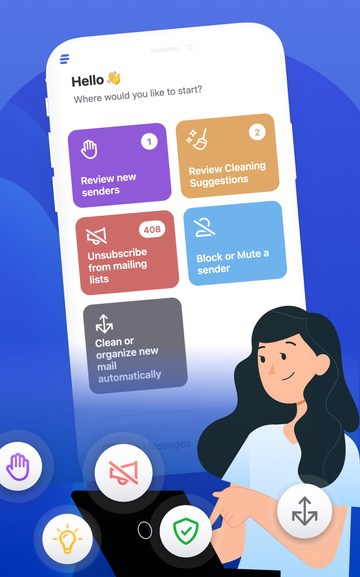 Clean Email is available on iOS, Android, and Mac, and has a free trial for managing up to 1000 emails, unless you decide to upgrade and access more features.
Using this email management app will improve your productivity by decreasing your time spent managing and procrastinating over emails!
Auto Clean feature
Auto Clean allows you to create automated rules for moving emails around your mailbox as soon as they hit your inbox. For example, you can set a rule to send all emails from a specific sender straight into the trash.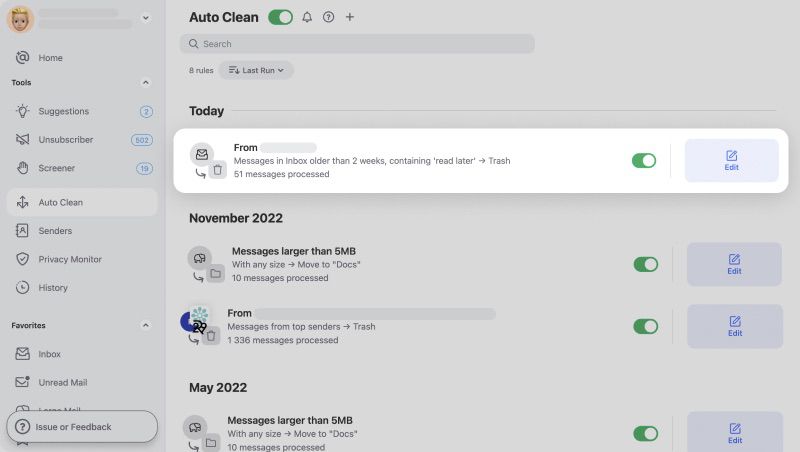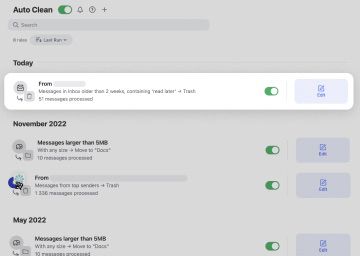 All you need to do is click on a message, choose an action from the action bar on the top, and choose the 'Selected and future similar emails' option to create an Auto Clean rule.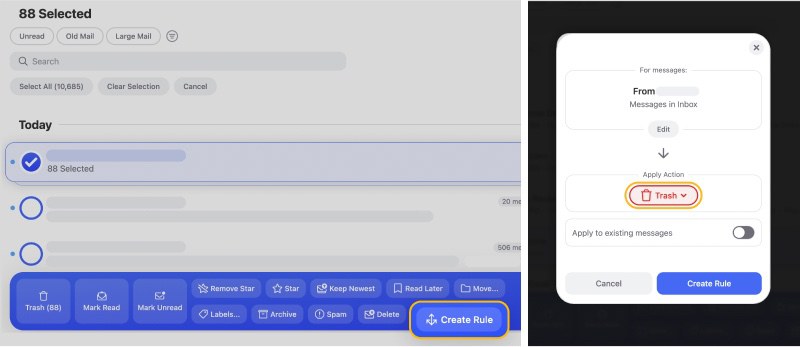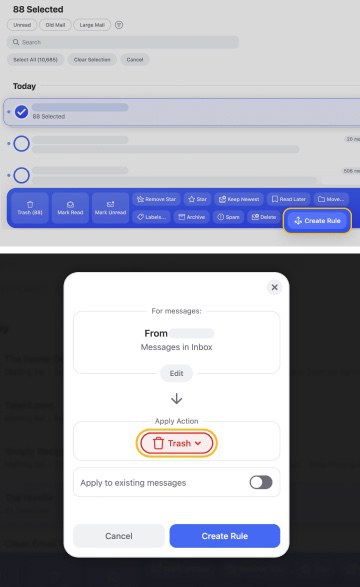 You can edit and remove any rules you create by clicking the Auto Clean view.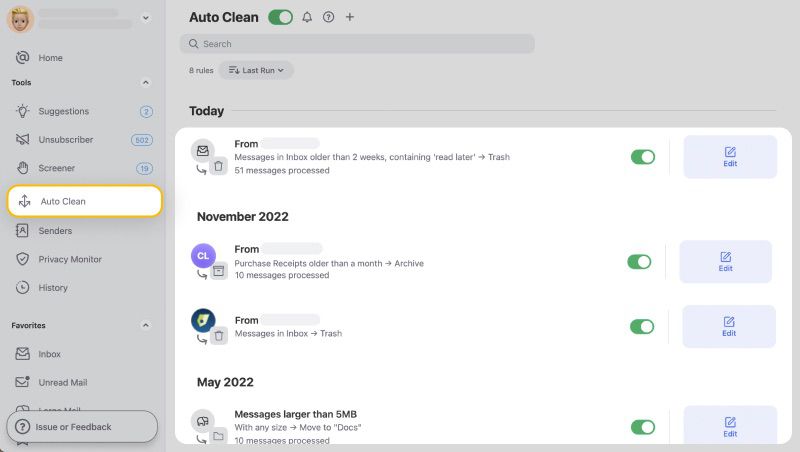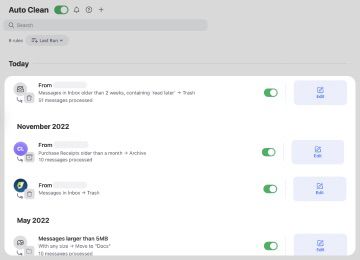 Smart Views
Smart Views will automatically bundle emails into easy-to-view groups. This makes organising and finding emails so much easier. For example, you can view all social media related emails in one place, all emails that are older than one year, and more.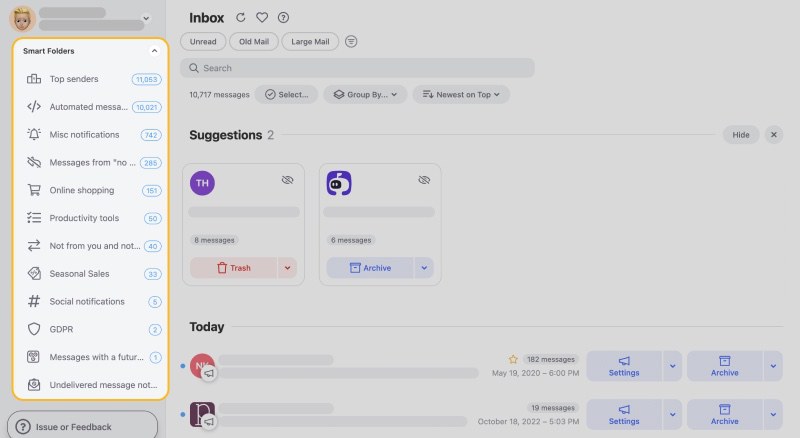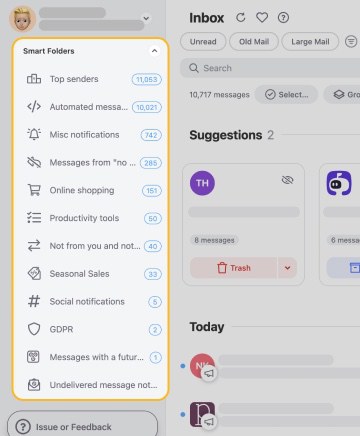 You can even narrow your search further by filtering oldest to newest, etc. Read more about Smart Views here.
Unsubscriber
The Unsubscriber feature makes it easy to get rid of any unwanted email subscriptions from one place.
You need to head into the Unsubscriber tab in the left sidebar to view your subscriptions. Then, choose to Unsubscribe, Read Later, or Keep receiving newsletters.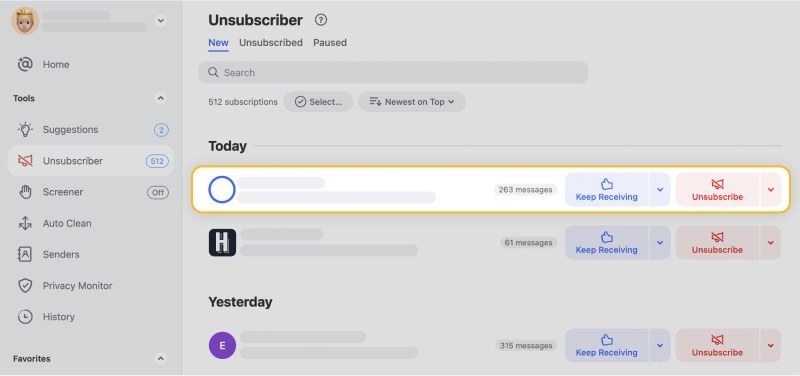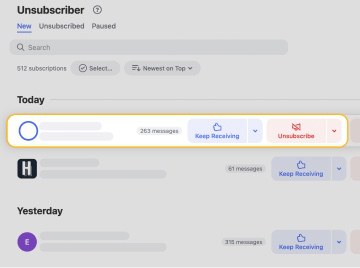 All future emails will be sent into another folder by choosing Read Later.
Check out our other comparisons of Outlook vs Gmail, Ymail vs Gmail, and Zoho Mail vs. Gmail.
---
ProtonMail vs Gmail - FAQs
Is ProtonMail better than Gmail?
ProtonMail is primarily used to send secure emails. Gmail is better for personal use with more features.
Should I use ProtonMail or Gmail?
With Gmail, you can search for old messages, create folders and filters, and use more features. ProtonMail is just for sending secure messages that need a passcode to be accessed.
Which is safer: Gmail vs ProtonMail?
ProtonMail is based in Switzerland. With their strict data laws, their email provider ensures your messages won't be hacked.
Is ProtonMail worth paying for?
You don't get a lot of storage for the basic account. So, if you're sending a lot of messages and want to have multiple email accounts, paying for an upgraded account is a great choice.