How To Search Apple Mail Inbox Effectively & Quickly
Are you an Apple user looking to learn how to search for emails on your iPhone? Need a quick and efficient way to search your mailbox? If so, you've come to the right place. With so much information stored in our emails, it can be challenging to know where to start when searching for something specific.
Fortunately, there are several ways of searching Apple Mail quickly that will help you find the message you're looking for without breaking a sweat. Read on to learn how it works!
How To Search In Apple Mail App
Apple's Mail app has a useful search function that can help you quickly find the emails you need. It's a great way to organize your inbox and make sure you don't miss any important emails. The method varies slightly, depending on whether you use an iPhone or MacBook.
How to search in Apple Mail on iPhone
The first step is to open the Mail app.
Next, swipe down to reveal the search bar.
Decide whether to have Apple Mail search all mailboxes or the current mailbox only. This is helpful if you are looking for something from a specific sender or in a specific folder.
Type in your query and tap search.
A list of emails that match your query will be displayed. Tap on your chosen email.
In addition to searching by text, the Apple Mail advanced search allows you to type in timeframes. To perform an Apple Mail search by date, simply type in what you need, like "March" or "2021", and see all emails from that time period. You can also combine these filters, for example, the timeframe and sender, to narrow your results.
You can also search by other email attributes. Open your Inbox and select the three lines in the left corner (the filter icon). Now tap Filtered by and choose from the following toggles: unread, flagged, emails with attachments, etc.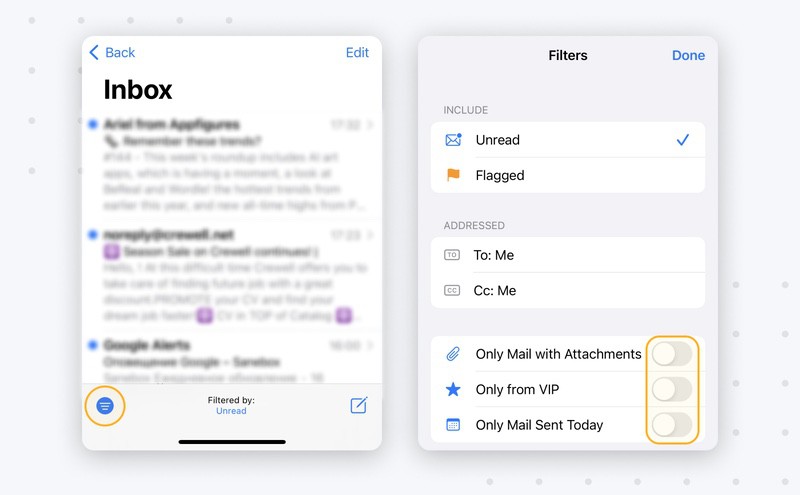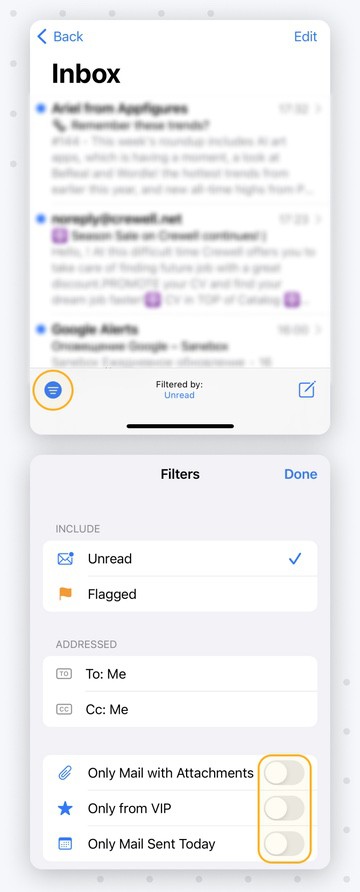 How to search Apple Mail on MacBook
Searching for emails on a MacBook differs slightly from on iPhone. But don't worry; we've got you covered.
Open the Mail app.
Unlike on an iPhone, the search bar is always visible on the top right corner of your screen.

Enter your desired search terms and hit Enter.
A list of emails matching your query will be displayed below. Select the one you want, and it will open up for you to read.
How Apple Mail search differs from competitors
Unlike competitors, such as Gmail, who use specific fields for "from", "attachments", "date sent", and so on, Apple's search function uses what they call natural language search.
This means that users can type in search terms as they would typically say them, even if they don't know the exact syntax. For example, instead of typing typical Gmail search operators, such as "from:John", you can type "John", although you can use the more complex search syntax if you need to narrow down the results.
Apple Mail will automatically browse all fields for the term you entered. This makes it much easier to find what you're looking for without remembering specific field names or syntax.
Using Third-Party Tools To Search Apple Mail
If you prefer not to use Apple's built-in search function or need a more innovative organizational option, plenty of third-party tools can help you find your emails even more effectively. Clean Email is an excellent choice for this as it allows you to quickly and easily organize, manage, and prioritize emails in your inbox.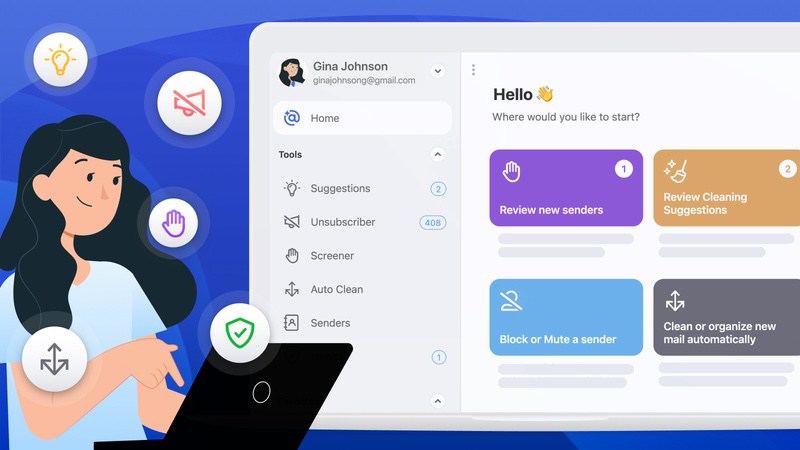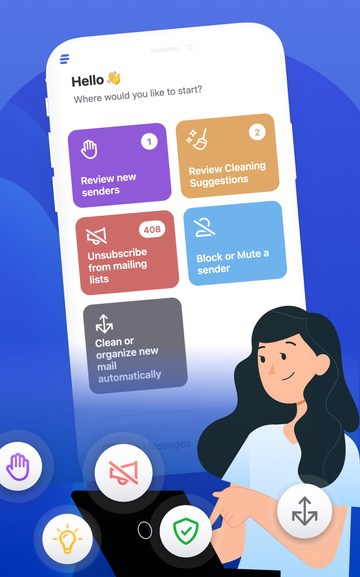 With Clean Email, you can sort your emails by sender, subject, or size with just one click. You can also filter emails in Apple Mail using Clean Email's filters to quickly narrow down the results and find what you're looking for in seconds.
Clean Email is not an email client and cannot be used to send emails. Instead, it is a powerful email management tool for quickly organizing, sorting, and searching your mail inbox. Because it is more flexible than the Apple Mail advanced search, you can quickly find what you need without manually typing in search queries or sifting through each email.
Additionally, the app has many powerful tools that can force an unsubscribe on unwanted emails, with blocking and spam reporting features. Keeping your inboxes clear of unwanted junk can make searching and filtering emails a breeze.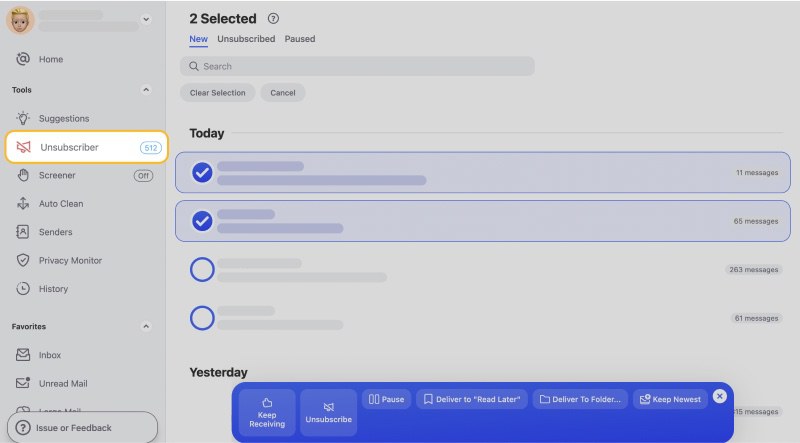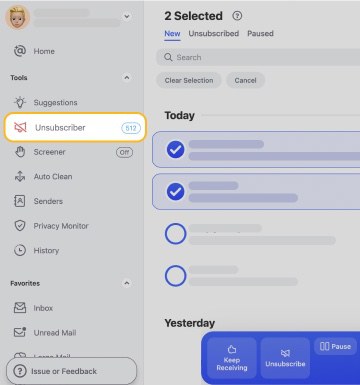 Best of all, you only need to log into Clean Email occasionally. After you set your Apple Mail rules and filters, the app's features work quietly in the background while you continue to use the Mail app to send and receive emails.
This app will work for you if you need a solution that supports multiple mailboxes, so whether you need to know how to search in Yahoo Mail or you're a dedicated Gmail user, Clean Email will work wonders for you.
How To Search For Emails In Clean Email
Here's how to find emails using this app:
To access your emails, launch Clean Email and select All Mail from the left panel. You can also choose Inbox, Unread, or any Smart Folder (Smart Folders are preset labels that organize relevant emails into folders like 'Online shopping' or 'Productivity tools', etc.)
To locate emails from a specific sender or domain name, type their name into the Search field.

You can also click on the funnel button to apply more filters, such as 'older than' and 'larger than'.

To take action on the selected messages, select them and then choose an action you want to apply to them.
---
FAQs
Why is Apple Mail search not working?
At times you may find the Mail search not finding all messages. This can be due to the fact that it only looks for messages in the Inbox, Sent and Spam folders by default. To enable searching for all other folders on your Mac, go to Preferences → Accounts tab → Advanced Options → Enable "Include related messages".
How do I search emails in Apple Mail?
Apple Mail search allows you to use simple search terms, such as sender and recipient name, subject line, or message body. You can use natural language searches, and you can also use advanced searching operators like "from:John".
Where is the search field in Apple Mail?
In Apple Mail on MacBook, it is located in the upper right corner of the window. The search field can also be found in the Menu bar if you have it open. On iPhone or iPad, simply swipe down and then tap on the magnifying glass icon to find the messages you need.