Gmail vs Zoho: Which One Should I Choose?
If you perform a quick internet search for the best free email providers, you will quickly see there are lots of options. You'll also find lots of good information on Ymail vs Gmail and other commonly used email clients like Outlook. But what about Zoho Mail?
Most people consider Gmail to be one of the best email clients out there. However, Zoho Mail is definitely another popular option, especially for businesses. So, which one is the better option? Well, it depends on what you're looking for in an email client.
Zoho Mail vs Gmail: Storage
One of the most important aspects of an inbox is the amount of storage you receive. Although most emails are relatively small in terms of data, attachments and a build up of messages can quickly add up. So, when trying to decide between Zoho or Gmail, you may want to first look at how much storage each company offers.
Gmail Storage
Every Gmail user receives 15 gigabytes (GB) of storage for free. Considering that the average email is only about 75 kilobytes (KB), you can keep over 5 million messages in your inbox before you hit capacity. Unfortunately, this 15 GB of storage is shared across your entire Google account, which means that anything in your Google Drive or Google Photos storage cloud also counts towards that total.
If you are an individual using Gmail, you can upgrade to a Google One account for more storage. Google One users receive 100 GB of storage, which is just shy of 10 times the amount of storage you'd get with the free account. Furthermore, Google Workspace users (business accounts) can set specific storage amounts for their company, and the pricing is determined by the amount of storage and the number of users.
Zoho Storage
With Zoho Mail's forever free account, users receive 5 GB of storage built into the plan. This storage is just dedicated to your Zoho Mail account, so although it's about one-third of the space Gmail provides, it isn't being shared with other cloud storage.
Like Gmail, Zoho does offer upgrade options to increase your storage space. You can select the Mail Lite plan to move up to 10 GB of mailbox storage, or choose the premium plan to increase your storage to 50 GB.
Zoho Mail vs Gmail: Security
Another common concern with email is security. Phishing is a common issue with electronic communication, and scammers have also resorted to using emails to collect data for identity theft purposes. Therefore, it's important to also compare security features when looking at Gmail vs Zoho.
Zoho Mail claims that its servers are housed in highly secure data centers. Zoho also uses 256-bit SSL encryption and software security measures to ensure your data is safe. To keep your account safe, Zoho Mail offers options for two-factor authentication through either SMS or Google Authenticator. Furthermore, Zoho Mail does offer spam filtering services that monitor IP addresses for blacklisted addresses.
Gmail also offers message encryption and advanced security measures. It supports two-factor authentication and also has measures in place to require users to go through extra steps if it detects a suspicious login. However, where Gmail really shines is its spam filtering services, which are 99.9 percent accurate. In addition to the typical use of blacklisting and whitelisting, Google uses high-tech artificial intelligence (AI) to prevent spam from entering your inbox. Any suspected spam messages will also appear with a clear warning that lets you know Gmail believes the message is spam.
Regardless of which option you choose, no security system is foolproof. This is why the Clean Email app offers Privacy Guard. This feature checks your email address against known data breaches or security incidents. If Privacy Guard finds any issues, it will advise you to change your password, enable multi-factor authentication, use password managers, and more. It's a great tool, and it works with Zoho and Gmail accounts.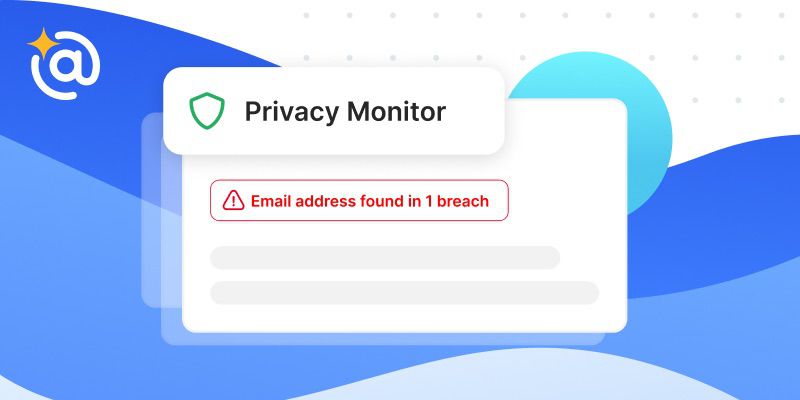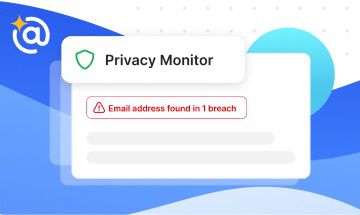 Zoho Mail vs Gmail: Features
All email providers out there help you send and receive emails. However, some offer more features than others. For this reason, it's important to also compare the features when looking at each email provider.
Features of Gmail
Labeling and sorting options
Ability to create automation rules
Access to Other Google Services (Drive, Photos, Calendar)
Message template creation tools
Mobile app
Email scheduling
Email recall
Prioritization
Reporting and analytics
Features of Zoho Mail
Labeling and sorting options
Ability to create automation rules
Access to some other apps (note-taking, calendar)
Message template creation tools
Mobile app
Email scheduling
Custom domain
Zoho Mail vs Gmail: Pricing
Finally, you'll want to compare Gmail vs Zoho in terms of cost. Although neither Gmail nor Zoho is considered part of the best paid email services, neither option is totally free either. It just depends on what features you need and whether you need an address with a custom domain.
Gmail offers free for life plans to users who are fine with an @gmail.com domain on their address and the 15 GB storage cap. If you need more storage, Google One offers that for your personal Google account, starting at $19.99 per year for 100 GB. If you are looking for a business account, meaning you want addresses with a custom domain, starting at $6/month per user.
Zoho Mail offers a free for life plan as well, with a 5 GB storage cap. However, unlike Gmail, you can use the free plan with a business domain, assuming you have one. If you need to add more people, increase your storage, or want any added features, you'll have to pay. Zoho's paid plans start at $1.25/month per user, with a comparable plan to Gmail running $4/month per user.
Wanting to compare Gmail to other options like Zoho? We can also help you compare ProtonMail vs. Gmail and iCloud vs Gmail.
Manage Your Zoho or Gmail Inbox with Clean Email
Whether you're using a custom email address or just need a simple inbox to receive messages from time to time, you need to have a solid plan in place when it comes to inbox management. So, whether you use Zoho Mail, Gmail, or use Zoho mail with Gmail, Clean Email can help you remove clutter and optimize your inbox.
For example, Smart Folders feature lets you take a closer look at bundles of messages based on shared criteria like "social media notifications" or "messages with attachments." This makes it easy to find specific messages, not to mention it helps you delete groups of emails all at the same time.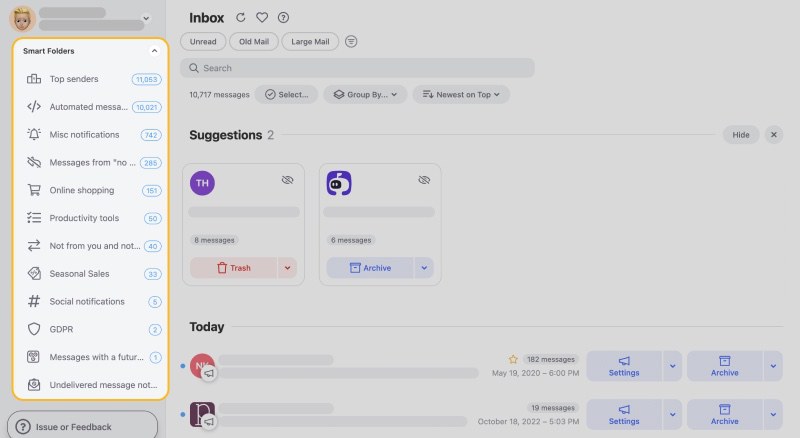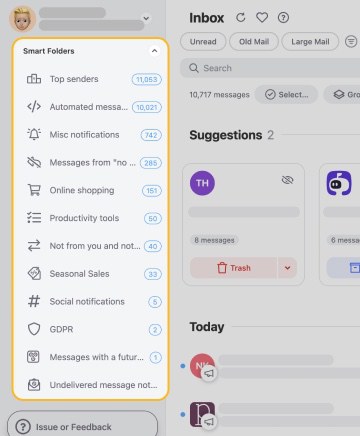 Similarly, Auto Clean lets you create automation rules so you can automatically sort messages based on what tasks you typically perform in your inbox.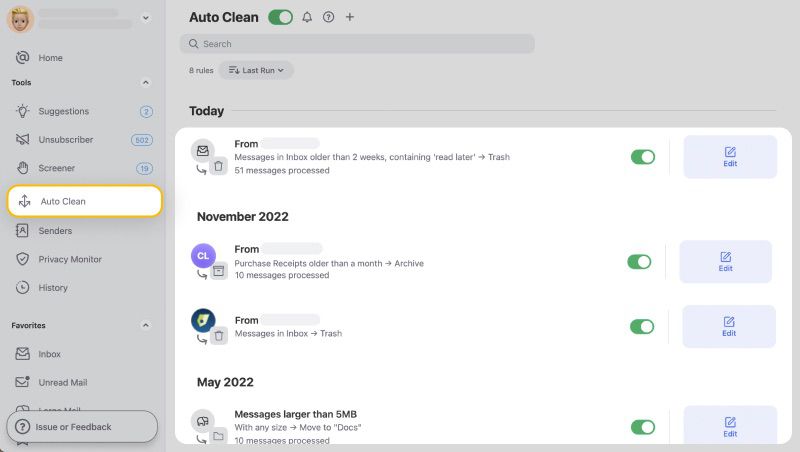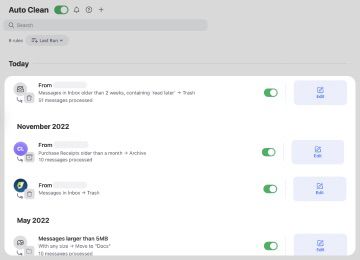 Additionally, Unsubscriber lets you remove yourself from promotional newsletters you do not want in your inbox.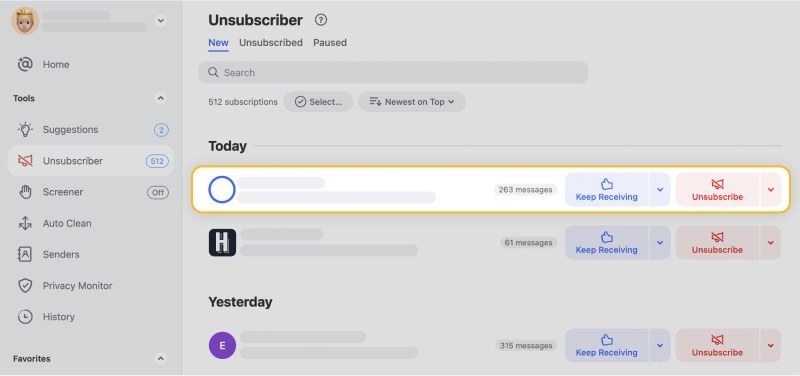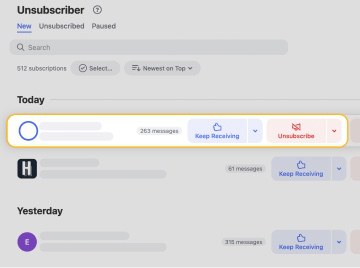 Sender Settings helps you automatically remove emails from senders you select so they never land in your inbox. This, along with Screener and other features, keeps your inbox clean and spam free.
So, regardless of what email client you decide to use, know that Clean Email is ready to help you manage your inbox so you can do your best work.
---
Zoho Mail vs Gmail - FAQs
Is Zoho Mail better than Gmail?
Both Zoho Mail and Gmail offer many of the same great features. There are some cases where Zoho Mail is better, especially for business users, but there are also scenarios that make Gmail better.
How Zoho Mail is different from Gmail?
Zoho Mail and Gmail have lots of comparable features. Although Zoho Mail offers less storage and spam filtering features, it does offer more in terms of customization.
Is Zoho Mail more secure than Gmail?
Both Zoho Mail and Gmail offer the same type of encryption and multi-factor authentication options.
Can I use Zoho Mail in Gmail?
Yes, you can set up your Zoho Mail account in Gmail. You just have to set it up as a POP3 account.
How do I forward Zoho Mail to Gmail?
Yes, you can set up your messages from Zoho Mail to automatically forward to Gmail. To do this, go to Settings → Mail Accounts.