Why Use a Fake Email Address Generator?
Have you ever experienced a sudden influx of spam emails a few days after you shared your email address with some website? Well, that wasn't a coincidence. Many websites today collect information about their users only to sell it to the highest bidder.
Unless you carefully read terms of service contracts before you click the submit button, you can never be sure how your personal information will be handled. The unfortunate fact is that even large companies share user information with third parties, so the solution isn't to simply avoid lesser-known online services.
If you want to keep your inbox clean, it's a good idea to create fake email addresses using a fake email generator and use a different address for each website you sign up to. That way, you can use your main email address only for personal and professional communication and know exactly which websites have shared your personal information with other parties.
To protect your inbox from spam even more, you can take advantage of an email organizer like Clean Email and use it to unsubscribe from unwanted subscriptions, block unwanted senders, and automatically apply selected actions to emails as soon as they arrive.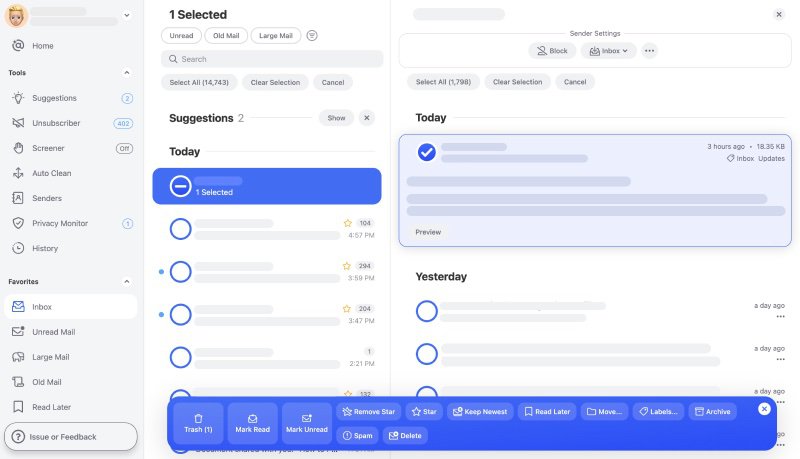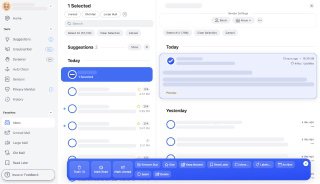 10 Fake Email Address Generators
A simple online search reveals hundreds of fake email address generators, but you would be wrong to think that it doesn't matter which one you click on.
For starters, some fake email address generators are a waste of time because most websites have already blacklisted them (learn more about email blacklist check and how to whitelist an email). Then there are malicious fake email address generators that scan your emails and extract personal information from them. Finally, you should avoid fake email address generators with horrible usability and intrusive ads.
Listed below are 10 best fake email address generators that you can use to easily create an unlimited number of fake email addresses without having to worry about your privacy or email security. That said, we don't recommend you use fake email addresses for anything important because that's just not what they're meant for.
Temp Mail is one of the most polished fake email address generators you will ever come across. It generates fake email addresses with believable domain names like @oncloud.ws and offers an app for iOS and Android devices. The mobile app comes with in-app purchases that let you unlock several premium features, including custom domain names, ad-free experience, multiple fake mailboxes, extended email storage, premium support, and more. Temp Mail is available in multiple languages, and it periodically deletes old messages from its servers, allowing its users to rest assured, knowing their past activity won't come back to haunt them.

👍🏼 Pros:
Polished user interface.
Believable domain names.
Mobile app.
Premium features.
👎🏼 Cons:
Can't be used to send fake email messages.
Guerrilla Mail is easily one of the most popular fake email account providers out there. The service lets you choose from more than 10 different domain names and generate as many fake email addresses as you want with the press of a button. Unlike most fake email address generators, Guerrilla Mail can also be used for sending email messages with attachments (check out our guide on how to send anonymous emails). The upload limit is 150 MB per email, and all uploaded attachments are automatically deleted after 24 hours. To prevent hackers from using the service to distribute spam and malware, Guerrilla Mail includes the originating IP address in email headers.

👍🏼 Pros:
Over 10 domain names to choose from.
Supports attachments.
Processed over 12 billion emails so far.
While most fake email address generators generate email addresses automatically, Dispostable lets you generate any fake email addresses you want, as long as it ends with @dispostable.com. All you need to do to generate your own custom email address is fill in the address field and press enter. In less than a second, your email address will be created and ready for use. Unfortunately, it's not possible to send fake email messages with Dispostable because the service wants to help users avoid spam-not email spammers distribute it.

👍🏼 Pros:
Lets you create a custom fake email sender address.
Automatically deletes read messages to protect your privacy.
Supports continuous checking for new messages.
👎🏼 Cons:
Can't be used to send email messages.
10minutemail is based on a simple concept: the service automatically generates a fresh fake email address every 10 minutes. Because email messages can sometimes become delayed and arrive much later than expected, 10minutemail also gives users the option to reset the countdown with a simple click. Sending emails is not allowed with 10minutemail, and you also won't get to enjoy custom domain names. The service is free and supported by ads and donations.

👍🏼 Pros:
Completely automatic generation of fake email addresses.
Gives you the option to use your fake email address for more than 10 minutes.
👎🏼 Cons:
Doesn't let you send email messages.
No custom domain names.
Displays a lot of ads.
OwlyMail is one of the youngest fake email address generators, but it's already being compared with venerable email generator services like Guerilla Mail. Perhaps the main thing that makes OwlyMail so attractive is the fact that it works even with Netflix, Twitter, Facebook, and other services that block fake email addresses. As a user, you can choose between two domain names (@verifymail.win and @owlymail.com) and enter a custom email address. When you receive an email message, OwlyMail can send you a notification alert if you let it. Received emails are automatically deleted after 3 days, but you can also delete them manually earlier. Firefox and Chrome users can download a handy web browser extension that makes OwlyMail even easier to use than it already is.

👍🏼 Pros:
Generates reusable fake email addresses.
Supports custom domain names.
Email notifications.
Works with Netflix, Twitter, and Facebook.
Browser extensions.
👎🏼 Cons:
Doesn't let you send email messages.
The problem with many fake email generators is that the addresses they generate look, well, fake. Some websites actively look for fake addresses to prevent visitors from using them. Gmailnator solves this problem by generating Gmail addresses. It takes only a simple click to create a new disposable Gmail address, and you can generate as many of them as you want. In fact, Gmailnator can even generate Gmail addresses in bulk, which may come in handy for testing purposes.
While you can partially customize your mail address by inserting any string at its beginning, there's always a random string in the middle, right before the domain, which you can't modify at all. The service automatically deletes messages after 24 hours, so you can simply leave your inbox when you're done with it.
👍🏼 Pros:
Generates an unlimited number of Gmail inboxes.
Works with websites that detect and block random mail addresses.
Automatically deleted messages.
Built-in bulk random email generator.
👎🏼 Cons:
Only one email domain name available.
As soon as you open FakeMail.net in your web browser, you're given a unique fake email address that you can use for the next 60 minutes. If you decide that you need more time than that, you can add 10 minutes, 1 day, 3 days, 5 days, 1 week, or 2 weeks with a simple click. FakeMail.net automatically refreshes the inbox every 10 seconds and checks for new emails, but you can also refresh the inbox manually.
With each generated disposable email address, FakeMail.net also generates a random password. You can use this password when signing up online, but make sure you don't use it for anything important because that wouldn't be safe. We like that this fake mail generator creates realistic mail addresses, such as darek.anzel@andyes.net, which definitely beat random strings of letters and numbers as far as their believability goes.
👍🏼 Pros:
Built-in random password generator.
Let's you extend the disposable address.
Simple, clean user interface.
Allows you to type the mail address you wish to use.
👎🏼 Cons:
Uses just one domain name.
TempEmailCo is a sleek fake email generator that you can use to create an unlimited number of random addresses. What's interesting is that you can't generate specific mail addresses, but you can edit an address after it has been generated. To do that, simply click the Edit button and type the address you wish to use (it can be 3–18 characters long).
This tool is completely free, supported by ads and donations. It has already been used to generate hundreds of thousands of disposable addresses, helping countless users around the world avoid spam and malware. We just wish it also worked as a fake email sender because that would make it a true one-stop solution for fake emails.
👍🏼 Pros:
Modern design.
Instantly generates a disposable address.
No strict time limit.
👎🏼 Cons:
Doesn't let you send fake messages.
EmailOnDeck describes itself as the premier site for all things related to temporary addresses. So far, it has generated nearly 70 million addresses, and it has been featured on CBS News, Fox, NBC, ABC, and several other mainstream news outlets. Perhaps because of its popularity, the service asks users to first solve a captcha before it creates an address. Having to go through the extra step can be annoying if you're used to more straightforward temporary mail generators, but it won't take much of your time.
It is a free service, but there's a paid subscription, called EmailOnDeck Pro, and it unlocks several useful features, including custom addresses, exclusive domains, and the ability to send as much as 100 emails at a time.
👍🏼 Pros:
Promises to always remain free.
Securely deletes old emails.
Bitcoin and cryptocurrency friendly.
👎🏼 Cons:
Two-step fake emails generator.
PRO subscription required to unlock more features.
Emkei's Fake Mailer is different from the other generators features in this article because it allows you to send completely fake messages with attachments. You can edit your name, address, change the date, and much more. A fake sender like this can be useful for testing purposes, or you can use it to prank someone. Just keep in mind that there's a thin line between pranks and malice.
👍🏼 Pros:
Has been around forever.
Easy to use.
Advanced options for experienced users.
Support for HTML emails.
👎🏼 Cons:
The available options are not explained.
Conclusion
Fake email addresses are an excellent defense against unwanted emails, especially when you combine them with a smart inbox cleaner like Clean Email. When you successfully avoid distracting spam messages, your productivity will reach new heights, and you will find it much easier to complete any objectives you set out for yourself.
Follow our guides on how to encrypt an email and how to back up your emails.
---
Best Fake Email Address Generator - FAQs
What is an email generator?
The term email generator is primarily used to describe online services that make it possible to quickly create temporary mail addresses, which can be used when signing up online to avoid newsletters and spam. Sometimes, the term is also used to describe tools for creating fake messages with modified mail headers, such as the FROM, TO, and DATE headers.
Why use a fake email address?
Most people use such addresses to avoid getting spam. Many websites these days ask their visitors to create a user account to display all content, and they then send newsletters and various other promotional emails to them. What's even worse, some websites share the collected mail addresses with others, including spammers.
How to fake an email?
Email was originally not created with privacy in mind, which is why it's possible to fake an email message by editing mail headers, which contain information about the sender, recipient, date, subject, and more. Anyone can use a readily available fake mail generator to send a message that seems to have originated from a completely different address than it actually has.
How to choose a fake email generator?
It's best to stick with the popular options because lesser-known mail generators may not be trustworthy. There have even been several temporary mail generators that were caught stealing user passwords and scanning emails for private encryption keys.
Can I create a fake email address?
There are many services available that allow you to create a fake email address at no cost with minimal effort. This is a fantastic option for people who want to learn about particular services without subjecting themselves to potential spam or marketing messages. It also helps to reduce the chances that your personal information will be harvested or sold.
How can you tell a fake email?
To determine whether an email is fake or real, you should first check the domain name in the email. Make sure the spelling is correct and that the URL matches the address you expect it to come from. The sender should also be using a proprietary email domain rather than something public like Gmail or Outlook (unless you personally know them).
Is it bad to use a fake email?
If you are using a fake email to try to trick individuals, then that is bad and unethical. However, if you want to fake a temporary email address to prevent spam, then there is nothing wrong with that.
How to send a fake email to yourself?
The easiest solution is to use an online fake email generator like Temp Mail or OwlyMail. It will help you to edit mail headers and, for example, modify the sender's address or change the date.