Boost Your Gmail Account Security
Gmail is the heart of various tools used by many people for personal and professional communication. For many users, losing access to their accounts would be heartbreaking and potentially put all their private and financial details at risk of theft. It's essential to keep your Gmail account safe from hackers, malware, phishing schemes, and other potential threats.
By implementing proper Gmail account recovery and security measures, you can protect yourself from unauthorized access and potential threats. Thankfully, Gmail is easy to secure, and there are many different ways that you can do so. This article will cover the 8 best ways to boost your Gmail account security.
8 Ways To Protect Your Gmail Account
There are many ways to protect your Gmail account from potential email security threats, and we've listed the most vital options below.
1. Gmail security checkup
To help you improve your account security, Gmail provides several tools to check and boost security. The first step to securing your account is ensuring all the basic security measures are in place. Google provides a great tool called the Gmail Security Checkup, which you can find here.
2. Two-factor authentication
One of the best ways to protect your Gmail account is to enable two-factor authentication. This means that, in addition to your password, you'll also need a second factor, such as a code sent to your phone, to log into your account.
Two-factor authentication is an excellent way to protect your account from being hacked, as even if someone manages to steal your password, they'll still need that second factor to gain access to your account.
3. Use a strong password
A strong password is vital to the security of any online account, and your Gmail account is no exception. When creating a password for Gmail, use a mix of letters, numbers, and symbols, and avoid using easily guessed words like your name or address. The most commonly added characters and letters are "!" and "1", so try to avoid these.
Check if your password is strong enough with a password strength checker.
4. Don't click on suspicious links
Gmail is a prime target for phishing schemes, where scammers send out fake emails that look like they're from Gmail in an attempt to get your password. These emails often contain links to fake login pages, where criminals will steal your password if you enter it.
To protect yourself from phishing schemes, never click on links in emails unless you're absolutely sure they're legitimate. If unsure, hover your mouse over the link to see where it's taking you before clicking. For Google Chrome users, the address is displayed in the bottom left-hand corner of the browser.
5. Set a recovery email address
If you ever forget your Gmail password, you can use a recovery email address to reset it. A recovery email address is an email account you designate as being able to reset your Gmail password if you ever forget it.
To set a recovery email address, log in to your Gmail account and click on the gear icon in the top right-hand corner. From the drop-down menu, select See all settings.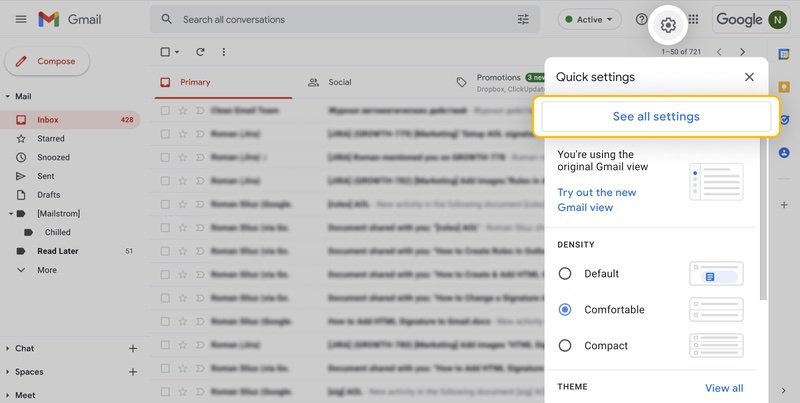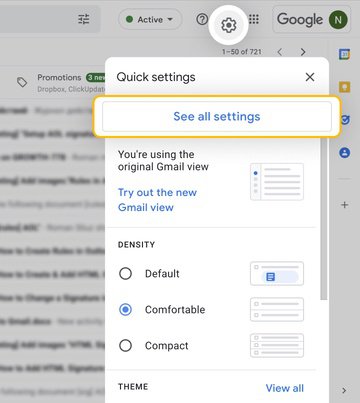 Then, click on the Accounts and Import tab. Under Send mail as, click on Add another email address.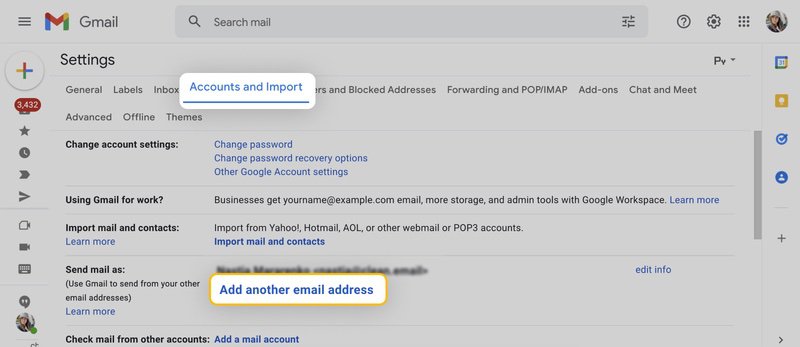 Enter your recovery email address in the pop-up window and click Next Step. Gmail will then send a verification code to your recovery email address. Enter this code in the pop-up window and click Verify.
6. Don't use public Wi-Fi to access Gmail
If you're using a public Wi-Fi network to access your Gmail account, it's important to be aware that these networks are often unsecured and vulnerable to attack. Hackers on public Wi-Fi networks can potentially intercept the data you're sending and receiving, including your password.
To protect yourself, only use private, secure Wi-Fi networks to access your mailbox, or better yet, use your mobile data instead.
7. Be careful with app permissions
When you install a new app, it will often ask for permission to access your Google account. For example, a to-do list app may want access to your Gmail to add emails to your tasks list.
Before granting any app permission to access your account's data, make sure that you trust the app and have verified its reputation. Keep in mind that an app with access to your Gmail account has the potential to read, send, and even delete your emails, so proceed with caution.
8. Keep your browser up to date
Using an up-to-date browser is vital for the security of any online account, as older browsers may have vulnerabilities that hackers can exploit.
To check if your browser is up to date, open your browser and click on the menu icon in the top right-hand corner. In Google Chrome, this icon is three vertical dots. From the drop-down menu, select Help and then About Google Chrome.
If a new version of your browser is available, you'll be prompted to update. Click on Update Google Chrome, then hit the Relaunch button.
💡 Note: Don't forget to change your passwords from time to time. Also, check whether any websites have leaked your data. The Clean Email app's Privacy Monitor feature can do this completely free.
How To Use Privacy Monitor From Clean Email
Privacy Monitor is a valuable tool housed within the Clean Email app, which we cover below. It scours the internet for known data breaches and security incidents and lets you know if your details have ever been accidentally or maliciously leaked to the internet.
If a breach has occurred, Privacy Monitor will advise you to change the account password, enable multi-factor authentication, use password managers, etc. For obvious Gmail safety and security reasons, the Clean Email app does not do this for you, but it will check and highlight these risks.
What else can Clean Email do to help secure Gmail?
If you, like many of our team, have doggedly hung on to the same Gmail account for years, you have probably amassed a considerable volume of unwanted subscriptions, reminders, and other assorted junk that floods your inbox.
The built-in Gmail security means that many blatant junk emails are filtered out of your inbox and dropped into the spam folder. But all those other emails just keep coming, day after day.
Clean Email is a powerful app designed to help you recover your mailbox sanity. You can use it to automate a wide range of email tasks, such as unsubscribing from mailing lists and blocking those stubborn offenders who continue to bother you. Clean Email has been such a vital tool in decluttering and regulating the flow of messages received that it has given our old Gmail accounts a new lease of life.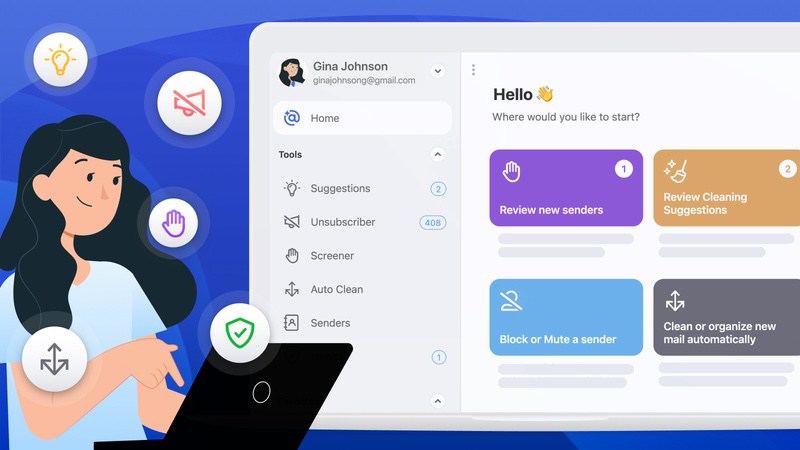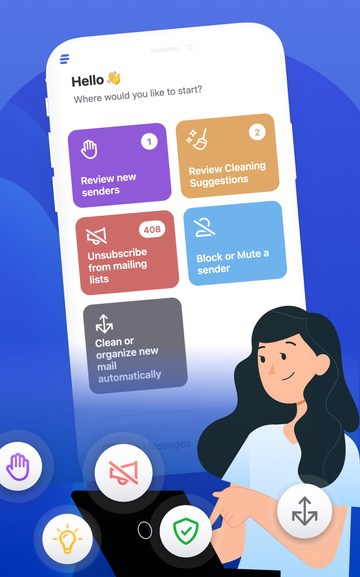 What's more, by having a clearer picture of the messages reaching the inbox, your Gmail security is considerably boosted. Here are some of the other core tools that can help you.
The Screener feature in Clean Email adds an additional layer of security by intercepting messages from new senders and quarantining them for your review. A "new sender" is anyone who hasn't emailed your address before. These emails are held separately in the Screener, allowing you to review and either accept or block them. This tool prevents unwanted or potentially malicious emails from unknown sources from reaching your inbox.
The Unsubscriber tool highlights emails reaching you as part of a mailing list. With a single click of a button, you can request to be unsubscribed, without the need to hunt for the (often absent) unsubscribe button, nor do you have to deal with the "why are you leaving us" questionnaires. Perfect! Better yet, the tool will automatically block senders who ignore your unsubscribe request.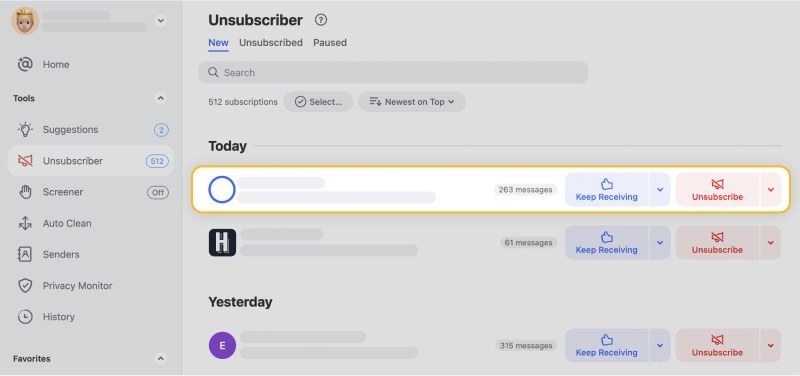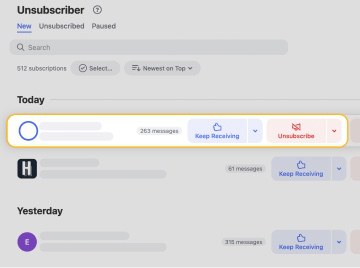 The Auto Clean tool lets you create rules that can filter incoming emails in a number of ways and deal with them. For example, you can set up custom filters to separate every single regular email sender into their own folder without them even touching the inbox.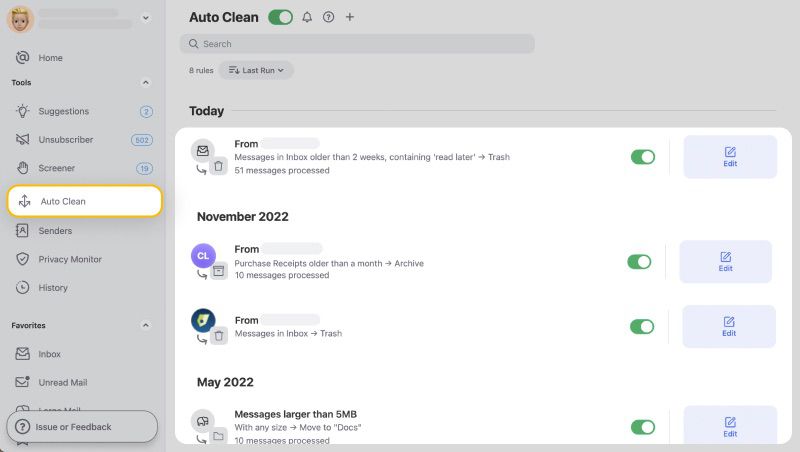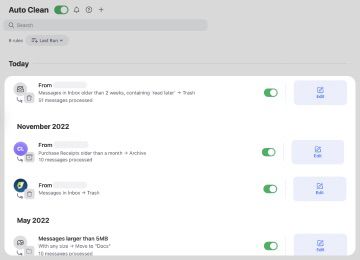 What is the Clean Email privacy policy?
It's important to note that Clean Email is not an alternative inbox. You cannot send emails in Clean Email. It is an email management app that works with all IMAP email service providers, including Outlook, Hotmail, Yahoo, and of course, Gmail.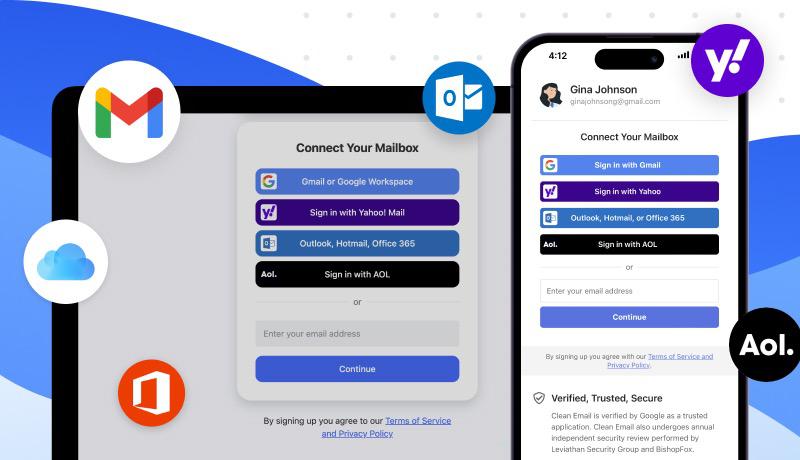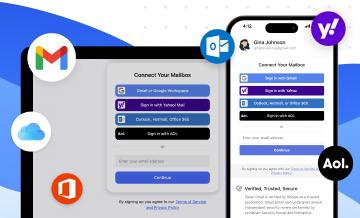 The app only has access to the email headers, senders, and other metadata, not the email content itself. This information is used to help you clean up and automate the handling of the emails you receive. For full details on the Clean Email privacy policy, go here.
---
Gmail Security Tips - FAQs
Is Gmail email secure and safe?
Gmail is a secure email service with industry-leading spam filtering. However, as with all email services, it is crucial to use all the additional security features available.
How to check Google account security?
To check your Google account security, go to the Security Checkup page. This will help you to review recent logins and strengthen the security of your Google security settings.
Where is the security section in Gmail?
In Gmail, click on your profile picture in the top right corner, then select Manage your Google Account. From there, navigate to the Security tab on the left side to find the security settings for your account.
How to change Gmail security settings?
Go to your Google account Security page. Here, you can modify settings like connected devices, two-step verification, recovery options, third-party app access, and other security features.
What is the best security for Gmail?
Gmail security is best achieved by enabling 2-step verification, being conscious of which third-party apps you authorize to access your data and using strong, unique passwords. Additionally, monitoring security alerts and being aware of phishing emails further strengthens account protection.