Why You Need Email Backup
Cyber attackers are becoming increasingly sophisticated, leaving no system truly impervious to risk. Your email can be compromised through sophisticated phishing attacks, resulting in the loss of vital correspondence.
Beyond cyber threats, there are a myriad of other reasons to back up email. Whether you're looking to archive personal messages as printable proof of transactions or planning a migration to a new service provider, having an email backup is crucial.
In essence, the need for email backup is multifaceted, ranging from security concerns to personal record-keeping. This guide will provide you with actionable steps on how to backup emails on various mail platforms, ensuring your messages remain secure and accessible.
How to Backup Gmail Emails
Here's how to create an email backup of your Gmail messages on your computer. Google allows users to backup email by downloading all associated data from their Google accounts, which consolidates into a single archive. To download all emails from Gmail as an archive, follow the steps below:
Click your Profile icon in the top right corner.
Click Manage your Google Account.

Select Data & privacy from the list of options on the left.
Scroll down to the Download or delete your data section, and select the Download your data option.

The Google Takeout tool will be opened.
Ensure Mail is selected.
Under Mail, you will find a button telling you how many labels you have selected. Click on this button and select all the labels you want to download.

Click Next step below.

Now, choose the destination, frequency, type, and size of the file you would like to download. Then click Create export.

Wait for messages to download, as this will download all mail to your computer.
How to Backup Yahoo Emails Using Kernel IMAP Backup
Unfortunately, there is no easy way to backup all Yahoo emails to your computer. All methods must be done through third-party applications, for instance, the Kernel IMAP backup app. With this tool, you can backup your mail in PST, EML, MSG, MHT, HTML, DOC, DOCX & PDF formats.
Follow the steps below to backup your Yahoo emails on your computer:
Launch the Kernel IMAP Backup Tool and select Add in the top corner.

Sign in to the desired email address, fill in the corresponding details, and click Add.
Next, select the Set Filter and Migrate option.
Select all the desired filters, and click on, I am OK, Start Migration.

Next, select the file format from the list of given options for saving the selected IMAP server data (PDF, PST, DOCX, etc.)
Provide a file path to save the backed-up IMAP mailbox on your computer.
After successful completion, you will get a prompt stating "process completed". A CSV file containing the credentials of all your backed-up IMAP mailboxes will hence be generated. The same rules apply to Yahoo Mail backup on a Mac.
Learn more about how to save an email as PDF.
How to Backup Outlook Emails
To perform Outlook backup and save your emails, follow these steps:
Launch Outlook and go to File → Open & Export → Import/Export.
Among the given options in the next step, select Export to a file and click Next.
In the next screen select Outlook Data File (.pst), and Next.
Select the email account you wish to back up and ensure the Include subfolders option is selected.
Specify a location and filename for your backup, then click Finish to export emails from Outlook.
How to Backup Emails on Mac
There are several ways to backup emails on a Mac. Here are a few of them:
Using Apple Mail
Open the Mail application and highlight the mailboxes you wish to back up.
Navigate to Mailbox → Export Mailbox in the menu bar.

Select an existing folder or create a new one, then click Choose. The mailboxes will be exported as .mbox files.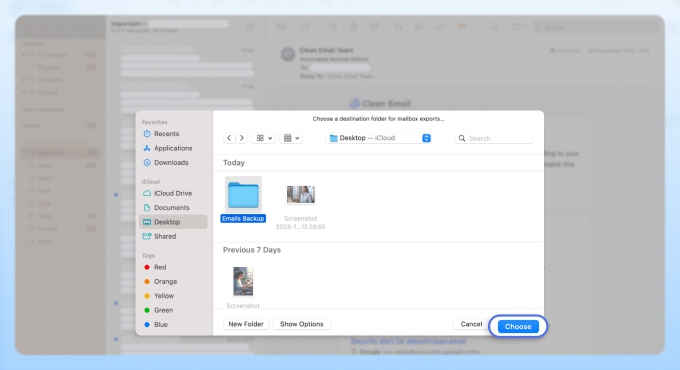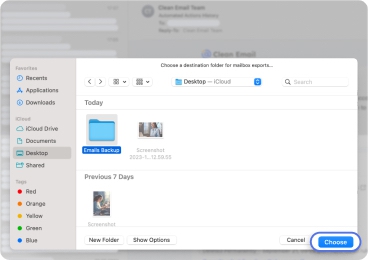 Using Outlook on a Mac
Open Outlook on the web and sign in to your account.
Click the Settings gear icon on the right side of the top toolbar.
Navigate to General → Privacy and data.
Click Export mailbox to create a copy of your data.

The mailbox export process may take up to 4 days to complete. After the mailbox copy is ready, you'll receive an email with a link to download it.
Manual Backup
Open Finder or click on the desktop of your Mac.
Hold the Option key and select Go in the top menu bar.
Select Library from the dropdown menu.
Scroll down to find the Mail folder.
Locate the email storage folder on your Mac, which is usually under ~/Library/Mail/ for Apple Mail.

Copy the relevant mailbox folders to an external drive or cloud storage.
Using Third-Party Software
Numerous third-party applications, such as MacUncle Email Backup Wizard or EaseUS, offer email backup solutions.
Always ensure the software you choose is reputable and secure before installation.
How to Backup Thunderbird Emails
If you need to backup Thunderbird email, follow this easy guide for Mac users:
Launch Thunderbird.
Select your Inbox or any preferred folder.
Select the message you want to export.
Click the menu button to display the Thunderbird menu or press Control + click on Mac.
Select Save as… and choose file format.

Choose folder where the messages should be saved and click Save.
Clean Your Mailbox with Clean Email before the Email Backup
While the Clean Email app can't help you backup email, it can simplify inbox management, shield you from unwanted senders, and help you become more productive with managing your inbox. Additionally, cleaning out email junk is advisable before creating a backup, as it ensures you're not wasting storage space on unnecessary clutter.
One of Clean Email's standout features is its Screener tool, which intercepts emails from new senders and places them in a separate folder for your review. This proactive approach prevents potentially harmful messages from unknown sources from infiltrating your inbox.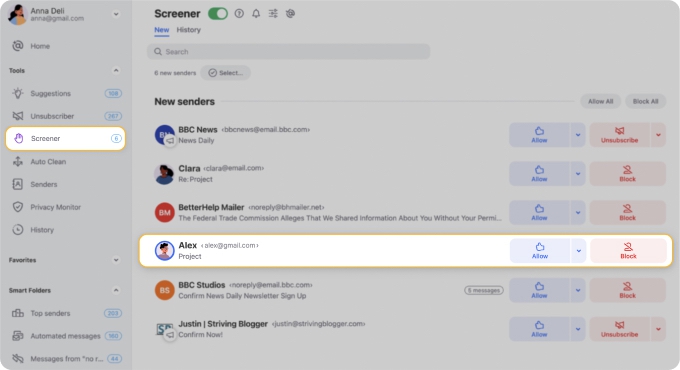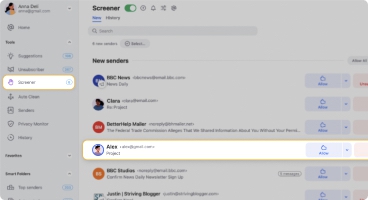 The Unsubscriber tool identifies emails that are part of mailing lists and allows you to unsubscribe with a single click. No more sifting through emails to find elusive unsubscribe buttons or answering tedious questionnaires. If a sender ignores your unsubscribe request, the app automatically blocks them, saving you from future annoyances.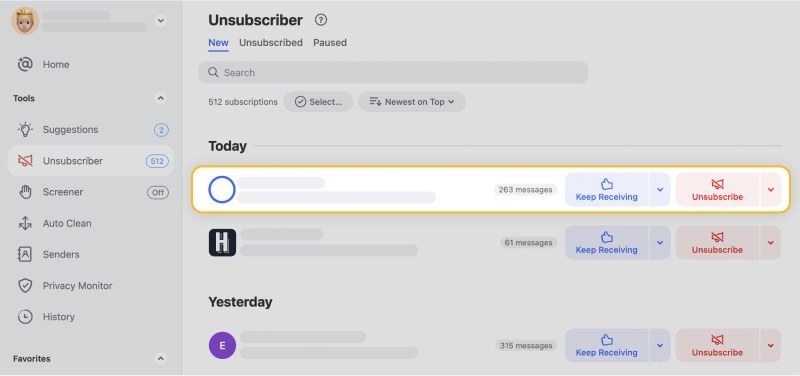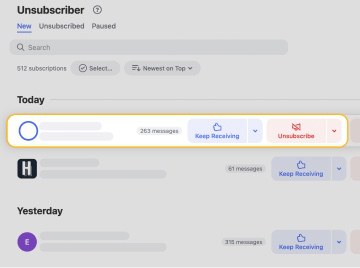 The Auto Clean feature offers a high degree of customization, enabling you to set up rules that filter incoming emails in various ways. For instance, you can automatically sort mail from regular senders into designated folders, ensuring they never clutter your main inbox. This level of automation not only keeps your inbox tidy but also allows you to focus on conversations that truly matter.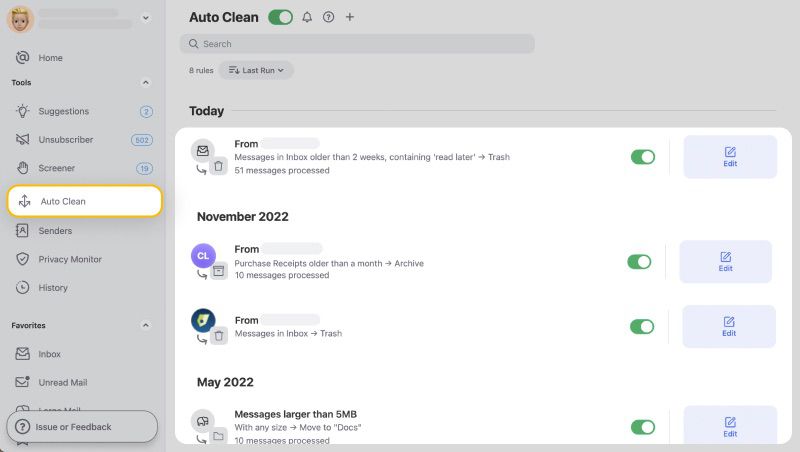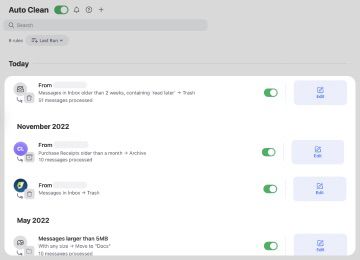 Clean Email is compatible with all popular email service providers like Outlook, Hotmail, Yahoo, Gmail, and more. Plus, it's available on various platforms—web, macOS, iPhone, and Android—enabling you to manage your emails from virtually anywhere.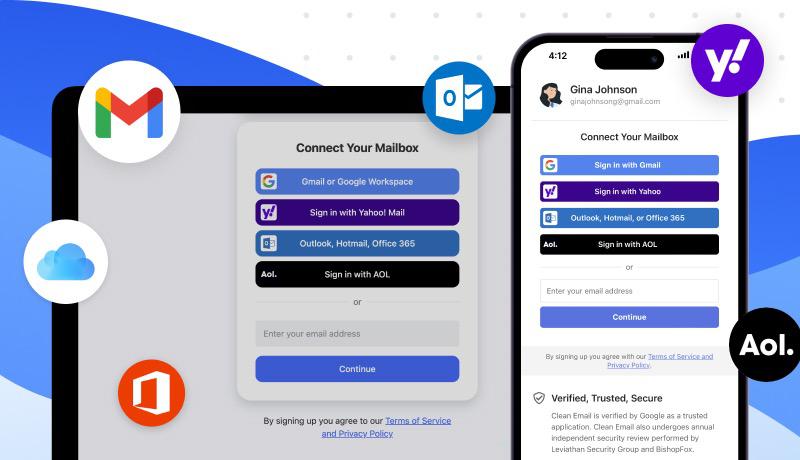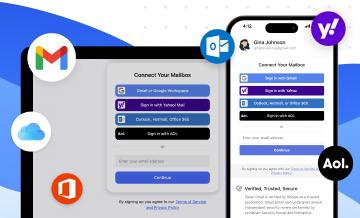 The app places a high premium on user privacy and ensures that your data remains secure while offering you a suite of features to make inbox management a breeze.
Conclusion
Backing up emails can help you protect your messages from unexpected losses, even if you are using secure email service providers like Gmail and Outlook. This guide equips you with practical methods for various devices and email providers, from how to backup Gmail to executing an Outlook backup, and more.
Backing up your emails will certainly serve you right in all of your future endeavors. When you find yourself in a crisis, you'll be relieved to have your important messages securely stored.
Follow our guides about email encryption, spoofed emails, and the best fake email generators.
---
How to Back Up Emails In Various Email Providers - FAQs
How to save emails from Outlook?
To backup Outlook emails, go to File > Open & Export > Import/Export, then choose "Export to a file" and follow the prompts. This will create an Outlook Data File (.pst) containing your emails, which you can save to your desired location.
How to back up emails from Gmail?
To back up emails from Gmail, navigate to Google Account settings, select "Data & privacy," and then choose "Download your data." Ensure "Mail" is selected and follow the prompts to create an export, which will generate a downloadable archive of your Gmail messages.
How to backup Gmail emails with attachments?
When performing local email backup with Gmail, all attachments are also automatically backed up alongside their email correspondents.
How to save emails to Google Drive?
To save emails to Google Drive, open the email in Gmail, click on the three-dot menu, and select "Download message" to save it as an .eml file. Then, upload this file to your Google Drive.
Does iCloud backup emails?
Yes, iCloud does backup emails for accounts that are configured to use iCloud Mail. Emails and other iCloud Mail data are stored in the cloud and can be accessed from any device that is signed into the same iCloud account.
How to save emails from Mac mail to hard drive?
1. Launch mail, select one or more mailboxes, then choose Mailbox → Export Mailbox.
2. Select a file path by choosing an existing folder or create a new one.
3. Mail exports the mailboxes as .mbox packages. If you have previously exported a mailbox, Mail doesn't overwrite the existing .mbox file; it creates a new .mbox file i.e. My Mailbox 2.mbox.
How to save emails as PDF?
When backing up emails, you get to choose the file type you would like your files to be saved. However, not all email service providers offer the ability to export as PDF.