What Is an Anonymous Email Account?
It's an email account that protects anonymity to allow you to send emails without them being traced back to you. These accounts don't store any of your information and you typically don't create them with secure email providers you use in your daily life to avoid compromising your account from accidental negligence.
Who Is the Best Anonymous Email Provider?
Choosing the top anonymous email sender to use is a big task, but we've simplified the steps. Before we discuss our top five service providers that have the capability of sending an unidentified message, we want to make sure you know what features you should be looking for in your anonymous email sender.
Is there a built-in encryption feature? - Message encryption is not only important for anonymity purposes, but for protecting sensitive information in general from hackers or other unwelcomed eyes. Having the ability to encrypt your message will give you an extra sense of security when sending unidentified mail.
What will you be using the unidentified email for? - Think about how you want to use your new incognito mail account. Do you want to solely send emails, do you plan on only receiving them, or do you want both features? Many service providers have limitations on ways users can utilize their accounts due to security and performance reasons so decide how you'll use it in the future before setting one up.
Can you use it to configure messages using IMAP (Internet Message Access Protocol)? - If you're wanting to keep track of the messages you send in incognito status then you will need to make sure that you have your mail connected to IMAP. IMAP allows your messages to be saved on your Internet Provider's Server and for you to have access to them on any device you want to view them on. Basically, you won't be tied down to only viewing or sending messages from your computer.
What kind of privacy features does it have; for example, two-step verification, no ads? - Although many service providers that allow users to send emails anonymously claim to fully protect their identity, we've found that some companies still use ads within their software. Typically, when a company uses ads within their product, they have sold or shared your information to third parties which defeat the purpose of being unidentified. You also want to make sure that the email client keeps your login credentials secure to avoid hackers retrieving any real information you had to provide to the site to get the anonymous account. Two-step verification is one of the best features to provide peace of mind about your information not ending up in the wrong hands.
Now that you know a few things you need to look out for, here are the top 5 private email services we recommend using for sending your messages incognito:
How to Send Anonymous Emails
You have confidential information to send to a journalist or your office that you don't want to be traced back to you. You're concerned that if your identity is exposed you could be fired, scrutinized, or embarrassed depending on the information you're sending in the message. We're going to show you how to send messages via email that can't be traced back to you to give you the peace of mind you need to confidently share your important message.
Create a brand new email account using a well-known provider like Outlook, but don't use any of your personal information that can potentially identify you as the owner of the account. This is how to send an anonymous email in Outlook without your identity being compromised. However, keep in mind that although you'll be sending from an account that doesn't include your personal information, your IP address will still be attached to the account which can risk the chance of the message being traced back to you.
Another option is to use a VPN (Virtual Private Network) to mask and change the IP address associated with your device. The VPN blocks Google and other third parties from tracking your location to ensure anonymity especially if you use a public server.
Get a burner email for receiving or sending messages without compromising your identity. These types of emails expire within a certain timespan. However, these disposable addresses can be limited because some only allow you to receive incoming messages while others only allow you to send them.
Encrypt your messages to secure your outgoing emails so no one can view the information being sent in the email except for the party receiving it.
Looking for more email management tips? Follow our guides on how to back up emails and how to whitelist an email.
Conclusion
Knowing how to send an unidentified message can help you keep your identity safe from backlash from colleagues and employer, being a source for a journalist, and for other valid reasons. If you want to have additional email security on what types of messages enter your inbox, try using the Clean Email app. This inbox cleaner is designed to block unwanted senders, organize and prevent spam from entering your inbox. The best part is that it never shares, sells, or analyzes your data to keep you safe from pesky third parties.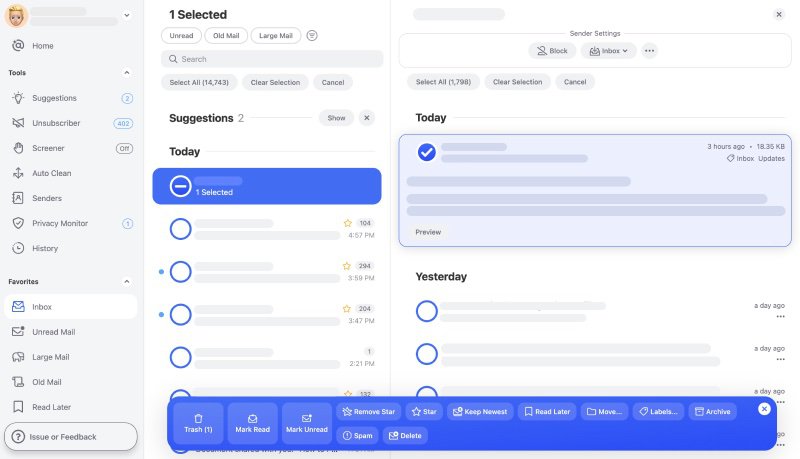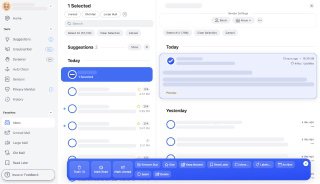 ---
How to Send an Anonymous Email - FAQs
Can you send an anonymous email?
Yes. You can send an unidentified message through disposable addresses, a secure VPN service, encrypting your message, creating an anonymous email account, etc.
Is sending anonymous email illegal?
Sending a message anonymously isn't illegal as long as you're not using it to break the law. For example, if you're not using your anonymity to spam or breach any digital laws such as the American CAN-SPAM Act, you are not doing anything illegal.
Can you find out who sent an anonymous email?
If the message was sent from a public IP address like a coffee shop, then you won't be able to figure out who sent you the unidentified message. You can find IP tracking tools all over the web.
How to send anonymous email without being traced?
We recommend using a service provider that specializes in anonymous emails or using a VPN. These are the easiest and most secure way to send messages anonymously.
How to send an anonymous email from Gmail?
When you create your Gmail account, make sure you don't use any personal information that will tie back to you. Next, you will need to make sure you have the email connected to a VPN for further security when sending emails you don't want to be traced back to you.
How to create an anonymous email account?
First, pick a service that specifically provides its services for users that want to send or receive messages without their personal identity being associated with the email. Then follow the steps of the provider gives to set up your account and how to hide your email address when sending emails. Here are some of the best options out there: ProtonMail, Hushmail, Tutanota, Mailfence, and Guerrilla Mail.