What Is a Disposable Email Address?
A disposable email address is a temporary account created to prevent an overload of unsolicited and marketing emails from cluttering their inbox. These accounts can be deleted manually or expire in a specific time frame when the user no longer wants to keep the alias.
What is a disposable email service?
Don't let the word disposable fool you, a disposable email service is an established company that provides temporary mail addresses to help online users prevent spam or unwanted marketing emails from entering their primary mail inbox. However, its main job is to store your messages on its server until you're ready to access them without worrying that others will have the ability to look at your messages and advertise to you.
How to Setup Your Own Disposable Email Server
You've bought your personal domain name, but want to take it a step further to ensure you'll keep spam out of your inbox (learn more about how email spammer gets your email address). After doing a Google search, you find out about self-hosting mail servers and want to know more. Here are a few basic tools you'll need to set up a successful server.
First, you'll need to confirm if you have a web server built-in or need to buy the software. The web server will be your foundation because it allows you to configure your computer's settings to communicate with web browsers when sending or receiving information from the Internet.
Now you can choose a private mail server to download to complete the process. Typically, you'll need to have a working knowledge of coding in HTML or JavaScript, but there are some mail servers that do the coding for you.
Before you can send disposable email from your personal server, you need to get a webmail interface. This will allow you to have an inbox where you can send and receive messages. Once you have that installed and created an account, log in to test the webmail interface out by sending a message to yourself or a friend's address. If the message was sent successfully then you're done!
Does Yahoo Have a Temporary Email Feature?
Yes, Yahoo allows you to create an alias for your primary account for extra privacy and controlling the amount of spam in your inbox. Yahoo temporary mail is a great alternative to those who don't want to set up their own private server and learn complicated code.
How to Set Up Yahoo Disposable Email
Here are a few simple steps to create a temporary address with Yahoo:
Create a primary account in Yahoo and go to Inbox
To the right of the page, click the Settings gear symbol
Select "More settings"
Click on the "Mailboxes tab"
The last section will say "Disposable email address"
Click on the "Add" button underneath it
Enter your base name and click "Next"
Type in your keyword following the base name
Click the "Save" button to finish setting up your temporary address
Where Can I Find the Best Disposable Email?
There are a variety of disposable mail accounts available to you and we realize that it can be overwhelming figuring out which is best for you. That's why we're going to go through the pros and cons of these top 5 disposable accounts.
👍🏼 Pros:
EmailOnDeck can provide you with a free disposable email address
Fast setup
👎🏼 Cons:
Only last for a day
Can only send emails to other EmailOnDeck addresses
👍🏼 Pros:
Has Google Chrome plugin
Allows you to have full ownership of address with a premium account
👍🏼 Pros:
Can create a permanent address
Can send messages from the temporary address
👎🏼 Cons:
It will delete emails within an hour so if you can't check it right away, the message is lost forever
👍🏼 Pros:
Don't need to have an account with 10minutemail to use its services
Accepts incoming mail from all servers
👎🏼 Cons:
Mail account is working only for 10 minutes unless you refresh the page to add an additional ten minutes to the time span
👍🏼 Pros:
Last 48 hours
Email account automatically generates when you visit ThrowAwayMail's site
👎🏼 Cons:
You can only receive emails
How To Prevent Getting Spam With Clean Email App
Having a temporary address to prevent spam may seem like the best solution but depending on how much time you have, that may not be the case. Since the addresses are temporary, you'll have to set them up again and again or go through a lengthy, complex process to create a private server. Ultimately, you'll be left frustrated and doubting if it's even worth the hassle.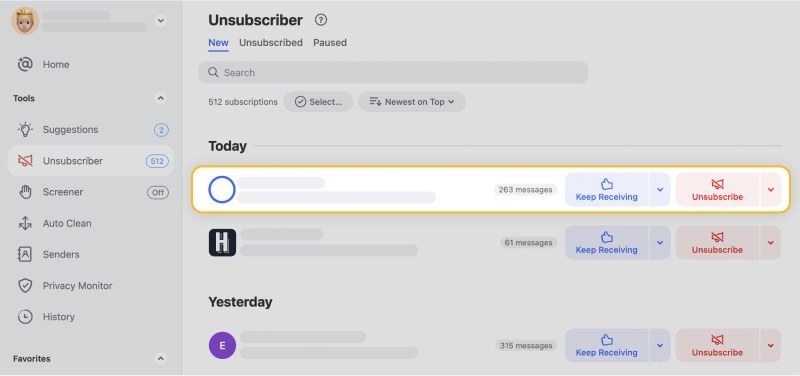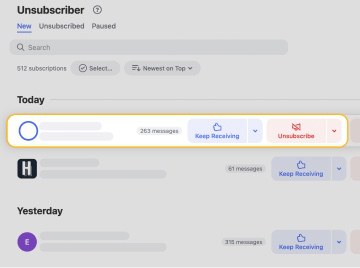 Clean Email can help with that by allowing you to unsubscribe from newsletters or block unwanted senders directly in the app, and protecting your privacy by not sharing or selling your data to third party sources. The best part is that you don't have to go through any lengthy process or the redundancy of setting up a mail account. All you need is your primary mailbox, establish rules, and the Clean Email app does the rest of the organizing for you.
Wondering how to become an email guru? Check out our articles about how to whitelist an email, how to send an anonymous email, and what the best fake email address generators are.
Conclusion
We hope this helped you figure out how to create your own temporary account and what a disposable mail is. If you decide that self-hosting a server or creating multiple temporary emails is not for you, then try integrating your mailbox with Clean Email. We'll do the organizing for you and make sure spam stays out of your inbox and into your trash. You won't have to worry about advertisements or a cluttered inbox ever again.
---
What Is a Disposable Email Address - FAQs
Does Gmail have disposable email addresses?
Gmail does not provide an option for creating disposable email addresses. You will have to integrate a temporary email from a third party as a forwarding address in your Google account.
How do I create a disposable email?
Create a disposable mail address by picking a service provider that offers temporary email accounts.
How to use Yahoo disposable email addresses?
When you create a new message, Yahoo allows you to change your sender email address to the temporary one, and receiving mail is the same process as a permanent email address.
What is the top list of disposable email addresses?
The best service provider is Temp Mail. Here are our top 5 temporary mail addresses: Temp Mail, Guerilla Mail, 10minutemail, ThrowAwayMail, and EmailOnDeck.
What are the best disposable email forwarding services?
The top disposable mail forwarding service is MailEnable. It's the most user friendly and is integrated with a webmail interface so that's one less step you have to complete. Here are the top 4 mail forwarding services: MailEnable, Zimbra, hMailServer, and Apache James.