Why Do Emails Go To Spam Instead Of Inbox?
Why are my emails going to spam? Well, spammy emails head straight into the recipient's spam folder if their mail service provider detects an issue. That's it.
A huge proportion of emails are automatically detected as spam and either deleted straight away or moved to a folder that is most likely never checked. Meaning activity from your mailing list is extremely low, your subscribers aren't reading your content or buying your products. This is a frustrating issue for an individual who cannot figure out why this is happening.
Unfortunately, the list of problems that flag a spam email gets longer as spammers figure out new ways to not get caught. Making it a little harder for you to send emails that seem completely legit, even if they are completely legit.
So, why do emails go into spam? Because a single factor or multiple factors of your emails seem a little off email service provider.
But don't worry, in this article, we will go through what indicates a spam email, how to ensure your emails are not detected by service providers, and how to prevent emails from going to spam.
First, here's a quick list of common reasons why your emails are going straight into spam.
You haven't set up any authentication
If you are using a custom domain name, you need to make sure it's authenticated! Do this by using an authenticator service for emails: DKIM (DomainKeys Identified Mail), and SPF (Sender Policy Framework). You won't need to do this if using a @gmail.com mailbox.
Your sender information is missing or incorrect
The email address must match your sender information and the authentication information. FTC also requires you to add a physical address at the bottom of every email. This helps prove you are a real person.
Issues with the mailing list
You may simply have issues with your mailing list, including:
Dead or inactive accounts within your mailing list.
No permission from subscribers. This can be gained using opt-in forms.
Low engagement. Nobody is opening your mail.
Suspicious attachments and links
Including too many attachments in your emails may be detected as spam, since this is an act spammers will do to lure readers into clicking a link or opening a file. Be sure to use proper links and only necessary attachments.
Misuse of images
Using too many images and not enough text will get you marked as spam. Dodgy text can be hidden in the HTML of images, and the ratio of image to text will also seem suspicious. Make sure your emails include enough useful text.
You have been marked as spam
The recipients of your mailing list will mark you as spam if you do not have an easily identifiable unsubscribe link OR if your emails look unprofessional. Also, if you are sending bulk emails too often. Include unsubscribe links within the header or footer of your emails.
Other reasons emails are going to spam include:
Using all capitals
Misspelt words
Incorrect grammar and punctuation
Too many emojis
How To Stop Emails Going Into Spam
Reduce the chance of your mail being marked as spam by actively doing the following.
Use an online mail tester! Simply send your email, or specific email that you know has been marked as spam to the address given when using the mail tester. Wait for it to check, then follow the advice from the analysis. Here is more information on email spam checkers.
Be sure to set up authentication if using a custom domain. Make sure you set up authentication for your custom domain before trying to send emails to multiple people.
Use a legitimate email sending service. Using a proper email sending service will prompt you to deliver professional, non-spammy emails. You can use a service like Mailchimp to do this.
Use images and text! If you want to include images into the body of the message, be sure to use a good amount of text too, and make sure it's not hidden within the image!
Spell check before sending, ensure grammar and punctuation is correct. Emails will be marked as spam if they look as though they have been written unprofessionally. Learn more about how to write a professional email.
Don't add any useless attachments. Attachments may seem suspicious to email services, or recipients.
Include sender information. Prove that you are a real person!
Insert unsubscribe links to avoid being marked as spam. Make it easy for people to unsubscribe. This may seem strange, but it stops you from being marked as spam!
Only link to legitimate websites. Check the websites you are linking to are secure.
Clear out any dead or inactive accounts. Remove accounts that are not reading your mailing list. This will boost your engagement rates.
Don't Forget To Declutter Your Inbox With Clean Email!
Clean Email doesn't work as a dedicated spam filter like Gmail's in-built filter to detect spam; however, it still can be used to stop spam emails from hitting your inbox and to organise incoming messages automatically.
The app's Screener feature detects all emails coming from new senders and keeps them quarantined for your review instead of sending them to your inbox directly. From here, you can decide if you want to receive these messages in your inbox or want to block some senders. This way, you will stop all spam emails from cluttering your inbox.
Also, our Auto Clean feature can help users clear out their inbox by setting automatic rules for managing incoming messages automatically. For example, you can create a rule to send emails from certain senders straight into the trash or a different folder.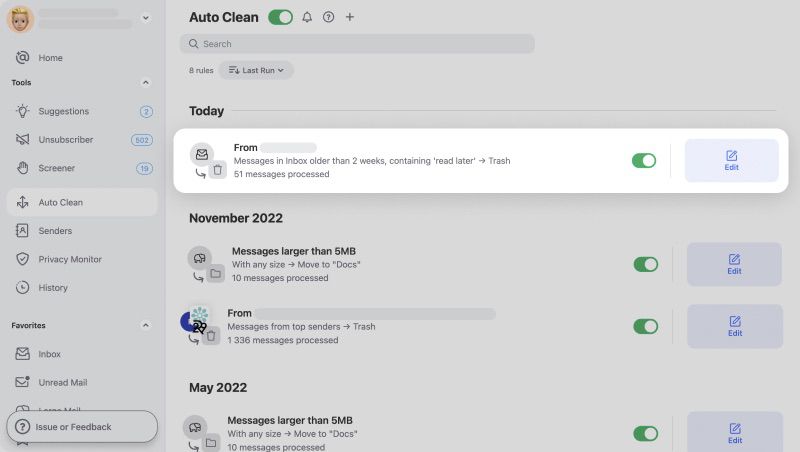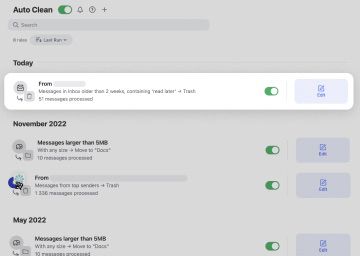 You can always change the rules you have created within the Auto Clean view in the left sidebar.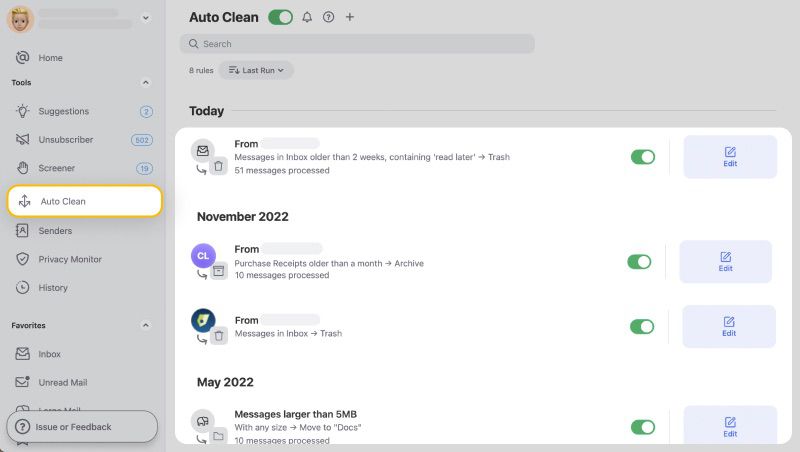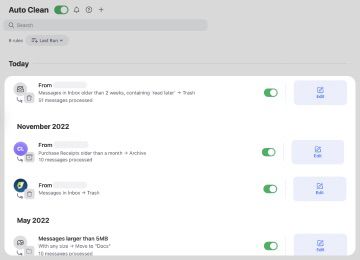 Users can quickly unsubscribe from unwanted mailing lists using the Unsubscriber feature. You can view all subscriptions in one place and choose to remove yourself from the list, read later, or keep the newsletter.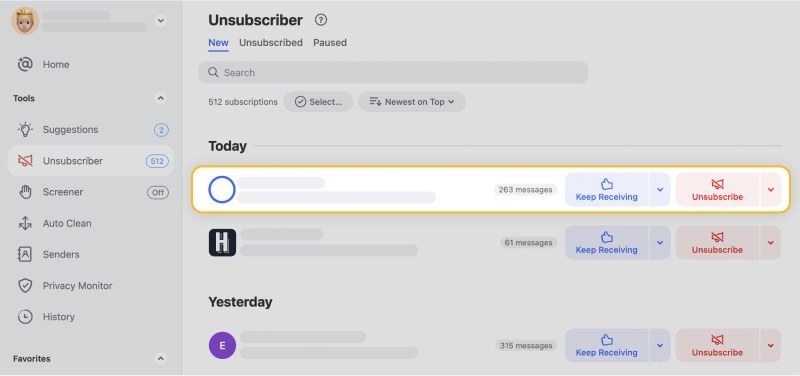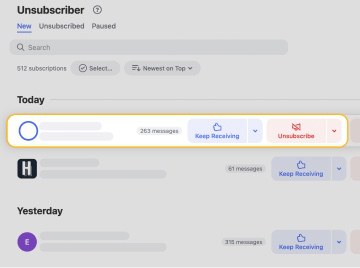 By choosing to read later, this newsletter will be sent to a separate Read Later folder. Creating a cleaner inbox!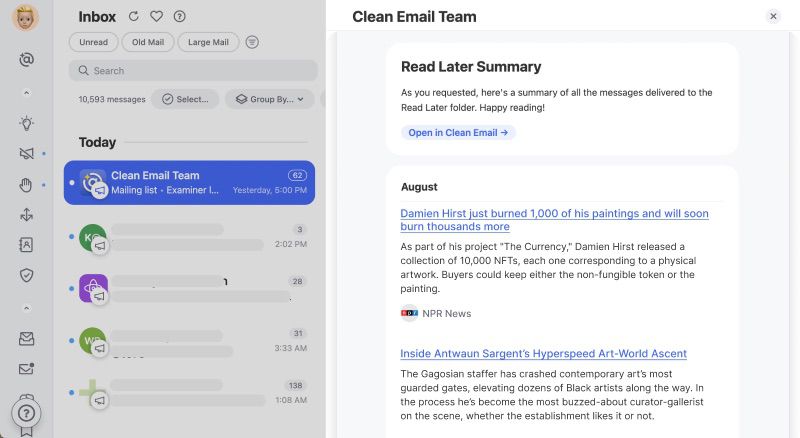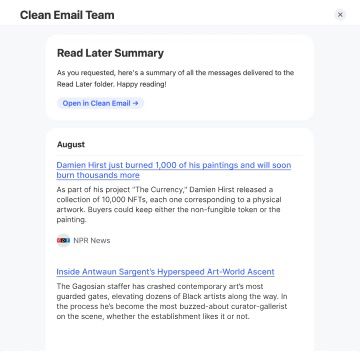 💡 Note: Clean Email works hard to ensure your information is secure, and your settings are private. We never sell or share your information with any third parties.
Wondering to get more security tips and tricks? Check out our top list of the best email security software and learn how to stop email spoofing.
---
Emails Going To Spam - FAQs
Why are my Gmail emails going to spam?
Your emails are going to spam for several reasons, read this post to identify why this is happening. One main reason could be the lack of sender information or authentication.
Why are my incoming emails going to spam?
Your email service provider has detected something suspicious within an email. Emails containing harmful links or attachments will be sent straight to spam.
Why are my emails going into the recipient's spam folders?
Because your emails do not seem legitimate enough. Follow the advice within this article to avoid your emails landing in recipients' spam folders.