Don't Miss Important Email Messages
Playing with Gmail email settings can be a dangerous game. Instead of tweaking Gmail to better reflect your email workflow, you could end up asking yourself a very unpleasant question: Why am I not receiving emails on Gmail suddenly?
In this article, we provide multiple answers to this question, and it's up to you to follow our detailed step-by-step instructions to fix the problem. Just make sure to hurry up because you don't want to miss an important email just because you're not receiving Gmail emails properly.
Why Am I Not Receiving My Emails?
For a new email to appear in your Gmail inbox, the email must successfully complete a long journey.
First, it must leave the sender's mail server and reach the mail server behind your Gmail account. Then, your mail server must process the message and decide that it's legitimate and safe. Finally, you must open the message using your email client of choice.
Here are just some things that can go wrong during this process:
Delays: Depending on where you and the sender are located, the email message may have to travel around the world, hopping from one server to the next. Usually, this process is nearly instantaneous, but it's also not uncommon for messages to become delayed.
Connectivity issues: A working connection to the internet is necessary to send and receive email messages. When sending and receiving messages with large attachments, it also helps if the connection is reasonably fast.
Filtered as spam: Modern email services like Gmail perform many different checks to separate legitimate messages from illegitimate ones, but they're not completely reliable. An email from a legitimate sender could still be flagged as spam if it contains a suspicious attachment or link, for example. This is also a possible answer to the question: Why have my emails disappeared from my inbox?
Insufficient storage space: Google gives all Gmail users 15 GB of free email storage space. When you run out of available storage space, you can't send or receive messages anymore. To solve this problem, you can either delete old emails or purchase additional storage space. Both solutions will get rid of any "my mailbox is full" warning message.
Misconfigured settings: From email filters to forwarding, there are many settings that can lead to Gmail not receiving emails properly if misconfigured. Fortunately, reverting back to the default settings is usually all it takes to fix misconfiguration issues.
Now that you're familiar with some of the most common reasons for not getting emails, it's time to explain what you as a Gmail user can do about it.
Why Am I Not Receiving Emails on Gmail?
On the web, you can find many Gmail users asking questions such as the following one: "Help! My Gmail is not receiving emails. What should I do?"
If you've found yourself to be among those asking questions such as the one above, then our step-by-step instructions are here to help you.
Why Am I Not Receiving Emails on the Gmail Web App?
There are two main reasons for not getting emails on the Gmail web app: insufficient storage space and email filters.
If you suspect the former is the cause of your troubles, then scroll down to read how Clean Email can create space for new emails. But if you've created email filters in the past and have reason to believe they're now preventing messages from appearing in the Gmail web app, you need to do the following:
Log in to your account using a web browser.
Click the Settings gear icon and choose the See all settings option.
Go to Filters and Blocked Addresses.
Delete all unwanted filters by clicking the Delete button next to each filter.
Email filters can also be used to move email messages that match certain criteria to the spam folder, so if you're wondering, "Why are my emails going to spam?" then you may have found the answer.
Why Am I Not Receiving Emails on my Desktop?
Many Gmail users read emails using third-party email clients. For a third-party email client to receive Gmail emails, you need to do the following:
Log in to your account using a web browser.
Click the Settings gear icon and choose the See all settings option.
Go to Forwarding and POP/IMAP.
Click Enable IMAP.
Add your Gmail inbox in the client using your email address and password.
Why Am I Not Receiving Emails on my iPhone?
It's possible that you're not getting emails on iPhone because you haven't linked your Gmail account properly in the Mail app. Follow the steps below to add it again:
Launch the Settings app.
Scroll down and tap Mail.
Select Accounts and then tap Add Account.
Choose Google.
Sign in with your email address and password.
Why Am I Not Receiving Emails on My Android Phone?
Most Android smartphones will ask you to sign in with your Gmail address during the initial setup to enable essential features, such as access to the Google Play Store.
One possible reason why you're not getting emails on your Android phone is that the email address you used when setting up your device for the first time isn't the same one you use for regular email communication.
Luckily, adding an additional Gmail account is easy:
Open the Gmail app.
Tap your profile picture.
Select the Add another account option.
Choose Google.
Sign in to your account.
How Clean Email Can Create Space for New Emails
Insufficient storage space is among the main reasons for Gmail not receiving emails on iPhone, Android, desktop, and web. If you're wondering what to do when you are not getting emails because there's no storage space left for them, then you should know that manually deleting old messages isn't your only option.
You can also clean Gmail storage in bulk using an inbox organizer like Clean Email, which can intelligently group similar messages together (such as social media notifications, newsletters, or messages you've sent to yourself), organizing them into so-called Smart Folders.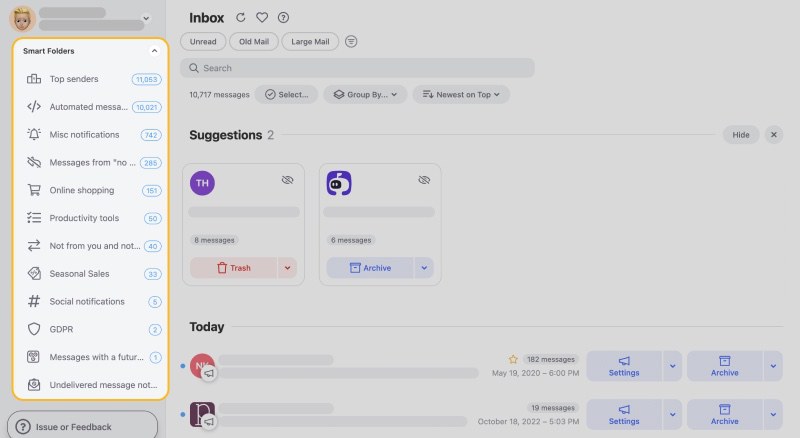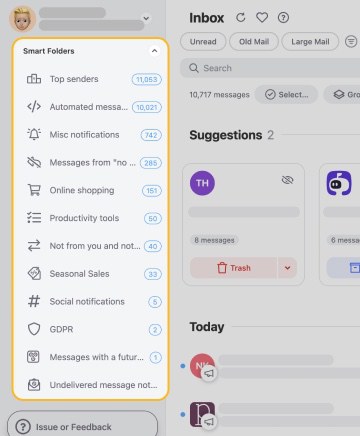 You can then apply common email management actions (move, delete, archive, and so on) on entire groups of emails with a few simple clicks. What's more, the Auto Clean feature makes automating the same actions as simple as ticking a checkbox.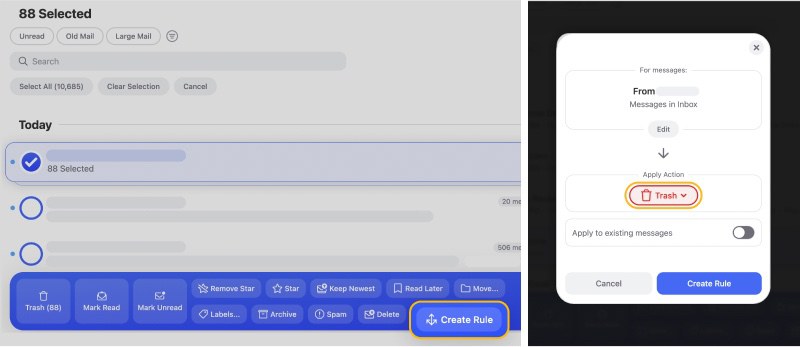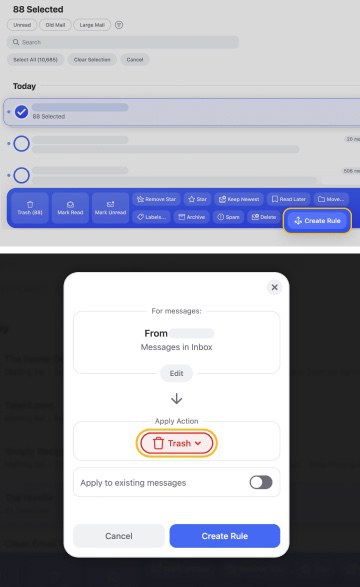 Other features offered by Clean Email that can help you create space for new messages include Unsubscriber, which makes it easy to get rid of newsletters and promotional emails or send them to the 'Read Later' folder. These features work with all popular email services—not just Gmail—and they're designed to respect your email security and privacy.
Having other issues with your emails? Check out our guide about "What Does Queued Mean in Gmail?"
---
Gmail Is Not Receiving Emails? - FAQs
Why is my Gmail not receiving emails?
There are many potential reasons why it could happen. For example, it's possible that you've run out of free storage space or misconfigured your mail settings somehow.
Why is my email not updating?
If your email isn't updating as it should, you may be experiencing internet connectivity issues. Check if you can access the web and contact your ISP if you can't.
Why are some emails not coming through?
Gmail scans all incoming messages for spam and malicious content. Occasionally, it makes a mistake and flags a legitimate message as spam.
How can I restore my Gmail inbox settings?
Unfortunately, it's not possible to quickly and easily change all Gmail in one go. Instead, you have to change each and every setting one-by-one.
How do I refresh my Gmail?
To refresh the web version, simply reload the page by pressing F5 on your keyboard. To refresh the mobile app, pull down the screen when viewing your inbox.