The Importance of an AOL Email Signature
Email has easily become our most professional form of communication. In many cases, people draw their first impressions of us based on the digital messages we send to them. This means you'll want to have a clean, well-organized email signature established well before you compose a message to a colleague or fire out your resume for a potential job opportunity.
Typically, your email signature provides people with important information they may need, such as your name, contact information, and important links. Depending on the situation, though, an email signature can help you stand apart from the crowd or make you seem more personable — all of which can be important in our modern world.
Step-by-Step Guide on How to Add a Signature in AOL Mail
If you're trying to set up a signature in AOL Mail, then follow these steps:
Open your AOL inbox.



💡 Note: This instruction is for the new web version of AOL Mail. If you use the old one you can upgrade it by clicking the Options button (in the right top corner), then in the pop-up window, select Try the new AOL Mail.

Click on Settings in the upper right corner.
Select More Settings from the drop-down menu.

Then choose Writing email from the left sidebar.

Look for the section titled Signature.
Toggle the button to use the signature.

You will see a text box where you can enter your signature into. Use this to format your signature with the provided options.

These changes will save automatically.
If you are using your AOL Mail for business purposes, then you will probably want a more professional email signature. As you will soon see, though, your formatting options are limited with the provided tools within AOL Mail. Luckily, you can paste HTML you write yourself or use an email signature generator to create. Some options include WiseStamp, Newoldstamp, and LetsSignIt.
Can I Add a Signature in AOL Mobile App?
As is the case with most other email clients, the AOL Mobile App works a bit differently than AOL Mail through your web browser.
If you use the mobile app frequently, you will likely want to set up a signature there as well since the AOL signature setup you have in AOL webmail does not translate over to the mobile app. However, some of the features, including the formatting options for your signature, are a lot more limiting. This means you will only be able to have a plain text signature on the AOL mobile app.
How To Add A New Signature in AOL Mobile App:
Open the AOL mobille app.
Go to Inbox.
Tap on Accounts at the upper left.
Tap on Settings & privacy.

Scroll down to General, then tap on Signatures.
Below the toggles for customizing for each account and including in new messages, you will see a spot to write in a signature up to 1000 characters. Although you can press Enter to make it multiple lines, you cannot add any HTML.

Set up your signature how you'd like, then leave the menu. It will save automatically.
How Clean Email Can Help You Improve AOL Mail Even More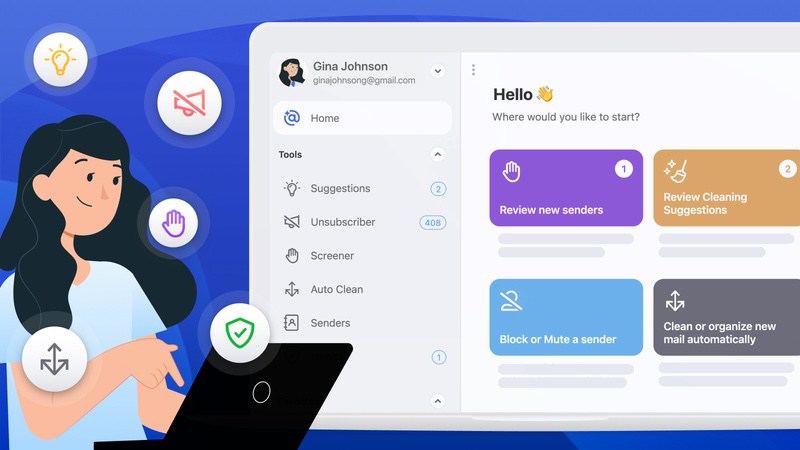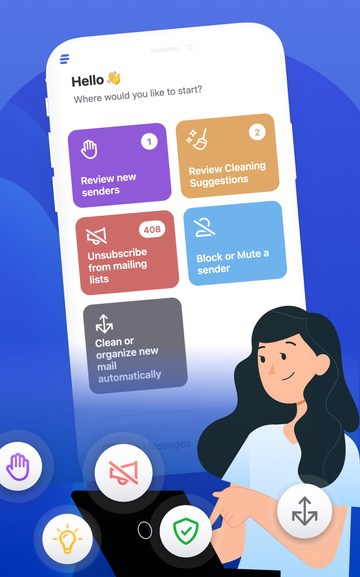 Although Clean Email can't help you create a fully personalized AOL email signature, it can help you manage your AOL inbox to maximize your productivity. In fact, Clean Email can help you do things like organize your messages more efficiently, remove junk email or other types of spam, and set automated rules to help you spend less time checking your messages each day.
For example, the Auto Clean feature turns common tasks you perform into automated routines so you don't have to perform them yourself.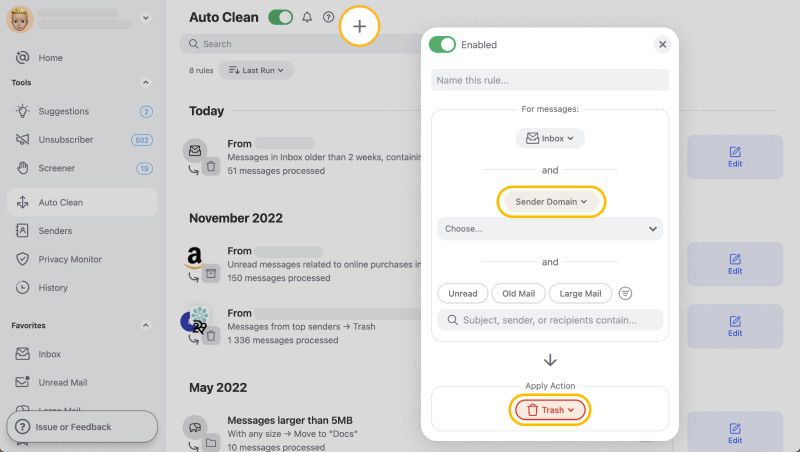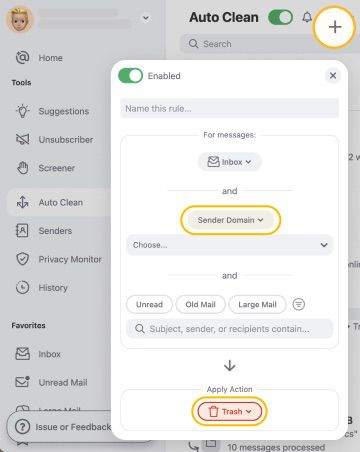 Auto Clean can mark certain messages as read, archive messages after a certain date, or move messages about work into a dedicated folder. All you have to do is perform the task one time within Clean Email, then select "apply to future messages" to have the system take over.
Furthermore, you don't have to spend hours trying to customize Outlook views. Instead, you can let the Clean Email Smart views organize your messages into smart email bundles such as "Social Media Notifications" or "Bank Information." Then you can just go to that view, see several messages at once, and deal with them on your own terms.
These are just some of the ways that Clean Email can take your inbox management up a notch and keep your inbox clean.
---
Signature in AOL - FAQs
What Is AOL Desktop Gold? How Do I Set Up A Signature in AOL Desktop Gold?
AOL Gold is an all-in-one desktop application you can use to check your AOL email, read the latest news, and search the internet for information. It offers more features than the basic AOL Mail web app, especially in terms of security and message filtering.
One of the perks of AOL Desktop is the signature setup. In fact, unlike AOL Mail, you can save multiple signatures within AOL Desktop Gold and choose which one you want to use.
To set up a new signature in AOL Desktop Gold:
1. Open AOL Desktop Gold.
2. Press Mail in the top bar.
3. Select Set Mail Signatures.
4. Fill in the signature info or paste a preformatted signature.
5. Press Save to commit the changes.
How Do I Add A Picture To My AOL Email Signature?
You can use the copy + paste function on your computer to add a picture to your email signature, or you can use email signature generators to create fully customized signatures that include images.
To add an image to your AOL signature using HTML, simply:
1. Write the code for your image or use your preferred email signature generator to create the HTML.
2. Copy the HTML.
3. Go to your AOL inbox.
4. Navigate to Settings → More Settings → Writing email → Signature.
5. Paste the HTML into the box.
6. These changes will be saved automatically.
How Do I Edit An Already Existing AOL Mail Signature?
Since AOL Mail only lets you maintain one email signature at a time, you may eventually need to edit yours. To do this:
1. Open your AOL inbox.
2. Go to Settings → More Settings → Writing email.
3. Scroll down to the Signature section. Since you have already turned on a signature, you can simply go into the signature box and make edits or paste new HTML coding into the box.
4. It will save automatically.