Why Create an Email Signature in Canva
You don't actually need a graphics editor to create a mail sig. In fact, you don't need any special software application, so why use Canva? Because you want to make your sig to be memorable, and plaintext signatures are boring.
With Canva, even people who have never used Adobe Photoshop or some other graphics editor can create a great-looking sig for use in Gmail, Outlook, Yahoo Mail, and other email services and clients.
Best of all, Canva has a generous free plan that gives you access to over 250,000 templates and hundreds of thousands of free photos and visual elements.
Canva Email Signature Creation Tips
Anyone can create a mail sig in Canva, but only those who follow the tips below can create sigs that are both nicely designed and functional.
Break it down into smaller segments: The online graphics editor can only output your sig as an image, so you need to plan accordingly and break it down into smaller segments if you want to include clickable links. In particular, we recommend you add social media buttons manually in your email client below the sig itself. That way, you can make them all clickable.
Don't include too much text: Because of how convenient Canva is, it's almost too easy to go overboard and include too much text in your mail sig, such as overly detailed contact information, quotes, and so on. Remember that your sig will be an image, so your recipients won't be able to easily select any text it contains.
Make sure the signature isn't too large: Nobody likes to receive emails that take up an absurdly large amount of storage space because they contain large, poorly optimized image sigs. Generally, there's no reason at all for the width of your signature to exceed 1,000 pixels, so it shouldn't be a problem to keep its size under 100 kB using a tool like Image Compressor.
Now that you're familiar with the most important Canva mail signature creation tips, it's time to put them into practice.
How to Create an Email Signature in Canva
Let's create a simple but effective mail sig using one of the many email signature templates Canva provides for free.
The template we're going to use lets us add a headshot, logo, and website link. We're also going to include social media buttons—but not in Canva. Because Canva won't let us export our sig as HTML, we wouldn't be able to make the buttons clickable. That's why it's better to add them directly in the mail service.
Go to Canva and sign in.
Click the search bar and enter "email signature."

Select any template you want. Just make sure the template roughly corresponds to what you want to create.
Add your headshot and logo.

Simplify the signature by removing unnecessary graphical elements.
Add your contact information.

Fine-tune the look of the signature.
When you're done, click Share and download the signature as a PNG image. If the downloaded image is blurry, too small, or has too much whitespace around it, then you can screenshot your sig directly in Canva, which is what we did.
You now have a mail sig that you can insert as an image in Gmail, Outlook, and other email clients.

You can make the sig clickable by highlighting it and choosing the Link or Insert URL option.

To add social media buttons, gather the necessary icons from a site like IconFinder.
Add them one by one just like you added the sig itself and turn them into clickable links.

You can now start using your new signature.
A straightforward signature like the one we've just created should display without any issues across most devices.
Email Power Users Keep Their Messages Organized
Email signature templates in Canva make it possible for all email users to quickly and effectively improve their professional image, but that's not enough to become a true email power user.
For that, you also need to keep your messages organized, and that's something Clean Email can help you with.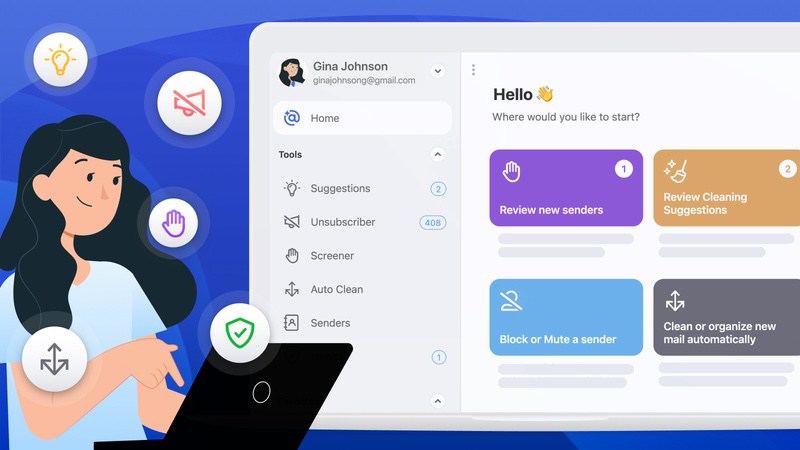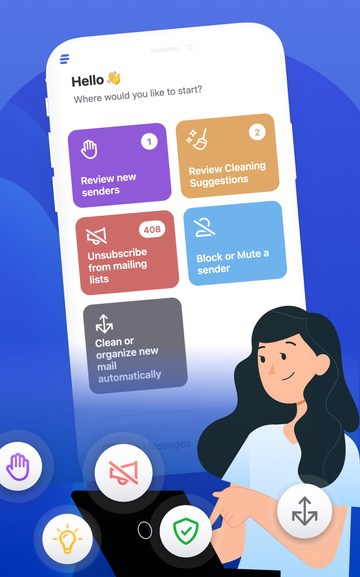 This easy-to-use inbox organizer can help you eliminate unwanted messages by automatically organizing them into easy-to-review bundles. You can then apply all kinds of actions to these bundles (move, achieve, delete, and more) with a single click.
Every time you organize messages using Clean Email, you get the chance to create an automation rule for the inbox organizer to execute when a matching message arrives in your inbox. This is how easily you can, for example, label Facebook alerts:
Go to: https://app.clean.email/.
Sign in with your mail address.
Navigate to the Inbox folder.
Select any message from Facebook.
Click Label and pick a suitable label.
Choose the apply the same action to all future similar messages.
Confirm.
Clean Email can also unsubscribe you from receiving marketing emails that no longer interest you, and its Privacy Guard feature can check your mail address against known data breaches.
These and other features make it a must-have tool for all email power users who want to be as productive as possible.
---
FAQ
Should I use Canva or a mail sig generator?
You can achieve great results using both methods, but mail sig generators are usually preferable because they can output HTML code.
Are Canva sigs responsive?
No, they are not. Sigs created using the online graphics editor are simple images, so they can't dynamically adjust their appearance based on display resolution and other factors.
Does it cost money to create a mail sig using Canva?
No, the online graphics editor includes plenty of free mail sig templates to choose from, so you don't need to spend any money.