Your Email Signature Matters
One thing that's great about email messages is that you can reply to them with a single click. Your email client will automatically fill in the email address of the person you're replying to, and you can simply compose your message and click Send.
But what if you would rather contact the sender by phone or connect with them on social media? If they've included an email signature, then all the information you need is right there—no need to request it first.
For the same reason, your own emails should also include a mail sig. In addition to making it easier for others to reach you, a mail sig that includes a photo of yourself or perhaps your company logo helps your recipients understand who is messaging them, and that's important if you expect them to hear back from them.
To create a professional mail sig, you don't need any other tool besides Google Docs, a free online word processor. Google Docs email signatures can include any information you want, and they work in Gmail, Outlook, Yahoo, and other email services.
Tips for Creating an Email Signature in Google Docs
When creating an email signature in Google Docs, there are some best practices that you should adhere to as well as some things you should avoid doing:
Keep the signature simple
Include all important contact information
Avoid large images
Add a professional headshot
Don't include paragraphs of text
If you keep in mind these tips when following the instructions provided in the next section, you will definitely end up with a signature that you can be proud of.
Create a Unique Email Signature in Google Docs
There's an infinite number of ways to create an email signature in Google Docs. For the purposes of this article, we will create an elegant sig with a place for your headshot, contact information, and social media icons. Feel free to customize the resulting signature anyway you want.
Step 1: Create a 2x1 Table
It's a good practice to start with a simple table layout when creating anything but the most simple mail sig possible. Google Docs makes this simple:
Open the Insert menu.
Select the Table option.
Create a 2x1 table.
We will use the left cell for a headshot and the right cell for everything else, so you can go ahead and make the left cell a bit narrower. Also, increase the height of the table so that you have more space to work with before moving on to the next step.
Step 2: Add Your Headshot
To add your headshot inside the left cell (you can, of course, add your headshot inside the right cell instead, but the left cell is where most people place it):
Select the left cell.
Open the Insert menu.
Select the Image option and choose the location where your headshot is stored.
Select the image you want to insert and confirm.
Click the image and resize it so that it isn't too small or too large.

Step 3: Add Your Contact Information
We recommend you add your name, your job title, a link to your website if you have one, your work telephone number and email, as well as any other contact information you want your recipients to have. To do that:
Select the right cell.
Write each piece of contact information on a separate line.
Use basic formatting options (such as bold and italic) to make your contact information easily readable.

Step 4: Add Social Media Icons
If you're happy with the sig as it is or don't want to include your social media profiles, then you can skip this step. If you would like to include your social media profiles, then continue following our instructions to learn how to add them in the form of attention-grabbing icons:
Download the icons you need from a site like IconFinder.
Place the cursor where you want to insert them and click Insert → Image → and upload your first icon.
Resize the icon to fit the sig.
Right-click the icon and select the Insert link option.
Enter a link to your social media profile.
Repeat for each icon.

Step 5: Insert Your New Signature
Now that you have a mail sig you can be proud of, it's time to configure your mail client to use. In most cases, you can simply go to settings and copy & paste it into the appropriate textbox.
To verify that your signature is working as intended, you can send an email to yourself.
Organize Your Inbox Using Clean Email
Not all senders use well-designed mail sigs that include all important contact information without increasing the overall email message size. That's why it's useful to connect your inbox with a powerful organizer like Clean Email.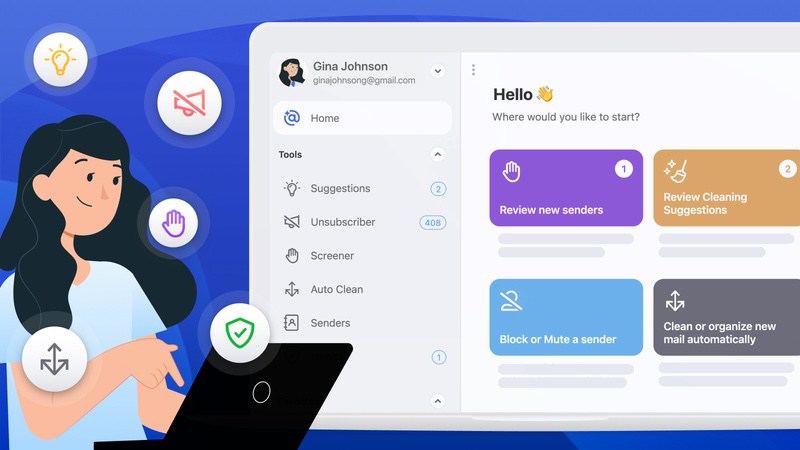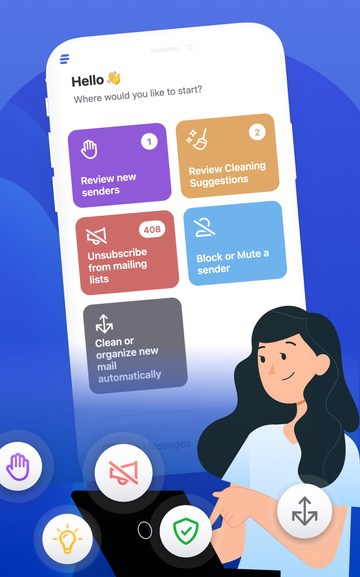 Clean Email can quickly display all messages that exceed a certain size, and you can then configure it to automatically organize them however you want. For example, you can give them a special label so that you can clearly see which messages are taking up precious storage space:
Go to: https://app.clean.email/.
Sign in with your email address.
Select the "Emails larger than 10 MB" Smart View.
Click Select all.
Click Label and create a suitable label.
Choose to apply the same action to all future similar emails.
In addition to automatically organizing your messages, Clean Email can also block unwanted senders, prevent annoying subscriptions from reaching your inbox, or check if your email address has been compromised.
---
How to Create an Email Signature in Google Docs - FAQs
Are the other ways to generate HTML sigs?
How to add the created signature to my email?
Generally, the steps you need to follow to add your email signature to Gmail, Outlook, Yahoo, and other mail services are always the same:
1. Copy the signature to the clipboard.
2. Go to your inbox.
3. Open settings.
4. Find the email signature settings option.
5. Paste the signature into the appropriate textbox.
Will the sig look good on mobile devices?
That depends on how the sig is designed. Simple sigs like the one we created in this article usually display correctly even on mobile devices.