Top 7 Best Free Email Signature Generators
When you enter the search query "email signature generator free" in Google or another similar search engine, you're guaranteed to be presented with a staggering number of search results. Going through them to find the best email signature generator can be a boring, time-consuming process.
The good news is that you don't have to because we've done the research for you, and here's our list of the top seven best email signature generators.
Price: $5.8 per month for personal use
WiseStamp is the best mail sig generator for people who don't want to spend much time to get great results. The generator has an intuitive user interface that makes it possible to create a stunning sig in a couple of steps, and you can include your contact information, social media profiles, and even a handwritten signature.
We appreciate that WiseStamp is also an HTML email signature generator, so the sigs created with its help can be used just about anywhere. Unfortunately, not all features and templates WiseStamp has to offer are included in the free version, but what's included should be enough for most users.
Price: Free
HubSpot is a well-known developer of software products for inbound marketing, sales, and customer service. Its free mail sig generator is supposed to introduce mail users to its products, and it does a great job. Not only is it completely free, but its features can rival even many paid generators. HubSpot Academy members can include any certificates they've earned to highlight their expertise.
The only thing we don't like about HubSpot's mail sig tool is the fact that it doesn't work on mobile devices even though it's a web-based app.
Price: $19 for one sig
As far as easy-to-use sig tools go, you can't go wrong with signature.email. This freemium tool comes with six free templates that you can use to get started. Each template can include a certain number of fields and images, and you can purchase the pro version of signature.email to remove all restrictions.
The good news is that even the free version lets you style your sig however you want, so you can make it truly yours.
Price: from $4 a month
MySignature is a feature-packed mail sig creator that lets you choose from a large number of professionally designed templates. Unfortunately, most templates MySignature has to offer are paid. At the time of writing this article, we were able to find only five free templates, but at least they all looked great.
All available templates can be customized in a number of different ways, and MySignature even provides handy add-ons that let you add a sign-off, call to action, or, for example, a calendar event.
Price: from $5
Si.gnat.re is a freemium email sig generator capable of creating simple-yet-functional signatures. You can use it for free forever, but the paid version does add a few useful extra features that may be worth paying for depending on your needs. For example, the paid version supports macOS Retina displays, and it lets you save your signatures so that you never lose them.
While Si.gnat.re does offer a large number of customization options, it doesn't offer any templates, so it takes some effort to create something truly unique.
Price: from $4.00 a month or $28.00 a year
Gimmio is a professional branding and marketing platform, and it provides a free mail sig creator as a stand-alone product. Gimmio's tool comes with several useful features that are not available anywhere else, such as the ability to update multiple sigs in one step or the option to bulk import contact information in a wide variety of supported CSV formats.
These and other advanced features make Gimmio a great choice for businesses that want to quickly and effortlessly generate unique mail sigs for their employees without paying a professional a lot of money to do it for them.
Price: from $8 a month
Newoldstamp is another freemium mail sig tool that offers a wide range of templates for you to choose from. Once you've selected your preferred template, it takes just a few simple steps to customize it and save it for Gmail, Outlook, Yahoo, and other mail services.
Business users are encouraged to upgrade to Newoldstamp PRO and unlock powerful features such as the ability to insert beautiful and targeted banners with a call-to-action message, just to give one example.
Conclusion
With the best free email signature generator, you can create a visually attractive mail sig that includes everything from basic contact information to social media links in a few simple steps—no graphic design skills or HTML knowledge required. In this article, we have described the top seven tools to generate email signatures for free, and not it's up to you to make good use of them.
Organize Your Inbox With Clean Email
If you want to become an email power user, then creating a mail sig is not enough. You must also master the art of inbox organization, and Clean Email is the perfect tool for the job.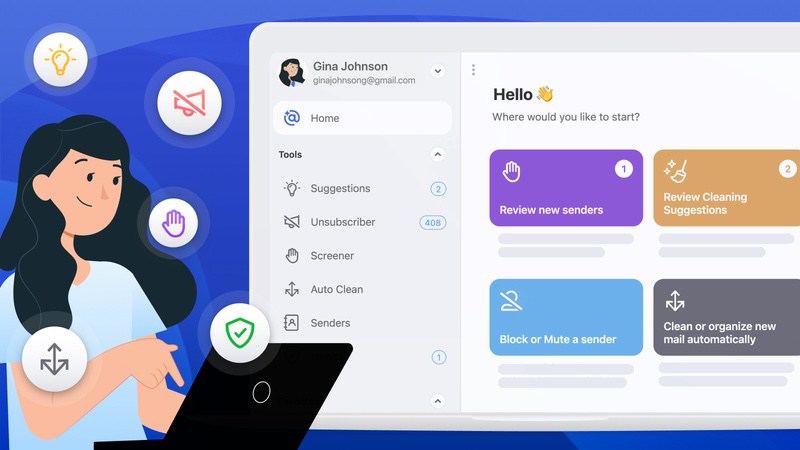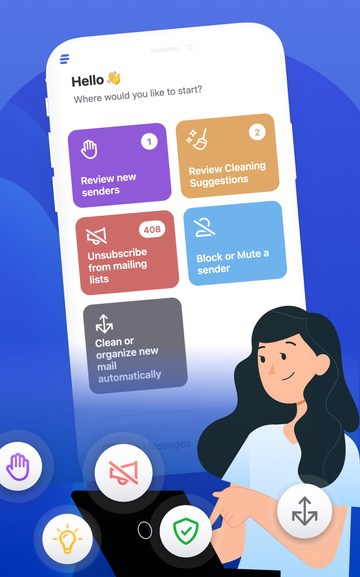 This intuitive inbox organizer makes it easy to manage multiple mails at once by grouping them according to various criteria. You can, for example, group messages by sender, size, date, or their type (social notifications, emails from dead ends, and so on).
Any action you apply can be automated with a single click, which means that you can stop wasting valuable time on inbox organization and can start spending it more productively.
These and many other useful features, such as the ability to Unsubscribe or Pause unwanted emails, work with all major email services, and they're designed to protect your security and privacy.
---
FAQ
How do I create an HTML email signature?
You can create an HTML email signature manually using nothing but a text editor, but it's much easier and quicker to use one of the best email signature generators described in this article.
How to create a professional email signature?
You can create a professional mail sig using a free email signature generator. The signature should include your basic contact information, and you can also add a photo, social media links, and more.