10 Tips on How to Make a Professional Signature for Gmail
Just like your business card, a professional Gmail signature, or just sig for short, is an important part of your professional image. When done right, it can help you leave a positive impression on those who receive your messages. On the other hand, an amateurish mail sig can make others think less of you or cause your messages to become unreadable.
To create a mail sig others will want to look at, follow these 10 tips:
Keep the design simple: While it's fairly easy to optimize Google Mail signature, it's much more difficult to also optimize it for all other major clients and services, such as Microsoft Outlook, Apple Mail, Mozilla Thunderbird, and others. By keeping the design simple, the sig will much more likely display as intended everywhere.
Add essential contact information: Every sig should include essential contact info, such as your name, phone number, and email address (yes, including your email address is a good idea because it makes it easier for the recipients of emails forwarded as plain text to contact you). If appropriate, also include your physical address.
Mention your job title and department: A professional Gmail signature that's meant to be used for work-related purposes should always include your job title and job department so that the recipients of your messages don't have to look you up on LinkedIn just to discover who you are.
Add social media icons: If you're active on sites like Twitter, LinkedIn, or Facebook, then you should consider adding your social media icons to your sig. In some professional circles, such as marketing, social media presence is absolutely vital, so making your accounts easily discoverable is a good idea. What's more, social network sites can serve as alternative communication channels in case your recipients experience deliverability issues.
Make links and addresses clickable: Gmail supports the HyperText Markup Language (HTML), so you can make links and addresses in your mail sig clickable for extra convenience.
Add a professional photo: To make your Google Mail signature stand out, you can include a professional photo of yourself. Just remember that the photo will display only in Gmail HTML signatures. If your organization enforces plain text messages for security purposes, then there's no reason to bother including a professional img because nobody will ever see it.
Use an online signature generator tool: While you can create a sig in Google Docs or Microsoft Word using readily available templates, you can usually achieve better results in less time using an online sig generator tool like WiseStamp or Free Email Signature Template Generator by HubSpot. The most popular generators can output Gmail-optimized sigs that you can simply copy and insert—no extra work needed.
Optimize the size of the signature: Even though Gmail gives all users a fairly generous amount of storage space for free, you should still optimize your signature so that it's not unnecessarily large. Before adding images, make sure to compress them as much as possible without making them blurry.
Make sure the sig is responsive: These days, many emails are opened on mobile devices, so it's important to make sigs responsive otherwise they won't display well on smartphones and tablets. Fortunately, most sig generators do this automatically.
Avoid promotional content: It's perfectly fine to create a CTA email signature, but you shouldn't go overboard with promotional content. Gmail users receive a boatload of unwanted promotional messages every day (which is why tools like Clean Email are so important), and the last thing they want is to see more promotions in mail sigs.
How to Create a Professional Signature for Gmail
Now that you're aware of basic mail signature dos and don'ts, it's time for us to explain how to create a Gmail professional email signature, and there are three methods you should know about, so let's take a look at them.
Manual Creation
Even the most complicated mail sigs in the world can be created manually using a basic text editor. For example, this is what a simple sig can look like: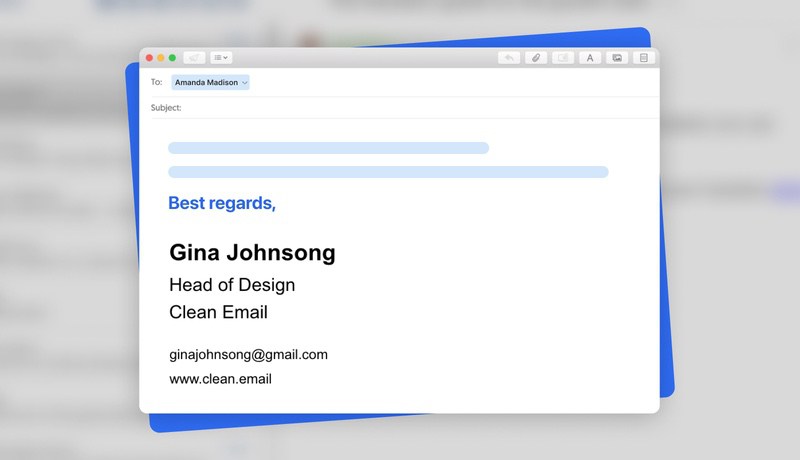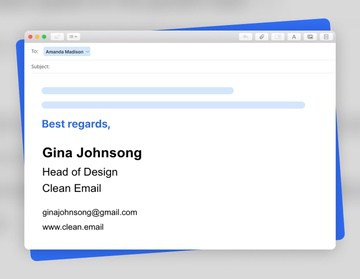 While fine for simple sigs, we don't recommend the manual approach if your goal is to create a sig with a photo, social network icons, clickable links, and so on. Why not? Because you would have to write it using HTML, and that can take a lot of time even if you know the markup language already.
Word Templates
You can also create a Gmail professional signature based on a readily available Word template, and the process is simple:
Download a suitable template.

Open it in Microsoft Word or Google Docs.
Edit the signature to include your contacts.

Copy the signature and clean it up using a Word to HTML converter.
That's it! Your mail sig should now be ready for use!
Online Generators
For most Gmail users, online generators are typically the best option because they feature an intuitive step-by-step signature creation process to make it easy for everyone to create something great.
One popular online generator is WiseStamp because it has an impressive collection of Gmail email signature templates that can be customized in minutes. Here's how to get started with it:
Choose if you want to create a personal or a company-wide sig.

Use the provided sig editor to customize your signature.
Click "OK, I'm Done" when you're ready to export your signature.

Copy and insert the signature into Google Mail.
To remove branding from your WiseStamp sig, you need to purchase WiseStamp PRO (starts at $5.8/mo when billed annually).
The Best Tool to Clean Your Gmail Inbox
As a Gmail user, you should strive to keep your inbox clean and well-organized, and Clean Email makes this easy.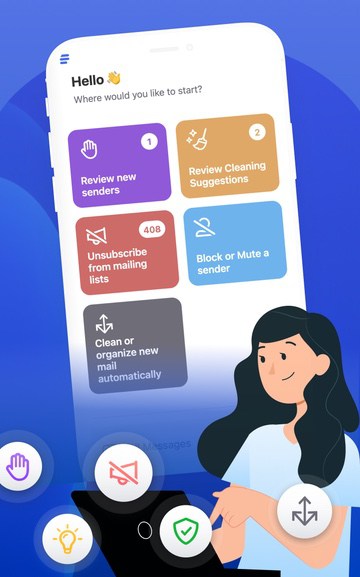 How? By automatically grouping your messages into thematically similar bundles (social media notifications, emails older than 1 year, emails larger than 10 MB, and so on), making it possible to organize multiple messages with a single action.
What's more, Clean Email lets you perform common email management actions automatically, saving you precious time that you can better use for other activities.
You can also take advantage of the Unsubscribe feature to stop unwanted messages from mailing lists, or you can enhance your Gmail security by regularly checking your email against known data breach incidents using the Privacy Guard feature.
---
FAQ
What is the best Gmail signature generator?
According to many independent reviewers, WiseStamp is the best sig generator for Gmail because it can produce clean, optimized sigs in minutes.
Will my sig looks well on mobile devices?
That depends on how well you optimize it. Generally, plain text sigs don't need any optimization at all, but more complicated HTML sigs may need lots of it, which is why it's best to create them using online generators that do everything for you.