Why Should I Add Signatures in Roundcube?
Email signatures help you share your contact information with people you correspond with digitally so they know how to reach you. However, an email signature can also do so much more than just share your name, address, and phone number with people. In fact, it can give them an insight into who you are and what you look like.
Unlike most other email clients, you have a lot of control over formatting and images when you add a signature in Roundcube. In fact, Roundcube supports full HTML, giving you endless options in terms of design.
How to Create a Signature In Roundcube Webmail
Most people want their email signatures to look professional and crisp. However, most email clients do not give you a lot of tools to create and format your email signature, and Roundcube is no different. Therefore, the easiest way to do this is by either formatting your signature elsewhere and pasting it into the signature box.
Many people aren't sure how to set up a signature in Roundcube webmail. Luckily, Roundcube Webmail gives you the option to paste HTML coding or preformatted text. In other words, you can use one of the three following methods for how setting up a signature in Roundcube webmail.
Option 1: Make Your Own Roundcube HTML Signature
Since Roundcube fully supports HTML formatting, you can make your own Roundcube HTML signature. This would simply require you to type up all of the source code, which you can do in a program like Notepad (Windows) or TextEdit (Mac).
However, unless you are an HTML wiz, this method is very time-consuming and frustrating. Furthermore, it can be hard to code things like images, logos, and hyperlinks. If that doesn't sound fun to you, then we recommend you look at the other two options.
Option 2: Make a Roundcube Email Signature With an Email Signature Generator
If you like the idea of a Roundcube html signature but don't know enough about the language to create your own, that's okay. You can simply use an email signature generator to create a fully customized design and then add the signature in Roundcube.
A simple web search will provide you with dozens of free options to create a custom HTML design. However, some great options for email signature generators include WiseStamp, Newoldstamp, and LetsSignIt.
Many of these generators provide you with Roundcube signature templates you can simply create, then copy and paste into your Webmail signature box.
If you use this method, just make sure you can get the source code and use the code tool when you go to paste it into Webmail.
Option 3: Make a Roundcube Signature Template with a Word Processor
Finally, if you don't want to deal with any sort of code, you can always just use a word processor like Microsoft Word or Google Docs to make your Roundcube email signature.
This is a great option if you want a basic signature but would like some flexibility in terms of colors, fonts, or other aspects of the design. If you are worried about spacing, you can use a table to format everything and keep the text aligned well. You can also find some preset templates online to help you with some aspects of the formatting.
Since this approach isn't coded, though, you'll need to convert it. Luckily, there are many free conversion sites to help you transform your rich text signature into HTML, such as WordToHTML.
How to Add a Signature In Roundcube Webmail
Regardless of which method you used to create your Roundcube email signature, you will follow this step-by-step guide to add a signature in Roundcube:
Open your Roundcube Webmail inbox.
Click Settings on the left hand side.
Click on Identities.
Select the email account you'd like to add the signature to.
Now, the Signature section will appear.
From here, you can:

Format your signature using the provided tools.
Use the Add Code button to paste in your HTML signature.
Paste your pre-formatted signature from a word processor or other tool.

Save the signature. It will automatically be applied to all messages you send.
How Clean Email Can Help You Manage Roundcube Webmail
As we've discussed, knowing how to set up a signature in Roundcube webmail is an important skill. However, having a Roundcube email signature won't help you manage other aspects of your inbox. That's where Clean Email comes in!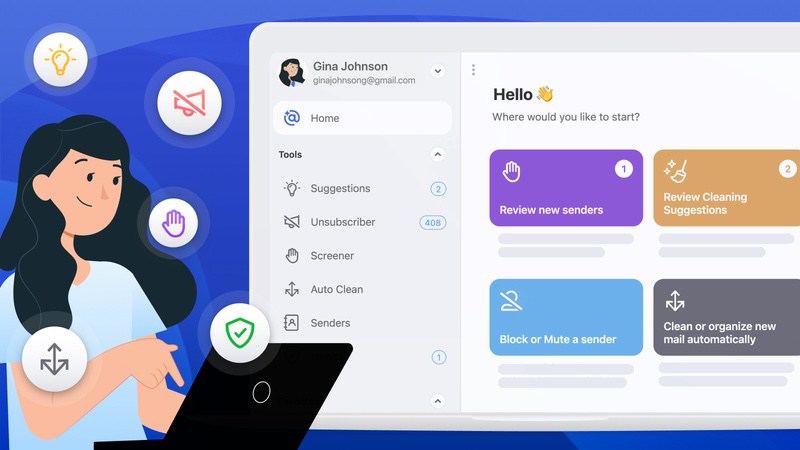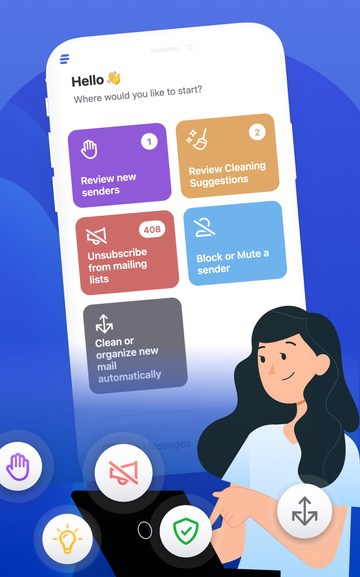 If you aren't familiar with Clean Email, it's an inbox management tool that can help make your webmail account work smarter, not harder. Clean Email offers a wide variety of tools that can help clear out clutter and boost your email productivity so you can have more time to do what matters most.
For example, the Auto Clean feature will apply any action to any message in your inbox without adding any additional work for you. When you perform a task in Clean Email, you'll have the option to choose to apply the task to "Selected and future similar emails" so you can set up rules.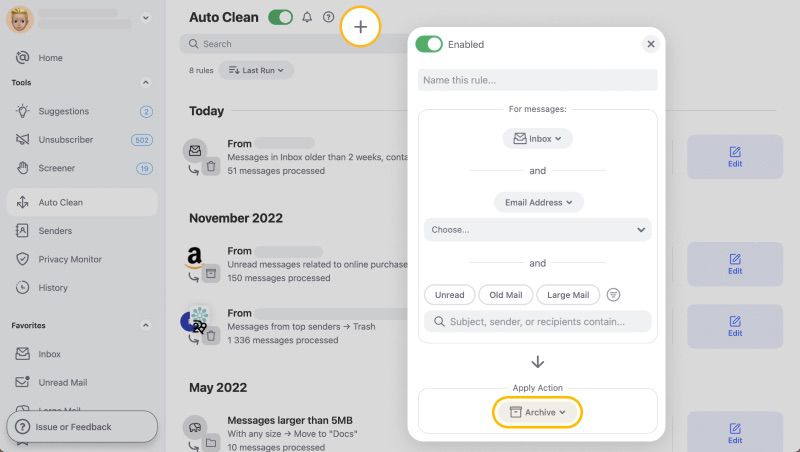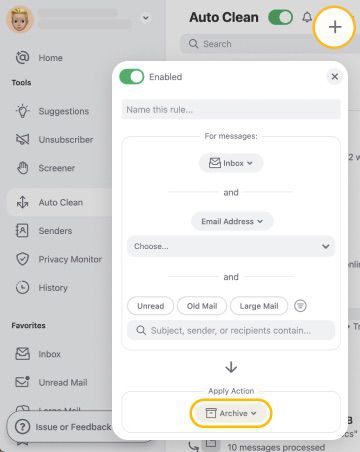 The more of these automatic rules you create, the more Clean Email will do for you.
Also, the Unsubscriber tool will remove you from any promotional messages or newsletters you don't need.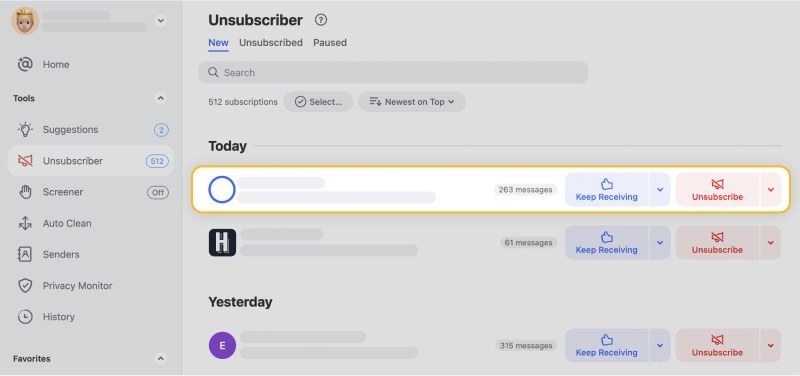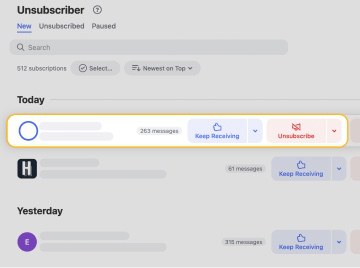 This makes the influx of messages you receive in a given day more manageable so you don't spend hours sifting through messages. To use this, simply navigate to the Unsubscriber tool from the main menu within the Clean Email. Then select Unsubscribe for any of the listed addresses you no longer wish to receive messages from. Clean Email will take care of the rest after that!
These features, along with other options like Smart Views, filtering, and Privacy Guard help you manage your inbox and make you more efficient day in and day out.
---
FAQs
What do I do if my Roundcube signature image is not showing?
Although Roundcube supports full HTML messages, this setting is not always turned on by default. So, if you notice you're having issues with images within your Roundcube HTML signature, go to Settings → Composing Messages and check that Compose HTML Messages is set to "Always."
Can I generate an HTML signature for Roundcube Webmail for free?
Many of the email signature generators available online are free to use. However, some only include limited features for free, while others may require you to pay a subscription fee to maintain access.