How to Create an HTML Signature for Windows Mail
There are three ways to add a signature in Windows Mail:
Teaching yourself HTML and coding it.
Using an HTML email signature generator.
Building a text-based signature through MS Word or Google Docs.
Before you can follow any of these steps, you need to get to your Windows Mail settings.
To do that, click the settings (the gear icon) on the bottom of the Windows Mail app. From there, you'll want to select the account you want the signature to apply to (you can apply this to all accounts). Next, you want to be sure that the blue pill under "us an email signature" is on.
From here, you can learn how to change a signature in Windows Mail from its default to new options. You can start by entering multiple lines of text and images. For more tips on editing, read below.
Option one: Teaching yourself HTML
Option number one requires the most technical proficiency: teaching yourself the HTML used in emails. This is like teaching yourself HTML5, which is usable across all modern web pages. So when you learn HTML in an email, you can apply those skills to basic website building.
The difference between web-based HTML and email-based HTML is its use. Windows Mail signature formatting (along with other email types) can't use everything HTML5-supported web pages can use.
Reading online guides to coding HTML emails is where you want to start. However, because this can be time-consuming, we recommend other tools below. Learning HTML solely to get a neat-looking signature is a bit much unless you plan on using that skill elsewhere.
Option two: Use an HTML email signature generation tool
There are many free email signature generators available. Using them will allow you to sidestep the requirement of learning custom HTML formatting.
To add the HTMl to any of your email messages, you'll need to find a section that says "export HTML code." The code that pops up is something you can copy and paste into any email sig.
Here are a few free generators you can use:
Option three: Build your signature in MS Word or Google Docs
The visual power of normal word processing programs can help you in this case. Word processing documents can help you create engaging signatures with no knowledge of HTML. You can do a lot with Word or Docs, including build a simple sig.
To start, simply build your signature as you would, but using images, alignments, bolding, and link creation. From there, you can convert the document to HTML using a text to clean code converter.
Take the HTML code generated for you and paste it into the signature section of your chosen email service. With this technique, you don't need to learn any complex HTML.
This also helps you format a plain text signature. For a windows mail image signature, you can also paste pictures into the code converter.
How to add an HTML signature in Mail for Windows
Now that you've set up your HTML signature, you can paste it into your Windows Mail app. Regardless of how you created your signature, the only way to add it is through a direct copy and paste.
Unlike some email clients, Windows Mail doesn't allow you to import HTML files. So that means some custom elements, like buttons, require extra steps. Below, we will let you know how to get started.
Adding HTML signatures on Windows 10 Mail
Once your signature is finished through one of the three options above, here's what you need to do to import your finished work:
Login to the mail app.
Click the settings (the gear icon found on the bottom).

Locate Signature among the settings.

Copy your signature from MS Word or your chosen signature template tool.
Paste it in the text box and check your results.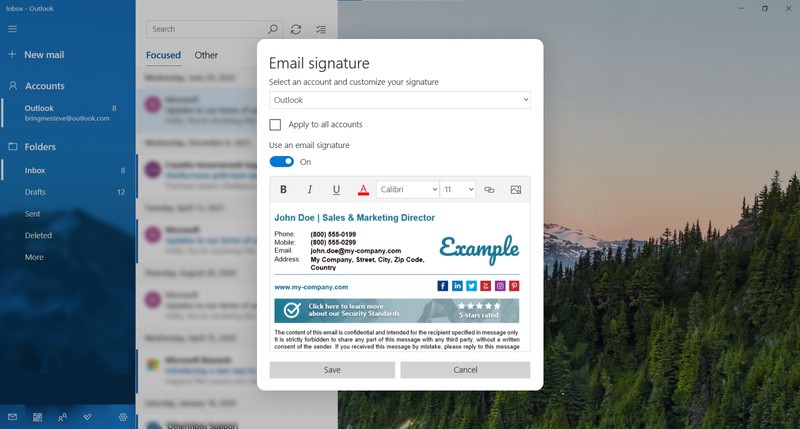 Before saving, you can also select what account this signature applies to. The drop-down menu at the top of the signature editing page allows you to select the accounts this applies to. These settings can be useful if you want to change your email signature depending on the email.
Because Microsoft made Windows Mail for personal use, it doesn't allow you to tweak the signature per group you send it to. For that, you might want more advanced email tools like Microsoft Outlook.
If you decide to learn custom HTML, steps get a bit more complex. You'll need to follow these steps:
Open notepad and enter your custom HTML.
Save the txt file as a ".html" file.
Open it using your favorite web browser.
Copy and paste what appears in the browser.
Using a signature builder or MS Word can save you some time and effort.
How to add custom buttons to your email signature
Knowing that Windows Mail relies on copy and paste to get your signature over, it won't support some HTML. Some of these, such as buttons, are incredibly important to increase your user engagement.
To overcome this, you can import these buttons as images. To import images, click the "picture" icon in the upper-right corner of the text box. Next, select an image of your button and import it into the document.
If you want the image to be a button or a link, you can turn it into a link. To do this, click the "link" button just above the same text box. Make sure you have the image highlighted as you put in the link.
This image should be a high-quality screenshot of your button. You can make the screenshot grab easy using the Windows Snipping Tool.
You should only need to do this if the regular copy and paste method of moving things over doesn't work. If the format of your sig breaks when you paste it, replacing the broken parts with images can help you overcome these issues.
Improve your email experience further with Clean Email
Once you are done improving your Windows Mail signature, you can move on and improve the rest of your inbox. You can do this easily by using Clean Email.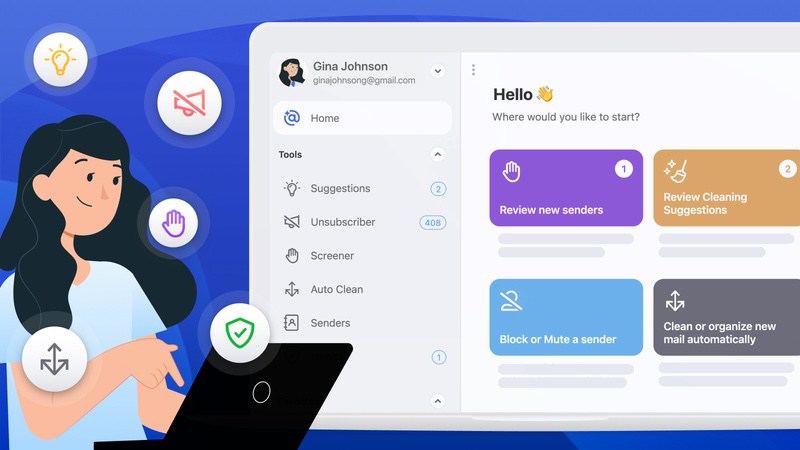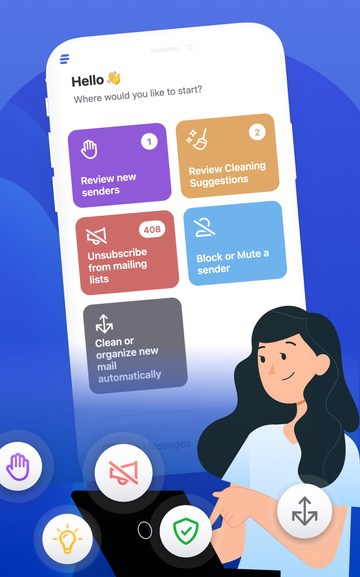 Clean Email is loaded with useful tools that help you solve multiple problems. You can easily unsubscribe from unwanted emails, stop annoying senders, and automatically clean your inbox to avoid time-consuming inbox cleaning periods.
Rather than unsubscribe from each email individually, save yourself time using Clean Email's Auto Clean feature. Though Clean Email, you can save yourself some time so you can focus on more important duties.
---
FAQs
Can I add an email signature in Windows Phone?
Despite the Windows Phone service discontinuing in 2019, the mail app supports custom signatures. Much like the Windows 10 Mail App, you can access our default signatures through settings under options.
Because these phones no longer receive updates or support, there's a good chance this feature will be discontinued. With this in mind, you might switch to a new phone at some point.
Should I make a signature with plain text or HTML
You should use HTML to make a professional email signature look engaging and dynamic. HTML has support for custom graphics, buttons, and other unique features. It makes you look like a business who knows what they are doing with technology.
Because not all email services support HTML, you might see if you can set a plain text option. Accommodating for your potential customers isn't a bad thing.