What Makes a Great Email Finder?
Before we delve deep into our list of the best email finder tools, we should first discuss what makes the best email address finder stand out. When finding mail addresses using a specialized tool, several key factors come into play:
Accuracy: The purpose of an email finder tool is to find the mail address of someone you want to contact, so it needs to be accurate. After all, the last thing you want is to end up with a long list of wrong mail addresses because that would not only waste a lot of your time but could also get you flagged as a spammer.
Ease of use: The easier to use an email finder is, the less time it takes to find a valid mail address. That's important because time is of the essence in the realm of sales and marketing, and you don't want to waste it on tools that are difficult to use. The best solutions offer email finder extensions for popular web browsers to make themselves available with a click.
Integrations: Seamless integration with existing software (like CRM) can be a significant advantage, especially for businesses and individual users that have meticulously set up a smooth workflow and don't want to compromise it by relying on an app that doesn't fit into it well.
Extra features: When considering the best email finder tools, it's important to look beyond the basic functionality. Extra features such as addresses verification, bulk email search, and API access can significantly enhance the value of the tool. Moreover, some of these tools could be integrated with a mass email service to improve the effectiveness of your marketing campaigns.
Value: Like any other tool, the overall value is a vital factor. The best email finder tools offer a decent balance of features and cost. Of course, this balance is different when dealing with the best free email finder tool than it is when dealing with paid email services.
When evaluating the best email finder tools recommended in the next section, we didn't just rely on their marketing claims; we went a step further. We adopted a hands-on approach, putting each tool through a series of rigorous tests based on the factors we've just described.
Best Email Finder Tool: Free + Paid
We've carried out comprehensive email address search and testing, and based on our findings, here's a list of the best free and paid email finder tools:
Hunter.io - An all-in-one, intuitive email finder tool that leverages proprietary technology and artificial intelligence for high accuracy, and offers a user-friendly interface with many third-party integrations.
Clearout.io - An email finder as well as verification tool, Clearout focuses on ensuring your email list is clean with 98%+ accurate. It offers real-time email verification to accelerate your outreach efforts.
Snov.io - Not just a typical email finder, Snov.io provides a comprehensive suite of sales tools, including a LinkedIn Prospect Finder and a drag-and-drop builder for email flows.
RocketReach - Boasting a vast database, RocketReach not only finds email addresses but also enriches your contact list with additional information like phone numbers and job titles.
VoilaNorbert- Known for its high accuracy and user-friendly interface, VoilaNorbert implements multi-step verification methods, though its Chrome extension could use some improvement.
Anymail Finder - A reliable email lookup tool that offers a high accuracy rate and the ability to extract individual LinkedIn profile emails, but lacks features for managing email campaigns.
Each of these tools can greatly assist in obtaining professional emails for your outreach efforts, but we have yet to explain what makes them different from each other. Let's get to it!
📝 Brief description: Our favorite email finder tool stands out as an intuitive all-in-one that leaves very little to be desired.
Pricing: Free users can make 25 searches per month, and paid subscriptions start at $34 a month when billed annually.
Extension: Chromium-based web browsers and Firefox
Review:
Hunter.io sets the bar high for what to expect from the best email finder tools. It excels in accuracy thanks to its potent blend of proprietary technology and artificial intelligence. Its verifier tool is designed to protect your sender reputation and enhance email deliverability, so you don't need to worry about ending up in the worst position than before.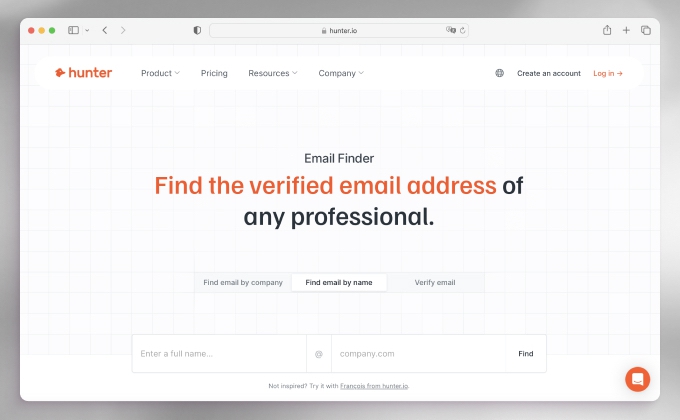 The user-friendly interface of Hunter.io makes finding a mail address a breeze, and the tool even extends its convenience by offering a free extension for Firefox and Chromium-based web browsers. The extension is extremely well-rated, and it integrates with Salesforce, HubSpot, Pipedrive, Zoho, and more than a hundred other CRMs and applications. Hunter.io itself can sync data to over 5,000+ destinations, so it should fit your workflow perfectly fine regardless of how it looks like.
Hunter.io also doesn't disappoint in terms of the value it delivers. Those whose budgets are paper-thin can take advantage of the free plan, which includes 25 searches and 50 verifications per month. Paid subscriptions are priced reasonably, especially considering that no credits are spent if no results are found.
👍🏼 Pros:
Great user experience
Convenient web browser extensions
Many third-party integrations
No credits are spent if no results are found
Actually useful free plan
👎🏼 Cons:
No LinkedIn email address lookup
📝 Brief description: Clearout is an advanced email finder tool that excels in real-time email validation providing a confidence score for each user. This ensures higher deliverability and campaign success.
Pricing: Users get 100 credits to use, and a paid subscription starts at $21 with a pay-as-you-go option.
Extension: Chromium-based web browsers
Review:
Clearout is a trusted companion for your email marketing effort. It is a combination of accuracy with a wealth of features to ensure targeting of the right audience.
With an array of lead generation methods including Quick Email Finder, Bulk Email Finder, and integrations, it becomes a lot easier for companies to target the right person. One of Clearout's standout features is the 'confidence score' accompanying each lead. This invaluable metric empowers your marketing strategies and ensures that you're targeting prospects with precision.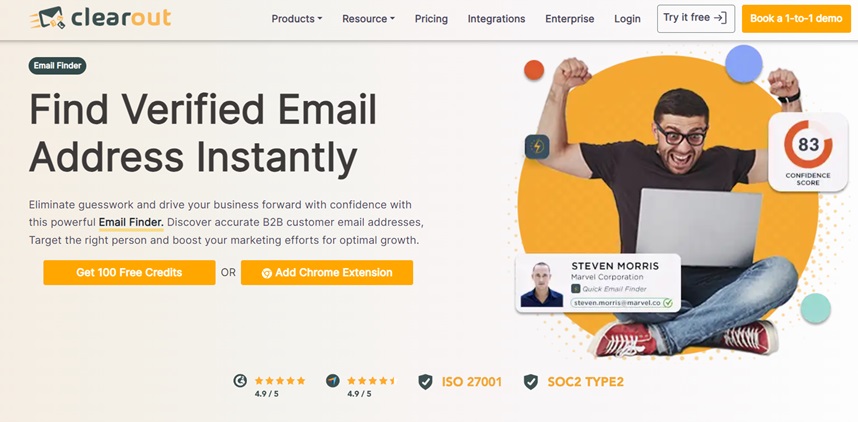 It won't be wrong to term Clearout synonymous with pinpoint accuracy, 98%+, ensuring your leads are spot on. Beyond finding emails, it also verifies them for maximum deliverability. With GDPR compliance and the highest accuracy standards, you can trust your data with Clearout.
👍🏼 Pros:
Quick & Bulk email finder
On-click LinkedIn Prospecting with Chrome extension
High accuracy rate of 98%+
Credits carried forward
Real-time validation: Ensures the 98%+ accuracy of email addresses
Confidence score: Helps assess email authenticity
Flexible pricing: Offers subscription and pay-as-you-go options
User-friendly: Easy to navigate and use
Cost-effective: Budget-friendly for businesses of all sizes
👎🏼 Cons:
No email campaign support
📝 Brief description: Snov.io goes beyond your typical email finder functionality by offering a comprehensive solution for cold outreach automation.
Pricing: Free users get 150 credits to use, and paid subscriptions start at $30 a month when billed annually.
Extension: Chromium-based web browsers
Review:
Used by over 130,000 companies in more than 180 countries, Snov.io isn't just your everyday email finder tool. It's an entire collection of powerful sales tools that enable users to effortlessly turn email addresses into revenue growth. You can find email addresses in bulk, associate them with social profiles, and use the highly accurate email verifier tool to ensure that the emails you gather are valid before using them for your email marketing campaigns.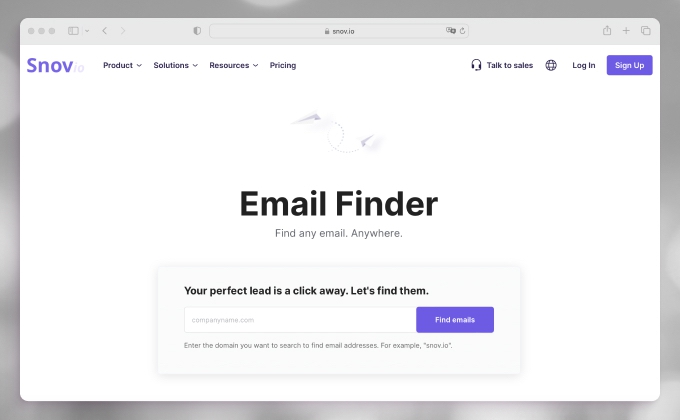 Unlike Hunter.io, Snov.io doesn't have any problem with LinkedIn prospect search. In fact, it's one of the tool's biggest strengths. The LinkedIn prospect search functionality is provided with the LinkedIn Prospect Finder for Chromium-based web browsers, which can be downloaded directly from Snov.io's website and installed manually in Developer Mode.
Another extra feature that's worth mentioning is the drag-and-drop builder for email flows, which is just as intuitive as the rest of this email marketing solution. You can try this and most other features for free because the free trial plan comes with 150 credits, with one email verification costing 0,5 credits.
👍🏼 Pros:
LinkedIn prospect search
Comprehensive tool with plenty of features
Offers integrations with over 5,000 tools
Great value for money
👎🏼 Cons:
The LinkedIn Prospect Finder extension is complicated to install
📝 Brief description: Voila Norbert is a powerful email finder tool, well-regarded for its high accuracy and user-friendly interface.
Pricing: Free users get 50 searches to start with, and paid subscriptions start at $39 a month when billed annually.
Extension: Chromium-based web browsers
Review:
Recognized as one of the top three email finders on the market, Voila Norbert distinguishes itself with a 98% success rate. It achieves this stellar level of accuracy by implementing rigorous multi-step email verification methods before returning any email addresses. Ahrefs' research confirms that Voila Norbert is 1.3 times more accurate than Hunter.io and 3.3 times more accurate than Snov.io.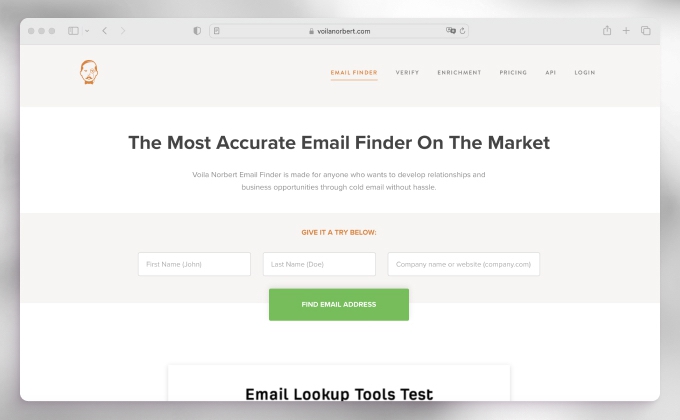 However, while its main platform offers robust features and an exceptional success rate, the Chrome extension leaves a lot to be desired. Despite offering LinkedIn search functionality, the extension lacks the level of refinement seen in similar tools offered by competitors. It has received poor ratings due to issues such as frequent crashes, which can disrupt your workflow and cause you to lose precious time.
But if you can overlook this singular downside, then you will have nothing but pleasant surprises in store for you, and you can start discovering them without any strings attached thanks to the free plan, which lets you find email address free of charge 50 times. If you decide to spend money on a subscription, then you'll be happy to find out that the email finder tool never charges for duplicates, so your email address lookups won't go to waste.
👍🏼 Pros:
High accuracy rate of 98%
User-friendly interface
Broad range of integrations
Chrome extension works with LinkedIn
👎🏼 Cons:
Underwhelming Chrome extension
📝 Brief description: RocketReach is an advanced email finder tool with a vast database.
Pricing: Free users get 5 credits to use, and paid subscriptions start at $36 a month when billed annually.
Extension: Chromium-based web browsers
Review:
When it comes to the database size, RocketReach outperforms them all with its collection of 700 million profiles and 35 million companies, which is one of many reasons why it's trusted by 95% of the S&P 500. Another important reason why this tool is so popular is its ability to not just find email addresses, but also enrich your existing contact list with additional information such as phone numbers, job titles, and more.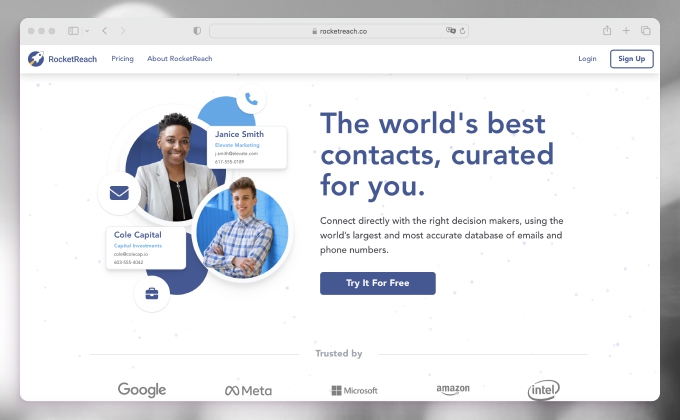 The seamless integration with CRM or marketing automation platforms like Hubspot and Salesforce is another significant advantage of this tool, greatly increasing its overall usability.
While RocketReach stands out in many ways, it's important to note that it has a few drawbacks. The accuracy guarantee is at 85%, which is a bit lower compared to some other email finders. Also, API access and integrations or bulk lookups are locked behind the highest tier, and that's something potential customers whose pockets are not very deep might not accept.
👍🏼 Pros:
Very large database
Can retrieve plenty of additional information
Plenty of data expert options are available
Integrates with many popular third-party tools
👎🏼 Cons:
Doesn't guarantee as high accuracy as its competitors
The free trial comes with only a few credits
📝 Brief description: Anymail Finder is a reliable email finder tool boasting an impressive 97% accuracy rate.
Pricing: Free users can find up to 20 verified emails, and paid subscriptions start at $14 a month for 50 verified emails or $49 a month for 1,000 verified emails (discounts for annual billing are available).
Extension: Chromium-based web browsers
Review:
Anymail Finder has built a reputation for providing accurate and verified email results. It enables users to retrieve an individual's email address by inputting their name along with the name or domain of their company. Similarly, it has the capability to discover multiple email addresses associated with a specific company simply by entering the company name or website. Moreover, this tool has a special feature to locate the email address of influential decision-makers within an organization.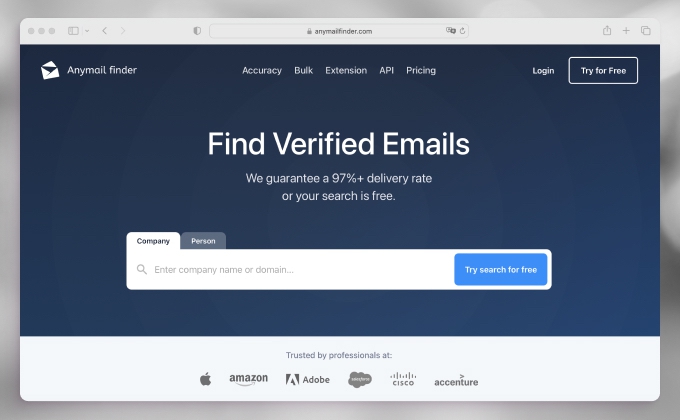 In addition to these capabilities, Anymail Finder offers an impressive feature to extract individual LinkedIn profile emails. With the mere click of the "Get Email" button in the Chrome extension, users can effortlessly retrieve a profile's email address from the LinkedIn page. Not only this, but it also supports the rapid construction of email lists, converting any LinkedIn search into a handy CSV/Excel file containing potential new leads and their emails.
Despite the various benefits, there are a couple of drawbacks to Anymail Finder that should be noted. The budget-friendly subscription plan, while appealing, is greatly limited in terms of how many searches it includes. Furthermore, the absence of email campaign management features means users might need to rely on additional tools or platforms to plan, design, and execute email campaigns.
👍🏼 Pros:
Only charges for verified addresses
Multiple ways to find an email address
Third-party integrations via Zapier
👎🏼 Cons:
The cheapest subscription plan is very limited
No email campaign management features
Bonus: Clean Email Is a Boon to Email Finder Users
Email finder users typically send and receive many messages every day, so it takes a lot of time and effort to keep their inboxes organized and efficient. That's where an inbox management tool called Clean Email steps in to aid those on a quest to find email addresses using the email finders recommended in this article.
With Clean Email, it's easy to manage emails in bulk because the tool automatically groups messages that have something in common (a sender, content, age, and so on) into convenient bundles, called Smart Folders, allowing you to organize them in one go. And when that's not enough, you can always apply various filters or search by keywords in metadata to narrow down your selection.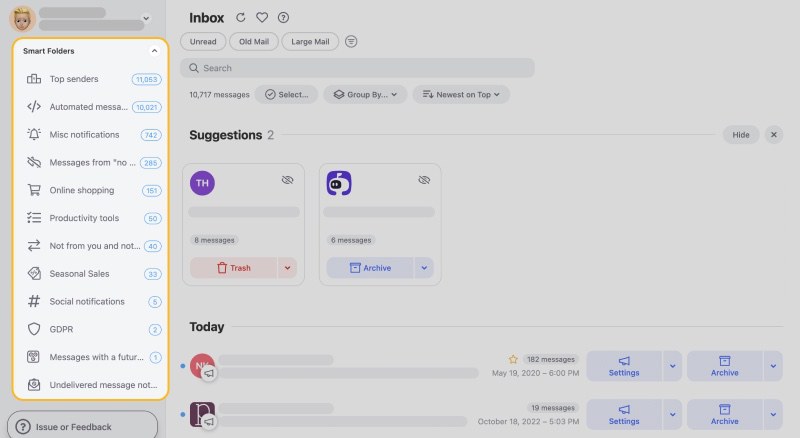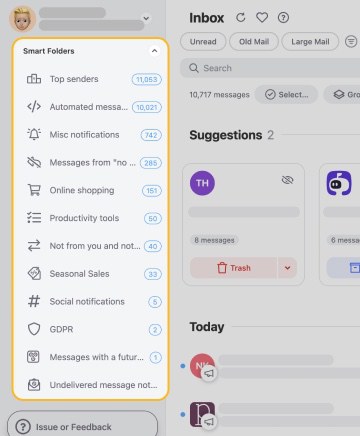 But bulk email management is just one of many tricks Clean Email has up its sleeve. With the Auto Clean feature, for example, you can set up rules that automatically sort your incoming emails into designated folders, making it easier than ever to keep track of new emails from specific contacts or with specific subject lines.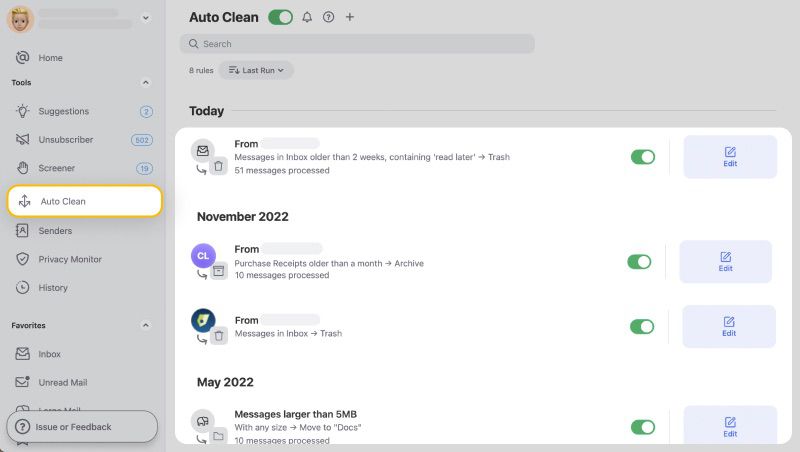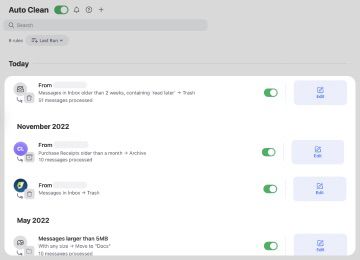 Another significant feature of this app is the Unsubscriber. This tool lets you easily unsubscribe from multiple unwanted newsletters or promotional emails, eliminating the need to manually remove yourself from mailing lists.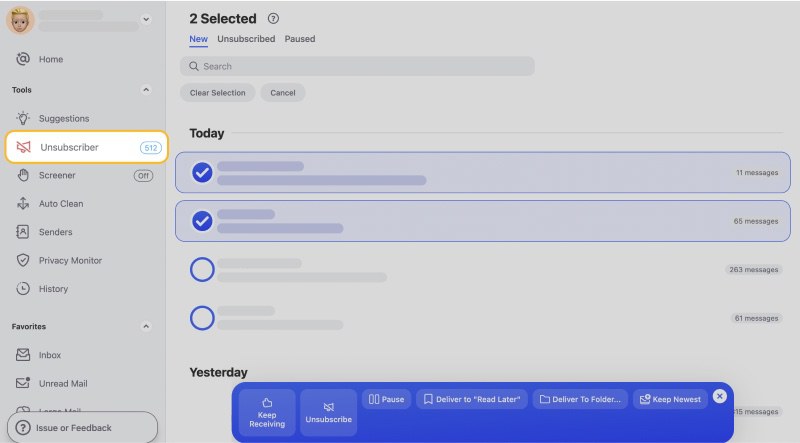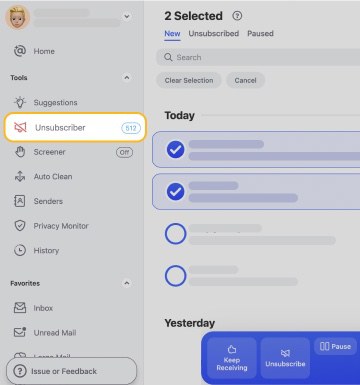 These and other features are designed with privacy and security in mind. All your data stored within Clean Email is encrypted, and the company maintains a strict policy against sharing, selling, or in any way exploiting your personal information.
To Sum It Up
A reliable email address finder can be a game-changer for sales and marketing professionals, entrepreneurs, researchers, journalists, and anyone else who needs to find accurate contact information. By taking into account factors like accuracy, ease of use, integrations, value, and compliance, we've selected the best tools to assist with email lookup. For businesses, these tools can become a part of your small business software suite to significantly improve productivity.