What Is Inbox Zero?
Productivity guru Merlin Mann began sharing the inbox zero method in the early 2000s as a way for people to "reclaim their inbox." Based on David Allen's Getting Things Done productivity system, the zero inbox rule helps you keep your inbox under control so you can spend less time on email and more time focused on your work or other responsibilities.
Inbox Zero is a pretty self-explanatory concept. In a nutshell, it's the goal of having a zero email inbox. This means you'll have absolutely no unread emails sitting in your inbox and reminding you that more work still needs to be done. As Mann says, it's not about having zero messages in your inbox, but rather getting your inbox organized in a way that it takes very little time to check new messages each day.

Inbox Zero isn't one of those goals that you can hastily complete during an especially productive Saturday morning and never think about it again. Unless you're willing to cut yourself off the world and live a life of a recluse, new emails will keep coming and coming, constantly taking the status of Zero Inbox away from you.
However, with the right Zero Inbox rule-based strategy, you can easily keep things under control and ensure that your email management effort won't go to waste.
With Mann's zero inbox method, each message that hits your inbox can undergo one of five actions: delete, delegate, defer, do, or reply. Additionally, Mann recommends setting aside time three times per day to look through your unread messages to place them in the correct area. This keeps you from interacting with your email each time you receive a new message, and instead focus on it in batches.
Why is Inbox Zero Worth Pursuing?
Inbox Zero is an email productivity hack that helps you quickly and efficiently manage your messages. It works off the "out of sight, out of mind" mentality, which frees you up to focus on more important tasks and activities throughout your day. This can help you deal with email anxiety and allow you to refocus your attention.
However, that's not the only reason why the inbox zero method is worthwhile. Because of its systematic nature, zero inbox also helps you spend less time on emails each day. When you use the zero inbox rule, you essentially break the chore of checking messages down into smaller subtasks. This allows you to dedicate small amounts of time to each part of the chore, which lets you fit it into small spaces of time throughout the day.
Finally, inbox zero organizes your messages without holding onto clutter. As you delete and defer messages, you move them out of the main inbox and create funnels for the messages to go into while also removing unnecessary emails as you go. This can help free up storage, but it can also keep distractions out of the way and streamlines everything for you.
Is Inbox Zero For Everyone?
Unfortunately, email has become a serious distraction for nearly every adult who has at least one email address. What's more, most people juggle multiple inboxes and check their accounts up to 15 times per day! This can cause hours of wasted time, which nobody really has.
So, in short, everyone can benefit from the inbox zero rule.
However, people often confuse 'what is inbox zero' and the approach they need to take to reach an email zero inbox. Furthermore, people need to understand the benefits of a zero inbox and reframe their mind to accept the concept.
Inbox zero isn't just about clearing out your messages — it's about changing how you think about email messages in general. It teaches you how to make quick, but effective decisions about the messages that land in your mailbox so you can turn your attention to more important things. This is something everyone with at least one mailbox can use, meaning that zero inbox really is one of those email management tips that benefit everyone.
How To Reach Zero Inbox?
Reaching and, more importantly, maintaining Inbox Zero may seem like an impossible goal to achieve. If you aren't sure how to get to inbox zero, try using some or all of these inbox management tips:
1. Value Your Time
The Pareto principle, also known as the 80/20 rule, states that roughly 80 percent of the effects come from 20 percent of the causes. This rule can also be applied to email management as only about 20 percent of emails deserve our attention. Luckily, many parts of the zero inbox method help you value your time and use it more effectively.
Because email notifications both create a distraction and often go ignored, we recommend you turn off all email notifications. Instead, dedicate short, specific time slots throughout the day for email management. This helps you value your time and focus your attention on your inbox without distractions so you can organize your messages quickly.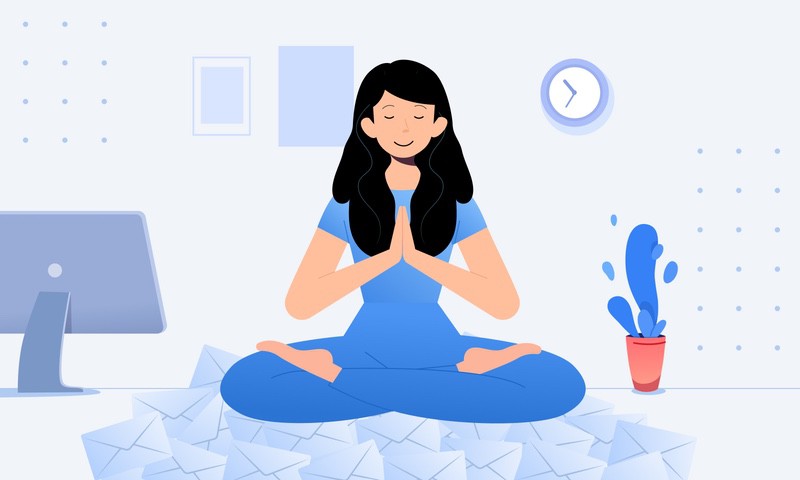 If you don't use email all that much, you'll probably get away with a single 15-minute time slot. If email is an integral part of your workflow, you may want to dedicate multiple time slots to email management and spread them evenly apart so that you always respond to incoming emails in a timely manner.
To ensure that a 15-minute time slot won't stretch to 30 or 60 minutes, it's a good idea to use a timeboxing app that lets you assign a specific amount of time to your tasks. Then, you can follow up these short sessions with a digital detox to help you refocus your brain before you move on to the next item on your daily to-do list.
Apps like Clockify, HourStack, or TickTick Premium can tell you when it's time to stop managing your emails and start working on some other task. They also provide detailed productivity statistics so that you can see exactly how much time email management costs you every day, week, and month.
2. Be Consistent
There's no way you can stop the flow of emails to your inbox, so it's critically important to make your email management efforts as consistent as possible. While some people like to set aside some time at the beginning of their work day to check emails, others find it helpful to wait and do it after they've completed a more brain-taxing task first.
If you're just starting out on your inbox zero journey, it may help if you schedule your times in your preferred calendar app and set a reminder notification. Similarly, you can try habit stacking — a productivity hack where you attach a new habit you're trying to build (like inbox zero work) alongside something you already commonly do (like grab a cup of coffee).
If you find yourself struggling to maintain consistency because of the huge number of email messages that constantly force their way into your inbox, it might be the right time to get some help.
For businesses, this may mean you hire a personal assistant to screen your inbox and highlight important emails for you. You could also use a shared folder system to delegate messages between employees within your department.
Similarly, individuals who use email for personal purposes can enlist the help of a digital personal assistant in the form of an Inbox Zero app like Clean Email. Just like a real personal assistant, Clean Email can identify important emails for you, move all junk messages to trash, and generally make it a lot easier for you to maintain Inbox Zero.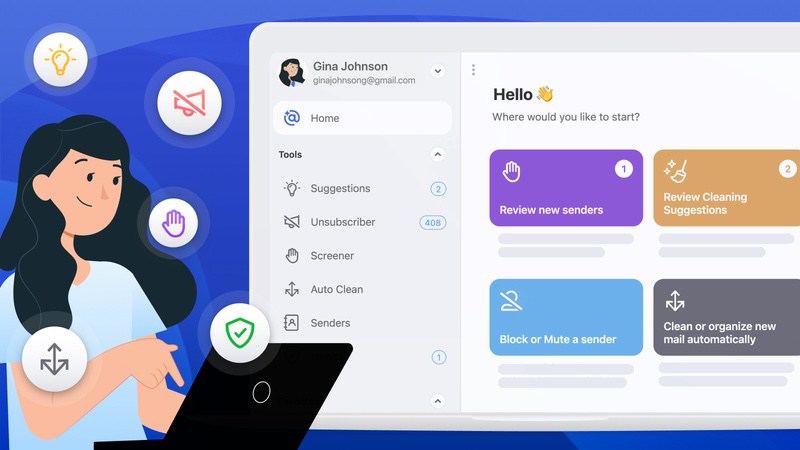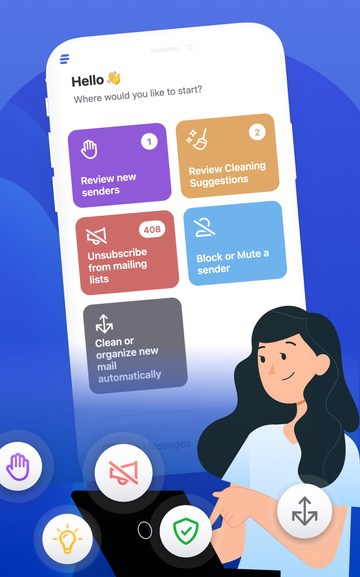 3. Delete Junk Emails
If you've been using email for a while, you can most likely immediately recognize junk emails. You can save yourself a lot of time if you delete every junk email you see without opening it. This helps you quickly remove unnecessary emails from your inbox and frees up your energy to tackle more pressing messages.
If you notice that you receive a lot of newsletters or other subscription-based messages, you can also press the "unsubscribe" button within those messages. This will help you avoid future messages from this same sender.
If the mailing list messages do not include an unsubscribe link, you have other options:
You can mark all emails from the unwanted mailing list as spam to inform your email client or service that you're no longer interested in them. Most email clients and services will learn to recognize all future emails from the same mailing list as spam and automatically mark them accordingly. However, not all spam filters learn equally fast, and they sometimes require you to mark many emails from the same sender as spam before they start doing anything about future emails from the sender.
Similarly, you can set up email filters to archive or delete specific subscription-based messages as they enter your inbox. Although each email client's filtering systems work differently, you essentially specify the email address that you want to filter and tell your email client or service what you want to happen with emails from it, and under what conditions.
If you don't want to waste time setting up filters manually, you can also use the Unsubscriber feature in Clean Email to take care of this for you.
Just click the Unsubscriber tab from the left sidebar, mark the subscription you no longer need, and choose the action that should be applied to this subscription such as Keep Receiving, Unsubscribe, Pause, Deliver to 'Read Later', and more. If you choose to deliver to 'Read Later', this will send the subscription emails to the separate Read Later folder instead of cluttering your Inbox.
4. Respond Instantly
Inbox Zero is all about having no unread emails left in your inbox. However, many people are not great at responding to the messages they receive in a timely fashion. This causes important emails to get buried under a massive pile of unimportant emails. Therefore, you should always respond to every important email you open immediately (or mark them as Starred to easily find them when needed).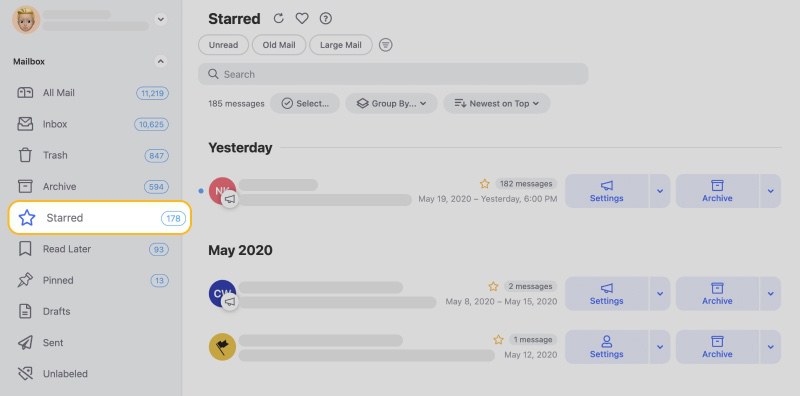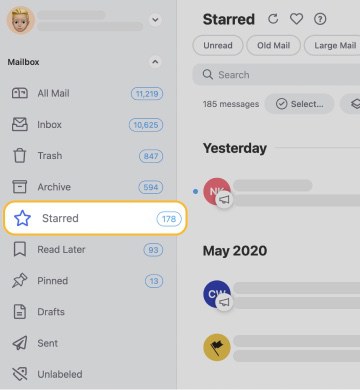 Keep your responses short and to the point — you're not writing a novel, and the other person is most likely just as busy as you are. Short messages can help provide clarity and avoid lots of unnecessary back and forth.
Alternatively, if the message is low-priority, it may help if you allow some time for the dust to settle on the message. This gives the other person time to process their issue or question a bit more, which can also help avoid unnecessary message exchanges.
5. Become an Email Guru
Modern email clients come with all sorts of useful features to help you respond to emails faster. Therefore, achieving and maintaining inbox zero may be more effective if you master the ins and outs of your email client.
For example, achieving Zero Inbox Gmail is much easier if you know that you can press the Ctrl (or command) key and the numbers 1 to 9 to switch between tabs, or that you can expand selected conversations in the message pane.
Other Gmail keyboard shortcuts that all Zero Inbox practitioners should know include:
Previous message in an open conversation: p
Next message in an open conversation: n
Send: ⌘/Ctrl + Enter
Insert a link: ⌘/Ctrl + k
Bold: ⌘/Ctrl + b
Italics: ⌘/Ctrl + i
Underline: ⌘/Ctrl + u
Compose: c
Go to Inbox: g + i
Go to All mail: g + a
In addition to keyboard shortcuts, you should also learn to snooze emails for later, assign labels to emails, and create email filters. If you use email for work and spend a lot of time writing the same information or phrases over and over again, you should consider using a text expander application.
A text expander lets you easily insert snippets of text using a quick search or abbreviation from a repository of boilerplate content. By typing just a few letters, you can insert an entire email signature, product pricing information, images, forms, and so on.
6. Use an Inbox Zero App
Our last Inbox Zero tip is arguably the most important one: use an Inbox Zero app to automate the organization and removal of emails you don't need.
Inbox zero apps, like Clean Email with its Auto Clean feature, can help you organize messages based on parameters you set, mark emails to read later, or unsubscribe from large quantities of messages in just a few clicks. This makes it easier to achieve and maintain inbox zero, especially if you have multiple mailboxes to manage.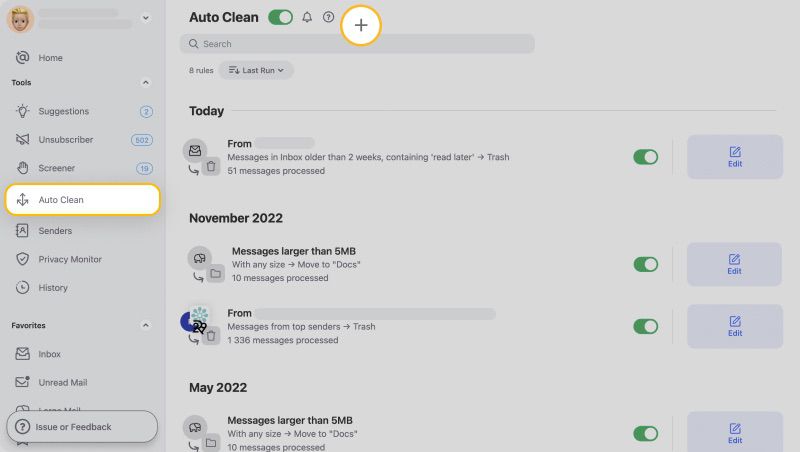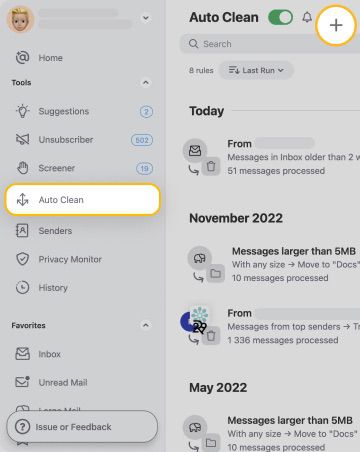 Just click the Auto Clean tab from the left sidebar in Clean Email, click the Plus (+) icon above the search bar, fill in the rule criteria, and you're done!
There are several Inbox Zero apps that you can download, but the one we'd like to take a closer look at is Clean Email, an online Inbox Zero app with support for Outlook, Gmail, Yahoo, and all other IMAP-based email service providers.
How to Get to Inbox Zero with Clean Email
Clean Email features a unique three-step approach to email organization. First, you link your email account with Clean Email. Second, you let Clean Email automatically organize emails into easy-to-review bundles. Third, you instruct Clean Email to apply various actions to the groups of emails it created.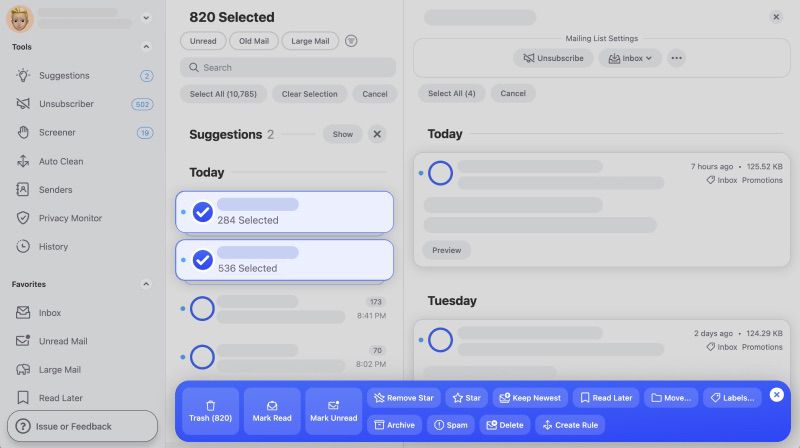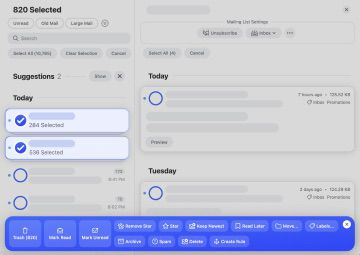 Examples of email groups (so-called Smart Folders) created by Clean Email include bounced email notifications, emails sent or received a long time ago, subscriptions and newsletters, junk emails and spam, large emails, social network notifications, and online shopping emails, just to name a few. You can move these groups to trash, archive them, mark them as read or unread, remove them, and more.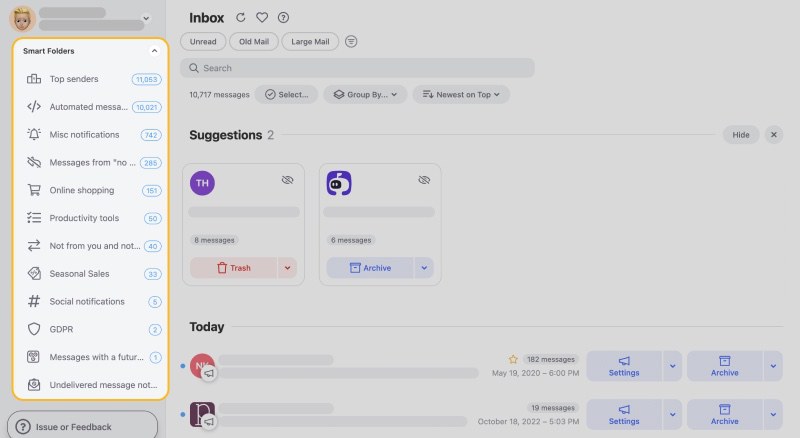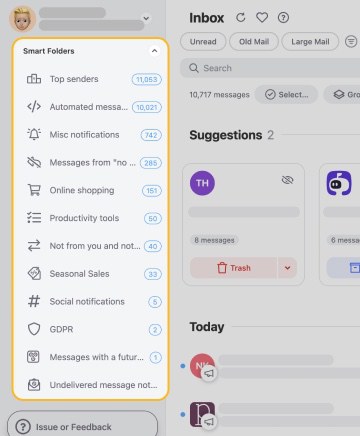 Clean Email also comes with a feature called Unsubscriber, which shows all your available subscriptions in one place. You can easily select multiple newsletters you no longer wish to receive and the app will send the unsubscribe request as well as complete the unsubscribe forms on your behalf.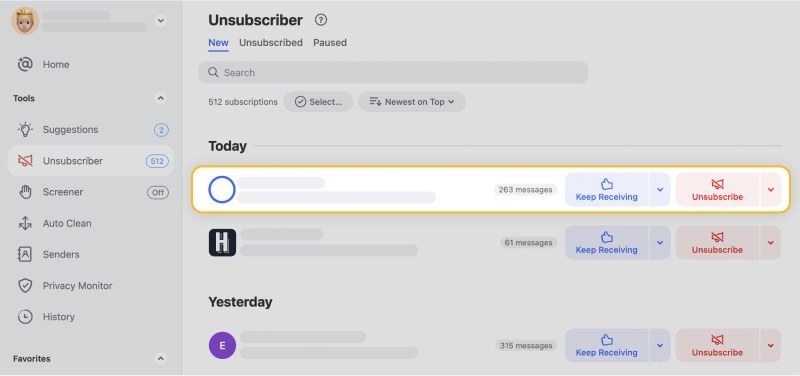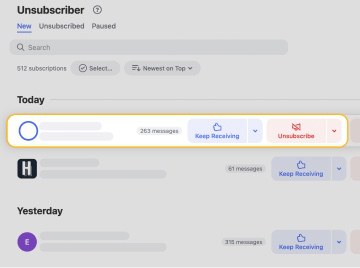 Apart from Unsubscriber, you can also apply any other action to new emails coming to your mailbox automatically, including Mark as Read, Archive, Star, Spam, and others. All your Auto Clean rules will appear in a dedicated dashboard, where you can pause them, delete them, or reactivate them.
You can start with Clean Email for free and upgrade only when you want to. Clean Email doesn't share, sell, or give away your personal information, and it uses state-of-the-art encryption to keep your password safe.
Built to work from any device and for all email clients, Clean Email is one of those email management applications that pay for themselves as it can make you significantly more productive, allowing you to focus on the important things in life. One Clean Email subscription covers your mailbox across all your devices!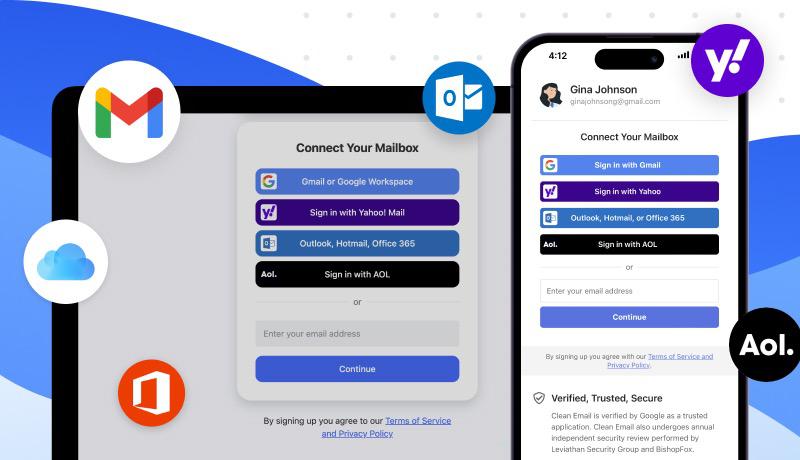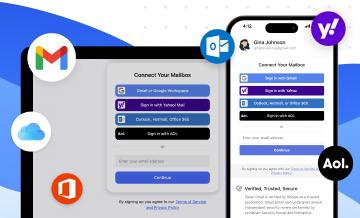 Wondering how to get more tips and tricks? Check out our guides on how to achieve Outlook Inbox Zero and Gmail Inbox Zero depending on the mail provider you are using.
---
Zero Inbox Rule - FAQs
What is the Inbox Zero method?
Inbox zero is an email management concept that helps you maintain a status of a zero email inbox, or no unread or visible emails within your primary inbox.
How do I get Inbox Zero in Gmail?
You can easily achieve inbox zero in Gmail by customizing your inbox and using filters to sort messages into specific folders. This allows you to then sort all new messages quickly and efficiently.
How do I get to inbox zero in Outlook?
You can achieve Outlook Inbox Zero by setting up a folder system or using a tool like Clean Email to set up inbox automation rules.
Who coined Inbox Zero?
Merlin Mann, a productivity guru and founder of the '43 Folders' website.
How do I empty my inbox to zero?
Emptying your inbox to zero and maintaining it is no easy feat. However, we have several suggestions within this article, such as by deleting and unsubscribing from junk emails and answering messages instantly.