How to Clean My AOL Mailbox
You've reached your AOL email storage limit and know it's time to declutter your inbox. You wish you knew the steps to take to make going through your messages easier. Luckily, we know which steps you should take for your AOL clean up whether you prefer to do it manually or with a mailbox cleaning software.
1. Sort By Date
Sorting your messages by date can help you get an idea of how long an AOL Mail email has been in your inbox. If you have messages from 2016 today in 2023, then you may want to consider deleting them to clear up space. However, we recommend to always look at the content of the message in case that 2016 email's information is still relevant to you today.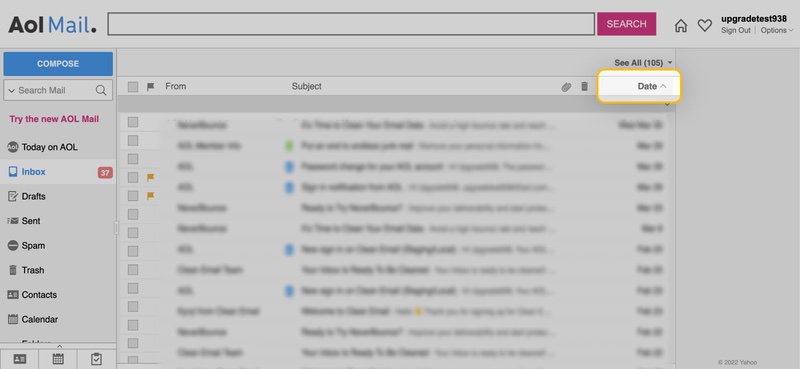 2. Create Folders and Filters
Creating folders and filters are the best way to keep your main inbox empty and help you to refer to emails at a later date. However, if you're doing this manually it can be time-consuming. If you're not careful, it could lead to a cluttered inbox again if you grow tiresome.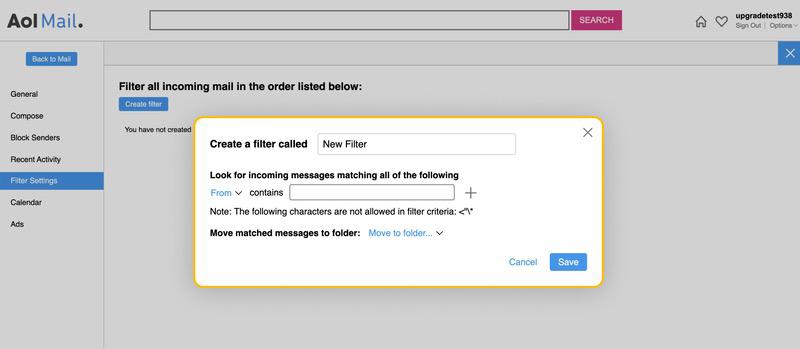 If you do keep up with this organization method, you'll be pleased with the way your main inbox looks and how effortless it is to find the message you need no matter how far in the past it's from.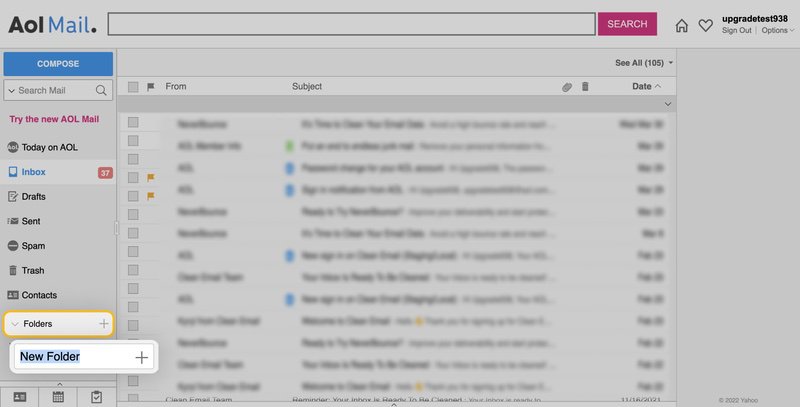 3. Unsubscribe from Newsletters You Don't Read
Why keep deleting messages that you're uninterested in? Make it a point to unsubscribe from these useless emails to create space for those important ones. Also, don't fall into the trap of thinking that you may need what that newsletter has to offer one day. A good rule of thumb is if it has been at least three months without you acting on any of their offers then unsubscribe!
4. Download Important Attachments
Instead of holding on to messages with over 10 MB in your inbox, download them to your computer or cloud to free up space.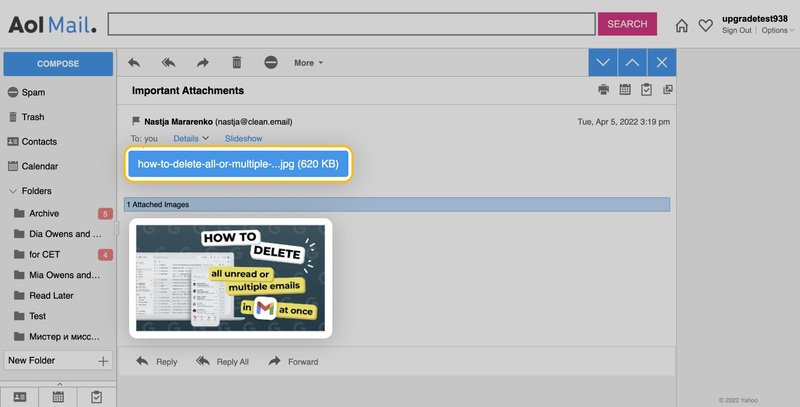 This will also help you have documents readily available to you because it'll remove all the different mediums you have to go through to access them.
5. Use an Email Management Software
If you're looking for a less time-consuming way to declutter your AOL emails and keep it that way, then we recommend finding an email management app like Clean Email. There are lots of benefits to automating the process like saving you time and energy.
3 Incredible Ways Clean Email Can Clean Your AOL Email Inbox
1. Clean Email Can Act as Your AOL Spam Filter
When you integrate Clean Email with your AOL Mail email account, you are able to do more than just view and organize emails. The app allows you to give it rules on how to handle your messages in the present and future to filter them accordingly.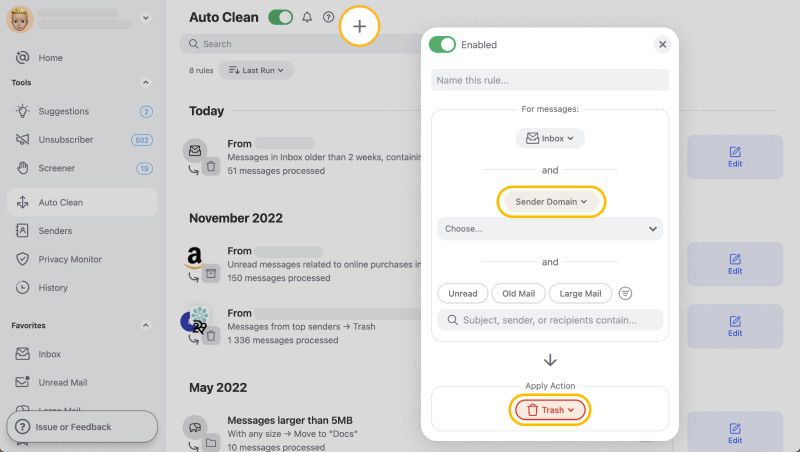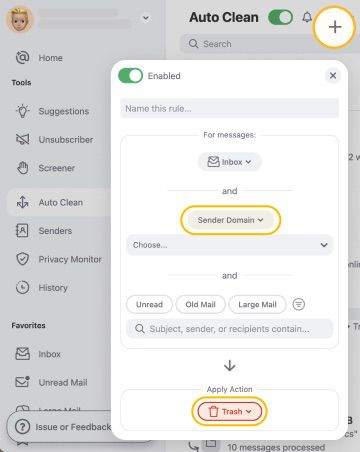 That's why this inbox cleaner can act as your AOL spam filter (learn more about how to stop emails from going to spam in AOL if your important sender accidentally got to the Spam folder). You tell it which emails you don't want from what email address and it will place the unwanted messages directly into your AOL spam folder or delete them forever without ever touching your main inbox whether you're using AOL web service, AOL Desktop Gold, or the AOL email app.
2. Check AOL Emails in Groups Using Smart Folders
Nothing is more tedious than going through thousands of messages one-by-one. This inbox cleaner allows you to view all of your emails in groups and mass apply any action you want to be done to them like deleting or creating rules and filters.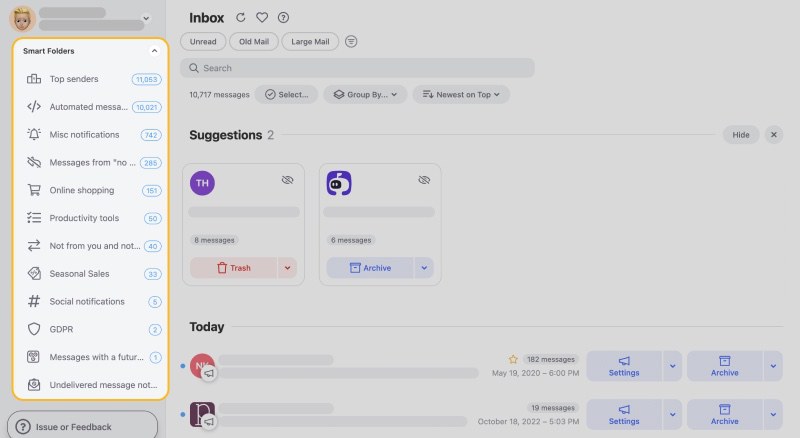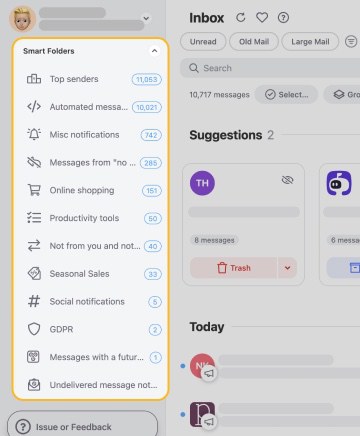 3. Separate Messages You Want to Read Later
It's easy to look at your AOL emails and make mental notes that you'll come back to certain ones but they can easily get deleted by mistake or lost in the clutter. Clean Email makes it easy to select the Read Later button that tells the system to place those messages into a "Read Later" folder until you're ready to read. The app takes it a step further by allowing you to set a reminder for your future self to read the emails.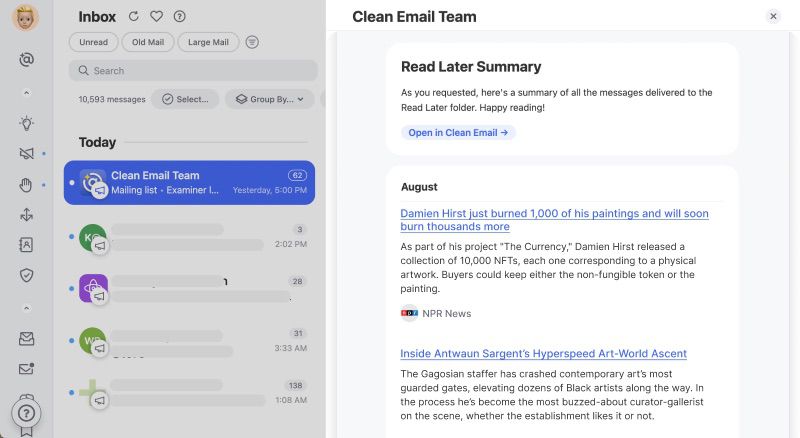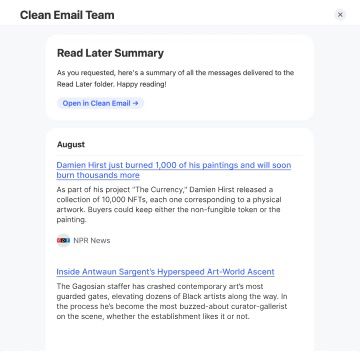 How to Block Emails on AOL
We all know that spam adds to the chaos in our full inbox. AOL makes it easy to block email senders, but it is a lengthy process.
Log into your mail account and go directly to the Options tab under the Profile address.
Click Mail Settings, then choose Block Senders.
There you'll have access to add individual emails in the Block messages from specific senders box.

To save your changes, click Save Settings.
Your other option is to go to each sender's individual message and right-click on their address and click Report Spam.
If you want to shorten these lengthy and tedious processes, then use Clean Email with your AOL email inbox to block, remove, and unsubscribe from unwanted messages and unwelcome senders in a few clicks.
How to Delete AOL Emails
The thousands of emails in your inbox may have tempted you to search for "how to delete AOL email account," but don't do it! We can help you figure out how to delete multiple emails in AOL.
Go to the folder where the unwanted emails are located.
Click the box by an email or multiple emails.

Hit the delete/trash can icon.
If you have over 50 messages that you want to delete, checking the boxes individually can seem daunting. So what is the answer to "how to delete thousands of emails AOL?" The easiest and the simplest fix is Clean Email.
With this app, you can easily select all of the emails you want to be deleted or use Auto Clean feature to pick emails to be deleted once they hit your inbox. It can take a little bit of time for all the emails to be processed if you have over two thousand messages, but you won't have to worry about going through the massive list one-by-one like with the regular AOL email app.
Conclusion
Take your AOL clean up to the next level by using Clean Email to help. AOL is a great email provider but lacks features to help you efficiently organize and clean your mailbox. With Clean Email's advanced features for inbox management, you can reach Inbox Zero every day. That means no more overwhelm, missing important emails, or being bombarded by junk mail. Plus, if you have another email address with a different provider, Clean Email can manage it too!