Why You Should Clean Up Gmail
With so much free space, it's no wonder that Gmail users sometimes neglect inbox management, never deleting old emails, and seldom unsubscribing from newsletters they are no longer interested in. Because those 15 gigabytes of storage space that all users get to enjoy for free are shared across all Google services, including Google Drive and Google Photos, a Gmail inbox can reach its capacity quicker than it might seem at first.
When that happens, the natural reaction of most users is to delete as many old and useless messages as possible. However, users typically discover that deleting old emails in bulk is easier said than done. The problem is that not all old emails are equally useless.
Hidden among advertisement, social media notification emails, and various one-time confirmation emails are old bank account statements, login credentials to various accounts, and personal and work-related messages.
To avoid deleting anything valuable, users typically go through thousands of emails page-by-page and manually select each message they wish to delete, which can take hours and days. Fortunately, there are ways how to approach Gmail cleanup systematically and even automate it all together.
How to Clean Up Gmail
Let's take a closer look at the best ways of how to clean Gmail inbox without wasting your valuable time and how to keep it clean and free of the clutter using an automated Gmail cleaner app.
1. Use the Categories
Gmail automatically sorts your emails into different inbox tabs, like Social or Promotions. You can find them clicking the gear button in the top right corner, then Settings → Inbox.

You can easily delete all emails under the "Promotions" category which contains marketing emails and newsletters you are subscribed to. However, before you delete all Promotions in Gmail or everything under the "Social" category, we recommend first making sure no important emails are being filed in that category. If the category doesn't contain anything important, feel free to click "All" in the select menu in the top left corner. A yellow pop-up message will appear above the category tabs stating that only the conversations on this page are selected.

Since Gmail categories are quite limited, you should consider using a dedicated Gmail cleanup app like Clean Email to group your messages according to their type, purpose, and other characteristics.
With the app's Smart Views feature, you can instantly see all emails from dead ends, emails older than one month, unread emails, bounce notifications, emails you've sent to yourself, and much more. You can then either apply a certain action to an entire group of messages or decide the faith of each of them individually.
To clean up Gmail using the Smart Views feature:
Go to: https://app.clean.email
Log in with your address and password.
Select any available Smart View from the left panel (such as Mailing Lists).
Apply any action to a whole group or a single message.
2. Block Unwanted Senders and Unsubscribe from Marketing Emails
If you receive a lot of promotional stuff, it would be not an easy task to clean Gmail and achieve Inbox Zero unless you unsubscribe from unwanted emails.
The unsubscribe email mechanism for Gmail cleanup is usually very simple. Just open the email, scroll down, and click the unsubscribe link. This link is usually very small to prevent accidental clicks. If it takes too much time to find it, press CTRL+F and search for the term "unsubscribe" in the body of the email.
If searching for unsubscribe links, which may or may not be included with unwanted newsletters in the first place sounds like a lot of work, then you should use a Gmail unsubscriber. Clean Email's Gmail Unsubscriber feature is a great choice because it automatically captures all unsubscribed newsletters, allowing you to resubscribe in the future with a simple click.
To unsubscribe from unwanted marketing messages using Clean Email:
Go to: https://app.clean.email
Log in with your address and password.
Select Unsubscriber from the list of options on the left.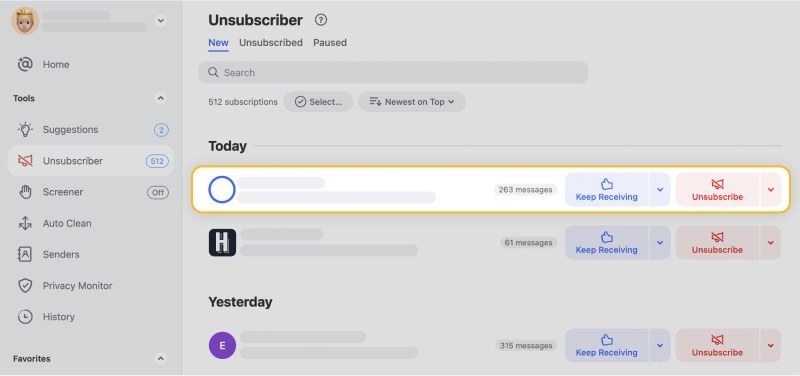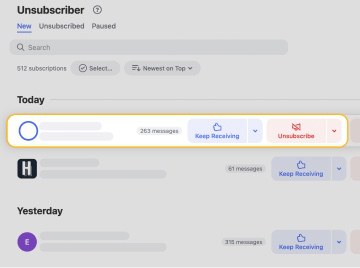 Click the Unsubscribe button next to each address from which you no longer wish to receive messages.
That's how easy it is to unsubscribe from unwanted marketing newsletters using Clean Email's Gmail Unsubscriber. Otherwise, you can Pause some subscriptions to stop receiving emails from them until they are necessary again.
However, professional spammers will keep sending you unsolicited emails even after clicking the unsubscribe link or unsubscribing using Clean Email's Gmail Unsubscriber. Moreover, clicking on a fake link is equal to notifying the spammer that your email address is actively in use. Therefore, you should be very careful not to click unsubscribe email links from emails that might be from non-legitimate senders and look like real spam. Instead, you can easily create rules to block an entire domain name spammers are using.
You will need to:
Click on the downward-facing triangle on the right side of the search bar. Type the domain name under From. Click on the "Create filter with this search" option located in the bottom-right corner.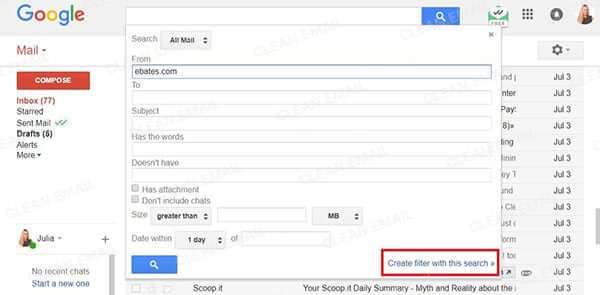 Check the "Delete it" option to automatically delete all emails from the desired domain name. Click Create filter.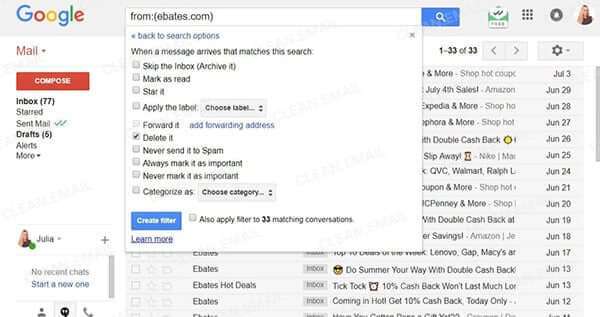 3. Delete All Emails from Senders You Don't Care About
Gmail has been around since 2004, which means that many of its earliest users, who were still in college when they signed up, now have children of high-school age. If you've been using Gmail for a long time, you've probably accumulated hundreds and thousands of emails from senders you no longer care about (learn more about how to mass delete Gmail emails to clean up thousands of unnecessary messages).
Why keep emails from social networks that don't even exist anymore or people you haven't met in the last 10 years when deleting them takes just a few minutes? With wildcards, you can easily find all emails from past senders so that you can clean Gmail inbox even if you don't know their exact email addresses.
In Gmail, the wildcard is the asterisk (*), and it serves as a placeholder for other characters. Let's say you want to delete all emails from Myspace, and you don't care whether they are from other Myspace users, Myspace support, or the social network itself.
Instead of searching for emails from user@myspace.com, support@myspace.com, and email@myspace.com, you can use the asterisk followed by the domain name (like this: *@myspace.com), and Gmail will display all emails from myspace.com. Then select the "select all messages" checkbox and delete all emails from Myspace in a few clicks.
4. Get Rid of Old Emails
Gmail gives its users plenty of storage space for email and attachments, which has one downside: some users never delete their old emails, allowing them to keep piling up until they run out of available storage space and become unable to receive any new emails.
If this bad habit sounds familiar to you, the best thing you can do is stop treating old emails as precious love letters from a tragically deceased lover and simply get rid of them. If you haven't had the urge to open an email for several years, the chances are that you never will, so why allow it to steal valuable email storage space from you?
This is what you should do to clean up Gmail and get rid of old emails:
Log in to your account.
Click on the search bar.
Type "before:[date]" (replace [date] with an actual date) and hit enter.
This search option tells Gmail to find all emails that were sent or received before the specified date and display them. Instead of a full date, you can also just specify the year. A good rule of thumb is to delete all emails that are older than five years without opening them first. You should also be safe to delete all emails that are older than 1 year, but caution is advised.
5. Create Custom Email Filters
Those who receive many emails on a daily basis need to clean Gmail inbox regularly to prevent them from piling on and gradually becoming unmanageable. If the idea of having to regularly clean Gmail inbox doesn't sound too appealing to you, we recommend you learn how to filter emails in Gmail to automate certain time-consuming email management tasks.
This is how you can create Gmail filters:
Log in to your account.
Click the Down arrow in the search box at the top.
Enter your filter criteria.
Click Create filter.
Choose what you'd like the filter to do.
Click Create filter again.
As you can see, creating Gmail filters is somewhat clunky because you must first define which emails you want to filter and then specify what you want to happen to new messages that match your criteria.
Clean Email's Auto Clean feature lets you accomplish both of these steps with a single click, making it possible for you to simply apply any action to all future emails.
To create custom email filters using Clean Email's Auto Clean feature:
Go to: https://app.clean.email
Log in with your address and password.
Select Inbox and choose the message on which you want to base your filter.
Apply any available action to the message.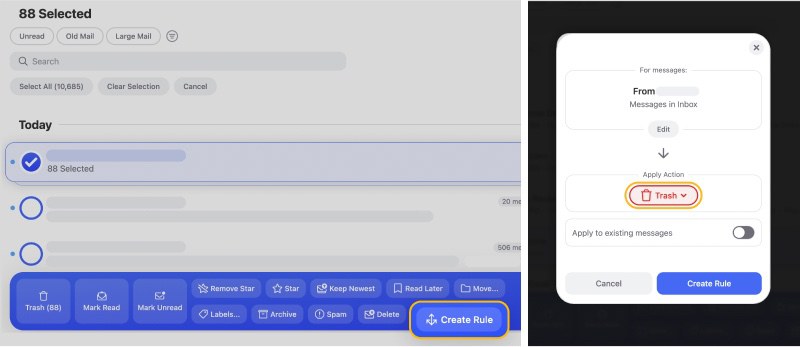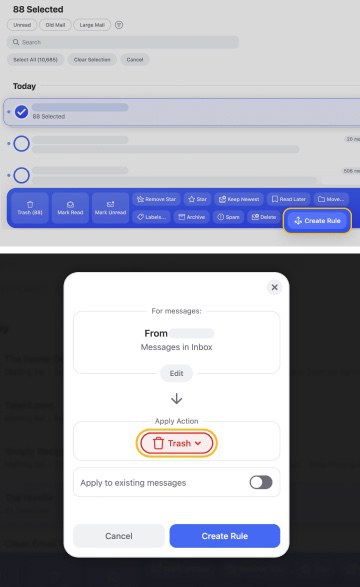 Choose the "Selected and future similar emails" option when asked to confirm the action.
6. Organize Emails with Gmail Labels
You can think of labels as a more versatile alternative to folders. Whereas a single message can belong to just one folder, it can have an unlimited number of labels assigned to it.
The most important advantage of label-based email systems like Gmail is that they make it easier to dynamically organize email messages based on your personal preferences. And since Gmail labels can be color-coded, they reduce inbox clutter by making it more scannable.
This is how to add labels in Gmail:
Log in to your account.
Scroll down the left pane until you see More. Click on it.
Click Create a new label and give it a name.
Click Create.
You can now add the newly created label to any email just by clicking on the Label as button and selecting it.
Keep in mind that you can assign multiple labels to a single message, so take full advantage of this useful feature since it can make it easier to use Gmail cleanup tools.
7. Start Using a Gmail Cleaner App
Considering how time-consuming it is to manually clean Gmail inbox, there must be a better alternative for how to clean up Gmail, right? A powerful email cleaner app is the best way how to organize Gmail. Many of us receive tons of new emails on a regular basis, and it's stressful to know that we might be missing the truly important stuff among the less significant information. The best Gmail add-ons and cleaner apps will help you simplify email management, and thus your digital life. Some apps let you turn your inbox into a to-do list, others feature smart filtering and automatic cleaning.
We are recommending Clean Email as the most intuitive and powerful app to clean Gmail inboxes and other email services. Clean Email takes away the pain associated with manual inbox cleaning by helping you group and organize, remove, label, and archive emails in your Gmail account. With just a few clicks, you can group emails by size, age, or sender. Using smart rules and filters, it's possible to separate unread emails from starred emails, subscriptions, and social network notifications from finance emails, emails you replied to from emails you've sent to yourself, and much more.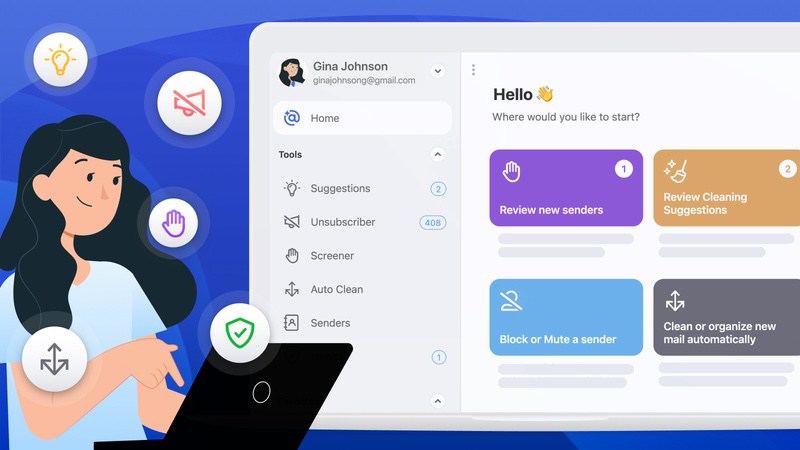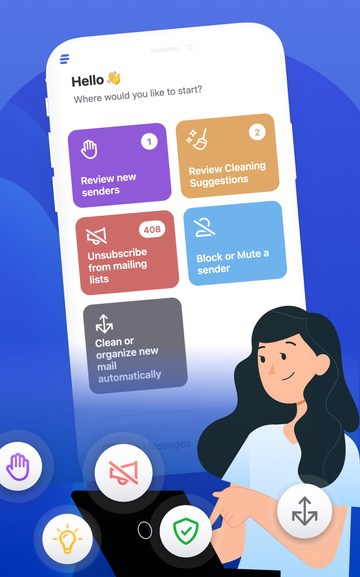 To clean out Gmail using Clean Email, you don't even have to pay any money. The app can be used for free to clean up to thousand emails, and unlimited cleaning starts at just $9.99 per month, which is remarkable considering how much time this Gmail cleaner can save you.
With any email cleaner app, there's always the question of trust and security. In order for any email cleaner for Gmail to clean up old messages, you must give it your permission to access your inbox. However, not all cleaners require the same level of trust.
Some, such as Clean Email, only analyze email headers that contain subject line, sender and recipient information, dates, email size, and similar metadata, while others access email contents or attachments contents, as well. The app removes all logged user data from its servers after 45 days as an additional security measure. The connection between Clean Email and your Gmail account is secured using 128-bit encryption and an authentication protocol called OAuth2.
The app users never wonder how to clean out Gmail because it is so well-designed that it's immediately obvious how to use all its features.
8. Clean Up Gmail Storage
Now that you know that your Gmail storage space is shared across all Google services, you're probably anxious to learn how to clean up Gmail storage.

But before we start with the best way to clean up Gmail, we recommend you first take a look at how much space you have left, which you can do by going to drive.google.com/settings/storage on a computer. Look under Storage Details for a breakdown of your storage use across Google Drive, mail, and Google Photos. That's how to check Gmail storage.

If you see, for example, that you couldn't have possibly exceeded the Gmail storage limit because this service provider barely uses any storage space at all, you need to shift your attention toward Google Drive and Google Photos, which are often the biggest hogs of Gmail free storage space (learn more why Gmail is not receiving emails

).

On the other hand, if you don't use Google Drive or Google Photos, then there's no reason for you to spend time learning how to clear Google Drive Storage and delete unwanted photos and videos from your Google Photos collection.
Clean Up Your Google Drive and Photos
First of all, you need to find out how much space you use on Google Drive, Gmail, and Google Photos. Sign in to your account and go to Google's Drive storage page. Click "View details" under a pie chart to see the storage breakdown by platform.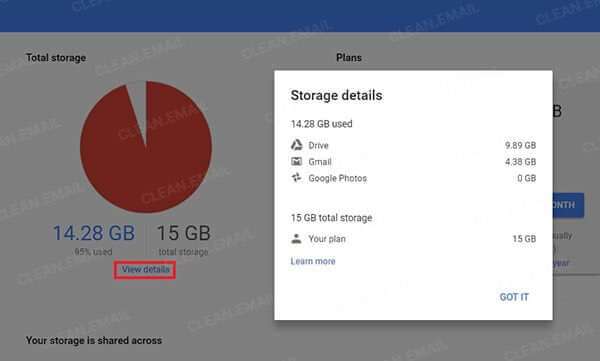 If the majority of your Google Drive space is being occupied by Google Photos, go to Settings and make sure the upload size is selected as "High quality" instead of "Original."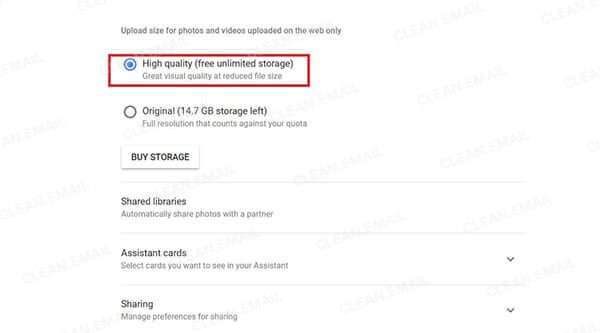 Quality photos will be smaller than the original resolution and Google will give you unlimited storage. If a photo is larger than 16MP, it will be resized to 16MP. Videos higher than 1080p will be resized to high-definition 1080p. A video with 1080p or less will look close to the original.
If you want to clean up your Google Drive, go to https://drive.google.com/#quota in your browser. You will get the list of your files, starting with the largest ones at the top. However, not everything in Google Drive counts toward your storage limit. Google Docs, Sheets, Slides, Forms, Sites, and files in "Shared with me" don't take up space. After you have deleted the files you don't need, make sure to empty the Trash folder. Otherwise, the file will stay there taking up your space.
Delete Huge Emails
Are you wondering which emails are eating up space in your Gmail mailbox? Then you need to log in to your account and follow our instructions:
Click the downward-facing triangle on the right side of the search bar to show search options.
In the bottom half of the pop-up window should be an option titled "Size." Make sure the first field next to it says "greater than" and the last field says "MB."
Type the desired email size in the middle field.
Click Search.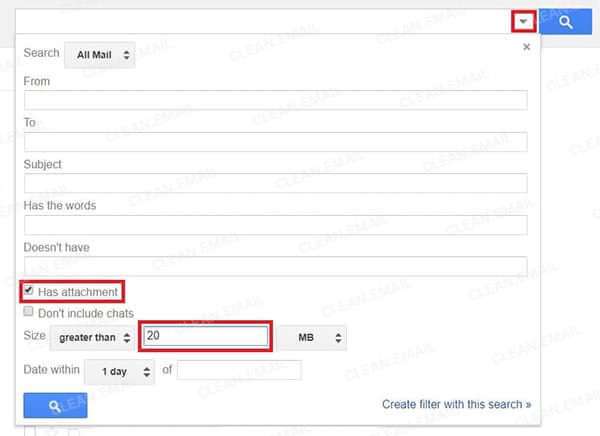 Since the average size of an email file is about 75 KB, we recommend you filter all emails that are larger than 1 MB. That way, you won't waste your time on small emails that contain nothing but a few lines of text, but you'll easily catch all emails with at least somewhat large attachments.
Should Gmail find too many emails that are larger than 1 MB, you can always increase the size filter to further narrow down the search results. Gmail allows its users to receive files of up to 50 MB in size and send files up to 25 MB in size, so keep these two numbers in mind when using the size filter.
Delete Old Notes and Message History
Gmail is a versatile email client with many extra features that most casual users don't even know they exist. One such feature is the ability to create Google Keep notes directly from Gmail, which may come in handy when you receive some important information and want to save it for later.
Even though Google Keep notes are so small that they barely make a dent in the Gmail storage limit, it's still a good idea to keep them organized by deleting old notes from time to time.
To delete old Google Keep notes from Gmail:
Log in to your account.
Click the Google Keep icon.
Hover your mouse over any note you want to delete and click the three vertical dots.
Click Delete.
While you're learning how to clean Gmail inbox, you may as well delete your Google Hangouts message history since even Gmail cleaner apps won't help you with it.
Deleting your message history will remove messages from Gmail and classic Hangouts on all your devices, but other people in the Hangout will still be able to see them.
To delete your message history in Gmail:
Log in to your account.
Open any Hangouts conversation you want to delete.
Click the settings gear icon at the top of the conversation window.
Select Delete conversation.
Confirm your decision.
How to Clean Gmail Inbox Using Clean Email
It takes just a few minutes to perform a Gmail cleanup using Clean Email, which is why we consider it to be the best way to clean up Gmail.
This is how to clean Gmail inbox using the app:
Sign up for your account.
Connect the app to your Gmail account.
Wait for it to analyze your inbox and present you with several options on how to clean it up.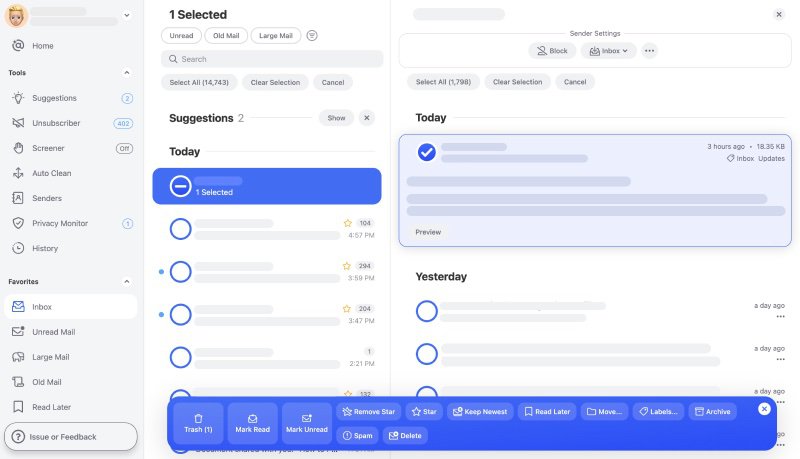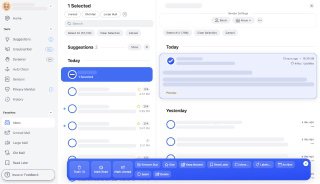 When it comes to inbox cleaning, email segments and advanced filters are your two best friends. Email segments allow you to stop thinking about your inbox in terms of individual emails and start thinking about it in terms of email categories. Some of the many examples of possible email categories (Smart Views) with Clean Email include old emails, unread emails, starred emails, emails from dead ends, junk emails and spam, bounced email notifications, large emails, subscriptions, travel emails, drafts, emails to yourself, emails where you are in the copy, and many others.
Clean Email allows you to label an entire segment, move it, delete, or archive. Once you start organizing emails by hundreds and thousands, you'll understand what makes Clean Email such an effective tool for Gmail cleanup, and how much time it can save you compared to doing the same thing manually.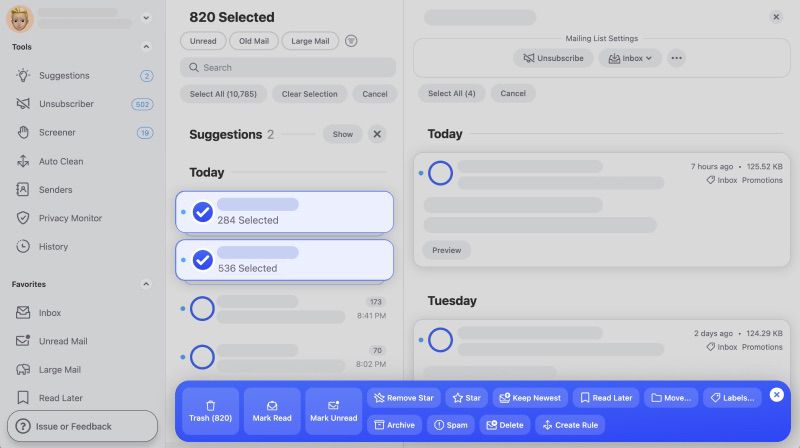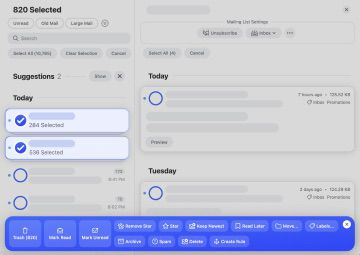 Before you know it, your Gmail inbox will be sorted out, and you'll finally be able to find important old messages without going through hundreds of junk emails. With Clean Email, even something as tedious as inbox cleaning can be fun and take no time.
Besides Gmail, the app also supports all popular email services, such as Microsoft Outlook, Yahoo Mail, Yandex.Mail, and others via IMAP. If you actively use more than one email account, you can purchase the $29.99 per month subscription, which lets you clean up to ten email accounts with no limitations. You can even share the subscription with friends and family members.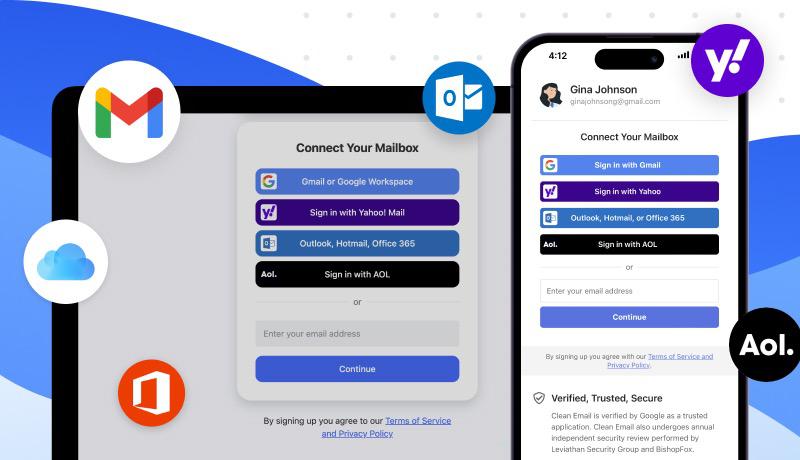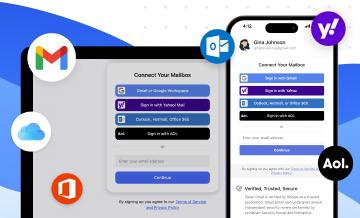 Best of all, Clean Email never charges its users any hidden fees. Thanks to the app's commitment to security and privacy, users don't need to worry about the company analyzing and selling their private data for profit to third-party companies.
Learn more about how to clean up Yahoo Mail inbox and Outlook mailbox cleanup in our other posts.
---
Clean Gmail Inbox - FAQs
How do I quickly clean out my Gmail inbox?
To quickly clear your Gmail inbox, you can perform a search for certain senders which you don't consider important (newsletters, spam, advertisements, etc.) From here, you can use the three dots icon in the top right to filter messages. Once these have been filtered, click on the top left square to select all conversations, and then hit the trash icon to delete them. Alternatively, you can use Clean Email's Quick Clean feature that combines the most commonly cleaned messages into categories for applying any actions to the whole email group in a few clicks.
How do I delete thousands of emails in Gmail?
It is possible to delete thousands of emails with just a couple of clicks in Gmail. To do so, filter out the messages that you'd like to delete (you might have thousands from just one sender over the years.) Once they have been filtered, select the "select all messages" checkbox. This will only select 100 messages, but there will be an option to "select all conversations that match this search." From there, you can click the trash icon, deleting thousands of potential emails that match the filter.
What is the easiest way to clean up Gmail?
Performing manual cleanup in Gmail is time-consuming and frustrating, but there are better ways to clean up Gmail. One recommendation is to use a third-party program that can group and filter your emails as they come in and will proactively clean up your inbox without any action required. Clean Email Gmail cleaner is one of the best programs out there, with an intuitive platform, simple interface, and plenty of powerful features to help you keep your Gmail inbox free of clutter.
How do I clean up spam in Gmail?
If you suspect that a particular sender is spamming your inbox, you can create a filter for that sender. Once the filter is created, Gmail will give you options for actions to take when you receive a message from that sender. You can select "delete it" to automatically keep your Gmail inbox free from spam messages.
How do I delete all my Gmail emails at once?
In the search bar, type "Before: tomorrow's date (in yyyy/mm/dd format). Then, select the select all checkbox in the top left. This will only highlight 100 emails, but you can choose the option to select all emails, and then you simply hit the trash icon to delete all of the emails.
How do I clear my Gmail social inbox?
Click on the social tab on top of your emails, then check the select all checkbox. You will see an option to select all emails on social. Once you have clicked that, you can click the trash icon to delete all messages in the Social inbox. Alternatively, you can use Clean Email to find all your social media messages in a few clicks. Launch the app, select Smart Views on the left pane, and look for the Social Notifications group. Then choose an action like delete, archive, move, or any other to these messages.