Why Opt For a Cleanup Tool
As a high volume email receiver who values a clean mailbox, you will find you spend more and more time cleaning your Gmail inbox. You end up spending valuable time organizing emails, neglecting the real work that has to be done. In a world where time has become the currency, you ought to learn to delegate your email management tasks to Gmail cleanup tools that can carry it out in your stead and with utmost precision.
4 Best Cleanup Tools For Gmail
We have selected the best apps to clean up Gmail in a few clicks. Never again will you have to spend hours on simple mail cleaning tasks with these tools.
1. Clean Email
When it comes to email cleaning tools, Clean Email offers unmatched service. The tool packs enough features to make your life easier. Instead of having to go through your mailbox with a fine tooth-comb, Clean Email has an algorithm that lets you delete and unsubscribe from newsletters that are torn in your flesh.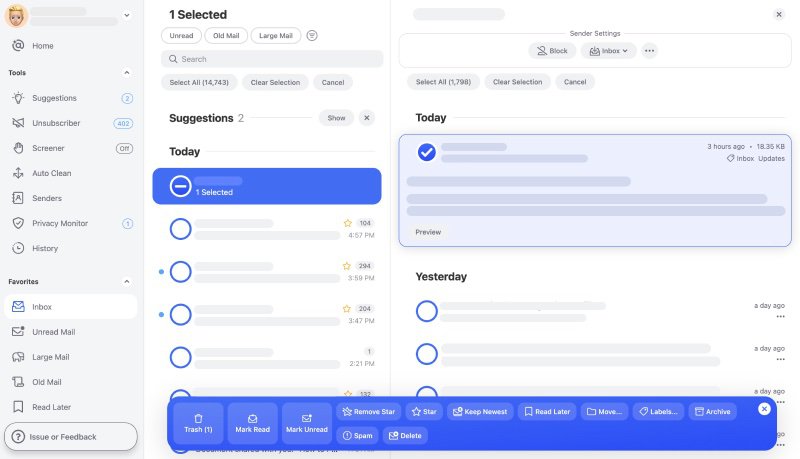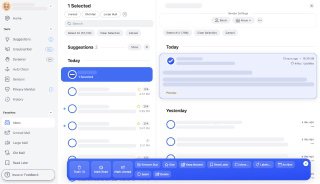 The tool uses pre-set filters ("Smart Folders") to easily identify the messages you find important and those you do not. These filters can also be set to take actions such as moving, labeling, or deleting, etc. on a group of emails.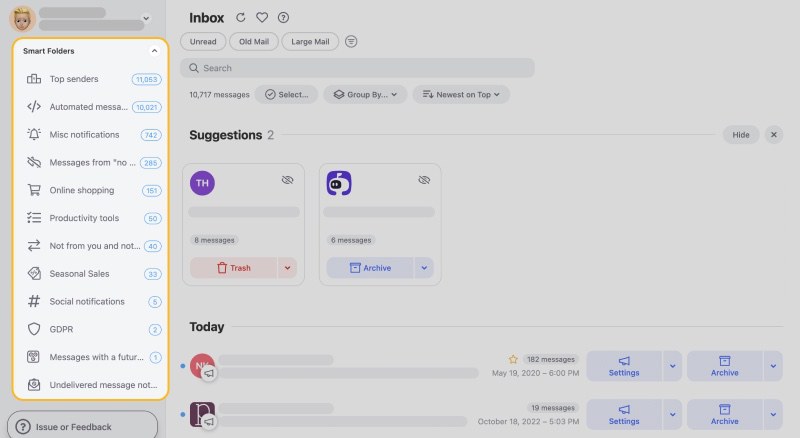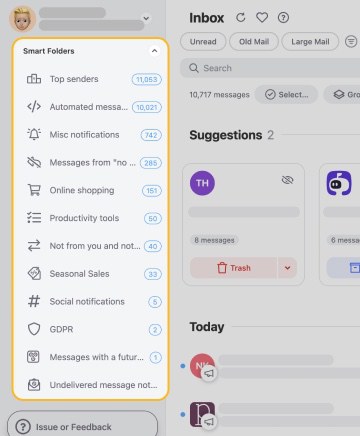 Unlike other Gmail cleaning tools, Clean Email offers really competitive prices for both business accounts and personal use.
Price:
One account: $29.99/year - $7.99/month
Five accounts: $49.99/year - $9.99/month
10 accounts: $99.99/year - $19.99/month
👍🏼 Pros:
Affordable
Great user interface
Privacy and security-oriented
Easy in navigation
Offers free trial
Available for all IMAP-based ESPs
Follow our guide on how to clean up Gmail storage.
2. Mailstrom
Mailstrom is another great Gmail cleanup tool that can help you achieve Inbox Zero. The tool typically amplifies your human intelligence by bundling similar emails you find irrelevant and allowing you to take a bulk action. This includes delete, archive, move, and label. With this Gmail cleanup tool, you can slice through thousands of messages in a few seconds. If saving time is your objective while cleaning your inbox, then Mailstrom offers just that.
Price:
Basic: $9/month and $59.95/year (1 email address and a limited inbox size)
Plus - best value: $14/month and $99.5/year (3 email addresses and a limited inbox size)
Pro : $29.96/month and $199.95/year (20+ addresses and unlimited inbox size)
👍🏼 Pros:
Supports multiple service providers
Offer free trial
Easy to navigate
👎🏼 Cons:
Expensive
Limited features
3. ZenMail (Chrome, Firefox)
ZenMail is a Chrome and Firefox extension for Gmail users. This tool helps you screen and sort new emails in order to attain a cleaner inbox. Once a new message is received, it goes through a screener that asks you what you would like to do with future emails from this sender. This way, some messages will never have to reach your mailbox. Behind the scene, ZenMail utilizes email filters and labelling to carry out its functions. You could archive messages as they arrive, send them to trash, and even create a special label or folder for them as they hit your inbox. As a result, you can delete an entire email folder without worrying about losing important emails.
Price: Free
👍🏼 Pros:
Free
Easy to use and navigate
Available on Chrome and Firefox
👎🏼 Cons:
Not secure
Stale user interface
Not privacy-conscious
4. Unsub.ME for Chrome
Unlike other Gmail cleanup apps, Unsub.ME is a free Chrome extension that gives Gmail users more control over their mailbox. This app is designed for fast email unsubscribe. It works entirely on your computer and as such prone to email hack if your computer is susceptible to attacks. Unsub.ME offers email privacy due to its policy to keep all information on your computer. It is a good solution for users looking to clean their mailbox with a free tool.
Price: Free
👍🏼 Pros:
Email privacy
Great user interface
Easy navigation
Free
👎🏼 Cons:
Susceptible to attack
Limited features
Conclusion
These are the best Gmail cleanup tools to help you save time and get your mailbox looking new again. You can get back to other important tasks while using these tools to handle the cleaning and organizing your email messages.
---
Best Gmail Cleanup Tools - FAQs
1. What is the easiest way to clean up Gmail?
The easiest way to clean up Gmail while saving time is by using a mailbox cleanup tool. Ensure to choose a cleaning tool which is self-sufficient and gets the tasks done with only a few inputs from you.
2. Why do I need a Gmail cleanup tool?
If you have ever spent hours cleaning a cluttered mailbox then you ought to have a Gmail cleanup tool. This cuts down your email cleaning time from hours to a few minutes with the right software.
3. Is there an app to clean up Gmail inbox?
Yes, and Clean Email is one of the best apps to help you clean your Gmail inbox. It organizes your emails into relevant bundles, and you can easily apply any action to a group of similar messages instead of managing each of them manually.
4. What are the best Gmail cleanup tools for Mac?
There are many great Gmail cleanup tools for Mac users. If flexibility, automation, and customization are what you desire the most, then we recommend Clean Email. With a few clicks, you will set up rules to manage and organize your emails automatically once they hit your inbox.