How to Determine the Size of Your Mailbox
You may want to clean up Outlook mailbox but not always have the time. However, your Outlook inbox can only hold so many messages.
If you keep getting messages that your Outlook mailbox is full or you're just concerned about how much available space you have, you can check your mailbox size by following these steps (if you have an Outlook client through Microsoft 365 or use Outlook 2021, Outlook 2019, Outlook 2016, or Outlook 2013):
From your mailbox, select your account
Then click on Folder → Folder Properties
At the bottom of the page, click the button that says "Folder Size"
Once the box opens, you will see the total size of your inbox and all of the subfolders you have set up
💡 Note: As you will notice, the mailbox size only appears in kilobytes (KB). However, you can easily determine the size in megabytes (MB) by sliding the decimal three places to the left. So, if your inbox says it is 4742 KB, it would be 4.7 MB.
As you'll learn below, you can also access your mailbox size through Outlook Mailbox Cleanup, which also gives you several other tools to help you keep your Outlook mailbox clean.
Using Outlook Mailbox Cleanup When Outlook Mailbox Full
Outlook Mailbox Cleanup is a section within the Outlook desktop app that has tools specifically designed to help you clean Outlook inbox easily and effectively. In fact, you can use the handy Outlook Mailbox Cleanup tools to review the size of your inbox, clear out specific items based on criteria such as the email size or date received, and archive items.
If you use Outlook as your primary inbox, then this set of tools can really help you keep everything organized and under control.
To access Outlook Mailbox Cleanup, you just need to open your Outlook desktop app, then navigate to File → Info → Tools → Mailbox Cleanup. From here, you will have options to use any of the following tools, each of which is outlined below:
View Mailbox Size
While this tool is fairly self-explanatory, it is helpful to know how much space your inbox is taking up, along with what large emails might be tucked away in certain folders.
To view your mailbox size, simply:
Go to File at the top of your Outlook desktop app
Select Info on the left side, then click Tools in the center
When the drop-down menu appears, click Mailbox Cleanup
When the dialog box appears, click the button that says Mailbox Size
Like the previous directions, you will now see the total inbox size and each subfolder's size in KB
When looking at your subfolders, pay close attention to any that look significantly larger than others. This can help you see areas where you may need to delete items that are no longer needed. Also, consider subfolders you may not typically think about as data hogs, like your calendar or contact list — there may be old appointments or old contacts you no longer need.
In addition to the contents stored locally, you can also view the storage in your mail server (assuming you have one). To do this, simply click the tab at the top of the mailbox size box that says Server Data instead of Local Data. This can be an important place to check periodically if your emails automatically archive to the server.
Find Items Older Than a Certain Date or Larger Than a Certain Size
In addition to checking the amount of data each folder contains within your inbox, you can also hunt down specific messages based on dates or message size by using the "Find" function within these tools. In fact, this is an easy way to free up storage in Outlook without spending hours looking through each subfolder in your mailbox.
To use this tool, simply select whether you'd like to search for emails older than a certain number of days or all messages larger than a certain size. Then, input your data parameters (i.e. "older than 90 days" or "larger than 500KB") and push the Find button on the right.
From here, an advanced find window will open up. You can use this to narrow down your search results even further, or you can simply scroll through the messages Outlook found based on your initial criteria. On the right side of each message, you'll have the option to flag it for follow-up or delete the message completely.
You can also click on the message to open it, or right-click on the message to see more options like "print," "forward," or "move." In fact, you can even use Shift + Right Click to highlight multiple messages and perform the same action to them all, which can really save you time. This is a great way to delete multiple emails in Outlook.
Archive Items by Using AutoArchive
Many people use email archiving to clean Outlook inbox while still maintaining certain messages so they can quickly retrieve them at a later date through a simple search. This can be a valuable tool for anyone, if you know how to use it to your advantage.
Although you may already know how to archive in Outlook, the AutoArchive tool can help you quickly archive items based on the parameters you set. However, AutoArchive doesn't have any pre-established archiving rules, which means you will first need to set those up if you want to use AutoArchive on a fairly regular basis.
To set up AutoArchive parameters, simply navigate to File → Options → Advanced → AutoArchive → AutoArchive Settings. From here, you can program how often you want AutoArchive to run, and which emails should archive (ex. emails older than 12 months). You can also specify where the emails move to or if they simply delete.
Once these rules are established, your inbox will perform them each time you hit the AutoArchive button within Mailbox Cleanup.
View Deleted Items Size
Did you know that pushing "delete" on messages doesn't permanently remove them from your inbox? Instead, it simply places them in the trash, which you still need to empty. So, if you're trying to figure out how to clean up Outlook inbox but realize archiving isn't helping you reduce the inbox size, that's why.
Thankfully, Outlook Mailbox Cleanup offers the option to view the size of your discarded messages before you permanently delete them with the View Deleted Items Size tool.
Like the View Mailbox Size feature, this tool breaks down how much space (in KB) your trash is taking up. If it's pretty bad, then you can simply use the Empty button under this Mailbox Cleanup tool to clear out all that discarded clutter. Just remember, once an email is removed from your trash, it's gone for good.
View Conflicts Size
The last tool within Outlook Mailbox Cleanup is called View Conflicts Size. This is essentially a storage area for emails Outlook thinks overlap with other messages in your folders because of similarities in things like subject line or attachments.
If you click the View Conflicts Size button, you will see a filtered view of your mailbox with only messages Outlook has flagged and conflicts. Most of the time, these messages can be deleted, but it's always best to double-check before you completely erase anything.
How to Clean Up Outlook Inbox with Clean Email
If you're wondering how to clean Outlook inbox with a few simple clicks that offer you that "set it and forget it" peace of mind, then you should absolutely consider Clean Email. It's an online bulk email cleaner that helps you keep your inbox cleaned and organized with automation tools and other handy features. In fact, Clean Email's automatic inbox cleaning capabilities are as easy to use as they are useful.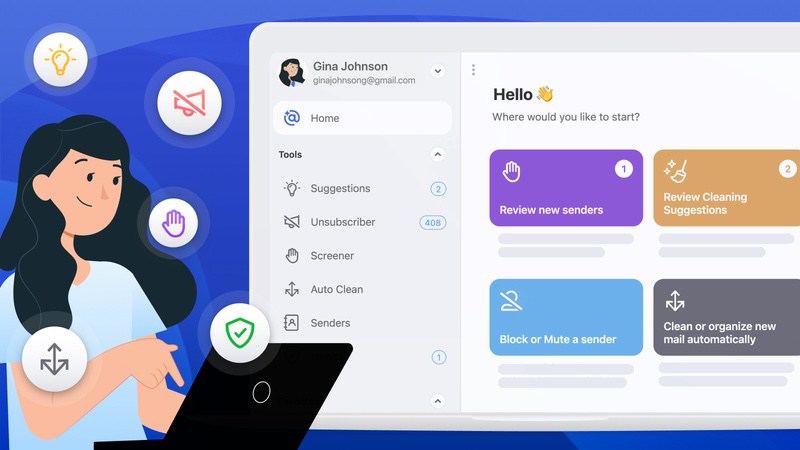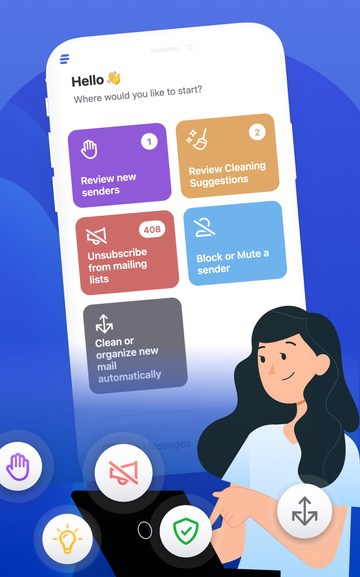 Clean Email offers a number of tools that Microsoft Outlook doesn't, plus it gives you the ability to automate tasks so you can spend less sifting through messages each day.
💡 Note: Clean Email works with the Outlook web email service provider (or any other email service provider with IMAP). The app doesn't synchronize with the Outlook desktop client. However, you can use Clean Email as a separate tool to provide additional features that your desktop email client doesn't offer.
For example, the Auto Clean feature lets you create the automated rules that remove, archive, label, categorize all your emails once they hit your inbox. You can also use this future to mute and block messages from specific addresses, and change or turn these settings off at any time, giving you complete control over your inbox.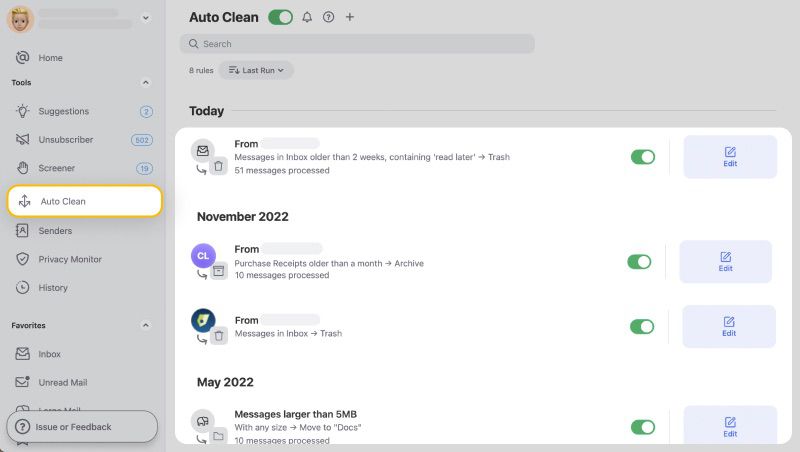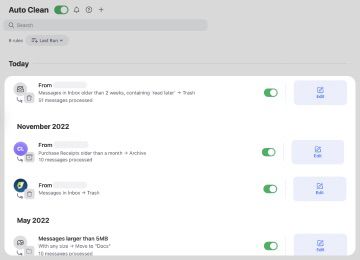 Unlike Outlook, Clean Email also offers a Smart Folders feature that helps you sort messages into smart relevant bundles. This helps you quickly go through emails of a single type in one sitting, which makes you more productive and saves you time.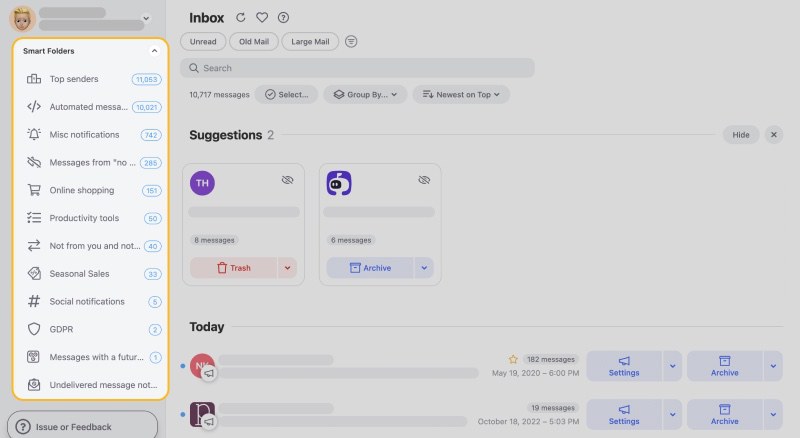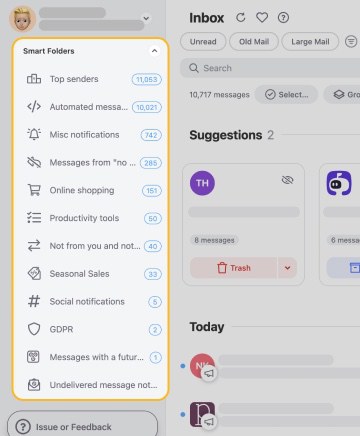 Also, since it's rather time-consuming to unsubscribe from emails on Outlook manually, the Unsubscriber tool helps you permanently remove marketing newsletters you may not want, choosing them all from one screen.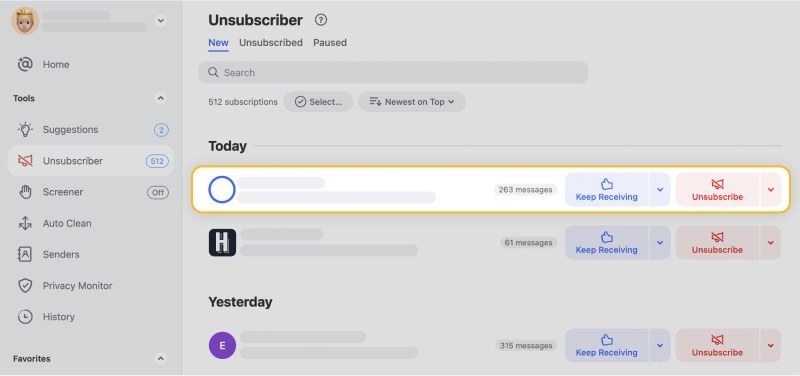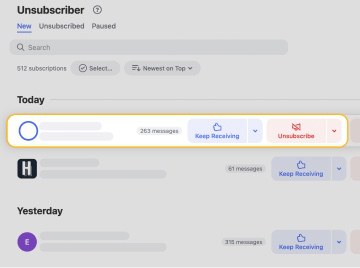 Best of all, Clean Email offers a free trial, meaning you can test it out and see the amazing benefits for yourself first.
How to Organize Outlook Inbox
Now that you know how to clean Outlook, you may also want to learn how to keep your inbox organized after you've cleared out the clutter. Luckily, these tips can help you organize email in Outlook so you don't have to worry with messes again.
Archive older emails
If you simply want to organize messages and get them out of your way, then you may want to consider archiving some of your older emails. When you archive an email, it leaves your inbox but doesn't disappear completely. Instead, it goes to the Archive folder, and you can decide to leave it there, retrieve it, or delete it.
How to archive emails in Outlook.com:
Open your mail account on the web.
Open any email you want to archive.
Select the Archive option from the toolbar at the top of the page.
How to archive emails in Outlook desktop client for Windows:
Open the client application on your computer.
Select one or more messages in your Inbox or another folder to archive.
Choose Archive in the Delete group.
You can also use the Backspace key to immediately archive one or more selected messages.
Once you archive emails, it's important to note that this does not instantly reduce the size of your inbox. Instead, all of your email account information is stored in an Outlook Data File (.pst) if you are using a POP account, and Offline Outlook Data File (.ost) if you are using an Microsoft 365, Exchange, Outlook.com account, or IMAP account.
You can, however, compress this file by following these steps on Outlook 2013 and newer versions:
Delete any items and empty the Deleted Items folder.
Click File → Account Settings → Account Settings.
On the Data Files tab, click the file you'd like to compact, then click Settings.

💡 Note: If you use an Outlook.com or Exchange email account, you must also click on the Advanced tab, then select Outlook Data File Settings.

Now, click Compact Now and then click OK.
Store attachments outside your mailbox
Unfortunately, attachments take up lots of unnecessary space in your Outlook inbox, especially if you hold onto the emails just to access the attachments time and time again. However, you can avoid this by just storing your attachments outside your mailbox so they aren't filling up Outlook and wasting storage space.
There are tools that can help you store attachments outside the mailbox, but they cost money. Instead, you can do it for free by following these steps:
Launch Outlook desktop client on your computer.
Select the message you'd like to download attachments from.
Right-click on the selected message and choose the Save All Attachments option.
Now, choose the location you want to store attachments outside of the mailbox, such as a folder on your desktop or your Documents folder.
The attachments will now download there, and you can retrieve them at any time.
Empty the Deleted Items folder
Most people assume that when you delete an email, it disappears and that's it. However, it first goes to the Deleted Items folder (trash), which you have to then empty. To do this, simply right-click on the Deleted Items folder (or Trash folder depending on the version of Outlook you use), then select Empty Folder.
If you'd rather have a "set it and forget it" approach to emptying your deleted items, you can also delete emails in Outlook automatically by using these steps:
From Outlook on desktop, navigate to File → Options.
Click on the Advanced tab, then look for Outlook Start and Exit.
Check the box labeled Empty the Deleted Items folder upon Exiting.
Empty the Junk Email folder
Just like with the Deleted Items folder, the Junk Email folder can also end up with a lot of messages you forget exist. This can take up valuable space in Outlook, so you may want to delete these periodically as well to save yourself some space.
To do this, you can simply right-click on the Junk Email folder on the left side of Outlook web app and select Empty Folder from the options listed.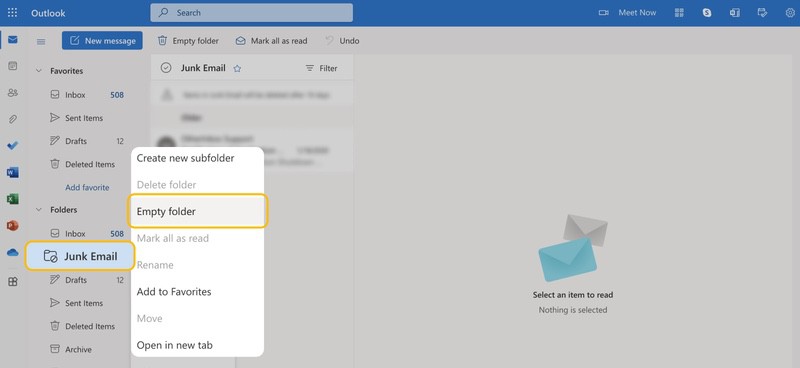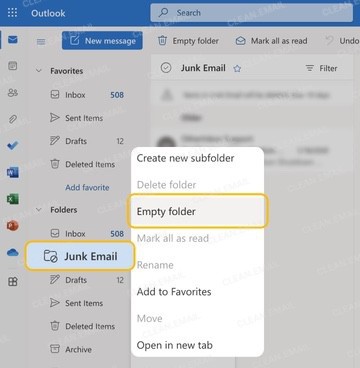 Use the Outlook Focused Inbox feature
To help filter emails in Outlook, Microsoft enlisted the help of artificial intelligence and used it to develop the Outlook Focused Inbox feature. This feature proactively analyzes all incoming email messages to determine which are important and which can be safely ignored. It then places the important emails in the "Focused" tab and hides the rest in the "Other" tab.
Chances are, Focused Inbox is already activated for your inbox, but you can also follow the steps below and activate it manually.
How to turn on Focused Inbox in Outlook for Web:
Go to your Outlook.com account.
Log in with your username and password if prompted to.
Select the Settings icon and toggle on Focused Inbox.

You should now see both the Focused tab as well as the Other tab at the top of your inbox.
To turn off Focused Inbox in Outlook.com, simply click off the Focused Inbox option in the Settings menu again.
How to turn on Focused Inbox in Outlook for Windows:
Open Outlook desktop client on your computer.
Select the View tab.
Click on the Show Focused Inbox option.
The Focused tab as well as the Other tab should appear at the top of your inbox.
To turn off Focused Inbox in Outlook for Windows, select the View tab and click on the Show Focused Inbox option again.
⚠️ Warning: With Focused Inbox active, it's easy to miss emails flowing to the Other tab. Sometimes, the artificial intelligence algorithm used by Microsoft to determine the importance of email messages makes the wrong decision and sends an important email to the wrong tab. That's why you should check the Other tab from time to time and mark all important emails that end up in it as such. When you do so, you teach the algorithm to make better decisions, improving the Focused Inbox experience for all Outlook users.
Use folders to organize your Outlook inbox
Another great way to organize your inbox is through the use of folders. Setting up folders allows you to separate your email management into more manageable chunks that take just a few minutes each to organize Outlook emails.
How to create email folders in Outlook for Windows:
Open the email client on your computer.
Move the mouse cursor above the left panel and right-click.
Select the New Folder option.
Enter the name of the folder in the Name box.
Hit the Enter key on your keyboard to confirm.
How to create email folders in Outlook for the web:
Open your mail account on the web.
Right-click the folder in which you want to create a new subfolder (right-click the Inbox if you want to create a new subfolder there).

Or, choose Create new folder option under your folders on the left-side panel.

Enter the name of the folder in the Name box.
Hit the Enter key on your keyboard to confirm.
Once you have folders set up, you can even move Outlook incoming emails into specific folders automatically to save you even more time going forward.
Wrapping Up
Do you understand how to clean up Outlook email now and keep your messages organized more effectively? Well, we sure hope so! Just remember, though, when built-in email management tools fail, Clean Email comes to rescue. With it, you can quickly and easily clean up your Outlook mailbox and ensure that it will never become so full as to make Outlook unusable.
---
Outlook Mailbox Cleanup - FAQs
What do I do when my Outlook mailbox is full?
There are several ways you can clear out space if your Outlook mailbox is full. For example, you can archive old messages, empty your Deleted Items folder, or store attachments outside your inbox.
How do I clean up my Outlook inbox?
If you're wondering how to reduce Outlook mailbox size, you can easily do this by using Outlook Mailbox Cleanup. This tool helps you delete or archive messages, check how full your inbox is, and identify conflicting messages that may be duplicates.
How do I clean up thousands of emails?
Clearing out thousands of messages can feel overwhelming, but solutions like Clean Email can help you clear out the clutter and automate the cleanup going forward.
How do I clean out my Outlook inbox without deleting emails?
If you want to clear out your inbox but don't want or need to delete emails, you can archive them instead. This moves the messages to a secondary location so you can search for them later.
Where is clean up in Outlook?
Outlook Mailbox Cleanup is easy to locate. Just navigate to File → Info → Tools → Mailbox Cleanup.
What happens when you hit clean up folder in Outlook?
The Clean Up Tool helps remove redundant or replicated messages from your inbox and moves them into a separate Clean Up Folder.
Does archiving free up space in Outlook?
Unfortunately, no, archiving messages does not free up space in Outlook. Instead, archiving simply moves messages from your inbox into a dedicated archive folder so they aren't in your way.