What is Zoho Mail?
Zoho Mail doesn't just sound unique, it is unique! It's an innovative email hosting platform that caters to any size business with a modern layout that imitates social media messaging mixed with familiar email settings and navigations. Zoho is fully equipped and customizable to fit your organization or personal email needs while keeping your accounts secure and protecting your privacy at all times.
Zoho Mail vs Gmail: What's the Difference?
Even if you really want to walk away from the popular email provider you've used for years to try Zoho, you may still be a little hesitant because you're worrying that it won't live up to the reliable expectations of grandfathered email service providers like Google, with its Gmail platform, have set. In reality, Zoho and Gmail are both great messaging platforms. However, we understand that the push you need to go through with setting up a Zoho personal email account is by finding out how it stands apart from the Gmail counterpart.
Strict Privacy Policies
If you're tired of seeing all the Google Ad banners and the sneaky ads that appear to be unread messages, then you'll love the privacy you'll receive from Zoho. They have a GDPR compliant platform that never sells your personal information and only uses the basic user information it needs to identify you to keep your account safe from unwanted eyes.
Modern and Customizable
Many companies are willing to pay extra to receive a professional, custom email address domain that reflects the name of their business. Zoho includes this feature in its plan automatically without any of the extra fees. Once you get past setting your personalized email address, you can enjoy the benefits of sending mass emails, the personalization of the social media-like interface where you can also tag coworkers, share folders, "like", and send comments through the instant chat feature all in one place. Some other areas that can be customized are emails forwarding, keyboard shortcuts, fonts, and other innovative features. You also have control over how often your trash is automatically emptied. Currently, Google has a non-negotiable rule of automatically deleting your trash every 30 days, but Zoho gives you the flexibility to keep emails in your trash beyond that timeframe.
Tons of Integration Options
The majority of businesses that use Zoho can't believe they settled for email platforms without a task manager, notes, and the option to share calendars to level up the collaboration efforts in the company. Zoho cloud storage makes it possible for businesses to get these types of customer relationship management features by integrating with other CRMs like Salesforce, Dropbox, and Evernote and the technology that it's already equipped with. These integrations and technologies help increase company productivity and eliminate the need to go out of the Zoho Mail app. Google has its cloud-based platforms outside of Gmail meaning every time you want to use Google Docs or Sheets, for example, you will need to open a new tab or completely close the Gmail window.
These are just a few differences between the Zoho Mail and Gmail platforms that we think are game-changers for making a decision to choose between the two email platforms.
How to Find the Archive Policies in Zoho Mail Settings
Archiving emails is the best way to get them out of your inbox without deleting the file or attachment. When you want to archive an email or folder, you have the option to solely use the required default policy setting or add a custom policy to your personal Zoho Mail archive. You can easily add custom policies through your Zoho Mail settings. When you add a custom policy you have control over how many months or days a message can be in your inbox before being moved to the archive folder, the number of emails you want moving from your inbox to archive based on a specific number of messages you just received, or move large attachments that exceed Zoho Mail limits to the folder.
To gain access to these archiving options, follow these steps:
When you're in your Zoho inbox click "Settings."
Navigate to the "Archive Policy" tab and there you'll see the "Default Policy" that will be labeled as "Default" on the left sidebar.
Although you can't modify the Default Policy, you can add a "Custom Archive Policy" by finding "Custom Policies" underneath "Default" and "Do not Archive."
Click the plus sign and add your preferences.
How Clean Email Can Declutter your Zoho Inbox
Organizing any inbox is a hassle with all of the clutter from old files to new ones that seem to never stop coming in. Using Clean Email can save you a lot of time while still reinforcing the GDPR guidelines that Zoho Mail has for extra security. The app categorizes emails into individual folders to keep track of all your mail by categories, tags, or sender, to name a few. Now you won't have to deal with searching through a neverending archive folder because everything will continuously be separated based on rules you set in Clean Email.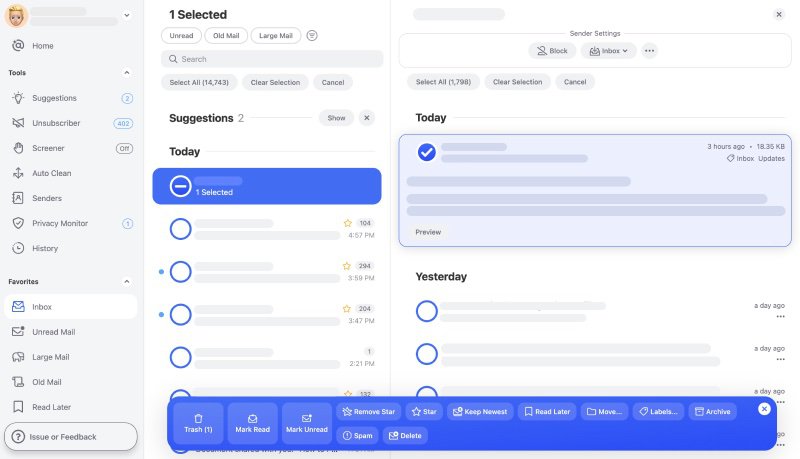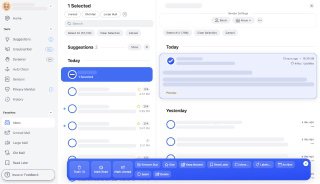 Conclusion
Using a Zoho personal email has a ton of advantages that creates a unique user experience and a pleasant twist on the traditional inbox. Pairing this powerhouse email service with Clean Email will eliminate the clutter from your inbox based on your unique needs. We hope that you learned more about Zoho Mail's impressive abilities, how it's a game-changer for professionals and the everyday user, and the advantages of using Clean Email together with the Zoho Mail app.
---
How To Clean Zoho Emails - FAQs
What is Zoho Mail?
It is an email hosting platform that allows businesses of any size to enjoy enterprise features. This email platform allows you to set up your own email address custom domain too.
Is Zoho email free?
No. Your cost is determined by how many users are going to be using your plan and the features you would like to have included.
Is Zoho Mail better than Gmail?
Determining if Zoho is better than having a Gmail address depends on the features you're looking for. In this article, we provide more detail on the differences between these email service providers.
Is Zoho Mail secure?
Yes, it is very secure. If the platform suspects that you're receiving a message from a suspicious sender, for example, it will notify you immediately. You can select any of these options: "report spam" or "trust this sender".
How do I create a Zoho email address?
It's as simple as going to https://www.zoho.com/signup.html, filling out the username and password you want to use, and going through the simple verification process. After you've completed those three steps, you'll have a personal email address with Zoho.