What are the Filter Rules in Apple Mail?
You can set up inbox rules and spam filters to organise and manage your mailbox within Apple Mail.
The Apple mail spam filter works automatically to move spam messages to your junk mail. If your Apple junk mail filter isn't working, you'll have to enable the filter yourself with the mail preferences.
The benefit of using rules and filters is to achieve a clean organised inbox. No more notifications, and no more email stress!
How to Set Up Mail Rules in Apple Mail
If you want to sync the rules across iOS and Macs devices, you must create it via iCloud.com.
However, these rules will only apply to iCloud mail.
Create Rules in Apple Mail Desktop App
Open the Mail menu and select Preferences.

Locate to the Rules tab.
Now click Add Rule.

Give your rule a label name.
Indicate if any or all conditions must be true for the rule to be applied to the message.
Specify any conditions for your rule to work under.

Choose which actions to perform on your message.

Click OK to confirm, then decide to add rules to existing messages.
If your Mac mail rules are not working or not applying, you can see the rules you have created within the Rules tab. Check your criteria are correct, and rules are enabled!
Create Rules in Mail on iCloud.com
Log in to your iCloud Account.
Tap the Gear icon, then choose Preferences.

Click Rules.
Click Add a Rule.

Use the pop-up menu below "If a message" to specify the messages you want to add a rule to.
Now choose an action for the rule.

Finally, click Done.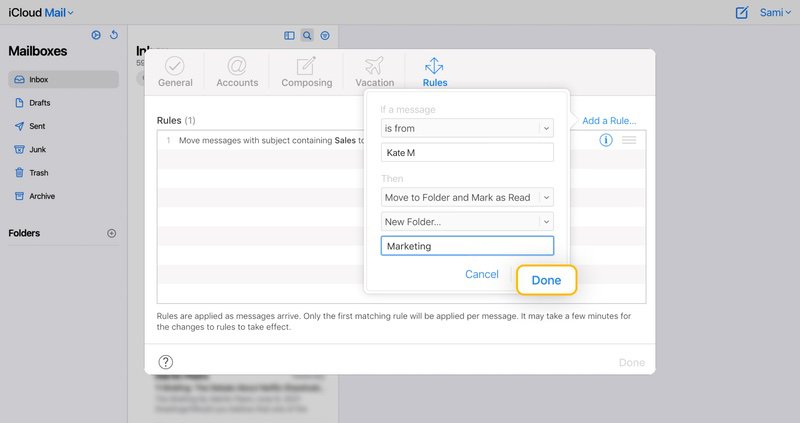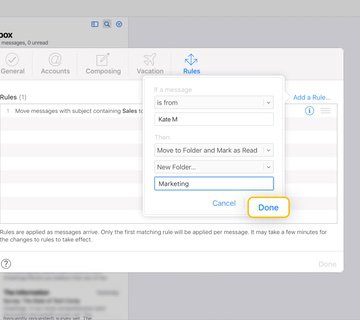 If you make changes to folders, for example, delete a folder or change its name, be sure to update the rules accordingly.
Can I Create Rules in Apple Mail on IOS Devices?
No, you cannot create rules for your iPhone, for example, using Apple Mail mobile app.
However, you can create a rule to filter your email with the Clean Email app in just a few clicks, on any device.
Common Rules to Filter Emails in Apple Mail
Some of the most common rules to create and use Apple Mail rules are:
Using colours
You can use colours to highlight messages from important senders, so they stand out within your mailbox. When you create this rule, you can also add a flag.
All you need to do is insert the domain names you would like to be highlighted when creating the rule and choose a colour. A good tip is to select the "Stop Evaluating Rules" box to ensure another rule doesn't override this one.
Highlight messages containing certain content
You may one message containing your name, or certain keywords to be highlighted to ensure you are attracted to them and read them! When creating the rule, type in what the message should contain, and choose a colour to highlight.
Move messages to folders
One of the best ways to use Apple Mail rules is to send messages to specific folders. This organised your mailbox without you doing any manual work. Choose "Move Message" when creating the rule and select a folder.
Create Rules in Apple Mail with Clean Email
Clean Email has an Auto Clean feature which allows you to easily create automated rules within your Apple Mail account.
Auto Clean enables you to choose specific criteria to filter your messages as soon as they hit your inbox. You can choose from predefined rules or create a new one.
Predefined Rules in Clean Email
You can save time by using the predefined email rules by clicking the Auto Clean tab in the left-hand sidebar of the app's dashboard.
Examples of some predefined rules are:
Trash Social Notifications after one day
We all receive so many social media notifications daily, this filter will remove these notifications after one day.
Move emails in Read Later folder to Trash after a week.
If you haven't read your messages in your read later folder, you probably never will. This filter moves them to the trash after one week.
Mark as Read All Social Notifications
Mark all social media messages as read when they hit the inbox.
How to Create a New Rule in Clean Email from Scratch
Locate the emails you wish to set a rule to within a Smart View folder or from your inbox or All Mail.

Choose an action within the action bar, or click the Auto Clean robot icon.
When you have chosen an action a pop-up will show asking you to create an automated rule for future emails. Fill in the filter details.

Then click the Create Rule button.
You can also create an Auto Clean rule from the auto Clean feature within the dashboard. Simply click Create rule and fill in the details. Then choose an action and click Create and Run Rule.
Click on the Auto Clean tab to edit existing rules, pause rules, remove rules and create new rules.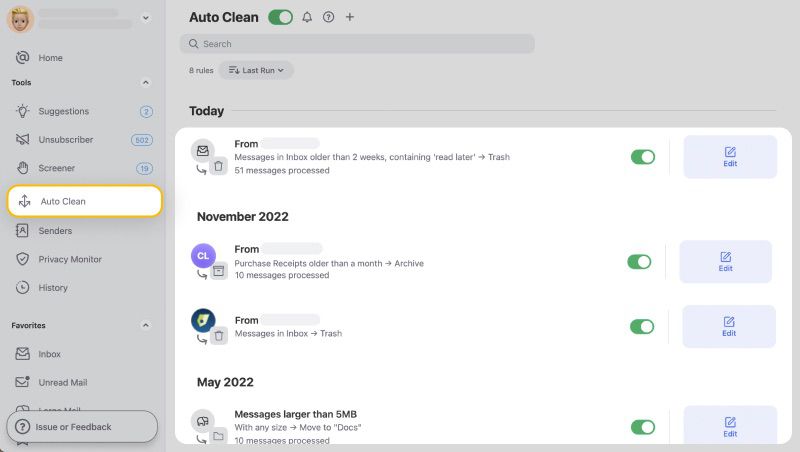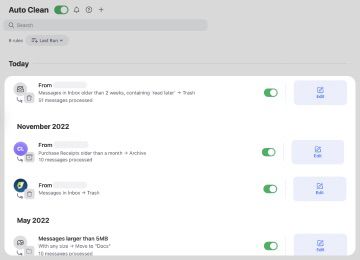 ---
Rules in Apple Mail - FAQs
Why are Apple mail rules not working?
If your Apple mail rules are not working, check for the following: If your iOS device is up to date, your rules have been correctly applied, and your rules haven't been deleted.
Where are Apple Mail rules stored?
You can view your Apple mail rules by choosing mail preferences and clicking rules. Rules will be stored in your home library in Mail Data.
What is the Apple Mail junk filter?
The Apple mail junk filter will automatically mark suspicious emails as junk. Mail will be moved to the junk folder.